China eases anti-COVID measures following protests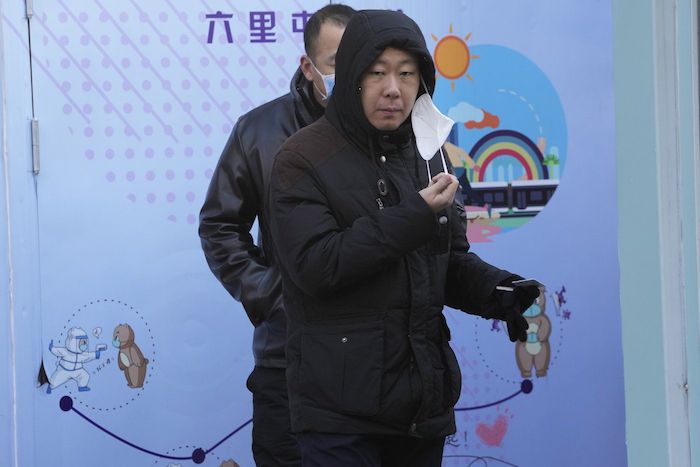 By Joe Mcdonald in Beijing
BEIJING (AP) — China rolled back rules on isolating people with COVID-19 and dropped virus test requirements for some public places Wednesday in a dramatic change to a strategy that confined millions of people to their homes and sparked protests and demands for President Xi Jinping to resign.
The move adds to earlier easing that fueled hopes Beijing was scrapping its "zero COVID" strategy, which is disrupting manufacturing and global trade. Experts warn, however, that restrictions can't be lifted completely until at least mid-2023 because millions of elderly people still must be vaccinated and the health care system strengthened.
China is the last major country still trying to stamp out transmission of the virus while many nations switch to trying to live with it. As they lift restrictions, Chinese officials have also shifted to talking about the virus as less threatening — a possible effort to prepare people for a similar switch.
People with mild cases will be allowed for the first time to isolate at home, the National Health Commission announced, instead of going to sometimes overcrowded or unsanitary quarantine centers. That addresses a major irritation that helped to drive protests that erupted Nov. 25 in Shanghai and other cities.
Public facilities except for "special places," such as schools, hospitals and nursing homes, will no longer require visitors to produce a "health code" on a smartphone app that tracks their virus tests and whether they have been to areas deemed at high risk of infection.
Local officials must "take strict and detailed measures to protect people's life, safety and health" but at the same time "minimize the impact of the epidemic on economic and social development," the statement said.
China's restrictions have helped to keep case numbers low, but that means few people have developed natural immunity, a factor that might set back reopening plans if cases surge and authorities feel compelled to reimpose restrictions.
Still, after three years spent warning the public about COVID-19's dangers, Chinese officials have begun to paint it as less threatening.
People with mild cases "can recover by themselves without special medical care," said Wu Zunyou, chief epidemiologist of the China Centers for Disease Control, on his social media account.
"The good news is that the data show the proportion of severe cases is low," said Wu.
The latest changes are "small steps" in a gradual process aimed at ending restrictions, said Liang Wannian, a member of an expert group advising the National Health Commission, at a news conference.
The government's goal is "to return to the state before the epidemic, but the realization of the goal must have conditions," said Liang, one of China's most prominent anti-epidemic experts.
Dr. Yanzhong Huang, an expert on public health in China, also emphasized the gradual nature of the announcement.
The new measures are a shift away from "zero COVID" — but "not a roadmap to reopening," said Huang, director of the Center for Global Health Studies at Seton Hall University.
"When implemented, these measures may generate dynamics that fuel the rapid spread of the virus even though China is not ready for such a dramatic shift," he said.
The government announced a campaign last week to vaccinate the elderly that health experts say must be done before China can end restrictions on visitors coming from abroad. They say the ruling Communist Party also needs to build up China's hospital system to cope with a possible rise in cases.
But public frustration is rising now, as millions of people are repeatedly confined at home for uncertain periods, schools close abruptly and economic growth falls.
The changes have been rolled out despite a renewed spike in infections started in October. On Wednesday, the government reported 25,231 new cases, including 20,912 without symptoms.
Xi's government has held up "zero COVID" as proof of the superiority of China's system compared with the United States and Western countries. China's official death toll is 5,235 since the start of the pandemic versus a U.S. count of 1.1 million.
Rules were left in place that warn apartment and office buildings might be sealed if infections are found. Complaints that families are confined for weeks at a time with uncertain access to food and medicine were a key driver of the protests.
The ruling party switched early this year to suspending access to neighborhoods or districts where infections were discovered instead of isolating whole cities.
On Wednesday, the government said the scope of closures will be narrowed still further to single apartment floors or buildings instead of neighborhoods.
It said schools in communities with no outbreaks must return to in-person teaching.
That appeared to be a response to complaints that local leaders, threatened with the loss of their jobs in the event of outbreaks, impose closures that are destructive, might be unnecessary and exceed what the central government allows.
The demonstrations in at least eight major cities and on dozens of university campuses were the most widespread display of public dissent in decades. In Shanghai, some protesters shouted the politically explosive demand for Xi, China's most influential figure in decades, to resign.
Quebec says only people at risk who haven't had COVID-19 should get booster dose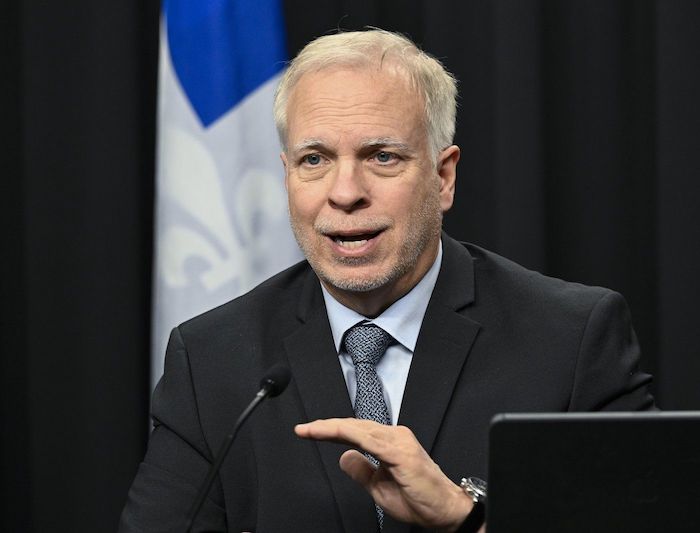 Only people who are considered at risk for severe COVID-19 — and who haven't already been infected — need to get a booster dose, Quebec's public health director said Thursday.
The vast majority of Quebecers have hybrid immunity — protection through vaccination and through a SARS-CoV-2 infection — making regular boosters unnecessary, at least for this winter and spring, Dr. Luc Boileau told reporters.
"People with hybrid immunity … have a very good protection against a severe form of the illness," Boileau said. "And this immunity lasts for a long enough time that we can propose changes."
Those who have been vaccinated but haven't contracted the virus are also protected against severe COVID-19, he said, but their immunity "has a tendency to drop with time."
Quebec's vaccination committee decided to focus the province's immunization policy on preventing hospitalizations and deaths, he said. People who are 60 and older or who have chronic illnesses, health workers, pregnant women and those who live in isolated regions are among the people who should get a booster every six months — but only if they have never caught the virus, Boileau said.
Dr. Caroline Quach-Thanh, chairperson of Quebec immunization committee, said the data shows that people already vaccinated for COVID-19 who have contracted the virus "maintain their protection."
"Adding a dose doesn't add a lot protection for severe (illness)," she said.
Health officials estimate that more than three-quarters of Quebecers under 60 have had COVID-19 over the past three years, while about half of those over 60 have caught the virus.
Boileau said only people who are immunocompromised should continue getting boosters even if they've been infected, "because their immunity could be affected by their condition."
Before Thursday's announcement, boosters were recommended for all people considered at risk of severe COVID-19. Boileau said COVID-19 vaccines will remain available to anyone who wants one. "We won't refuse anyone," he said.
This report by The Canadian Press was first published Feb. 2, 2023.
'The eyes of the world': Trial starts for Calgary pastor charged in border blockade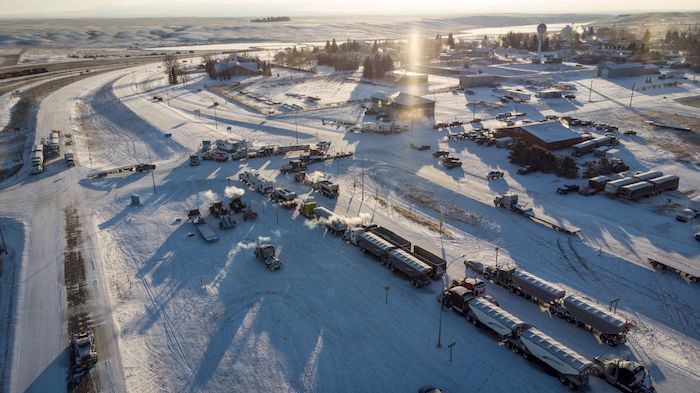 By Bill Graveland in Lethbridge
A court has seen video of a Calgary pastor encouraging truckers to keep blocking the Canada-U.S. border to protest COVID-19 restrictions because the world was watching.
The trial for Artur Pawlowski began Thursday in southern Alberta on charges of breaching a release order and mischief for inciting people to block public property at the border crossing at Coutts, Alta.
He is also charged under the Alberta Critical Infrastructure Defence Act with the wilfully damaging or destroying essential infrastructure.
The blockade that began in late January 2022 paralyzed Alberta's main U.S. border crossing for more than two weeks .
The Crown's case against Pawlowski consists of an agreed statement of facts and the 20-minute video of the speech that the pastor gave to protesters on Feb. 3, 2022.
In it, Pawlowski pleads with truckers to stay the course and not leave the protest, which was aimed at COVID-19 restrictions and vaccine mandates.
Pawlowski visited the group at Smuggler's Saloon, a location that became their headquarters. At the time, protesters were considering whether to leave Coutts for Edmonton to demonstrate in front of the legislature.
"I believe that the eyes of the world are fixed on this place right here. That's right — this little pitiful piece of land," Pawlowski told a cheering crowd in the video played for provincial court Judge Gordon Krinke in Lethbridge, Alta.
"The eyes of the world are fixed right here on you guys. You are the heroes. Don't you dare go breaking the line.
"For the first time in two years, you have the power. You pack your stuff, you go to Edmonton and you will be lost."
The pastor also told the crowd there weren't enough police or a big enough army to deal with the protesters. He was arrested days later.
Pawlowski was greeted by about 300 supporters outside court Thursday before trial. Some held Canadian flags and signs reading "Free Pastor Pawlowski."
Pawlowski told the group he had no regrets.
"I told the people this is a peaceful uprising. No guns. No swords. I stand by what I said a year ago," he said outside of court.
"I am proud that I stood with the people that simply stood for their God and state. Our rights do not belong to the politicians or bureaucrats or even judges or Crown prosecutors. They belong to us, the people."
Prosecutor Steve Johnston said the court must determine whether Pawlowski is guilty because he was a party to the events, and the Crown argues that he was.
The defence said it would not be calling witnesses in the trial, and closing arguments were expected Thursday afternoon.
This report by The Canadian Press was first published Feb. 2, 2023