Children lost in shooting were 'feisty,' a 'shining light'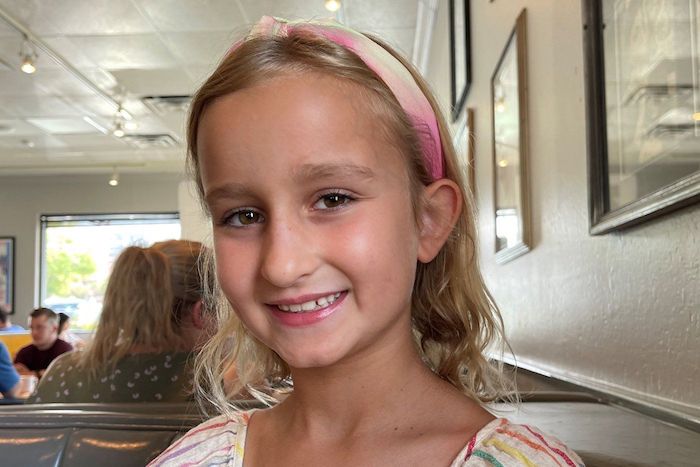 This undated photo shows Evelyn Dieckhaus a student at The Covenant School in Nashville, Tenn. Dieckhaus was one of six people killed on Monday, March 27, 2023, in the shooting at the school. (AP Photo)
By Adrian Sainz, Kristin M. Hall, Holly Meyer And Ben Finley in Nashville
NASHVILLE (AP) — Details from the rich, full lives of the three adults killed Monday at a Nashville elementary school have emerged quickly in the aftermath, but information on the three 9-year-old children — whose lives ended tragically young — has been slower to publicly surface from a community buried in grief.
The children slain at The Covenant School were Hallie Scruggs, described by an aunt as "always on the go"; Evelyn Dieckhaus, her family's "shining light"; and William Kinney, whose family has said little publicly so far.
A woman who identified herself as Hallie's aunt, Kara Scruggs Arnold, wrote on Facebook that Hallie was "incredibly smart, feisty enough to keep up with her 3 brothers and my 4 boys."
Hallie had a "love for life that kept her smiling and running and jumping and playing and always on the go," Arnold added in her post.
Hallie's father Chad Scruggs is the lead pastor of Covenant Presbyterian Church, which is associated with The Covenant School. The private Christian school has about 200 students from preschool through sixth grade, as well as roughly 50 staff members, according to its website.
Evelyn was described as the Dieckhaus family's "shining light" on a GoFundMe page that has been set up for them. But her family, too, was reluctant to talk about her or the enormity of their loss.
The adults who were killed were Katherine Koonce, 60, the head of the school, Mike Hill, 61, a custodian, and Cynthia Peak, 61, a substitute teacher.
In a video statement released Tuesday evening, Tennessee Gov. Bill Lee said Peak was supposed to have dinner with his wife, Maria, after filling in as a substitute teacher at Covenant.
"Maria woke up this morning without one of her best friends," Lee said, adding that Peak, Koonce and his wife had once taught together and "have been family friends for decades."
Sandra McCalla, a former administrator at the high school Peak attended in Shreveport, Louisiana, said Peak served as the statistician at girls' basketball games and track meets before graduating in 1979.
"She was busy in the background making good things happen," said McCalla, who served as the principal of Captain Shreve High School for 30 years.
Chuck Owen, who knew Peak from childhood, said Peak's father was a well-known doctor in Leesville, Louisiana, where the family lived before moving to Shreveport.
He said, "everyone knew her, knew her family" and that she was "just a sweet person from a sweet family."
Owen added that Peak was a devout follower of God, and it did not surprise him that she was working at a Christian school.
"She told me that she got saved in college and that God's love changed her life," he said.
Nashville songwriter Natalie Hemby posted on Instagram that Peak "taught me how to swim. Keep my head above water… which is what we're all trying to do right now."
Peak's family issued a statement saying their "hearts are broken," and called Peak "a pillar of the community, and a teacher beloved by all her students."
"She never wavered in her faith and we know she is wrapped in the arms of Jesus," the statement said.
Koonce, the head of The Covenant School, was a woman of deep faith who saw educating kids as her mission.
"It's what God called her to do," close friend Jackie Bailey said.
"We're in such shock," Bailey added. "I was looking around my house, and every piece of cross stitch that I have on the wall, she did – she gave to me."
One of them said: "A friend loveth at all times."
"That's Proverb 17:17," Bailey said. "That's the kind of person she was. She loved at all times."
Bailey added: "If there was any trouble in that school, she would run to it, not from it. She was trying to protect those kids … That's just what I believe."
Koonce's family said in a statement Wednesday that she "gave her life to protect the students she loved."
"We are devastated by our loss but depending on our God for comfort and healing," the family said. "It is our privilege to honor Katherine's legacy and to celebrate her remarkable spirit."
Before Koonce took the top role with Covenant, Anna Caudill, a former art teacher, worked with her for almost a decade at Christ Presbyterian Academy, another Christian school in the area connected to a Presbyterian Church in America congregation.
"She was an absolute dynamo and one of the smartest women I'll ever know," said Caudill, recalling how Koonce excelled at her day job while parenting her children, pursuing her masters and then her PhD, and writing a book.
Caudill, who grew up in several male-led Christian denominations, said Koonce was the first woman in such a setting to encourage her to keep learning and pursuing her life goals.
"She wasn't Wonder Woman, but I never saw the two in the same place," Caudill said.
Friends of Hill, the custodian, said they believed he would have died protecting the school's children.
Pastor Tim Dunavant, of the Hartsville First United Methodist Church, said in a Facebook post that he hired Hill to work at Covenant more than a decade ago.
"I don't know the details yet. But I have a feeling, when it all comes out, Mike's sacrifice saved lives," Dunavant wrote.
Hill's family issued a statement saying, "We pray for the Covenant School and are so grateful that Michael was beloved by the faculty and students who filled him with joy for 14 years. He was a father of seven children … and 14 grandchildren. He liked to cook and spend time with family."
Another pastor, Jim Bachmann, said Hill was "one of those people you cannot not like" and that he made a point of learning the names of all the students and talking to them.
Bachmann was the founding pastor of Covenant Presbyterian Church, which runs the school, and is the current pastor of Stephens Valley Church, where Hill was a member and sometimes served as a greeter.
On those occasions, Hill would "dress up like he was going to meet the president of the United States," Bachmann said. He added, "Everybody loved Mike, and he loved them back."
___
Associated Press reporters Travis Loller in Nashville and Beatrice Dupuy in New York contributed to this story. Sainz reported from Memphis. Finley reported from Norfolk, Virginia.
O'Toole says CSIS told him he was focus of Chinese misinformation, suppression effort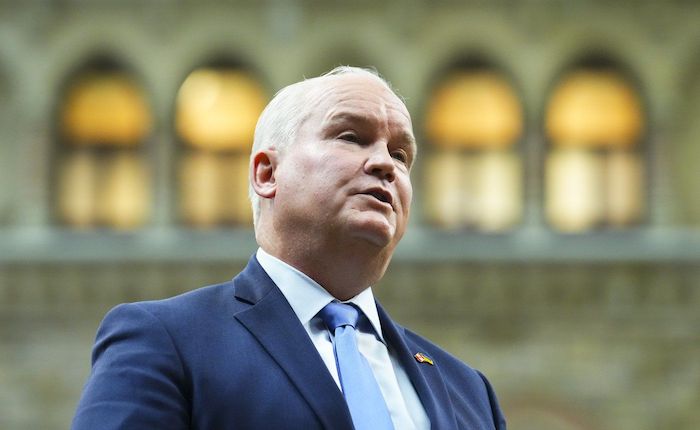 Conservative member of Parliament Erin O'Toole speaks in the House of Commons on Parliament Hill in Ottawa on Tuesday, May 30, 2023. O'Toole was speaking on an opposition motion regarding the public inquiry into allegations of foreign interference and being informed by CSIS that he is a target of China. THE CANADIAN PRESS/Sean Kilpatrick
Conservative MP Erin O'Toole says Canada's spy agency has told him he was the target of Chinese interference intended to discredit him and promote false narratives about his policies while party leader.
Rising in the House of Commons on a question of privilege Tuesday, O'Toole said the Canadian Security Intelligence Service briefing revealed a range of actions against him.
They included Chinese Communist Party funding to create misinformation, the use of groups and the WeChat social media platform to amplify the mistruths and a campaign of voter suppression against him during the 2021 general election, he said.
The former Conservative leader said the threats against him and members of his caucus were not flagged to him by the government or security agencies at the time.
They were also not communicated to the Conservatives through the federal task force intended to help safeguard the integrity of the 2021 election, he added.
O'Toole said the Liberal government's inaction amounted to a violation of his privileges as an MP and leader of the Opposition.
"The briefing from CSIS confirmed to me what I suspected for quite some time, that my parliamentary caucus and myself were the target of a sophisticated misinformation and voter suppression campaign orchestrated by the People's Republic of China before and during the 2021 general election."
On Monday, New Democrat MP Jenny Kwan said CSIS informed her last week she has been targeted by China since before the 2019 federal election over her advocacy for human rights in Hong Kong and for the Uyghur Muslim minority in China. She said she was not at liberty to discuss specifics of the targeting.
In addition, David Johnston, the federal government's special rapporteur on foreign interference, said in his recent interim report there was intelligence indicating Beijing was seeking information about Conservative MP Michael Chong and his relatives.
But Johnston's interim report found little evidence supporting O'Toole's claim specific candidates lost in the 2021 election because of foreign interference.
He said it was unclear whether information campaigns against Conservatives were tied to a state-sponsored source, and there was a legitimate possibility that Chinese-Canadians did not agree with the Conservative's hardline position on China.
In that case, it would not be foreign interference — it would be the "democratic process," the report said.
Under a federal protocol, there would be a public announcement if a panel of senior bureaucrats determined that an incident – or an accumulation of incidents – threatened Canada's ability to have a free and fair election.
There was no such announcement in 2021 or concerning the 2019 election. In both ballots, the Liberals were returned to government with minority mandates while the Conservatives formed the official Opposition.
Government House leader Mark Holland said Tuesday the federal Liberals still have faith in the man they appointed to investigate the issue of foreign interference in Canadian elections.
But Holland would not confirm whether the government could fire Johnston if an NDP motion calling for his ouster passes in the House of Commons this week.
The House debated a motion from NDP Leader Jagmeet Singh on Tuesday that calls for the government to remove Johnston as special rapporteur and to call a public inquiry.
Singh says he doesn't want to attack Johnston personally, but is concerned there is a clear apprehension of bias undermining the work he can do because of his ties to the prime minister.
Opposition party motions are not binding and the government already ignored an earlier NDP motion calling for a public inquiry that passed in March.
That motion came just a week after the Liberals appointed Johnston to look into allegations the Chinese government attempted to interfere in the last two federal elections.
Conservative Party Leader Pierre Poilievre repeated calls for a public inquiry Tuesday and discounted Johnston's role as a "fake job."
"We need to take back control of our democracy from foreign forces, we need to put Canadians back in control of their lives," he said.
Poilievre, who succeeded O'Toole as permanent party leader after the last election, said he would call a public inquiry if he becomes prime minister, reiterating his reluctance to view the classified section of Johnston's report offered to party leaders.
"The prime minister's plan is he wants to mark secret things that would otherwise be publicly debatable, but put things that would be in a grey area under the secrecy of the state, and then put them before me to prevent me from speaking publicly," he said.
Singh said he will continue to push for a public inquiry but won't end his confidence-and-supply agreement with the Liberal minority government and trigger an election.
"I don't see how it's logical if the goal is to protect our democracy to then trigger an election when we're worried about foreign interference."
This report by The Canadian Press was first published May 30, 2023.
Calgary police launch phone line for sex trade workers to report assaults, abuse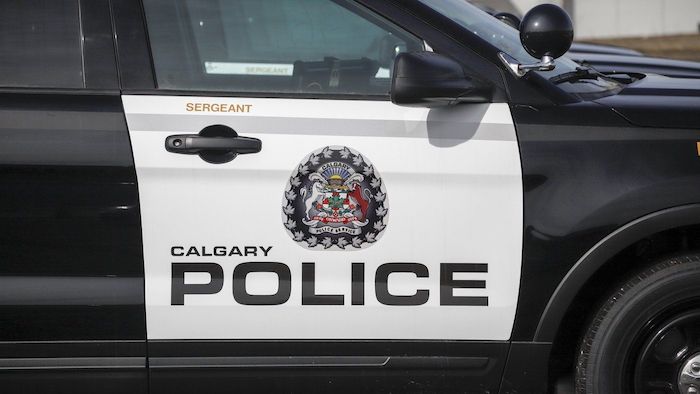 A police vehicle is shown at Calgary Police Service headquarters in Calgary, on April 9, 2020. THE CANADIAN PRESS/Jeff McIntosh
Calgary
Calgary police have a new way for sex workers to report violence and other safety concerns.
Called the Bad Date Line, it allows those in the sex trade to report harmful, violent or abusive customers.
A dedicated phone number and email address are available for people to report information to police in a less formalized way.
Police say the information will not be used to target sex workers and will instead be used to investigate perpetrators.
The move comes after police arrested and charged a man with kidnapping and sexually assaulting women in Calgary's sex trade.
Police said several women allege they were approached by a man, then drugged and taken to another location, where they were physically and sexually assaulted.
This report by The Canadian Press was first published May 30, 2023.