Cheese not on the table in Canada-U.K. trade talks as Britain seeks market access
OTTAWA — The British foreign secretary has often been mocked for her preoccupation with cheese. It started eight years ago when Liz Truss expressed outrage in a speech to her party's annual conference.
"We import two thirds of our cheese," she raged. "That is a disgrace."
Now Truss is facing another battle over cheese, this time with Canada.
Britain wants greater access to Canadian markets for more than 700 varieties of cheese including Stilton, Cheshire, and Wensleydale, a crumbly variety originating from Yorkshire.
But Ottawa has made it clear it does not want to see more British cheddar, let alone artisan varieties such as stinking bishop, renegade monk and Hereford hop, on Canadian fridge shelves.
During the first round of negotiations of the U.K.-Canada trade deal, Canada told Britain that a larger quota for British cheese is not on the negotiating table.
When it was a European Union member, Britain was part of the Comprehensive Economic and Trade Agreement with Canada, giving it some access to Canada's cheese market.
After the U.K. left the EU, a "continuity agreement" with Canada was swiftly put in place to maintain the CETA arrangement until a bilateral trade deal could be struck.
Ralph Goodale, Canada's high commissioner to the U.K., said if Britain wants more access to Canadian markets for its cheese as part of a bilateral free-trade agreement, it will have to knock on Brussels' door and get its part of the dairy quota back.
"The point is we have already provided that volume in the EU deal and the British left it there without taking it with them," he said in an interview. "That's an issue they need to resolve with the Europeans because the Europeans have their quota."
Goodale said the U.K.'s request for extra access for British cheese — on top of the access given to the EU — is "what the Canadian negotiators consider to be pretty much a dead end."
"You are talking about a double concession — one we have already made to the EU and the request is being made by the U.K. for yet another one on top of that," he said.
The high commissioner said Canada values its trading relationship with the U.K., adding that he is confident that a mutually-beneficial trade deal will be reached.
But if Canada allows the British to export more of their cheese it would involve "a major commitment of compensation to dairy producers" in Canada to make up for lost incomes.
In 2018, after the United States-Mexico-Canada Agreement gave the U.S. fresh access to the Canadian dairy market, Prime Minister Justin Trudeau said he would compensate Canadian dairy farmers.
Canada's dairy industry was worth over $7 billion in 2020, according to the Canadian Dairy Commission's annual report.
There are over 10,000 dairy farms in Canada — most of them in Quebec and Ontario — with an average of 92 cows per farm, it said.
Until at least the end of next year, Britain will be able to keep exporting its cheese to Canada under the trade continuity agreement, the U.K.'s trade department said.
This allows U.K. cheese exporters to access the Canadian market tariff-free under the EU portion of Canada's World Trade Organization cheese tariff rate quota.
As part of the 1995 WTO agreement on agriculture, Canada established tariff rate quotas for cheese and other dairy products. The quotas set out quantities of dairy that could enter Canada with little or no duty.
For Britain, a fully fledged free trade deal with Canada is crucial after Brexit left it looking for fresh tariff-free markets.
"We want to negotiate an ambitious and comprehensive new agreement with Canada that will strengthen our close and historic bilateral trade relationship," said a U.K. government trade spokesman in a statement, adding the relationship was worth about $34.5 billion in 2021.
In March, U.K. Trade Secretary Anne-Marie Trevelyan flew to Canada to announce with Canada's Trade Minister Mary Ng that bilateral negotiations had officially begun.
In a speech in the House of Lords in London earlier this month, Goodale reported on progress in the talks, saying that "both sides are optimistic that, as good as CETA and the continuity agreement were, we can do better still when Canada and the U.K. negotiate a deal face-to-face, directly with each other."
Like Goodale, Ng said Canada is confident a free-trade deal with Britain will be reached, enhancing co-operation in a number of areas, including on renewables, sustainability and the digital economy.
"Canada values the relationship with the United Kingdom. They are … an important trading partner and a trade agreement with the U.K. will be very good for Canadian businesses," she said in a phone interview from Thailand last weekend.
But she was also firm about the need to protect Canada's dairy producers, and that means keeping more British cheese out.
"I have been very clear, our government has been very clear, that we will not provide access to our supply-managed sector," she said. "We have been clear about that from the get-go."
The Canadian dairy sector now produces 1,450 varieties of cheese, including ewe, goat and buffalo varieties, as well as the cheese curds used in the Québécois dish poutine.
At least half of Canada's cheese is made in Quebec, which is home to a number of artisan varieties including bleu l'ermite, or blue hermit, and Oka, a popular semi-soft rind cheese.
Pierre Lampron, president of the Dairy Farmers of Canada, has made it clear he will fiercely protect Canadian cheese from British interlopers.
Lampron said he had "validated that the issue of access to the Canadian dairy market was not on the agenda of these trade talks."
Canada's protectionist stance toward its dairy industry may have pleased farmers. But it has caused some tension with close allies.
Earlier this month, New Zealand launched a formal trade dispute against Canada, accusing the federal government of breaking promises to give access for dairy imports under the Trans-Pacific Partnership agreement.
The Biden administration also recently said it was asking for a second dispute settlement panel under the U.S.-Mexico-Canada Agreement to review a trade dispute with Canada over dairy import quotas.
This report by The Canadian Press was first published May 26, 2022.
Marie Woolf, The Canadian Press
Saskatchewan ranchers call for investigation into retail meat pricing
REGINA — A group of Canadian ranchers is calling for an investigation into meat pricing.
The Saskatchewan Stock Growers Association says it's asking the provincial and federal governments to look into what it calls an "imbalance" between the price ranchers receive for the cattle and the price consumers pay at the meat counter.
The group says many ranchers and feedlots are operating at a loss this year. Grass is still scarce on the Prairies due to last summer's drought, and the cost of feed grain and fuel has skyrocketed since last year.
But packers and retailers are reporting strong profits this year. The Stock Growers say they believe slaughterhouses may be intentionally running fewer shifts to in order to keep wholesale beef prices high and allow fed cattle supplies to build up in the countryside.
In the U.S., the Biden administration has already expressed concerns about rising meat prices and vowed to implement policies aimed at increasing competition in the meat-packing sector.
According to Statistics Canada, the retail price of beef is up 11.2 per cent year-over-year.
This report by The Canadian Press was first published July 5, 2022.
The Canadian Press
First test production of plastic a milestone for Heartland Petrochemical Complex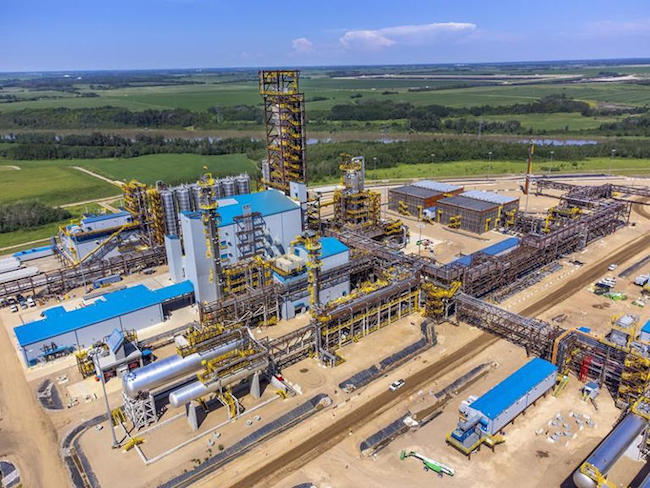 CALGARY — The $4.3-billion Heartland Petrochemical Complex, which has been under construction northeast of Edmonton since 2018, has produced its first plastic pellets.
Owner and operator Inter Pipeline Ltd. said Tuesday the newly commissioned facility has been producing test pellets steadily since late June, an important milestone en route to the expected start of full commercial operation sometime this fall.
The Heartland Petrochemical Complex will convert Alberta propane into 525,000 tonnes per year of polypropylene beads, an easily transported form of plastic that is used in the manufacturing of a wide range of finished products.
Steven Noble, spokesman for Calgary-based Inter Pipeline, said the facility will be the first integrated propane dehydrogenation and polypropylene production facility in North America. He said approximately 70 per cent of Heartland's total production capacity has been already contracted out to long-term customers.
"Through the duration of the project's construction, we've seen demand for polypropylene increase significantly … including at one point hitting an all-time record (market price)," Noble said in an interview. "The demand that we initially forecast certainly hasn't gone away."
The Heartland facility is being built with the support of a $408-million grant from Alberta's provincial government. The cash grant, part of an incentive program aimed at growing the province's petrochemicals sector, is to be paid to Inter Pipeline in equal instalments over three years once the complex is operational.
Noble said by creating a new market for propane, the Heartland facility is an example of how natural resource development in Alberta is diversifying.
"The fact that we're now looking at our raw resources in a different way, and figuring out different ways to get value out of them and create other refined products right here at home … is really the part of the story that everyone here is excited about," he said.
The Heartland Petrochemical Complex is expected to employ 300 people once fully operational.
The polypropylene produced at the facility will be branded as Heartland Polymers.
This report by The Canadian Press was first published July 5, 2022.
Amanda Stephenson, The Canadian Press