CFL Players' Association ratifies new contract with CFL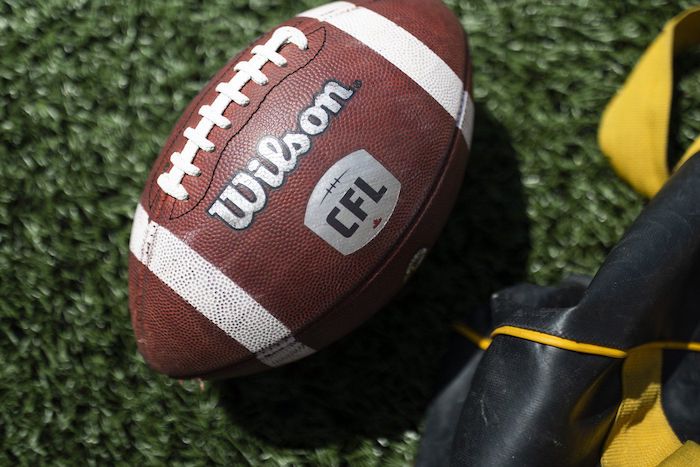 By Dan Ralph
The CFL Players' Association ratified its new collective bargaining agreement with the CFL on Thursday night.
The CFLPA made the announcement via email. The players' vote came hours after the two sides hammered out a seven-year tentative agreement.
The ratification came two days after CFL commissioner Randy Ambrosie unveiled the league's final offer to its players.
The deal must also be ratified by the CFL board of governors, but that's not expected to be an issue. With the players accepting the agreement, the league's exhibition season will open on time Friday night.
"We are pleased that players have now ratified a new collective bargaining agreement between the CFL and CFLPA," Ambrosie said in a statement. "The CFL's board of governors will conduct its ratification vote shortly.
"We look forward to a successful season — including pre-season games this weekend — and a long and productive partnership with our players."
The CFLPA didn't provide overall voting results. Players on six of the nine CFL teams had to accept the deal for it be ratified, with the required margin being at least 50 per cent plus one of ballots in favour.
On Monday, the players voted against a tentative deal that the union had recommended they accept. The CFLPA also recommended the ratification of Thursday's tentative agreement.
According to sources, CFL teams will have seven Canadian starters and 21 in total on rosters this year. In 2023, that number increases to eight with one being a nationalized Canadian — an American who has spent either five years in the CFL or at least three with the same team.
Clubs will also be able to rotate two nationalized Canadians for up to 49 per cent of snaps. Teams can move to three nationalized Canadians in 2024 but the two franchises that play the most Canadians at the end of the season will receive additional second-round draft picks.
And the seven pure Canadian starters per game will remain intact throughout the term of deal, which can be reopened after five years when the CFL's broadcast agreement with TSN expires.
The sources spoke on the condition of anonymity as neither the league nor union have provided specific details of the new agreement.
The sources also said the CFL will provide $1.225 million in a ratification pool for players. The salary cap this year will remain at $5.35 million and increase to $5.51 million in 2023. It will be $5.99 million in 2028.
Minimum salaries for global, national (Canadian) and American players will be consistent. The figure will increase from $65,000 to $70,000 next year and $75,000 in 2027.
The maximum housing allowance this year will be $2,300 monthly for six months. The CFL and CFLPA agree to an annual review to determine the maximum housing allowance number for the next season.
In return, the CFL receives extended labour peace and the opportunity of time to really rebuild its business. The league didn't play in 2020 due to the COVID-19 pandemic — reportedly losing between $60 and $80 million — and held a shortened 14-game campaign last year.
Last December, the league announced a partnership with Genius Sports, a data, technology and commercial company that connects sports, betting and media. In August 2021, the CFL signed a multi-year partnership with BetRegal to become its official online sports-gaming partner.
Last month, the single-game sports betting industry opened fully in Ontario.
But Canadian Justin Palardy, a former kicker who spent time with five CFL teams from 2010-15, took to social media to voice his displeasure with the deal.
"Like I said on another tweet, what's the point of drafting more (Canadians) if we're getting rid of Canadian starters?" he tweeted. "You may think it's a terrific idea, doesn't mean it makes sense."
Defensive lineman/linebacker Shomari Williams, who went first overall in the 2010 CFL draft to Saskatchewan and played with four teams over six pro seasons (2010-15) also wasn't impressed.
"I feel the CFLPA main objective for (Canadian) members is to NOT diminish the roles of (Canadian) players in the CFL," he tweeted. "How do you bring this to your (Canadian) members after they voted no and have the confidence you will be re-elected?"
The two sides had been at odds regarding the Canadian ratio.
Last Wednesday, the CFL and CFLPA reached a tentative seven-year agreement, ending a four-day strike by seven of the league's nine teams. At first glance, there seemed to be many positives for the players, including a revenue-sharing model, the ability to reopen the pact in five years once the CFL signed a new broadcast deal, and veteran players having the ability to negotiate partially guaranteed contracts.
But the agreement also called for CFL teams to increase the number of Canadian starters from seven to eight. The extra would've also been a nationalized Canadian.
In addition, three other nationalized Canadians could play up to 49 per cent of snaps. And the deal didn't include a ratification bonus.
On Tuesday, Ambrosie unveiled an amended proposal that included a $1-million ratification pool and the abolition of the three nationalized Canadians playing 49 per cent of snaps. However, it also reduced the number of Canadian starters to seven, including one nationalized Canadian.
Not only did Ambrosie say it was the CFL's final offer, but it was good until midnight ET on Thursday, given the league's exhibition schedule was slated to begin Friday night with two games. Ambrosie added if the players rejected the offer and opted to go back on strike, they'd be served notice to vacate their respective training-camp facilities.
It marked the second time Ambrosie had gone public with a final contract offer to the CFLPA. On May 14, he posted a letter to fans on the league's website detailing the league's proposal to players hours before the former CBA was set to expire.
The next day, players on seven CFL teams opted against reporting to training camp and went on strike. The Edmonton Elks and Calgary Stampeders both opened camp as schedule because they weren't in a legal strike position, as per provincial labour laws, at the time.
It marked just the second work stoppage in league history and first since 1974.
This report by The Canadian Press was first published May 26, 2022.
Canada's Mikael Kingsbury starts moguls World Cup season with gold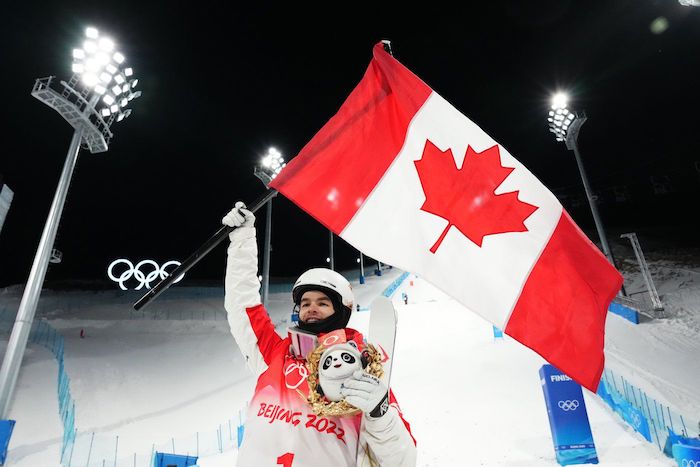 Ruka – Canada's Mikael Kingsbury has started the moguls World Cup season right where he left off.
Kingsbury won a gold medal at the first moguls World Cup event of the season on Saturday. After earning silver at the Beijing Olympics he finished the last freestyle skiing season with three consecutive World Cup wins.
The 30-year-old from Deux-Montagne, Que., reached the top of the podium on Saturday with a score of 84.50. Japan's Ikuma Horishima earned silver with an 80.48 and Australia's Matt Graham took bronze with an 80.12.
Kingsbury had the final run of the day and was surprised when he heard his competition's scores.
"They were lower than what I expected but I just had to stick to my game plan, do what I wanted to do," said Kingsbury. "It's nice that I was able to improve my scores from the Final 1 to the super final."
It was Kingsbury's 10th career victory in Ruka, Finland. He has now reached a World Cup podium 145 times in his storied career.
Now in his 12th season on the World Cup circuit, Kingsbury said that he's as motivated as ever.
"I'm always excited for the first race of the season. So I've never had a problem with motivation, really," said Kingsbury. "I want to be there. I want to be the last guy to go. I want to be in those positions. I want to feel nervous."
Gabriel Dufresne of Joliette, Que., was the only other Canadian to advance past the qualifiers. He finished 11th with a score of 75.24.
Elliot Vaillancourt (Drummondville, Que., 18th), Kerrian Chunlaud (Sainte-Foy, Que., 22nd), Alexandre Lavoie (Quebec City, 23rd), Daniel Tanner (Calgary, 33rd) and Julien Viel (Mont-Sainte-Anne, Que., 38th) were all eliminated in the qualification rounds, as were Laurianne Desmarais-Gilbert (Sainte-Adèle, Que.) and Maïa Schwinghammer (Saskatoon), who just missed making the top 16 in the preliminaries and moving on to the first elimination round.
This report by The Canadian Press was first published Dec. 3, 2022.
AP photo catches key moment before Japan's World Cup goal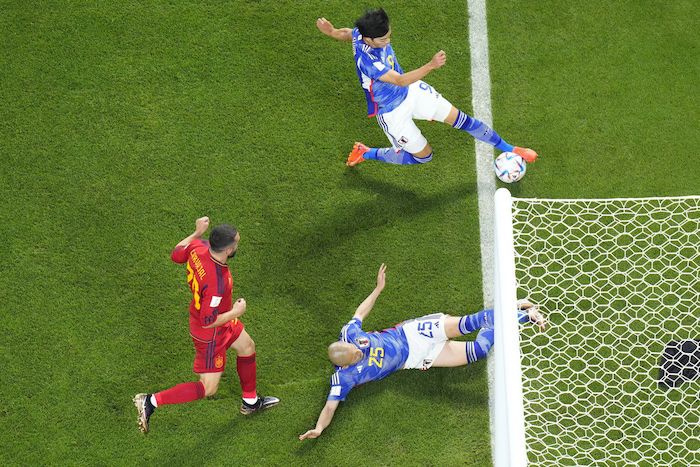 By Ciarán Fahey in Doha
DOHA, Qatar (AP) — From most angles, it looked like the ball went out of play just before Japan scored its winning goal in the 2-1 victory against Spain in the World Cup.
Associated Press photographer Petr David Josek took a photo from above that appears to support the referee's decision to allow it.
Josek's image was taken Thursday night from a narrow catwalk, high above the field at the Khalifa International Stadium. A catwalk is an elevated platform just under a stadium's roof that allows a small group of photographers to shoot a game from above.
With Spain up 1-0 at halftime, Josek stayed where he was in the second half, rather than moving to the other end in anticipation of another goal from the 2010 World Cup champions.
"I decided to stay because obviously if Japan can turn things around, it's a bigger story," Josek said. "I'm happy about that decision."
It meant Josek had a perfect vantage point for the image that defined Japan's comeback. Many people watching the game – including the referee's assistant – thought the ball went out of play just before Kaoru Mitoma sent a cross to Ao Tanaka for what proved to be the winning goal from close range.
Under the rules of soccer, all of the ball needs to have crossed the line to be out of play, which can be difficult to establish in some situations. Video review officials needed about two minutes to confirm the whole ball hadn't gone out of bounds. It was a millimeter decision.
"When I saw it, I was like, 'Oh God, I'm pretty lucky.' That was the exact point of where the ball was coming back," Josek said. "I was pretty lucky to get it at that exact moment."
Normally based in Prague, Josek is among AP's team of photographers covering World Cup games in Qatar from multiple positions. On the catwalk, Josek had to wear a harness and a helmet, while all his cameras and equipment – weighing around 12 kilograms (26 pounds) in total – had to be secured, too, to avoid any of it falling and injuring the players below.
"You have a strap with a big hook that you just kind of hook yourself onto in case you were to fall. It catches you from falling," Josek said. "It's physically demanding. You have to hand-hold a (large) 400-millimeter lens because you can't use a monopod. And you're doing that for two hours standing on an uneven surface."
___
AP World Cup coverage: https://apnews.com/hub/world-cup and https://twitter.com/AP_Sports