CFL Players' Association ratifies new contract with CFL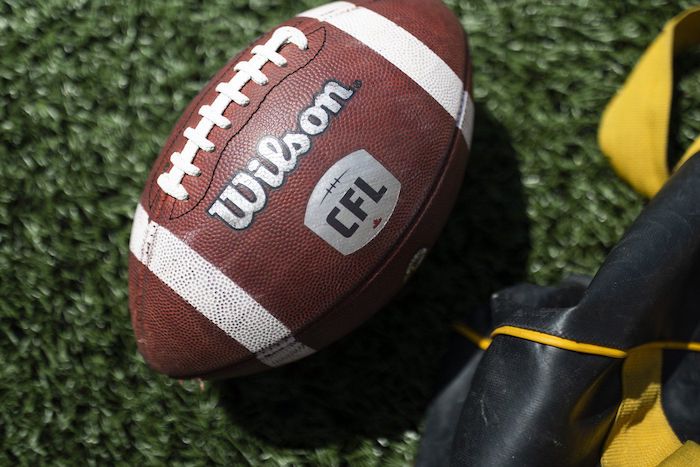 By Dan Ralph
The CFL Players' Association ratified its new collective bargaining agreement with the CFL on Thursday night.
The CFLPA made the announcement via email. The players' vote came hours after the two sides hammered out a seven-year tentative agreement.
The ratification came two days after CFL commissioner Randy Ambrosie unveiled the league's final offer to its players.
The deal must also be ratified by the CFL board of governors, but that's not expected to be an issue. With the players accepting the agreement, the league's exhibition season will open on time Friday night.
"We are pleased that players have now ratified a new collective bargaining agreement between the CFL and CFLPA," Ambrosie said in a statement. "The CFL's board of governors will conduct its ratification vote shortly.
"We look forward to a successful season — including pre-season games this weekend — and a long and productive partnership with our players."
The CFLPA didn't provide overall voting results. Players on six of the nine CFL teams had to accept the deal for it be ratified, with the required margin being at least 50 per cent plus one of ballots in favour.
On Monday, the players voted against a tentative deal that the union had recommended they accept. The CFLPA also recommended the ratification of Thursday's tentative agreement.
According to sources, CFL teams will have seven Canadian starters and 21 in total on rosters this year. In 2023, that number increases to eight with one being a nationalized Canadian — an American who has spent either five years in the CFL or at least three with the same team.
Clubs will also be able to rotate two nationalized Canadians for up to 49 per cent of snaps. Teams can move to three nationalized Canadians in 2024 but the two franchises that play the most Canadians at the end of the season will receive additional second-round draft picks.
And the seven pure Canadian starters per game will remain intact throughout the term of deal, which can be reopened after five years when the CFL's broadcast agreement with TSN expires.
The sources spoke on the condition of anonymity as neither the league nor union have provided specific details of the new agreement.
The sources also said the CFL will provide $1.225 million in a ratification pool for players. The salary cap this year will remain at $5.35 million and increase to $5.51 million in 2023. It will be $5.99 million in 2028.
Minimum salaries for global, national (Canadian) and American players will be consistent. The figure will increase from $65,000 to $70,000 next year and $75,000 in 2027.
The maximum housing allowance this year will be $2,300 monthly for six months. The CFL and CFLPA agree to an annual review to determine the maximum housing allowance number for the next season.
In return, the CFL receives extended labour peace and the opportunity of time to really rebuild its business. The league didn't play in 2020 due to the COVID-19 pandemic — reportedly losing between $60 and $80 million — and held a shortened 14-game campaign last year.
Last December, the league announced a partnership with Genius Sports, a data, technology and commercial company that connects sports, betting and media. In August 2021, the CFL signed a multi-year partnership with BetRegal to become its official online sports-gaming partner.
Last month, the single-game sports betting industry opened fully in Ontario.
But Canadian Justin Palardy, a former kicker who spent time with five CFL teams from 2010-15, took to social media to voice his displeasure with the deal.
"Like I said on another tweet, what's the point of drafting more (Canadians) if we're getting rid of Canadian starters?" he tweeted. "You may think it's a terrific idea, doesn't mean it makes sense."
Defensive lineman/linebacker Shomari Williams, who went first overall in the 2010 CFL draft to Saskatchewan and played with four teams over six pro seasons (2010-15) also wasn't impressed.
"I feel the CFLPA main objective for (Canadian) members is to NOT diminish the roles of (Canadian) players in the CFL," he tweeted. "How do you bring this to your (Canadian) members after they voted no and have the confidence you will be re-elected?"
The two sides had been at odds regarding the Canadian ratio.
Last Wednesday, the CFL and CFLPA reached a tentative seven-year agreement, ending a four-day strike by seven of the league's nine teams. At first glance, there seemed to be many positives for the players, including a revenue-sharing model, the ability to reopen the pact in five years once the CFL signed a new broadcast deal, and veteran players having the ability to negotiate partially guaranteed contracts.
But the agreement also called for CFL teams to increase the number of Canadian starters from seven to eight. The extra would've also been a nationalized Canadian.
In addition, three other nationalized Canadians could play up to 49 per cent of snaps. And the deal didn't include a ratification bonus.
On Tuesday, Ambrosie unveiled an amended proposal that included a $1-million ratification pool and the abolition of the three nationalized Canadians playing 49 per cent of snaps. However, it also reduced the number of Canadian starters to seven, including one nationalized Canadian.
Not only did Ambrosie say it was the CFL's final offer, but it was good until midnight ET on Thursday, given the league's exhibition schedule was slated to begin Friday night with two games. Ambrosie added if the players rejected the offer and opted to go back on strike, they'd be served notice to vacate their respective training-camp facilities.
It marked the second time Ambrosie had gone public with a final contract offer to the CFLPA. On May 14, he posted a letter to fans on the league's website detailing the league's proposal to players hours before the former CBA was set to expire.
The next day, players on seven CFL teams opted against reporting to training camp and went on strike. The Edmonton Elks and Calgary Stampeders both opened camp as schedule because they weren't in a legal strike position, as per provincial labour laws, at the time.
It marked just the second work stoppage in league history and first since 1974.
This report by The Canadian Press was first published May 26, 2022.
Elks down Tiger-Cats 29-25 for first win of CFL season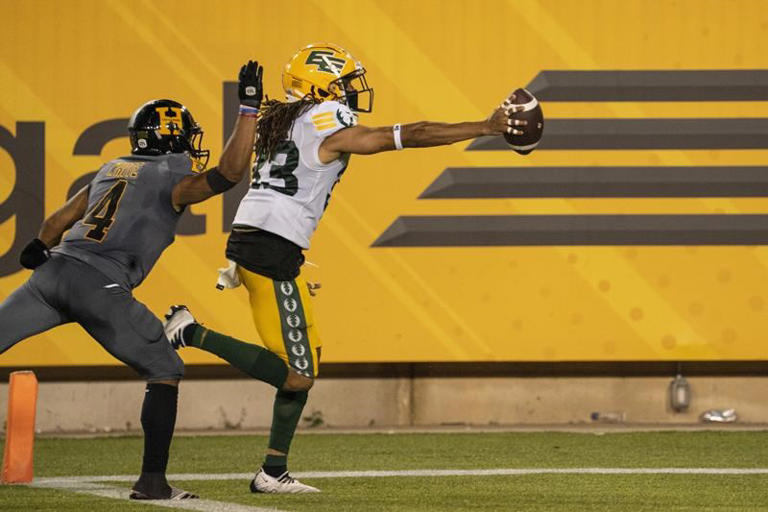 HAMILTON — Tre Ford was in his happy place Friday in Hamilton.
The Edmonton Elks quarterback got a win in his first career CFL start 30 minutes down the Queen Elizabeth Highway from his hometown of Niagara Falls, Ont.
The Elks came from behind to beat the Tiger-Cats 29-25 in front of 20,233 at Tim Hortons Field.
"To come back to Hamilton and have all my family watching me get that first start and that first win has been fantastic," Ford said.
Among Ford's supporters were his wife, parents, sister, sister-in-law and mother-in-law, his high school football coach from A.N. Myer Secondary, his University of Waterloo head coach Chris Bertoia, eight of his former university teammates and more friends.
Ford was shaky at times as the Elks trailed by 13 points early in the second half.
But the 2021 winner of the Hec Crighton Trophy winner that goes to the most outstanding Canadian university football player threw a game-tying touchdown pass to Kenny Lawler early in the fourth quarter.
The winning play for the Elks (1-3) arrived with 1:38 remaining when defensive back Scott Hutter tackled Hamilton quarterback Dane Evans and knocked the ball loose.
Jalen Collins recovered for a 14-yard touchdown.
"I saw him tackle him and thought, 'please punch the ball out," Collins said. "All we needed was an opportunity to close the game out. We were fighting all night. It was ugly."
The winless Tiger-Cats opened a season with four straight losses for the first time since 2017 when they started 0-8.
"I want to apologize to all the guys. I put both home losses on me," Evans said. "I just have to take care of it, and we win the game."
Evans was 20-for-31 in passing for 197 yards and a touchdown throw. He was intercepted twice.
Ford's numbers didn't sparkle, although he did rush for 61 yards on six carries. The 24-year-old competed 15 of 26 passes for 159 yards and a touchdown. He was intercepted once.
Edmonton's defence helped out with interceptions by Sheldon Brady and Matthew Thomas, as well as the pivotal late-game recovered fumble by Collins.
"A big shout out to the defence," Ford said. "They won us that game. They made what, three or four turnovers? They did super well.
"I have room for improvement. I'm not going to complain because we did win. But I'm going to hit the film room to see what I can critique and where I can get better."
Hamilton went after the rookie with various blitzes in the first half.
"My legs are going to open things up for my arm," Ford said.
Ford credited teammate and quarterback Nick Arbuckle, who started in Edmonton's three losses this season, for advising him during the game on defensive reads.
"He's been like that since day one, even though we're competitors for the position," Ford said.
He admitted to early jitters as Hamilton led 16-6 after the first quarter and 19-9 at halftime.
"I always get nervous for the first play of every game," Ford said. "I think it's a good thing because it means I care and that I want to win."
Evans hit Steven Dunbar for a 21-yard strike, and Lawrence Woods returned a kickoff of 72 yards for Hamilton's first-half touchdowns.
Edmonton's Kai Locksley scored on a one-yard plunge.
Elks kicker Sergio Castillo made two of his three field-goal attempts, while Hamilton counterpart Michael Domagala nailed his three and gave the Ticats at lead with a 33-yarder with 3:10 remaining in the game
"We're not good enough right now," Hamilton head coach Orlondo Steinauer said. "We're not executing at the level which needs to happen. We're just not making those plays we need to make."
This report by The Canadian Press was first published July 1, 2022.
Tim Wharnsby, The Canadian Press
Russell Martin bids farewell to Blue Jays fans after retiring in May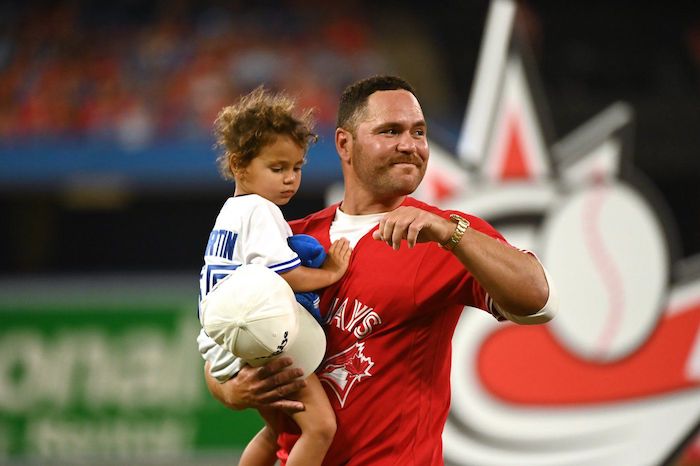 By John Chidley-Hill in Toronto
Russell Martin's favourite memory at Rogers Centre is the same as many Toronto Blue Jays' fans: Jose Bautista's infamous bat flip in Game 5 of the 2015 American League Division Series.
"Just the electricity of the crowd, you could feel the ground trembling and the energy was insane," said Martin. "That's definitely one moment that just sticks out more than any other."
Martin added another memorable moment on Friday, throwing out the opening pitch in front of a packed Canada Day crowd at Toronto's ballpark. He formally announced his retirement from baseball on May 28 and making an appearance at Rogers Centre was his opportunity to say thanks and farewell to Blue Jays fans.
Before the game Martin said he hoped for a "couple of claps, a couple of laughs" when he came out to throw the opening pitch. Instead, he got a rousing standing ovation from the packed ballpark and a tribute video narrated by Bautista featuring messages from several former teammates.
He threw the opening pitch to Blue Jays catcher Gabriel Moreno, who wears No. 55 as a tribute to Martin. Mustafa (Moose) Hassan, Toronto's clubhouse operations manager, told Martin last season that Moreno was going to wear his number and connected the two catches by phone.
"It's awesome," said Martin. "He gave me a call and I just told him there's a lot of a lot of hits left in that jersey and I wish him the best."
Born in Toronto and raised in Montreal, Martin is one of the most accomplished Canadians to ever play for the Blue Jays. The catcher had a .225 batting average, 66 home runs and 211 runs batted in, as well as an all-star game appearance, in his four seasons with Toronto.
He said that playing in Toronto on Canada Day has a different feel than a typical game at Rogers Centre.
"You feel the energy of the crowd and the crowd gets hyped for Canada Day," said Martin, sitting in the Blue Jays dugout before the matinee game against the Tampa Bay Rays. "It's special because you get the red jerseys and the crowd feels like you're in the playoffs, even though it's not the playoffs.
"You have that energy that you don't really don't get in a regular-season game."
Martin began his career with the Los Aneles Dodgers before moving on to the New York Yankees, Pittsburgh Pirates, Toronto, and then playing one last season back with L.A. He finished his career with a .248 average, 191 home runs, 771 RBIs, and four all-star games.
He said that he has generally stopped watching baseball, instead focusing on raising his children and playing golf. When asked if he might come out of retirement and represent Canada at an international tournament like the 2023 World Baseball Classic, Martin said it was unlikely.
"I'm so out of shape right now. As much as I'd like to think I could do it, I'm not even close to being in playing shape," he said with a laugh. "I have too much respect for the guys that spend a lot of time in their off-season, they go to work and they're in tune.
"They're like fine-tuned racecars right now. I'm like a beat up Chevy."
This report by The Canadian Press was first published July 1, 2022.