Car seats and baby formula are regulated. Is social media next?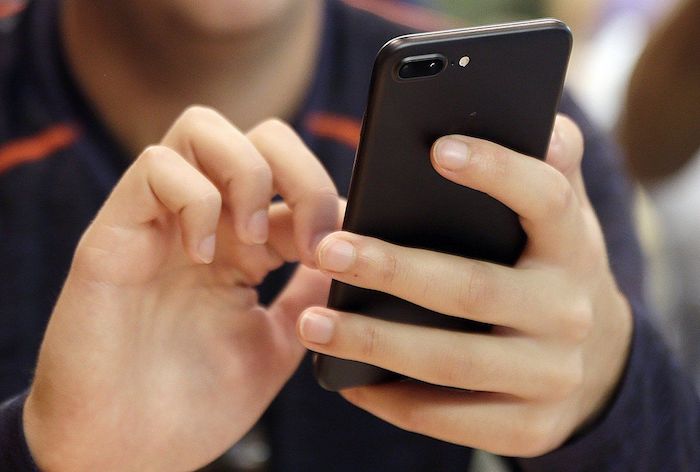 By Barbara Ortutay
The U.S. surgeon general is warning there is not enough evidence to show that social media is safe for children and teens — and is calling on tech companies, parents and caregivers to take "immediate action to protect kids now."
With young people's social media use "near universal" but its true impact on mental health not fully understood, Dr. Vivek Murthy is asking tech companies to share data and increase transparency with researchers and the public and prioritize users' health and safety when designing their products.
"I recognize technology companies have taken steps to try to make their platforms healthier and safer, but it's simply not enough," Murthy told The Associated Press in an interview. "You can just look at the age requirements, where platforms have said 13 is the age at which people can start using their platforms. Yet 40% of kids 8 through 12 are on social media. How does that happen if you're actually enforcing your policies?"
To comply with federal regulation, social media companies already ban kids under 13 from signing up to their platforms — but children have been shown to easily get around the bans, both with and without their parents' consent.
Other measures social platforms have taken to address concerns about children's mental health are also easily circumvented. For instance, TikTok recently introduced a default 60-minute time limit for users under 18. But once the limit is reached, minors can simply enter a passcode to keep watching.
It's not that the companies are unaware of the harms their platforms are causing. Meta, for instance, studied the effects of Instagram on teens' mental health years ago and found that the peer pressure generated by the visually focused app led to mental health and body-image problems, and in some cases, eating disorders and suicidal thoughts in teens — especially in girls. One internal study cited 13.5% of teen girls saying Instagram makes thoughts of suicide worse and 17% of teen girls saying it makes eating disorders worse.
The research was revealed in 2021 by whistleblower Frances Haugen. Meta sought to downplay the harmful effects of its platform on teens at the time, but put on hold its work on a kids' version of Instagram, which the company says is meant mainly for tweens aged 10 to 12.
"The bottom line is we do not have enough evidence to conclude that social media is, in fact, sufficiently safe for our kids. And that's really important for parents to know," said Murthy, who's been traveling around the country talking to parents and young people about the youth mental health crisis. "The most common question I get from parents is whether social media is safe for their kids."
Policymakers need to address the harms of social media the same way they regulate things like car seats, baby formula, medication and other products children use, Murthy said in a report published Tuesday. Parents — and kids — simply can't do it all.
"We're asking parents to manage a technology that's rapidly evolving that fundamentally changes how their kids think about themselves, how they build friendships, how they experience the world — and technology, by the way, that prior generations never had to manage," Murthy said. "And we're putting all of that on the shoulders of parents, which is just simply not fair."
While Murthy is calling for more research, he says there is ample evidence now that social media can have a "profound risk of harm" on the mental health and well-being of children and teenagers.
One critical factor is children's brain development. Adults can suffer from the harmful effects of social media. But children and adolescents are at a "fundamentally different stage of brain development, where the pathways in their brains, their social relationships, their self-esteem and identity are all under development," Murthy said. "And in this case, they're even more prone to be influenced by social cues, social pressure and social comparison — and those three things exist in overwhelming abundance on social media."
In fact, frequent social media use may be associated with "distinct changes" in the developing brain, and could could increase sensitivity to social rewards and punishments, according to a study cited in the surgeon general's report.
How and how often they use social media, as well as extreme, inappropriate and harmful content they see could have profound effects on kids' and teens' mental health.
And research shows they are using it a lot. al. Up to 95% of youthages 13 to 17 report using a social media platform, with more than a third saying they use social media "almost constantly," according to the Pew Research Center.
A systematic review of 42 studies found a "consistent relationship between social media use and poor sleep quality, reduced sleep duration, sleep difficulties, and depression among youth." On a typical weekday, nearly one in three adolescents report using screen media until midnight or later.
What they see on social media also matters. From being bombarded unrealistic body images to a culture of "hyper-comparison" to bullying, hate and abuse, Murthy said he's worried that its effects on young people's mental health are showing up in the "disturbing mental health statistics that we are seeing in our country, which are telling us that depression, anxiety, suicide, loneliness are all going up."
Murthy's report doesn't tell young people to stop using social media altogether. There are benefits, too. It's where teens can find a community and have a space for self-expression. LGBTQ+ youth, in particular, have been shown to benefit from social media through connecting with peers, developing an identity and finding social support.
"For every family, it may not be feasible to stop your child from using social media or there may be benefit," Murthy said. "But drawing boundaries around the use of social media in your child's life so there are times and spaces that are protected, that are tech free, that can be really helpful."
Murthy's own children are 5 and 6, but like many parents, he's already thinking about their future on social media.
"We are planning to delay the use of social media for our kids until after middle school," he said. "And you know, that's not going to be easy. But we're hoping to find other parents and families that we can partner with to make this a little easier, because we know there's strength in numbers and sometimes making changes on your own is hard."
EU targets Apple, Amazon, Meta and other Big Tech in next phase of digital crackdown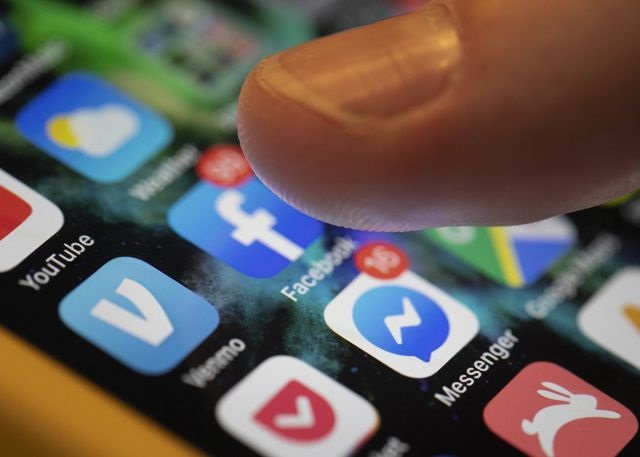 A smartphone displays the apps for Facebook and Messenger in New Orleans, Aug. 11, 2019. The European Union on Wednesday targeted Apple, Amazon, Microsoft, Google parent Alphabet, Facebook owner Meta and TikTok parent ByteDance under new digital rules aimed at reining in the market power of online companies. (AP Photo/Jenny Kane, File)
By Kelvin Chan in London
LONDON (AP) — Six Big Tech companies including Amazon, Apple and Microsoft faced fresh pressure Wednesday from the European Union, which moved to counter their digital dominance with far-reaching rules aimed at giving users more choices and making competition fairer.
Google parent Alphabet, Facebook owner Meta and TikTok parent ByteDance also were classified as online "gatekeepers" subject to the strictest requirements of the 27-nation EU's Digital Markets Act, which amounts to a list of do's and don'ts seeking to prevent tech giants from cornering digital markets, with the threat of whopping fines or even forcing companies to sell of parts of their business to operate in Europe.
That means European users of Big Tech social media or chat services could soon be able to send messages to rival platforms, avoid having their data used to show personalized ads and choose which search engine or browser they prefer rather than being stuck with a default version.
It's part of a sweeping update to the EU's digital rulebook taking force this year and comes weeks after a companion package of rules aimed at keeping internet users safe, the Digital Services Act, started kicking in.
"The most impactful online companies will now have to play by our EU rules," European Commissioner Thierry Breton, who's in charge of the bloc's digital policy, said on X, previously known as Twitter. "DMA means more choice for consumers. Fewer obstacles for smaller competitors. Opening the gates to the Internet."
The European Commission, the EU's executive body, said digital platforms can be listed as gatekeepers if they act as key gateways between businesses and consumers by providing "core platform services."
Those services include Google's Chrome browser, Microsoft's Windows operating systems, chat apps like Meta's WhatsApp, social networks like TikTok, and others playing a middleman role like Amazon's Marketplace and Apple's App Store.
The companies now have six months to start complying with the Digital Markets Act's requirements, which are spurring changes in how Big Tech companies operate.
Google said the new law will require it and other companies "to make various changes to the way their products and services work."
One of the main goals is to break up the "closed environment where you are in a way locked in and you cannot go elsewhere, " said Alexandre de Streel, a professor of European law at the University of Namur and an academic director at CERRE, a think tank in Brussels.
"Consumers will be better off because you will pay less and will be able to move more easily from one one platform to another," de Streel said. "So that's the endgame."
For example, under the DMA, tech companies can't stop consumers from connecting with businesses outside their platforms.
That could put pressure on Apple to open its App Store further. Video game maker Epic Games and music streaming service Spotify have both complained that Apple wouldn't let them bypass its Apple Pay system to avoid paying its 30% commission for subscriptions. Apple has since eased some of its longstanding restrictions.
Messaging services will be required to work with one another. That means Telegram or Signal users could exchange texts or video files with WhatsApp users.
Platforms are banned from ranking their own products or services higher than their rivals' in search results. So, Amazon isn't allowed to make its own-brand products easier to find than those from third-party merchants. The ecommerce giant already started giving European buyers more visible choices when it settled an EU antitrust investigation last year by offering a second "buy box" with a different price or delivery option for the same product.
Online services can't combine a user's personal data to build up a profile for targeted advertising. That means Meta can't mix together a user's data from Facebook, Instagram and WhatsApp services without clear consent.
Essential software or apps such as web browsers can't be installed by default along with the operating system, in the way Google's Chrome comes bundled with Android phones. Consumers will instead be given a choice screen for search engines and browsers to use on their devices. Google noted that it's already doing this and said it would remind European users of their choices.
Meta said it's studying the commission's announcement, which had no impact on its services. Amazon said it will work with Brussels on its implementation plans.
Microsoft said it accepted being named as a gatekeeper and welcomed the commission's decision to consider its request to exempt some of its services, including its Bing search engine and Edge browser.
TikTok "fundamentally" disagrees with the commission's decision, EU public policy chief Caroline Greer said on X. The video sharing app, which entered the European market about five years ago, has "brought choice" to an industry largely controlled by incumbents, she said.
Violations could result in fines of up to 10% of a company's annual global revenue and up to 20% for repeat offenders, or even a breakup of the company.
Online News Act could see Google, Meta pay combined $230 million to Canadian media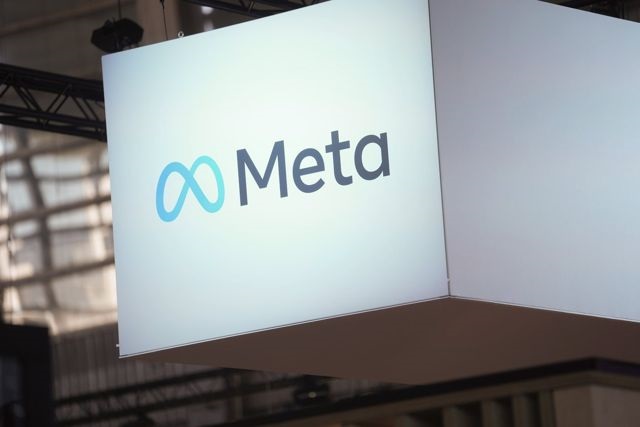 The META logo is seen at the Vivatech show in Paris in Paris, France, Wednesday, June 14, 2023. THE CANADIAN PRESS/AP-Thibault Camus
By Tara Deschamps
The federal government has put a price tag on how much it would like to see Google and Facebook spend under an act requiring the tech giants to compensate media for news articles.
Federal officials estimate Google would need to offer $172 million and Facebook $62 million in annual compensation to satisfy criteria they're proposing be used to give exemptions under the Online News Act, a bill passed over the summer that will force tech companies to broker deals with media companies whose work they link to or repurpose.
Draft regulations released by the government Friday outlined for the first time how it proposes to level the playing field between Big Tech and Canada's journalism sector, and which companies it will apply to.
"The goal of it is to make sure that those that benefit the most from the Canadian market fall under the bill," newly-minted Heritage Minister Pascale St-Onge told The Canadian Press following the proposal's release.
The government said companies will fall under the act if they have a total global revenue of $1 billion or more in a calendar year, "operate in a search engine or social media market distributing and providing access to news content in Canada" and have 20 million or more Canadian average monthly unique visitors or average monthly active users.
For now, Google and Meta's Facebook are the only companies to meet the criteria, though officials say Microsoft's Bing search engine is the next closest to falling under the act.
"We know how technology evolves or how the market changes sometimes at a rapid pace and we want to make sure that this bill is relevant in five and 10 years," St-Onge said.
Companies meeting the criteria can receive an exemption from the act if they already contribute an amount laid out by a government formula to Canadian journalism.
The formula is based on the tech company's global revenues and Canada's share of their global GDP. The government believes the calculation will deliver a contribution that is within 20 per cent of the earnings of full-time journalists working in a Canadian news organization.
Companies would be able to satisfy the criteria with both monetary and non-monetary compensation. While the draft does not specify what non-monetary contributions would count, officials said training and advertising could wind up meeting criteria.
The draft regulations will be subject to a further 30-day consultation, but Facebook and Instagram parent company Meta, which blocked news on its platforms in anticipation of the act coming into effect at the end of the year, immediately expressed its disappointment with the proposal.
The draft is based around a "fundamentally flawed premise," said Rachel Curran, head of public policy at Meta Canada.
"As the legislation is based on the incorrect assertion that Meta benefits unfairly from the news content shared on our platforms, today's proposed regulations will not impact our business decision to end news availability in Canada," she said in a statement.
Google, which St-Onge has painted as more cooperative than Meta, has also threatened to pull Canadian news from its offerings.
"We're carefully reviewing the proposed regulations to assess whether they resolve the serious structural issues with C-18 that regrettably were not dealt with during the legislative process," Google spokesperson Shay Purdy said in response to the draft.
The two companies have long lobbied against the legislation, with Meta claiming news is a tiny fraction of its business and removing it would result in little revenue loss for the social networking giant.
Google's president of global affairs Kent Walker, meanwhile, has said the legislation "exposes us to uncapped financial liability" and claimed it's being targeted just because it shows links to news, "something that everyone else does for free."
But St-Onge maintained the legislation is a "reasonable and predictable path forward for both platforms and media newsrooms.
"This is what we have said that we do," she said. "I think we delivered on finding a way forward that should please everyone."
The government said it is pushing forward with the act because Google and Meta have a combined 80-per-cent share of the $14 billion online ad revenues seen in the country in 2022.
At the same time, news outlets have seen their advertising revenues shrink, forcing layoffs, a loss of media coverage in small and rural communities and 474 closures of Canadian news businesses between 2008 and 2023.
The government says 69 per cent of Canadians access news online but only 11 per cent pay for it.
After Meta made good on its threats to remove Canadian news, the federal government pulled $10 million in annual advertising spend from Meta's platforms. News and telecommunications businesses Quebecor, Bell Media, Torstar Corp., Cogeco, and Postmedia Network Canada Corp. replicated the move.
This report by The Canadian Press was first published Sept. 1, 2023.