Canadians ready for today's World Cup game against Belgium — first match since 1986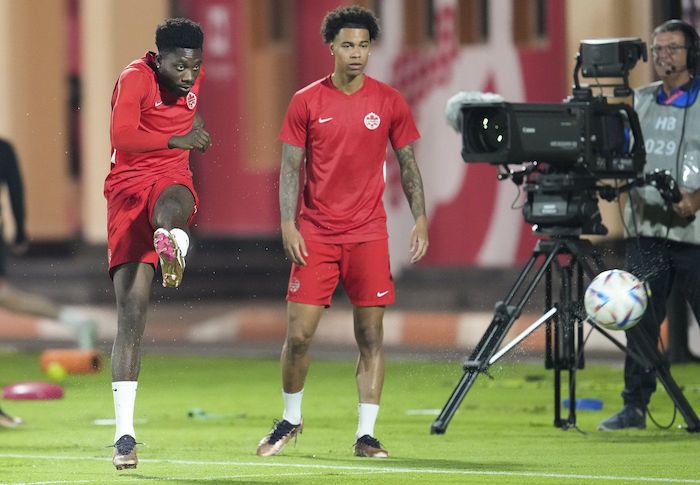 Montreal – Watch parties are planned across the country today as soccer fans get ready for the World Cup match between Canada and Belgium — Canada's first game in the tournament since 1986.
In Montreal, a rivalry is brewing between the city's French-speaking Belgian community and fans of Canada's team, which is entering today's game in Qatar as the overwhelming underdog.
But Canada received good news on Tuesday when it was revealed that winger Alphonso Davies — the team's most dangerous player — has recovered from a hamstring injury and was declared fit to play.
Belgium is currently favoured to win Group F, which also includes 2018 finalist Croatia and Morocco, ranked 22nd in the world.
Belgium, however, will be without its star striker Romelu Lukaku, who hasn't played a match in nearly a month because of a thigh injury.
Canada is ranked 41st in FIFA standings and Belgium is second.
This report by The Canadian Press was first published Nov. 23, 2022.
Lafreniere scores in OT to lift Rangers over Flames 5-4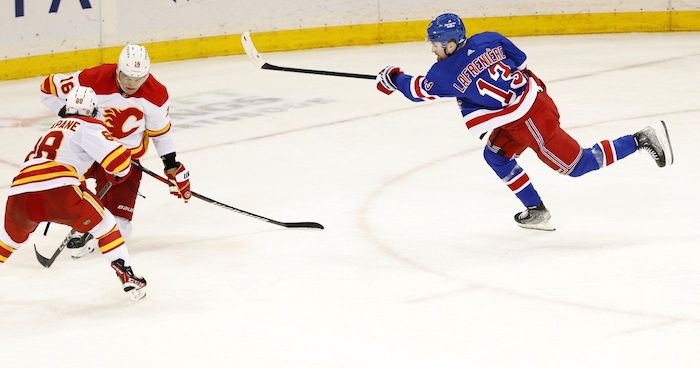 By Allan Kreda in New York
NEW YORK (AP) — Alexis Lafreniere scored 1:37 into overtime and Jaroslav Halak made 28 saves as the New York Rangers beat the Calgary Flames 5-4 on Monday night.
Lafreniere led a 2-on-1 rush and then tracked down the rebound of Mika Zibanejad's shot, beating netminder Jacob Markstrom for his seventh goal this season. That ended a frenzied game that was tied four times and featured several fights following big hits — two by Rangers captain Jacob Trouba.
"Getting the game-winning goal in OT is always fun," the 21-year-old Lafreniere said. "It was a great up-and-down game with two really good goalies. It was fun to play."
Calgary's Andrew Mangiapane and Michael Stone scored two minutes apart early in the third period to give the Flames a 4-3 lead, but Zibanejad scored his second goal of the game — his team-leading 24th — to tie it for the fourth time at 12:55.
Filip Chytil also scored twice for the Rangers, who improved to 9-2-3 in their last 14 games and are 17-4-3 since Dec. 5.
Halak has won six straight and seven of his last eight appearances.
Zibanejad put New York ahead 3-2 with 14 seconds left in the second but Mangiapane scored at 6:38 of the third to tie it. The play was reviewed to determine if Mangiapane kicked in the puck with his skate, but the goal stood.
"It wasn't pretty at times. … It was a hard battle. We just kept going," Zibanejad said. "It was a big two points and a great way to come back from the break."
Zibanejad's first goal came as he roofed the puck past Markstrom on the power play with assists to Chris Kreider and Artemi Panarin. The assist was Panarin's 300th point with the Rangers.
Chytil opened the scoring at 5:37 of the first, rifling a high shot past Markstrom. Kaapo Kakko and Adam Fox assisted.
Calgary forward Blake Coleman tied it at 10:25 with his 11th goal.
There were several skirmishes in the first as both teams were playing for the first time since Jan. 27 following the All-Star break.
"It wasn't a great hockey game, but it was an exciting game," Rangers coach Gerard Gallant said. "It was different — a bunch of fights going on. … Maybe the break was too short."
Trouba tussled with Calgary's Chris Tanev after the defenseman leveled Flames forward Dillon Dube with an open-ice check.
Later in the first, several fights ensued after Rangers forward Sammy Blais drilled Flames forward Milan Lucic. New York rookie Will Cuylle fought Calgary's MacKenzie Weegar, and Lucic was assessed an extra two minutes for roughing against Rangers forward Jake Leschyshyn.
"Exciting game. Fun game. I thought we were valiant to come back," Flames coach Darryl Sutter said. "I thought we played really well. … There were three or four hits. They were clean, big hits."
Chytil put the Rangers ahead 2-1 on a breakaway at 2:02 of the second. Fans at Madison Square Garden chanted the 23-year-old Czech forward's name after his second goal.
"That's cool, feels very good," he said. "It motivates me to be better the next shift and show what I can do."
Chytil has a career-best 18 goals and 31 points this season. He has six goals in his last four games and 14 points — 10 goals — in his last 12 games.
Calgary's Tyler Toffoli tied it at 2 with his 19th goal on the power play at 16:45 of the second.
Trouba struck again with just under a minute left in the second, body-checking Nazem Kadri hard in the Rangers zone, then fighting Dube who rushed to his teammate's defense. Dube received an extra two-minute penalty for instigating, and Zibanejad scored the go-ahead goal on the ensuing power play.
NOTES: Zibanejad's 83rd power-play goal for the Rangers moved him ahead of Phil Esposito and Jean Ratelle into a tie with Vic Hadfield for sixth place on the franchise list. … Calgary scratched defensemen Dennis Gilbert and Connor Mackey, plus forward Brett Ritchie. … The Rangers scratched forwards Julien Gauthier and Vitali Kravtsov, plus defenseman Libor Hajek. … The teams meet again Feb. 18 in Calgary.
UP NEXT
Flames: Visit the Detroit Red Wings on Thursday.
Rangers: Host the Vancouver Canucks on Wednesday.
___
AP NHL: www.apnews.com/hub/NHL and www.twitter.com/AP_Sports
Fox sells out Super Bowl ads: crypto out, alcohol in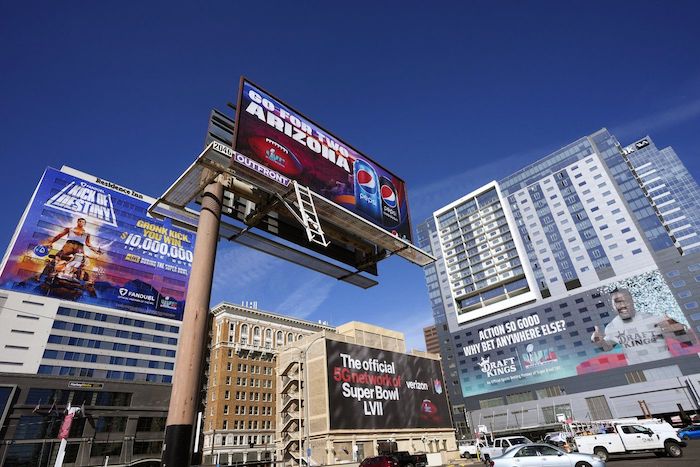 By Mae Anderson in New York
NEW YORK (AP) — The hottest ticket in town for advertisers is officially sold out. Fox said Monday that in-game ads for Super Bowl LVII have all been sold.
The big game between the Kansas City Chiefs and the Philadelphia Eagles takes place on Sunday.
The Super Bowl is advertising's biggest stage, with advertisers jockeying to get their products in front of the more than 100 million people that watch each year. Mark Evans, executive vice president of ad sales for Fox Sports, said a few ads went for more than $7 million for a 30-second spot. Most sold between $6 million and $7 million.
Anheuser-Busch remains the biggest advertiser with three minutes of national airtime. The beverage giant gave up its deal to be the exclusive alcohol advertiser this year, so Heineken, Diageo, Remy Martin and Molson Coors are also in the game. Other big categories advertising include packaged food like Doritos and M&Ms, movie studios and streaming services, automakers and tech companies, Evans said. Out this year: crypto companies.
Last year's Super Bowl was dubbed the "Crypto Bowl" because four cryptocurrency companies — FTX, Coinbase, Crypto.com and eToro — ran splashy commercials. It was part of a larger effort by crypto companies to break into the mainstream with sports sponsorships. But in November, FTX filed for bankruptcyand its founder was charged in a scheme to defraud investors.
This year, two crypto advertisers had commercials "booked and done" and two others were "on the one-yard line," Evans said. But once FTX news broke, those deals weren't completed.
Now, "There's zero representation in that category on the day at all," he said.
Evans said most Super Bowl ads sold much earlier than usual, with more than 90% of its Super Bowl ad inventory gone by the end of the summer, as established advertisers jockeyed for prime positions. But the remaining spots sold slower. Partly that was due to the implosion of the crypto space, as well as general advertiser concerns about the global economy, Evans said.
Last year, NBC sold out of its ad space briskly and said an undisclosed number of 30-second spots went for $7 million, a jump from the $6.5 million that 2021's ads went for.