Canadians divided on sending Team Canada athletes to the Tokyo Olympic Games: poll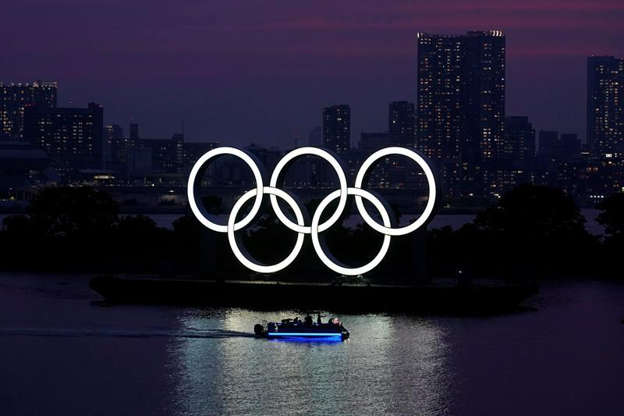 OTTAWA — A new poll by Leger and the Association of Canadian Studies suggests the country is divided over plans to send athletes from Canada to the upcoming Olympic Games in Tokyo as Japan grapples with climbing COVID-19 cases.
Forty-two per cent of those surveyed said they don't think Canadian athletes should compete in the Tokyo Games — delayed by a year due to the pandemic — while 39 per cent said Team Canada should attend.
When asked if they think competing in the games will be safe, 46 per cent of people said no, 35 per cent said yes and 19 per cent were not sure.
This torn perspective of Canadians could help give government officials, who will make the final call on whether athletes indeed take part in the Games, a way out, says Leger executive vice-president Christian Bourque.
"Canadians are so divided, certainly not convinced it's safe for athletes, so it's as if they're saying, 'If we decided to go, OK, and if we decide not to go, fine,'" Bourque said.
He added that he was surprised by these results.
"Usually it's something that Canadians like to celebrate, whether it's Summer or Winter Olympics, just to see the Maple Leaf out there competing, it always gets huge ratings on TV, so I would have assumed that there would be more of a willingness to say, 'Let's start enjoying ourselves again, including the Olympics,'" he said.
"But it seems again Canadians are prudent, careful, measured in how they answered the survey."
The survey questioned 1,529 Canadians and 1,003 Americans online between May 7 and May 9. It cannot be assigned a margin of error because internet-based polls are not considered random samples.
If governments are concerned about Canadians being upset about athletes jumping the queue for their COVID-19 vaccines, they need not be.
More than six in 10 respondents said they believe Canadian athletes should be prioritized for vaccines in Canada.
Athletes aren't required to be vaccinated to participate in the Games, however Pfizer and BioNTech announced earlier this month they would be donating COVID-19 doses to inoculate athletes and officials preparing for the Tokyo Games.
The Canadian Olympic Committee has said it believes it will have access to these donated vaccine doses as part of an International Olympic Committee initiative.
Heritage Minister Steven Guilbeault was not available for an interview Friday, but his spokeswoman, Camille Gagne-Raynauld, said federal officials are closely monitoring the status of the pandemic and its effect on the Tokyo Games.
The government is working closely with its sport partners and with the support of the Canadian Embassy in Tokyo, Gagne-Raynauld said.
"The priority remains the health and safety of our athletes, coaches and support staff."
The results from the poll of U.S. residents suggest our neighbours to the south are far more comfortable with the idea of sending their athletes to Japan for the Games, which open July 23.
A 55 per cent majority indicated they want American athletes to attend the games compared to only 20 per cent who said they should not, and more than half of U.S. respondents said they think it will be safe to compete.
Bourque said this isn't surprising, because Americans overall have been far less favourable toward imposed public health closures and restrictions over the last year according to his firm's polling.
"They've always had very much more of a laissez-faire attitude toward everything pandemic-related, compared to Canadians. In their case, a majority are saying, 'Yes, we should go and yes, it's safe.'"
A state of emergency in Tokyo and Osaka was extended earlier this week to more parts of the country as sports and health officials around the world continue to monitor the evolving situation on the ground.
Anti-Games sentiments have been gaining ground in Japan, where only about two per cent of the population has been vaccinated.
On Friday, a petition calling for the Olympics to be cancelled "to protect our lives" with more than 350,000 signatures was submitted to Tokyo Gov. Yuriko Koike. The petition says money spent on the Games would be better used on people in financial need because of the pandemic.
On Thursday, Japan reported 6,800 new coronavirus cases, increasing its total to 665,547 with 11,255 deaths.
Meanwhile, the Leger and Association for Canadian Studies survey also looked at Canadians' travel plans for the summer and for the remainder of the year. The results suggest a majority of Canadians plan to stay put and are not ready to get back on airplanes or travel to the U.S. any time soon.
These results mirror those from surveys of Canadians' travel plans conducted last year, Bourque said — which he equated to a kind of "Groundhog Day."
"I think Canadians will remain very careful of what plans they're making," he said.
"A lot of people too don't fully trust they will get refunded if they reserve now and cancel later, so this is probably not helping Canadians say, 'Let's plan for the fall, let's gamble on (the pandemic) being fine by then.' So there's a bit of a wait and see."
This report by The Canadian Press was first published May 15, 2021.
— With files from The Associated Press and Lori Ewing, The Canadian Press
Teresa Wright, The Canadian Press
Biden elevates energetic critic of Big Tech as top regulator
WASHINGTON (AP) — President Joe Biden on Tuesday installed an energetic critic of Big Tech as a top federal regulator at a time when the industry is under intense pressure from Congress, regulators and state attorneys general.
The selection of legal scholar Lina Khan to head the Federal Trade Commission is seen as signaling a tough stance toward tech giants Facebook, Google, Amazon and Apple. Khan was sworn in as FTC chair just hours after the Senate confirmed her as one of five members of the commission on a 69-28 vote.
Khan, 32, has been a professor at Columbia University Law School and burst onto the antitrust scene with her massive scholarly work in 2017 as a Yale law student, "Amazon's Antitrust Paradox." She helped lay the foundation for a new way of looking at antitrust law beyond the impact of big-company market dominance on consumer prices. As counsel to a House Judiciary antitrust panel in 2019 and 2020, she played a key role in a sweeping bipartisan investigation of the market power of the tech giants.
Khan also was a legal adviser to Rohit Chopra, an FTC commissioner, and was previously legal director of the Open Markets Institute.
"It is a tremendous honor to have been selected by President Biden to lead the Federal Trade Commission," Khan said in a statement. "I look forward to working with my colleagues to protect the public from corporate abuse."
The FTC polices competition as well as digital privacy and consumer protection.
Biden said as a presidential candidate that dismantling the big tech companies should be considered. He also has said he wants to see quickly crimped the social media companies' long-held legal protections for speech on their platforms.
Biden several months ago appointed Tim Wu, also an academic expert on antitrust and industry critic, as a special assistant to the president for technology and competition policy within the National Economic Council. Wu, like Khan a Columbia law professor, has been a senior adviser to the FTC and a senior enforcement attorney in the New York attorney general's office.
The tech industry, once lionized by lawmakers and presidents as an engine of innovation and jobs, has seen its political fortunes eroded in recent years. Calls have been rising to break up the Silicon Valley giants.
Lawmakers of both parties champion stronger oversight of the tech industry, arguing that its massive market power is out of control, crushing smaller competitors and endangering consumers' privacy. They say the companies hide behind a legal shield to allow false information to flourish on their social media networks or to entrench bias.
Last fall the Trump Justice Department, joined by states, filed a ground-breaking antitrust lawsuit against Google, accusing the search giant of abusing its market dominance to stifle competition. That was followed in December by another big antitrust suit, brought by the FTC and an array of states.
Amazon and Apple are under scrutiny by antitrust enforcers at the Justice Department, now in Biden's purview, and the independent, bipartisan FTC. Twitter has joined Facebook and Google in facing frequent run-ins with lawmakers over its policies for moderating content on its platform.
A bipartisan group of House lawmakers, animated by the results of the Judiciary panel investigation of Facebook, Google, Amazon and Apple, proposed sweeping legislation Friday to rein in Big Tech, possibly forcing the giants to break up their businesses while making it harder for them to acquire others. Those kinds of mandated breakups through a legislative overhaul would be a radical step for Congress to take and could be a bridge too far for some Republican lawmakers.
Some Republican lawmakers have denounced the new school of antitrust thought, championed by Khan and Wu and gaining currency among Democrats, that looks beyond the impact of big-company market dominance on consumer prices to its broader effects on industries, employees and communities.
The school is called "hipster antitrust" by its detractors. With this approach, Democrats are seeking to use antitrust law not to promote competition but to advance social or environmental goals, the Republicans contend.
Marcy Gordon, The Associated Press
Biden nominates 9 to high-profile ambassador postings
GENEVA (AP) — President Joe Biden on Tuesday unveiled picks for several high-profile ambassadorial postings, tapping career diplomats steeped in foreign policy experience — as well as political allies and aviation hero "Sully" Sullenberger.
The picks include former Interior Secretary Ken Salazar as ambassador to Mexico and former deputy secretary of state Tom Nides as ambassador to Israel. Retired airline pilot C.B. "Sully" Sullenberger, most famous for negotiating the emergency landing of US Airways Flight 1549 on the Hudson River with no fatalities, has been named to serve as U.S. representative on the Council of the International Civil Aviation Organization.
The announcement comes as Biden is on the tail end of an eight-day European trip that included stops in the United Kingdom for a meeting of the Group of Seven leaders and Belgium for a gathering of the 27 NATO countries and the U.S.-EU summit. The trip culminates in Geneva on Wednesday with a highly anticipated meeting with Russia's Vladimir Putin, where the leaders are to discuss rising tensions between their countries.
As a candidate, Biden declined to rule out appointing political donors to ambassadorships or other posts if he was elected. But he pledged that his nominees, regardless of their contributor status, would be the "best people" for their posts — suggesting he would move away from former President Donald Trump's heavy reliance on political appointees and rely more on the State Department's well of career foreign service officers.
More than 43% of Trump's ambassadorial appointments were political appointees, compared with 30.5% for Barack Obama and 31.8% for George W. Bush, according to the American Foreign Service Association. Biden hopes to keep political appointments to about 30% of ambassador picks, according to the White House.
"Nobody, in fact, will be appointed by me based on anything they contributed," Biden promised last year.
All the nominees must receive Senate confirmation before they can assume their roles.
Biden's other picks include:
—Julie Jiyoon Chung, a senior adviser to Secretary of State Antony Blinken, to serve as ambassador to Sri Lanka.
—Sharon Cromer, who currently serves as the U.S. Agency for International Development (USAID) Mission Director at the U.S. Embassy, Accra, Ghana, to serve as ambassador to Gambia.
—Troy Fitrell, currently the director of the Office of West African Affairs at the State Department, to serve as ambassador to Guinea. He has served as deputy chief of mission at the U.S. embassies in Ethiopia and Mauritius, as deputy director of the Department's Office of Southern African Affairs, and as deputy director of the Office of International Security Cooperation in the Bureau of Political-Military Affairs.
—Marc Ostfield, a 30-year veteran of the State Department, to serve as ambassador to Paraguay. Ostfield is currently the ombudsman of the State Department.
—Julianne "Julie" Smith, a former Obama administration national security aide currently serving as a senior adviser to the Secretary of State, to serve as permanent representative on the NATO council.
—Cynthia Telles, a clinical professor in the department of psychiatry at the UCLA David Geffen School of Medicine, to serve as ambassador to Costa Rica. Telles also was a prominent fundraiser for the Biden White House campaign.
Aamer Madhani, The Associated Press