Canadian Joey Votto appears in record 1,989th career major-league game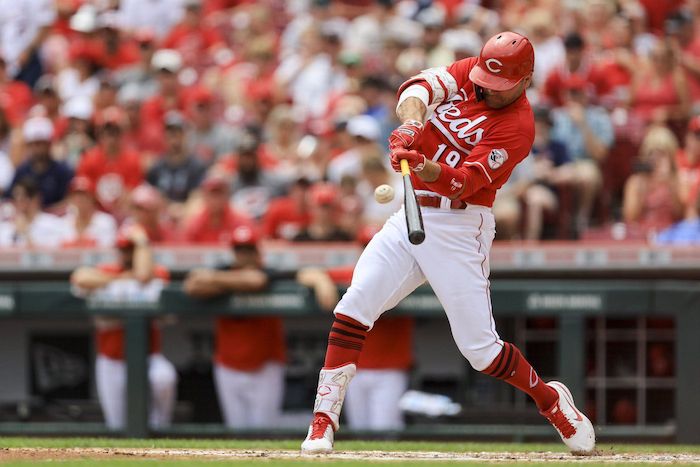 CINCINNATI — No Canadian has played in more Major League Baseball games than Joey Votto.
The Cincinnati Reds first baseman appeared in his 1,989th major-league game Sunday, an 8-5 win over the Chicago Cubs. That broke the previous mark, which had been held by Larry Walker of Maple Ridge, B.C.
Officials from the Canadian Baseball Hall of Fame presented Votto, 38, of Toronto, with a plaque to commemorate the accomplishment following the contest.
"To break Larry Walker's all-time games record is a testament to Joey Votto's determination, resiliency and enduring skills" Jeremy Diamond, chair of the Canadian Baseball Hall of Fame''s board of directors, said in a statement. "Best of all, Joey has carried himself with dignity and class throughout his career and he continues to be a role model and inspiration for players in Canada.
"Congratulations to him on this tremendous accomplishment."
It's the latest career accomplishment for Votto. who is the all-time leading Canadian in at bats, plate appearances, walks and all-star game selections (six).
Votto remains under contract for next season (with a team option for 2024). That would seemingly leave Votto within striking distance of Walker's all-time Canadian records for doubles (471) and hits (2,160).
Votto has currently accumulated 453 doubles and 2,093 hits.
Votto is in his 16th season with Cincinnati. He has topped the National League in on-base percentage seven times, walks five times and has batted over .300 in eight full seasons.
In 2021, he had 36 homers and reached three career milestones when registered his 2,000th hit, 300th home run and 1,000th run-batted in.
"We are proud to honour Joey's tremendous accomplishment, but we hope to make more of these presentations in the future as he continues his record-breaking career," said Diamond.
This report by The Canadian Press was first published Aug. 14, 2022.
The Canadian Press
Canada needs 300,000 new rental units to avoid gap quadrupling by 2026: report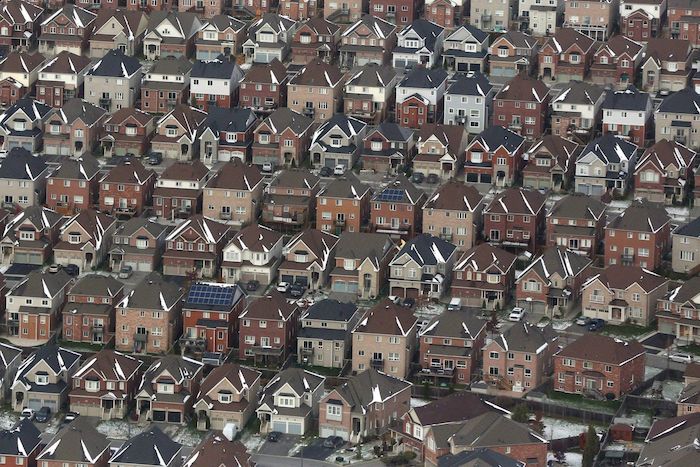 An aerial view of houses in Oshawa, Ont. is shown on Saturday, Nov. 11, 2017. A Royal Bank of Canada report predicts Canada's rental housing shortage will quadruple to 120,000 units by 2026 without a significant boost in rental stock. THE CANADIAN PRESS/Lars Hagberg
By Sammy Hudes in Toronto
Canada's rental housing shortage will quadruple to 120,000 units by 2026 without a significant boost in stock, Royal Bank of Canada said in a report Wednesday.
In order to reach the optimal vacancy rate of three per cent, the report suggested Canada would need to add 332,000 rental units over the next three years, which would mark an annual increase of 20 per cent compared with the 70,000 units built last year.
The research analyzed vacancy rate data released in January by the Canada Mortgage and Housing Corporation (CMHC).
Canada's vacancy rate fell to 1.9 per cent in 2022, its lowest point in 21 years, from 3.1 per cent in 2021.
Competition for units also drove the highest annual increase in rent growth on record, by 5.6 per cent for a two-bedroom unit.
Canada's rental housing stock grew by 2.4 per cent in 2022, led by Calgary at 7.4 per cent and Ottawa-Gatineau at 5.5 per cent, while Toronto and Montreal saw the smallest percentage increases at 2.1 per cent and 1.4 per cent, respectively.
"We haven't seen that many additions to the purpose-built inventory in almost a decade, so you would think that added supply of units would ease some of the competition, but what the CMHC rental market data revealed to us was that it didn't," said RBC economist Rachel Battaglia.
Slow growth in Canada's two most populous cities has been outpaced by rapidly increasing demand, partly fuelled by high immigration levels, she said. Annual federal immigration targets are set to grow eight per cent by 2025, meaning demand is unlikely to let up.
Battaglia also pointed to affordability and behavioural preferences for the influx of rentals sought. She said more Canadians are choosing to live alone, meaning fewer incomes per household.
"You have a lot of people being funnelled into the rental market who maybe would have liked to own something but it's just not financially in the books for them right now," said Battaglia.
The report estimated an existing deficit of 25,000 to 30,000 units of rental stock across Canada. In addition to building more supply, it recommended turning condo units into rentals, converting commercial buildings and adding rental suites to existing homes to help ease the pressure.
Without such measures, Battaglia said the market could "become infinitely more competitive."
"Which is not something that we want to realize given the competition we're already seeing," she said.
"You're already seeing rents increase dramatically."
This report by The Canadian Press was first published March 22, 2023.
Anholt tabbed to lead Canada's world junior squad after success with U18 team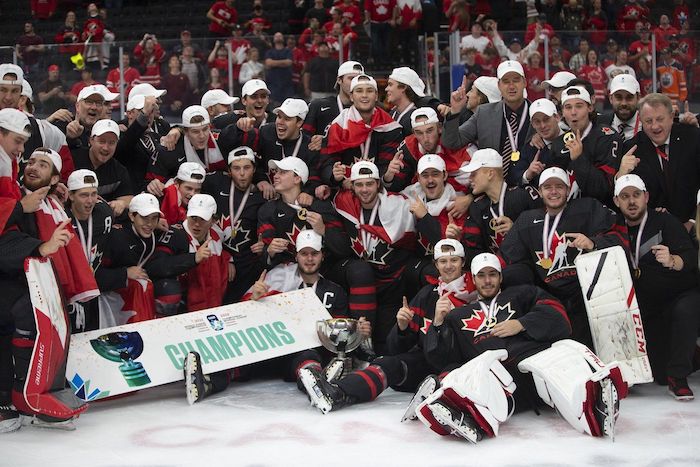 Canada celebrates the win over Finland IIHF World Junior Hockey Championship gold medal game action in Edmonton on Saturday August 20, 2022. THE CANADIAN PRESS/Jason Franson
Calgary – Peter Anholt has been tasked with helping Canada win a third straight world junior hockey championship after two successful seasons leading the country's under-18 program.
Anholt, who heads the front office of the Western Hockey League's Lethbridge Hurricanes, is one of three Canadian Hockey League general managers tabbed by Hockey Canada to oversee its men's under-17, under-18 and under-20 programs in 2023-24.
He takes over the world junior program from Ottawa 67's GM James Boyd, who helped Canada win two titles over the span of six months.
Canada beat Finland 3-2 in overtime to win the 2022 championship in Edmonton, which was held in August after being postponed from its traditional December/January slot due to the COVID-19 pandemic.
The Canadians repeated with a 3-2 overtime win over Czechia on Jan. 5 in Halifax.
The 2024 world junior championship begins Dec. 26 in Goteborg, Sweden.
Hockey Canada also announced Wednesday that Dave Brown of the Ontario Hockey League's Erie Otters will guide the men's under-17s this season, while Cam Russell of the Quebec Major Junior Hockey League's Halifax Mooseheads will take over Anholt's former position with the U18 team.
The three will work alongside Hockey Canada's hockey operations staff as part of the organization's "Program of Excellence" management group.
Duties include assisting with player and coach selection, and providing input during camps and tournaments.
Brown will lead the U17 team through the 2023 World Under-17 Hockey Challenge. Canada lost 2-1 to the United States in the final of last year's event in Langley and Delta, B.C.
Russell, meanwhile, will look to help Canada to a second consecutive Hlinka Gretzky Cup title. Canada won its 23rd gold medal at the best-on-best U18 tournament last year in Red Deer, Alta., with Anholt at the helm.
Canada did not participate in the 2021 event due to the pandemic, but won that year's U18 worlds.
"All three individuals bring a wealth of CHL experience to our program," Scott Salmond, Hockey Canada senior vice-president of hockey operations, said in a statement. "We look forward to having them work alongside our athletes and staff while leading our men's national teams next season."
This report by The Canadian Press was first published March 22, 2023.