Canadian governments OK settlement with Purdue Pharma over opioid addictions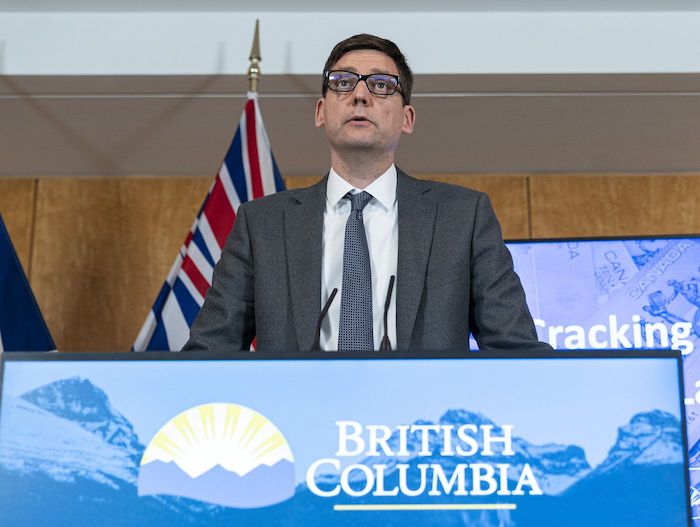 By Brieanna Charlebois in Vancouver
A proposed $150-million settlement with Purdue Pharma Canada covering all provinces and territories has been reached for the recovery of health-care costs related to the sale and marketing of opioid-based pain medication.
British Columbia Attorney General David Eby said Wednesday that it's the largest settlement of a governmental health-care cost claim in Canadian history.
The province launched a proposed class-action lawsuit in 2018 against more than 40 drug companies on behalf of all federal, provincial and territorial governments with the aim of recovering health-care costs for the "wrongful conduct of opioid manufacturers, distributors and their consultants."
Eby said the proposed settlement was accepted by governments across Canada and a plan is being worked on to determine how the money will be divided, based on the impact on each province.
"The money will be going to supporting provincial programs to fight the opioid epidemic that we believe Purdue's actions contributed to through their deceptive marketing," he said.
Matthew Herder, director of Dalhousie University's Health Law Institute in Halifax, said the funds could help combat the overdose crisis, but it "all depends on how it's used."
"To make sure it actually helps, the people who continue to live the harms of opioid overdose crisis, who have real expertise about how to reduce its ongoing harms — people who use drugs — should be central to the decision making moving forward," he said in an email.
Dr. Michael Curry, a clinical associate professor in the University of British Columbia's department of emergency medicine, said he doesn't think the settlement is large enough help every person who's been affected by these drugs.
"It is a very small amount of money, especially when you consider that B.C. is probably going to get, proportionately, maybe 12 per cent of the settlement," he said in an interview.
Over 27,000 people died across the country from toxic street drugs between 2016 and September 2021.
"We took this action to recover health-care costs and to hold opioid companies to account for their part in allegedly engaging in deceptive marketing tactics to increase sales, which led to increased rates of addiction and overdose," Eby told a news conference.
He said the B.C. government is "committed to aggressively pursuing litigation against the other manufacturers and distributors that put profits before people."
The cost of the opioid epidemic on provincial health-care systems is "likely in the billions of dollars," Eby said.
"In the United States, the claims amount to trillions of dollars, and have resulted in the bankruptcy of Purdue's arm in the United States."
He said Canada faced the possibility of being grouped into a number of unsecured creditor claims within the U.S. bankruptcy proceeding, where the amount available to the entire group is just $15 million.
The B.C. sanctions allowed Canadian jurisdictions to prevent Purdue from liquidating their Canadian operations to pay American claims, which would have left Canada with nothing after U.S. bankruptcy proceedings, he said.
"So in that respect, this is a remarkable accomplishment for British Columbia and all the provinces in Canada to ensure that Canadians see some proceeds from Purdue's actions in deceptively marketing."
In the United States, more than 3,000 lawsuits have been filed by governments, unions, hospitals and other entities in an effort to make drug companies, pharmacies and distributors accountable for their role in the opioid crisis.
American businesses, mostly those that sold or made the drugs, have already faced settlements, judgments and civil and criminal penalties totalling more than $47 billion.
British Columbia's Mental Health and Addictions Minister, Sheila Malcolmson, called the settlement "an important step forward" in the effort to end the province's toxic drug emergency.
"We know the settlement will not make up for the lives lost, the terrible loss of loved ones in our communities, so our government remains steadfast in its commitment to end the public health emergency," she said.
Mike Ellis, Alberta's associate addictions minister, said in a news release the province supports the proposed settlement.
"Like the rest of Canada, Alberta in the midst of an addiction crisis. The roots of the crisis began years ago with the high rate of opioid prescriptions for acute and chronic pain," he said. "We are committed to ensuring that Alberta's portion of the settlement will be reinvested into funding more mental health and addiction services."
Eby said there are many manufacturers, distributors and their consultants that remain named in the litigation.
"And they are on notice by this settlement that we will be pursuing them aggressively."
Health Canada said the federal government is exploring "all appropriate options to hold companies accountable for (their) role in the overdose crisis if they acted inappropriately in the marketing and distribution of opioids."
To limit the marketing of opioids directed at health professionals, all opioid advertising material must be vetted by an advertising preclearance agency before it can be used.
"As of June 2019, all promotional materials are required to follow exactly what is in the product monograph. Health Canada is also identifying non-compliant marketing practices and rigorously enforcing the laws as they exist today," Health Canada said in a written statement.
British Columbia's application for certification of its class-action lawsuit has been scheduled to be heard in B.C. Supreme Court in the fall 2023.
The province said certification could open the door to further settlements to recover health-care costs.
This report by The Canadian Press was first published June 29, 2022.
Michelle Rempel Garner exits Patrick Brown campaign to consider UCP leadership run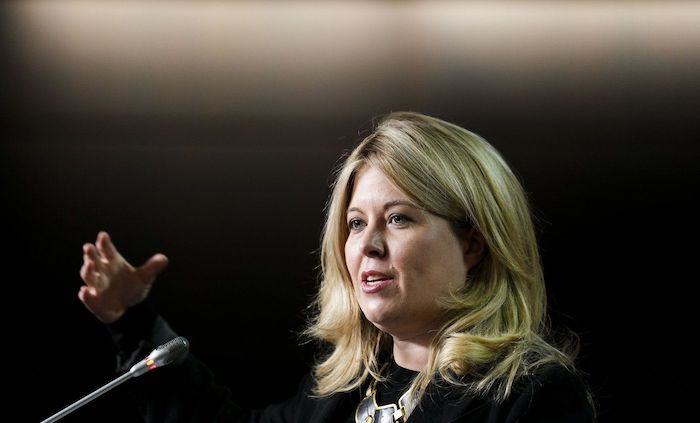 By Stephanie Taylor in Ottawa
Michelle Rempel Garner, a longtime Conservative MP from Calgary, says she's stepping back from the federal Conservative leadership race to consider running for Jason Kenney's job.
Rempel Garner was serving as co-chair on Patrick Brown's leadership campaign when Kenney stunned many last month by announcing he was resigning as premier of Alberta and leader of the United Conservative Party after narrowly surviving a leadership review.
Rempel Garner's name soon started to circulate as a potential successor to Kenney.
She confirmed on Twitter she has been encouraged to run and is giving "serious consideration" to mounting a UCP leadership bid.
Rempel Garner says she will step back from the federal Conservative leadership race to focus her attention on a potential leadership run.
"I will make my decision based on the conversations I have with the people I represent — Albertans."
In his own statement on Twitter, Brown thanked Rempel Garner for contributing to his campaign and wished her well in her deliberations.
Announcing that Rempel Garner, who was first elected in 2011, would serve as one of his national campaign co-chairs was seen by some to be a key get for Brown, whose political roots lie in Ontario.
Her departure follows a decision by two MPs to forgo their endorsement of Brown and instead back his main rival, longtime Ottawa-area MP Pierre Poilievre.
At the time, a spokesman for Brown's campaign brushed off the decision by Ontario MPs Kyle Seeback and Dan Muys to switch sides, saying they only represent two votes.
A spokesman has not yet responded to a question of whether Brown will name a replacement to the role Rempel Garner filled as a campaign co-chair.
This report by The Canadian Press was first published June 16, 2022.
Red Deer MP's drill the federal government on vaccine mandates and the plan to eliminate Western Canada's oil and gas industries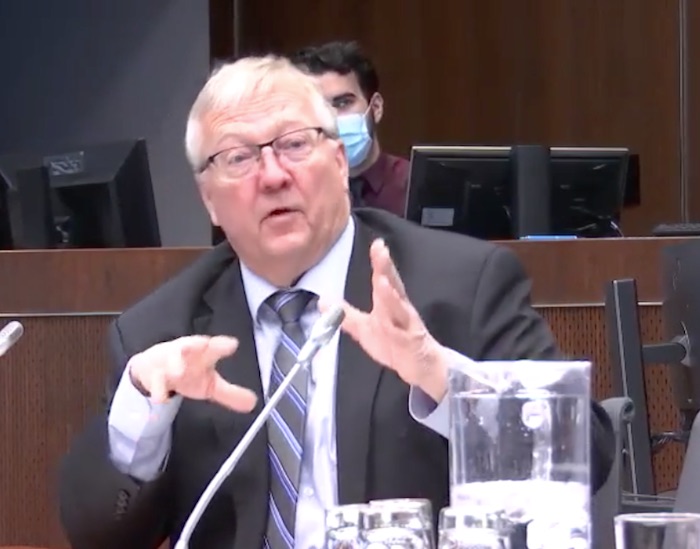 Red Deer's MPs have been flexing their opposition muscles this week. Earl Dreeshen and Blaine Calkins found themselves in the middle of some tense exchanges during question period and in committee meetings. Emotions in Ottawa have been high for months as a number of issues seem to be reaching the boiling point.
Regarding vaccine mandates and covid restrictions, Canada finds itself among only a few countries on the planet which has not dropped travel restrictions against its own citizens. MP Blaine Calkins offered a stinging rebuke and a pointed question which Liberal MP Adam Van Kouverden replied to by quoting a recent study by some Canadian scientists who set out to defend vaccine mandates with mathematical modelling which showed vaccinated people are at more of a risk when they interact with unvaccinated people. It's obvious from the exchange that it will take a lot more heat from the opposition to start to change the Liberal / NDP government's covid response.
Calkins has posted the exchange on his facebook page and introduced it with this statement, "The NDP-Liberal vaccine mandates are nothing more than a punitive policy meant to punish those that they view as holding unacceptable views. It's way past time to follow the science, to follow the lead of the provinces and our international peers and get rid of these harmful mandates."
Calkins also posted a short video to explain an incredible situation developing which 'could' result in fraud charges against the Prime Minister for accepting an illegal vacation to an Island owned by The Aga Khan.
Meanwhile, in a committee meeting regarding fossil fuel subsidies Earl Dreeshen called for an end to attacks on Alberta's oil can gas industry. Dreeshen posted this comment with his video. "The Government's plan to eliminate oil and gas is dangerous. There is no actual solution for Canadians who don't have the luxury of excess wealth and no real plan underneath their ideological promises."