Canadian government reviewing CFL's request for modified quarantine for 2021 season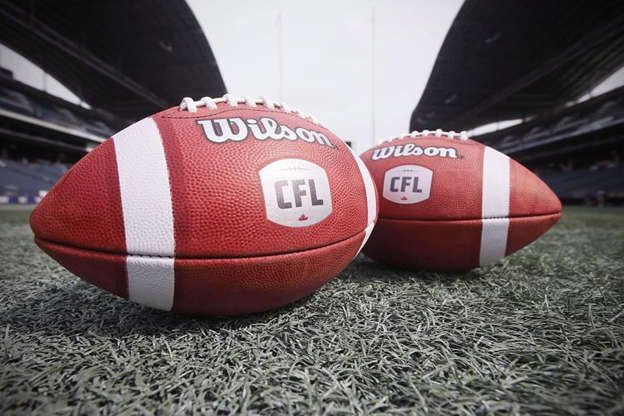 The CFL has cleared two more hurdles in its quest to return to the field in 2021.
An official with the Public Health Agency of Canada told The Canadian Press the federal government has received the CFL's request for a national interest exemption for modified quarantine for the upcoming season. The official added Ottawa is reviewing it in consultation with provincial health authorities.
The inclusion of negotiations with Ottawa, in addition to previous talks with provincial health authorities, is a big step in the right direction for the league as it attempts to return to the field for the first time since 2019.
Essentially, the CFL is asking Ottawa to provide it with the same exemptions it has for the NHL. The federal government waived its mandatory 14-day quarantine period for players acquired by Canadian NHL teams from American clubs "under national interest grounds" ahead of the league's April 12 trade deadline.
Under those terms, CFL players would observe a seven-day quarantine upon arrival into Canada and be subject to daily testing for COVID-19. Players would be eligible to suit up for their teams while continuing to undergo daily testing the following week.
Another positive step is the ratification of an amended collective bargaining agreement between the CFL and CFL Players' Association. Three sources told The Canadian Press the two sides have reached an agreement in principle on an amended deal — it has been ratified by the union — which would again pave the way for football to return in 2021.
The sources were granted anonymity because the deal has not publicly announced.
"We've done everything we can as a union and as players to lay the groundwork needed for us to play a safe 2021 season and now the CFL board of governors has an opportunity to do their part," union president Solomon Elimimian said in a statement.
"We eagerly anticipate the CFL now making the right decision to get the season going while maintaining the highest player safety standards," added executive director Brian Ramsay. ""The pandemic hasn't been easy for anyone in the CFL — and I can tell you that it has been especially hard on the players and their families.
"This MOA (memorandum of agreement) represents another big step toward getting us all back to work so that we can safely get back on the field this season."
The CFL board of governors will hold their vote on the amended deal Monday.
The CFL didn't stage a 2020 season due to the COVID-19 pandemic. The league shelved plans for an abbreviated campaign last August after failing to secure a $30-million, interest-free loan from the Canadian government.
Last November, the CFL unveiled plans for a full 18-game 2021 regular season. But in April, commissioner Randy Ambrosie announced the league was delaying the start of the '21 season to Aug. 5 and reducing the number of games played to 14 per team.
The next big step for an Aug. 5 return is Monday's board of governors meeting.
The board doesn't require unanimous support to accept the Aug. 5 start but seven of nine teams would have to vote in favour as the CFL constitution requires over two-thirds majority. However, it's unknown if the constitution could force teams to play and incur significant financial losses simply because a majority wants to go ahead with a season.
The fear is that could force a situation where a team voting against the Aug. 5 startup date would simply refuse to play if the remainder of the board votes in favour of beginning a season in early August. That scenario could result in very serious implications regarding league transfer moneys as well as the CFL's broadcast agreement and league's '21 schedule.
Not playing in 2020 came at a significant cost to the CFL. A source has said the league lost between $60-and-$80 million last year by not staging games.
The source has been granted anonymity because the CFL has never revealed its 2020 financial figures.
Another factor, too, is the possibility of fans. The CFL wants to have a "significant" amount of fans in the stands. However, the Ontario government hasn't signed off on that, and three of the league's franchises are based in the province (Toronto, Hamilton and Ottawa).
But an Aug. 5 kickoff would see all four East Division teams opening the season with a series of road games in Western Canada. The hope would be that once they were slated to return home that some fans would be allowed in the Ontario stadiums.
A TSN report earlier this week said a committee representing seven of Ontario's seven pro franchises (Argos, Ticats, Redblacks, Toronto Maple Leafs, Toronto Raptors, Toronto FC and Toronto Blue Jays) submitted a report to the Ontario government. The report said the committee was looking for 35 per cent of stadium capacity for Ontario's second stage re-opening and up to full capacity for the third stage.
"We will continue to work with our stakeholders as well as our public health experts at the provincial and local levels to determine when and if it is safe for measures to be lifted, including when other professional sports leagues may return to play," Ontario's Heritage, Sport and Tourism ministry said in a statement to The Canadian Press.
The first stage in Ontario's re-opening is scheduled to start Friday. The province will remain at each step for at least 21 days to evaluate any impacts on key public health and health system indicators.
The earliest date for the second stage would be July 2, with July 23 the earliest for stage 3.
This report by The Canadian Press was first published June 10, 2021.
Dan Ralph, The Canadian Press
Unwelcome spotlight falls on NHL team Pride night events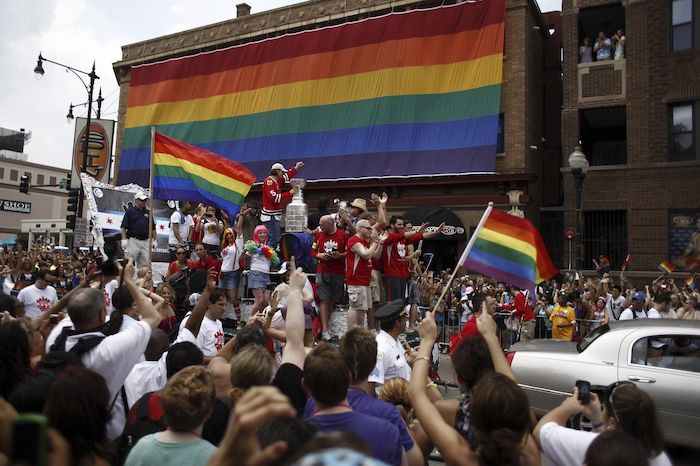 The Stanley Cup makes an appearance during the Gay Pride Parade in Chicago, Sunday June 27, 2010. At least one National Hockey League team with a Russian player on its roster has decided against wearing special warmup jerseys to commemorate Pride Night because of a Russian law that expands restrictions on activities seen as promoting LGBTQ rights. (AP Photo/Chicago Tribune, William DeShazer, File)
By Stephen Whyno
Pride nights, held annually for several years by National Hockey League teams to show support for the LGBTQ+ community, are in the spotlight following several high-profile incidents this season.
A handful of players have objected to participating in pregame warmups that included Pride-themed jerseys, most recently Florida's Eric and Marc Staal on Thursday night. On Wednesday, the Chicago Blackhawks decided against having players wear Pride-themed warmup jerseys for their upcoming Pride night, citing an anti-gay law in Russia.
WHAT ARE THE OBJECTIONS?
The Staal brothers and San Jose's James Reimer — who are Canadian — and Philadelphia's Ivan Provorov, who is Russian, all pointed to their religious beliefs for refusing to take part in warmups.
"We carry no judgement on how people choose to live their lives, and believe that all people should be welcome in all aspects of the game of hockey," Eric and Marc Staal said in a statement. "Having said that, we feel that by us wearing a Pride jersey, it goes against our Christian beliefs."
The Blackhawks said they acted out of concern that the safety of their Russian player and two others with connections to Russia could be jeopardized by the law when they return home because it expands restrictions on supporting LGBTQ+ rights.
Chicago coach Luke Richardson said he and his players were disappointed.
"It's an unfortunate situation," Richardson said. "I don't think we can control the world issues, so that takes it out of our hands."
The New York Rangers and Minnesota Wild decided not wear Pride-themed jerseys during warmups after advertising that they would. While each team has at least one star Russian player on its roster, neither specified the reason for the change.
IS THIS RELATED TO RUSSIA'S WAR IN UKRAINE?
Somewhat. Russia's invasion of Ukraine and the anti-gay law signed by President Vladimir Putin in December have combined to pose some problems for the NHL and its 32 teams.
No North American professional sports league has as many Russian players as the NHL. The Russian contingent includes some of the league's best athletes.
There are currently 45 Russia-born players spread across 28 teams, or about 6.4% of all players. They include No. 2 career goal-scorer Alex Ovechkin of the Washington Capitals, Tampa Bay's two-time Stanley Cup-winning goaltender Andrei Vasilevskiy, Lightning teammate and 2019 MVP Nikita Kucherov and reigning Vezina Trophy winner Igor Shesterkin of the New York Rangers.
The top five highest-earning Russian players receive an average annual salary of $11.1 million this season.
Russian players almost never discuss the war, in part out of concern for the safety of their loved ones at home. It was not clear if there was any credible threat behind the Blackhawks' decision.
WHAT'S THE NHL'S HISTORY WITH PRIDE?
The Stanley Cup first appeared at a Pride parade in 2010 when then-Blackhawks defenseman Brent Sopel brought it to the celebration in Chicago. A few years later, in 2013, the league partnered with the You Can Play Project, which advocates for LGBTQ+ participation in sports. The NHL added team Pride ambassadors in 2016-17.
Rainbow Pride stick tape debuted with the Edmonton Oilers in 2016. Now all 32 teams hold a Pride night, though many do so without themed jerseys. The Boston Bruins and Columbus Blue Jackets call theirs "Hockey Is For Everyone" night.
Pride nights, like other themed events, are planned and staged by individual teams, not the NHL.
WHAT HAS BEEN THE REACTION?
The You Can Play Project responded to Reimer's decision by saying it was disappointed.
"Religion and respect are not in conflict with each other, and we are certainly disappointed when religion is used as a reason to not support our community," the organization said.
Nashville Predators prospect Luke Prokop, who in 2021 made history as the first player signed to an NHL contract to come out as gay, called the Pride night incidents a "step back" for hockey.
WHAT DID LEAGUE OFFICIALS SAY?
NHL Commissioner Gary Bettman said defending teams' handling of the situation, saying the boycotts were not about accepting bigotry.
"Whether or not you choose to embrace and make a statement on behalf of a cause affirmatively, if you choose not to do that, it doesn't necessarily make you a bigot," Bettman said last month. "I'm sure you don't endorse every single charity that solicits you, and you don't participate in every social cause. You pick and choose the ones that are important to you."
The league declined to comment on the Blackhawks' decision.
WHAT'S NEXT?
Teams with Pride nights coming up have some decisions to make. The Buffalo Sabres are set to host their event on Monday, and the Vancouver Canucks on March 31. Each team has at least one Russian player.
It was not clear if players would wear Pride jerseys in warmups, as the teams have done in the past.
___
AP NHL: https://apnews.com/hub/nhl and https://twitter.com/AP_Sports
Thompson's 37-save effort leads Golden Knights to 3-2 win over Flames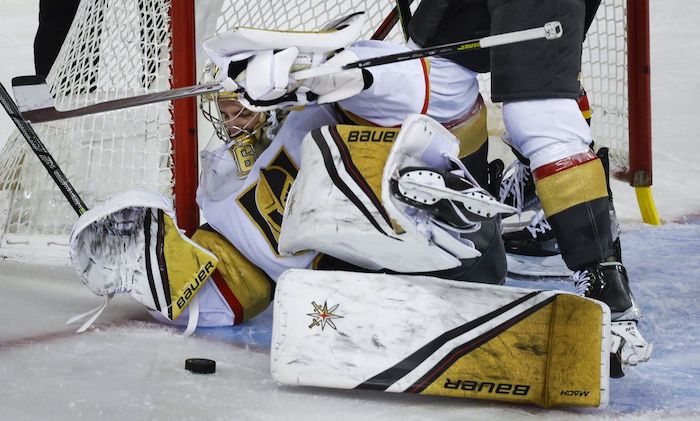 Vegas Golden Knights goalie Logan Thompson scrambles to block the net during third period NHL hockey action against the Calgary Flames in Calgary, Alta., Thursday, March 23, 2023. THE CANADIAN PRESS/Jeff McIntosh
By Darren Haynes in Calgary
Logan Thompson's triumphant return for Vegas after six weeks on the shelf was overshadowed by him exiting the game late in the third period with another injury.
Before he departed with just over six minutes to go, Thompson made 37 saves as the surging Golden Knights picked up a 3-2 win over the Calgary Flames on Thursday.
"Right now, obviously concerned about Logan," said Vegas coach Bruce Cassidy. " Obviously, Logan missing that much time, we'll have to look closely at that one."
It was unknown if the latest setback is related to the lower-body injury he suffered back on Feb. 9.
"I don't know what happened, to be honest. He just got up and left," Cassidy said. "He knows his body. I have no idea. At the end of the day, let's hope it's not related to the previous injury and it's something that will be short term."
Up 3-2 at the time, Jonathan Quick came in and turned aside all five shots he faced as Calgary poured on the pressure in search of the tying goal.
"It doesn't happen really often but when he got out there (Quick) made a couple really good saves to keep us in the game," said Vegas forward Ivan Barbashev.
The best chance to tie came off the stick of MacKenzie Weegar with a minute to go but he couldn't beat Quick from 30 feet out.
"I saw the net and I missed my shot," said the Flames defenceman. "If there was one chance I can get back all year, it would be that one."
Nicolas Roy scored in his return from an 18-game absence for Vegas (45-21-6). Jonathan Marchessault and Michael Amadio added the others.
Milan Lucic and Nazem Kadri replied for Calgary (32-26-15). Jacob Markstrom stopped 29-of-32 shots in his 11th start in the last 12 games.
In avenging their 7-2 home loss to the Flames on March 16, the Golden Knights earned their seventh win in eight games and are 16-3-2 in their last 21 contests.
Vegas opened up a four-point cushion on the Los Angeles Kings atop the Pacific Division.
Meanwhile, the Flames took a blow to their flickering playoff hopes, falling six points behind Winnipeg for the second wild-card spot in the Western Conference.
It's the Flames' 27th one-goal loss this year, which leads the NHL.
"We're in every game, and we have a chance to win every game we're playing, so it obviously makes it more frustrating that we lose and it feels like we're always losing by that one goal," said Flames defenceman Rasmus Andersson.
"I don't know how many games I've played back in my head thinking that 'Ah, I should have scored that' or 'How did we not score that' and we would have been in a different situation, but it's the reality."
Up 2-1 entering the third period, Vegas got some breathing room at 5:19 when pressure from Roy forced a defensive zone turnover from Rasmus Andersson. Roy then went to the net, received a pass from Phil Kessel and fired a shot over Markstrom.
The Flames crept back to within one at 12:33 when Kadri ended his 16-game goal drought with a power-play marker, but that's as close as they would get.
"When it's big games, we need guys to step up and be big players and we didn't have that tonight from everyone," said Lucic.
Calgary fell to 0-18-3 when trailing after two periods. The Flames are the only NHL team without a comeback victory this season.
Vegas, which entered the night having outscored teams 70-45 in the first period this year, jumped out to a 2-0 lead in the opening frame, with both goals coming less than four minutes apart.
Jack Eichel sprung Marchessault who whipped a shot past Markstrom on a 2-on-1 at 11:43.
Slipping behind the Flames defence and after being stopped on his first shot, Amadio rattled in his own rebound at 15:23.
Lucic cut the deficit in half with 58 seconds left in the frame off a slick cross-ice setup from rookie Walker Duehr.
SHOW OF SUPPORT
The Flames wore #SnowyStrong stickers on the back of their helmets in support of assistant general manager Chris Snow's ongoing battle with ALS. The stickers that feature a blue cornflower, the international symbol of hope for the fight against ALS, were created by a parent from the U9 hockey team in which Snow's daughter plays and were first worn by that team and its coaches.
STREAKS SNAPPED
Golden Knights forward Reilly Smith had his career-best point streak snapped at nine games (four goals, 11 assists). It equalled the franchise best, also held by Alex Tuch, Mark Stone and Max Pacioretty.
Four Flames also had their scoring streaks come to an end. Defenceman Noah Hanifin at six games, while Tyler Toffoli, Elias Lindholm and Blake Coleman each had their four-game streaks halted.
UP NEXT
Golden Knights: Wrap up their road trip in Edmonton on Saturday night.
Flames: Play host to San Jose in an afternoon game on Saturday.
This report by The Canadian Press was first published March 23, 2023.