Canada to unveil travel rules for fully vaccinated citizens, permanent residents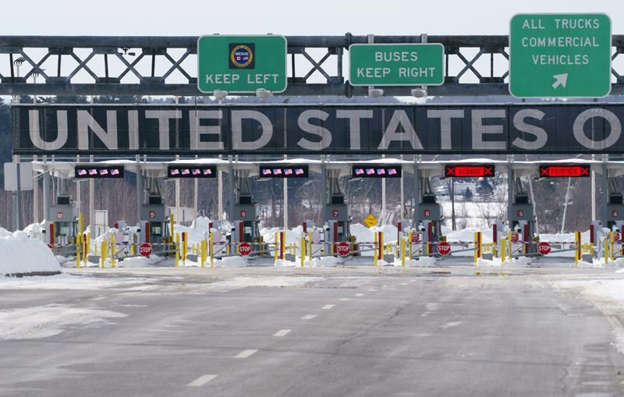 OTTAWA — Canada is set to detail what quarantine rules citizens and permanent residents who are fully vaccinated against COVID-19 will soon have to follow when entering the country.
Public Safety and Emergency Preparedness Minister Bill Blair said last week that "measures" would be announced today that will apply to immunized Canadians, as well as foreign nationals who are permitted entry.
Currently, those without citizenship or resident status can enter the country only if their travel is related to work, school or other essential business, but not for leisure.
As more Canadians get inoculated against COVID-19 and summer weather  has people itching to take some long-awaited trips, pressure is building for the Liberal government to begin relaxing some of its border and quarantine rules.
Over the weekend the country hit an important target of having 75 per cent of its eligible population receive one dose and 20 per cent get two, providing the latter group with full protection against COVID-19.
These were benchmarks Prime Minister Justin Trudeau and top health officials said needed to be met to safely relax pandemic-related health measures.
Those hoping to see some loosening this month were disappointed on Friday when the Liberal government announced its restrictions on non-essential international travel would remain in place at the Canada-U.S. border until July 21.
In the lead up to Monday's announcement, the federal government spent the past week teasing at some of the travel changes it considered making for vaccinated Canadians and permanent residents.
Health Minister Patty Hajdu has said that starting in early July, the government looked to exempt fully vaccinated travellers from having to pay for a three-night stay at a government-approved hotel.
The sites are where Canadians entering the country by air, regardless of their vaccination status, must currently begin a 14-day quarantine while awaiting a negative result from a COVID-19 test required upon arrival.
Among the Canadians who recently went through the process was Trudeau himself, who's currently in quarantine after spending five days in Europe attending international meetings with G7 and NATO leaders.
The prime minister said that in terms of being able to show border security some proof of vaccination, the country would rely on Canadians uploading images of their records to its ArriveCAN app, which is where returning travellers already have to share where they will stay for their 14 days of quarantine.
Both he and Hajdu say the country's border rules would be relaxed in phases.
In particular, Hajdu has said the government intends those who are fully vaccinated to still be tested for COVID-19 before leaving for Canada and again on their return, where they would also need a plan for where to quarantine while awaiting a negative result.
An expert panel comprised mainly of doctors that studied Canada's COVID-19 border measures recently recommended the government scrap hotel quarantines altogether for fully vaccinated travellers, provided they test negative for the virus and have proof they have been inoculated.
As for those with one dose, the doctors suggested travellers quarantine at home until receiving their negative COVID-19 test after having a swab done before departure.
And for those who haven't been vaccinated at all, the panel said they should be allowed to leave quarantine if they test negative before departure, upon arrival and seven days into the full two-week self-isolation period.
This report by The Canadian Press was first published June 21, 2021
Stephanie Taylor, The Canadian Press
Covid no longer means special measures. Province brings treatment in line with flu and other viruses
Adapting COVID-19 measures to support Albertans
With strong vaccine uptake, Alberta will gradually bring COVID-19 measures in line with other respiratory viruses to ensure health system capacity for the fall.
Nearly 75.6 per cent of eligible Albertans have now received at least one dose of COVID-19 vaccine, and 64.3 per cent are fully immunized. Vaccines dramatically reduce the risk of severe outcomes and the risk of infection. While COVID-19 cases may rise in the coming months, a surge of hospitalizations and other severe outcomes is much less likely thanks to vaccines.
In the coming weeks, Alberta's health system will take steps to make sure that it is ready to support all patients, including those with COVID-19 and other respiratory viruses, like influenza, which health officials expect to increase this year.
As a part of this, Alberta will bring COVID-19 quarantine, isolation, and other measures in line with those used for influenza and other viruses.
Testing for severe cases, provincial monitoring, outbreak management in high-risk settings, and other key measures will remain in place. Health officials will be able to adapt as needed if hospitalizations due to COVID-19 spike in the future.
"Our health system will keep protecting Albertans who are exposed to COVID-19 while also ensuring that we are able to handle all other viruses and illnesses. As the majority of us are vaccinated against COVID-19, we are adapting to make sure that the health system is ready to care for all Albertans, whatever their illness. Please get vaccinated to help protect your health and the health of those around you."
"Our top priority is supporting the health of Albertans. COVID-19 is still with us but we are now in a place where we need to manage it through vaccinations and the proven public health measures used for other communicable viruses. We expect to see increased influenza and other viruses this year, and these changes will make sure the health system is ready and able to support all Albertans in the months ahead."
A two-phase transition will be used to safely monitor the impact of the initial changes, adapt as needed over the next few weeks, and give more time to vaccinate Albertans.
The following changes will be effective July 29:
Quarantine for close contacts will shift from mandatory to recommended. Isolation for anyone with COVID-19 symptoms and for confirmed positive cases is still required.

Unimmunized individuals who know they have been exposed to COVID-19 should monitor for symptoms and seek testing if they become symptomatic.
Anyone who is not fully immunized should avoid high-risk locations such as continuing care facilities and crowded indoor spaces if they have been in contact with a case in the past 14 days.

All positive cases will continue to be notified. Contact tracers will no longer notify close contacts of exposure. Individuals are asked to inform their close contacts when informed of their positive result.
Contact tracers will continue to investigate cases that are in high-risk settings such as acute and continuing care facilities.
Outbreak management and identification will focus on high-risk locations, including continuing and acute care facilities and high-risk workplaces. Community outbreaks with a surge in cases leading to severe outcomes will also be addressed as needed.
Asymptomatic testing is no longer recommended. Testing will continue to be available for individuals who are symptomatic.
Mandatory masking remains in acute and continuing care facilities, publicly accessible transit, taxis and ride-share.
The following changes will take effect on Aug. 16:
Provincial mandatory masking orders will be lifted. Some masking in acute care or continuing care facilities may still be required.
Isolation following a positive COVID-19 test result will no longer be required, but strongly recommended.

Individuals with symptoms of any respiratory infection should still remain at home until symptoms have resolved.
Staying home when sick remains an important way to care for those around us by not passing on any infection.

Isolation hotels and quarantine support will no longer be available.
Testing will be available for Albertans with symptoms when it is needed to help direct patient care decisions.

This testing will be available through assessment centres until Aug. 31 and, after that, will be in primary care settings including physicians' offices. For those with severe illness requiring urgent or emergency care, testing will be available in acute care and hospital settings.
COVID-19 testing will also be offered as needed in high-risk outbreaks such as in continuing care facilities.

Public health will focus on investigating severe cases that require hospitalization and any deaths due to COVID-19.
Outbreak management and preventative measures will continue focusing on outbreaks in high-risk settings, such as continuing and acute care facilities.

Community outbreaks will continue to be addressed as needed.
Daycares and schools will be supported with measures that would be effective for any respiratory virus if outbreaks are identified.
Health officials will continue to closely monitor hospitalizations and other severe outcomes due to COVID-19 in the province. Additional measures will be taken, as needed, in specific facilities or areas where an outbreak is occurring leading to severe outcomes.
Universal masking will not be required in schools once students return. However, it is recommended as a temporary outbreak intervention in response to respiratory outbreaks. A guidance document to support return to schools is being finalized and will be released in mid-August.
A wastewater baseline testing program will also be launched to provide area trend information and monitor variants of concern. More details will be released in the coming weeks.
Utility Deferral Program: Adding Insult to Injury

Open Letter to Alberta MLAs and the Alberta Utilities Commission
July 23, 2021
FOR IMMEDIATE RELEASE
Red Deer – Mountain View, AB
"There are people in need of help. Charity is one of the nobler human motivations. The act of reaching into one's own pockets to help a fellow man in need is praiseworthy and laudable. Reaching into someone else's pocket is despicable and worthy of condemnation." – Dr. Walter E. Williams
Recent news indicating that Alberta ratepayers will be responsible for the outstanding debt owed to gas and electricity providers from 2020's three-month utility deferral program is beyond frustrating.
There is no question that many Albertans needed to take advantage of this deferral program when the government arbitrarily and unilaterally shuttered their livelihoods in 2020. There is also no question that outstanding debt from this program should not be the responsibility of Albertan ratepayers, many of whom saw significant reductions in income over the past year and a half due to government mandates.
As per a CBC article, Geoff Scotton, a spokesperson with the Alberta Utilities Commission, states "Now we're in a situation where providers, in good faith, who enabled those payment deferrals, need to be made whole. That's really the goal here."
When will Albertans who had their lives and livelihoods deferred for a year and half be made whole?
Instead of the proposed repayment plan, I suggest the following remedies for the outstanding debt:
The expected debt of $16 million should be split among all sitting MLAs and any other government bureaucrats who advocated for lockdowns and be repaid personally.
The utility companies, specifically CEOs and senior managers, reach into their own pockets, help their fellow man in need and personally repay the debt.
Families, private sector employees and small business owners have suffered greatly over the past year and a half. Adding further costs to their already limited budgets is not acceptable. Please do better.
Sincerely,
Jared Pilon
Libertarian Party Candidate for Red Deer – Mountain View, AB
https://www.jaredpilon.com/