Canada set to begin quest for 20th gold medal at world juniors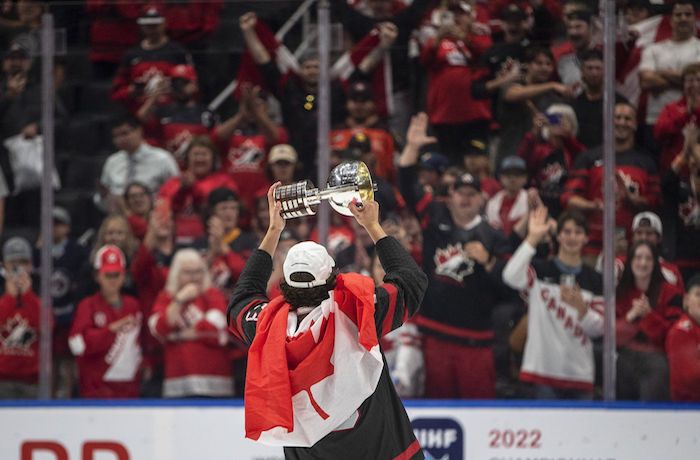 By Joshua Clipperton
Connor Bedard sees the reminder every time he's back home.
His gold medal from the last world junior hockey championship — a tournament that was moved to the summer and almost didn't happen because of COVID-19 — hangs in the 17-year-old phenom's bedroom.
And the presumptive No. 1 pick at the 2023 NHL draft is eager for more.
"Feels like when you win it, it lasts 10 minutes," Bedard said. "You want that again right away."
Another opportunity is right around the corner.
Bedard headlines a star-studded Canadian roster that will be looking to secure the country's 20 podium-topping performance at the event set to open Boxing Day in Halifax and Moncton, N.B.
Apart from the North Vancouver, B.C., product, already being compared to the likes of Connor McDavid and other franchise-altering talents, Canada boasts a trio of NHL players loaned to the national team in Shane Wright, Dylan Guenther and Brandt Clarke.
"World juniors are something that you grew up watching as a kid and dream playing in," said Wright, a centre selected No. 4 overall by the Seattle Kraken at the 2021 draft. "A huge honour."
"We don't want to get too ahead of ourselves," added Guenther, a forward with the Arizona Coyotes. "One last shot at winning a world junior championship is special."
Bedard said Canada's roster will feature "a bit of everything."
"Whenever you're assembling a team across Canada, it's going to be pretty good," he said. "We've got a lot of size, we've got speed, skill. It's huge getting those (NHL) guys back.
"Those are all impact players in the best league in the world."
Adam Fantilli — also in the conversation at the top of the upcoming NHL draft — has been impressed with the roster top-to-bottom.
"The best players in the country in one spot," he said. "Great to see what everybody can do."
Canada opens the tournament Monday against Czechia, the country commonly known as the Czech Republic, as part of a group playing out of Halifax's Scotiabank Centre that includes Sweden, Germany and Austria.
The other side of the bracket is set for Moncton's Avenir Centre and will feature the United States, Finland, Switzerland, Slovakia and Latvia.
Like at the reimagined August event in Edmonton, Russia is banned due to the country's invasion of Ukraine. The 2023 tournament was originally slated for the Russian cities of Novosibirsk and Omsk before being moved to North America.
Canada, which sits as the favourite, also enters with the pressure of a home-soil crowd and sky-high expectations.
"A privilege," said head coach Dennis Williams. "You want to be put in these positions. We have to make sure we have our players able to be play uncomfortable — being comfortable at being uncomfortable in those situations."
Canadian winger Brennan Othmann said the group will be able to attack in a number of different ways.
"Our back end is mean and solid and tough, and our forwards are skilled and big and strong," he said. "You're going to get an unbelievable Canada team coming at you."
"I see a lot of talent," added Clarke, a Los Angeles Kings defenceman set for his first world juniors. "And there's guys that can play lower in the lineup, can grind it out, can win puck battles that are really tough to play against."
Hockey Canada director of player personnel Alan Millar said there's no doubt skill was a focus in roster construction.
"But at the same time, we want to have heaviness throughout our lineup," he said. "We want to play fast, we want to play hard, and we want to compete and put teams on their heels."
The tournament also comes at a time where the sport's national organization is undergoing significant change following a disastrous 2022 of ugly headlines related to its handling of sexual assault allegations and payouts to victims.
Hockey Canada has a new board of directors and should have a freshly minted CEO in the new year.
The players and coaching staff at the world juniors have no connection to the scandals, but they're still going to be wearing the logo — and know there will be a lot of scrutiny.
"We want to make sure we keep that focus on how we do things both on and off the ice," Willliams said. "We want to minimize any distractions — whether it's through the pressure or anything on the outside.
"Our guys are coming in excited, our guys are coming in determined."
And gold — just like every other international tournament Canada enters — is on their mind.
"All the guys that are coming back really want that," Bedard said of the country's eight returning players from the summer.
"And for the guys that are new, it's something that we want to give them."
This report by The Canadian Press was first published Dec. 23, 2022.
___
Follow @JClipperton_CP on Twitter.
Alberta United Conservatives win majority government, NDP makes inroads in Calgary
The Canadian Press has projected a United Conservative Party majority government in Alberta.
Leader Danielle Smith and her party rode a wave of rural support to victory, but the NDP made inroads in the traditional conservative stronghold of Calgary.
UCP Leader Danielle Smith won her seat in Brooks-Medicine Hat and other key cabinet members were also returned, including Education Minister Adriana LaGrange, Agriculture Minister Nate Horner, Indigenous Relations Minister Rick Wilson and Affordability and Utilities Minister Matt Jones.
NDP Leader Rachel Notley won her seat in Edmonton-Strathcona for a fifth time and her party was on track to sweep the capital.
No election winner had been called more than two hours after polls closed at 8 p.m. Elections Alberta said in a statement it was moving as fast as possible.
"We are not seeing any issues at this time, but understand that people are keen to see the results," said Elections Alberta in a statement.
"Processing the votes takes some time. The hand count of today's ballot is occurring."
To win, the NDP needed to flip 20 seats in the 87-seat legislature and early results showed promise in multiple Calgary constituencies outside of traditional UCP core support in the south end of the city.
UCP cabinet heavyweights in the city were facing stiff challenges from the NDP, including Justice Minister Tyler Shandro in Calgary-Acadia and Health Minister Jason Copping in Calgary-Varsity.
Calgary cabinet minister Nicholas Milliken, responsible for mental health and addiction, was defeated in Calgary-Currie by the NDP's Janet Eremenko.
Smith's two deputy premiers were also in tough against Notley's crew: Kaycee Madu in Edmonton-South West and Nathan Neudorf in Lethbridge-East.
The UCP was seeking a second mandate while the NDP was fighting to regain the majority government it lost to the UCP in 2019.
Voter turnout was expected to be strong, given advance polls set a record of 758,540 votes cast, eclipsing the previous record of more than 700,000 in 2019.
The campaign took place alongside a record-breaking spring for wildfires in Alberta. Ten communities were under evacuation orders Monday.
Elections Alberta set up alternate voting locations for those displaced. Evacuation was added as an eligible reason to vote by special ballot and mobile voting stations were placed in evacuation centres.
To win, the NDP would have to continue its dominance in Edmonton, flip the majority in Calgary and hope for some help in smaller cities, while defeating scores of UCP incumbents including cabinet ministers.
The UCP won 63 seats under then-leader Jason Kenney in 2019 to 24 for Notley's NDP in the 87-seat legislature.
Polls suggested the UCP should continue its near total domination in rural areas and smaller centres, giving it a cushion of up to 40 or so seats to reach the 44 needed to form a majority government.
The month-long campaign was dominated by the economy and health care.
Albertans are struggling with high costs for consumer goods, a shortage of family doctors and long waits in emergency rooms.
Smith promised to keep Alberta the lowest tax regime in Canada.
Her government, she said, would introduce a law to mandate a referendum before any personal or corporate income tax hikes. There would also be tax changes to benefit those making more than $60,000 a year, at a cost of $1 billion annually to the treasury.
The NDP promised to maintain Alberta's status as Canada's lowest tax regime. It pledged to end the tax on small businesses and raise the corporate income tax to 11 per cent from eight per cent, which it said would help pay for investments in health and education while keeping the books balanced and maintaining the lowest corporate rate in Canada.
The NDP also promised legislation to counteract UCP policies that hiked the cost of utilities, auto insurance, a range of fees and tuition.
Both leaders promised to preserve the publicly funded health system while creating more primary care teams — physicians accompanied by related specialists such as nurses and therapists — so more Albertans are able to access a family doctor and not clog emergency wards for care.
Polls showed trust was a key issue, with Notley viewed more favourably than her party and vice versa for Smith.
Smith was dogged during the campaign by past comments she made comparing those who took the COVID-19 vaccine to credulous followers of Adolf Hitler. A report also came out mid-campaign from the province's ethics commissioner that concluded Smith undermined the rule of law by pressuring her justice minister to end the criminal court case of a COVID-19 protester.
The future isn't clear for Jennifer Johnson, the winning UCP candidate in Lacombe-Ponoka.
During the campaign, Johnson apologized for comments last year comparing transgender students to feces. Smith has said Johnson would not sit in the UCP caucus because of the remarks but later said, when asked about Johnson, that she believes in redemption and second chances.
This report by The Canadian Press was first published May 29, 2023.
More coming.
Dean Bennett, The Canadian Press
Parliament votes down Conservative motion against safe supply of drugs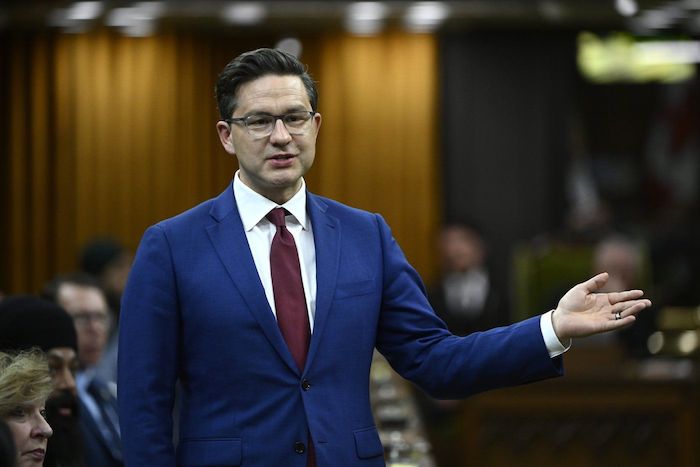 Conservative Leader Pierre Poilievre rises during Question Period in the House of Commons on Parliament Hill in Ottawa on Monday, May 29, 2023. An attempt from Poilievre for the House of Commons to condemn the Liberal government's approach to drug addiction has failed.THE CANADIAN PRESS/Justin Tang
By Stephanie Taylor in Ottawa
Conservative Leader Pierre Poilievre has failed to persuade the House of Commons to condemn the Liberal government's approach to fighting drug addiction.
In a vote of 209-113 Monday, MPs defeated a motion presented by Poilievre.
The motion took aim at the federal government's harm-reduction policies for drug users, but focused mainly on its decision to fund the supply of pharmaceutical alternatives as a replacement for certain illicit drugs to combat the opioid crisis.
Such programs are commonly referred to as "safe supply," or "safer supply," although the federal Conservatives and other critics dispute that term, given the risks associated with drug use.
The federal government has pointed to experts who say that a poisoned drug supply is one of the main reasons so many Canadians are dying from unintentional overdoses, and that providing access to other drugs as a substitute saves lives.
The Public Health Agency of Canada says nearly 35,000 people died from opioid toxicity between 2016 and 2022.
Since becoming Conservative leader last fall, Poilievre has pointed to the alarming number of people who have died from opioid overdoses as evidence of a failed approach. He has criticized the option of offering an alternative supply of drugs, which his motion referred to as the "tax-funded drug supply," as fuelling addiction rather than recovery.
He argues such policies have led to wider access to dangerous drugs by users who, instead of taking them, turn around and sell them. Poilievre has proposed diverting money used to fund safe supply towards treatment.
His motion specifically called on the House to "immediately reverse its deadly policies and redirect all funds from taxpayer-funded, hard drug programs to addiction, treatment and recovery programs."
Mental Health and Addictions Minister Carolyn Bennett has told MPs that Poilievre's criticism of a replacement drug supply is not based on evidence, with her office adding in a statement Monday that Health Canada is not aware of substitute drugs "flooding the streets."
"For Pierre Poilievre to state untrue information about safer supply, and try to create barriers to accessing harm reduction services that are saving lives amid this ongoing crisis is incredibly irresponsible and dehumanizing to people who use drugs," a spokeswoman said in a statement from Bennett's office.
It said the government takes reports of diversion "very seriously." Bennett's office also pointed out that the British Columbia coroners service, which studied deaths from drug toxicity from 2012 to 2022 in the province, concluded there was "no indication that prescribed safe supply is contributing to illicit drug deaths."
"The Conservatives want to take us back to the failed ideology of Harper-era drug policy, and the war on drugs that was proven to be ineffective, costly, deadly, and deeply stigmatizing," said Bennett's office.
A coalition of groups that advocate on behalf of drug users in B.C. and those whose loved ones have died from opioid-related overdoses released a statement Monday, voicing concern about hydromorphone, one of the drug alternatives Poilievre has singled out as problematic.
The joint statement from organizations, including the Vancouver Area Network of Drug Users, says such prescriptions "help many of us reduce or eliminate our reliance on street drugs."
"If we get cut off, our risks will go up."
This report by The Canadian Press was first published May 29, 2023.