Canada roars back to beat U.S. and advance to gold-medal game at world juniors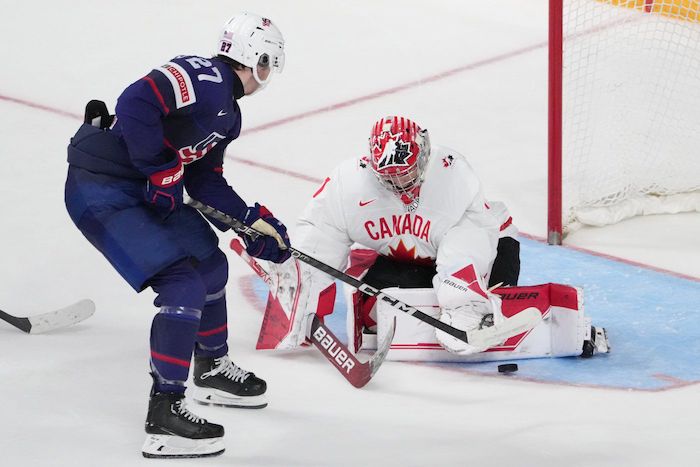 By Joshua Clipperton in Halifax
Thomas Milic is the only player on Canada's roster passed over at the NHL draft.
An incredible performance in the semifinals has his country one step from its 20th gold medal at the world junior hockey championship.
Milic was outstanding in making 43 saves as the tournament hosts fought back from an early 2-0 deficit Wednesday to defeat the United States 6-2 in another emotional matchup between the bitter international rivals.
"Definitely the best moment of my hockey career and maybe my life," said the 19-year-old from Coquitlam, B.C. "Pretty special."
The netminder for the Western Hockey League's Seattle Thunderbirds wasn't picked at last summer's draft, but isn't focused on that as he preps for Thursday's championship game against Czechia, which beat Sweden 2-1 in the other semifinal.
"It's always in the back of my mind," Milic said of not being selected. "But it's not really something I think about too much now.
"It's just winning."
Joshua Roy had two goals, including one into the empty net, and two assists for Canada, while Connor Bedard, Logan Stankoven and Adam Fantilli each scored once and set up another. Brandt Clarke had the other goal along with an assist.
Logan Cooley and Kenny Connors replied for the Americans, who will play the Swedes for bronze. Trey Augustine stopped 31 shots.
"Got away from our identity," said U.S. head coach Rand Pecknold. "Their goalie was the best player on the ice. He was excellent.
"That's part of hockey."
Canada, which advanced to face the Americans thanks to Bedard's incredible individual effort in a dramatic overtime victory against Slovakia in the quarterfinals, dropped a 5-2 decision to Czechia in an embarrassing tournament opener.
"We definitely want some revenge," Fantilli said. "We're not happy about what happened earlier in the tournament."
Expected to go high at the 2023 NHL draft — but also overshadowed at the men's under-20 event by a breathtaking Bedard, the presumptive top pick in June and world junior scoring leader with 23 points in six games — Fantilli started the tournament on the second line, but was pushed to the fringes of the roster as the showcase progressed.
After the Canadians fought back to tie the score 2-2 early in the second, he scored his second goal of the event off a terrific pass from Zach Dean to ignite a red-clad Scotiabank Centre.
"Very, very happy to get my moment in that rivalry," Fantilli said. "More importantly, I'm really happy that we got that win."
Milic made a terrific stop on Jimmy Snuggerud off a 2-on-1 to keep Canada, which won its 19th gold at the pandemic-delayed summer tournament, in the driver's seat.
"He was unbelievable," Bedard said. "Without him, I don't know if we win."
The U.S. appeared to tie it at 6:22, but Jackson Blake's goal was overturned following a coach's challenge for goaltender interference.
Augustine then denied Dylan Guenther in alone at the other end, but Roy scored his fourth on a backhand at 12:20.
Olen Zellweger hit the post on a Canadian power play before Milic stopped Connors on a short-handed break.
"It's a great story," head coach Dennis Williams said of Milic. "He's battled his way through everything."
Rutger McGroarty looked to have made it 4-3 just 38 seconds into the third, but Canada once again correctly challenged for goaltender interference.
Milic made four huge saves on a U.S. power play that also included McGroarty chiming a shot off the post.
"I'm shocked he's not drafted yet," Bedard said of his goaltender.
"That's a mistake by all 32 teams that he's not in an organization at the moment," Clarke added. "He's resilient, just like everyone else in that dressing room. When he got his shot, he knew he'd run with it."
The Americans had their neighbours on the ropes as the period wore on, but Fantilli set up Clarke for his second at 9:45 for some much-needed breathing room.
Roy iced into the empty net on a U.S. power play with 3:15 remaining to send the Canadians to Thursday's final as fans chanted "We Want Gold" at Scotiabank Centre.
"The turnouts have been awesome," Fantilli said the crowds in Halifax. "The way they've been in the game has been awesome.
"They're right on top of you and it feels like they're in it with you."
Canada, which came in losers in five of its last six meetings with the U.S., including the finals at both the 2017 and 2021 tournaments, had a terrible start Wednesday.
Cooley, second in tournament scoring behind Bedard, broke the ice 1:19 in when he swept home a loose puck for his sixth.
The U.S. led 9-0 on the shot clock before Canada tested Augustine and came close when Luke Hughes hit the outside of Milic's post before going up 2-0 at 10:30 when Connors banged home a rebound for his second.
"We started playing after about 12 minutes," Williams said. "They came out and executed their game plan — lots of speed. They hemmed us in there quite a bit.
"Put us on our heels."
Bedard, who set five national or tournament records in the quarters, responded at 11:49 after the Canadians won an offensive zone draw and took a nice feed from Ethan Del Mastro in front to make it 2-1.
Stankoven got the hosts back on level terms 47 seconds into the second on a scramble.
Fantilli hit the post on a power play, but wouldn't be denied later in the period before Milic stopped a Chaz Lucius breakaway and Canada was off to the races.
"It's obviously awesome," Bedard, one of eight returning players from the summer said of playing for gold a second time. "But we didn't come here to make it to the finals.
"We came here to win the gold."
They'll get that shot Thursday.
This report by The Canadian Press was first published Jan. 4, 2023.
___
Follow @JClipperton_CP on Twitter.
Nevada revisits Oakland Athletics stadium plan in special legislative session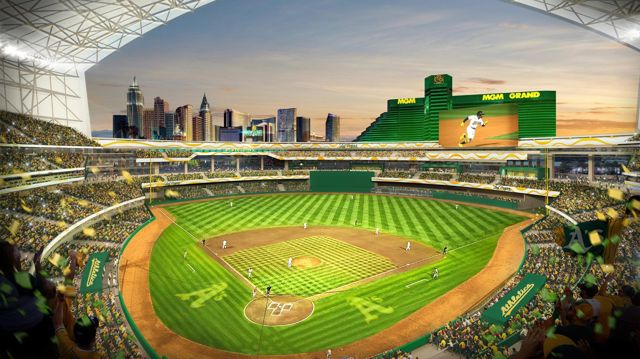 This rendering provided by the Oakland Athletics on May 26, 2023, shows a view of their proposed new ballpark at the Tropicana site in Las Vegas. The Nevada Legislature is set to convene Wednesday, June 7, for a special legislative session to consider whether to provide $380 million in public financing for a stadium that would host the Oakland Athletics on the Las Vegas Strip. (Courtesy of Oakland Athletics via AP, File)
By Gabe Stern in Carson City
CARSON CITY, Nev. (AP) — The Oakland Athletics' search for a new home has drawn Nevada lawmakers into a special legislative session Wednesday to weigh whether the state should cover $380 million of the $1.5 billion stadium planned for the Las Vegas Strip.
The public funding would mainly come from $180 million in transferable tax credits and $120 million in county bonds. Backers have pledged that the creation of a special tax district around the proposed stadium would generate enough money to pay off those bonds and interest. The plan would not directly raise taxes.
The A's would not owe property taxes for the publicly owned stadium. Clark County, which includes Las Vegas, would also contribute $25 million in credit toward infrastructure costs.
The proposed 30,000-seat stadium would be the smallest in Major League Baseball.
The Legislature adjourned Monday after its 120-day, biennial session with disputes over one of the five major budget bills that funds capital improvement projects. On Tuesday, Republican Gov. Joe Lombardo held a special legislative session to pass that bill.
Lombardo's office had introduced the stadium financing bill with less than two weeks left in the regular session. It is unclear how many days the second special session will last.
Special sessions are fairly common in Nevada's Legislature, which lasts for four months every other year. There have been seven since 2013 for a variety of reasons — pandemic protocols,statewide redistricting, budget disputes and approval for $750 million in public funding to help build Allegiant Stadium when the Oakland Raiders moved to Las Vegas.
The A's have been looking for a home to replace Oakland Coliseum, where the team has played since arriving from Kansas City for the 1968 season. The team previously sought to build a stadium in Fremont, California, as well as San Jose and finally the Oakland waterfront — all ideas that never materialized.
MLB Commissioner Rob Manfred has said that a vote on the Oakland Athletics' prospective move to Las Vegas could take place when owners meet June 13-15 in New York.
___
Stern is a corps member for the Associated Press/Report for America Statehouse News Initiative. Report for America is a nonprofit national service that places journalists in newsrooms. Follow Stern on Twitter: @gabestern326.
Lionel Messi says he's joining Major League Soccer's Inter Miami after exit from Paris Saint-Germain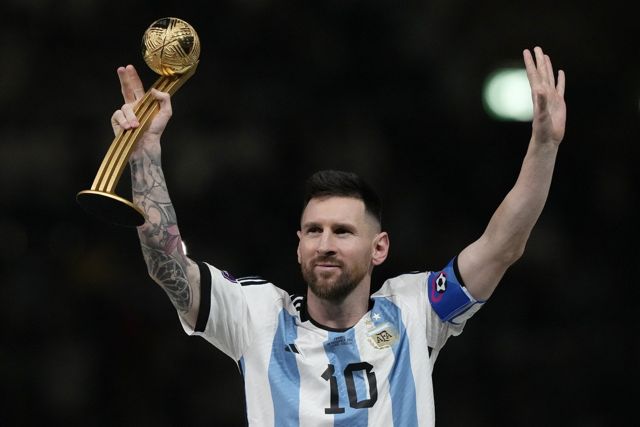 Argentina's Lionel Messi waves after receiving the Golden Ball award for best player of the tournament at the end of the World Cup final soccer match between Argentina and France at the Lusail Stadium in Lusail, Qatar, Sunday, Dec. 18, 2022. Lionel Messi says he is coming to Inter Miami and joining Major League Soccer. After months of speculation, Messi announced his decision Wednesday, June 7, 2023,to join a Miami franchise that has been led by another global soccer icon in David Beckham since its inception but has yet to make any real splashes on the field.(AP Photo/Martin Meissner, File)
By Tim Reynolds in Miami
MIAMI (AP) — Lionel Messi has pulled off his latest stunning feat: He is headed to Major League Soccer, and joining Inter Miami.
After months — years, even — of speculation, Messi finally revealed his decision to join a Miami franchise that has been led by another global soccer icon, David Beckham, since its inception but has yet to make any real splashes on the field.
That likely will soon change. One of Inter Miami's owners, Jorge Mas, tweeted out a photo of a darkly silhouetted Messi jersey shortly before the Argentinian great revealed his decision in interviews with Spanish news outlets Mundo Deportivo and Sport.
It was widely believed that Messi eventually would choose to play for Al-Hilal in Saudi Arabia, following longtime rival Cristiano Ronaldo to a nation where some clubs now are funded by the state's sovereign wealth fund. Going back to Barcelona, a storied franchise where he spent most of his career, was another possibility.
But in the end, he made the call that surprised many. Messi is joining MLS. He said in the interviews Wednesday that some final details still need to be worked out, but that he has made the call to "continue my path" in Miami.
"After winning the World Cup and not being able to return to Barcelona, it was my turn to go to the league of the United States to live football in another way," Messi said.
He didn't take the money. He didn't choose the memories. He picked Miami instead. Messi's next matches are likely to be exhibitions with Argentina against Australia on June 15 at Beijing and at Indonesia in Jakarta four days later — and then his Inter Miami debut figures to be sometime in July.
The seven-time Ballon d'Or winner — the trophy given annually to the best player in the world — makes his move after two years with Paris Saint-Germain. At 35, Messi has nothing left to prove in the game and filled the only significant unchecked box on his resume back in December by leading Argentina to the World Cup title.
Messi has more than 800 goals in his career for club and country, making him one of the greatest scorers in the sport's history. In more than 17 years of representing Argentina on the international stage, he has scored 102 goals against 38 different national team opponents — 16 of those goals coming on U.S. soil. He scored twice in last year's World Cup final against France, a match that officially ended 3-3 with Argentina prevailing in penalty kicks.
He has been to the absolute mountaintop of the game.
And now he comes to MLS, and a team that is struggling — last place in the Eastern Conference, just a few days removed from the firing of coach Phil Neville (who was hand-picked by Beckham two years ago).
Messi's decision to play in the U.S. might be the biggest boost ever for American soccer on the pro stage. Some of the game's biggest names — Pele, Thierry Henry, Beckham himself — have come to the U.S. toward the end of their careers, but landing a player still no worse than near the pinnacle of his game and just a few months removed from hoisting a World Cup is simply huge.
It took months of negotiations with MLS, the Inter Miami ownership, Adidas and even Apple getting involved in a creative pitch to bring Messi to Miami's pitch. Apple — which is a broadcast partner of MLS — announced Tuesday that it will show a still-untitled four-part documentary series "featuring exclusive behind-the-scenes access to global superstar Lionel Messi. … In his own words, Messi tells the definitive story of his incredible career with the Argentina national football team, providing an intimate and unprecedented look at his quest for a legacy-defining World Cup victory."
And now, his story will have a Miami chapter.
Inter Miami needed six years from inception to playing its first match, and its first four seasons have been less than stellar.
Messi is joining a team that sits last in the Eastern Conference and just fired its coach. It has made the playoffs in two of its first three seasons but has yet to finish a season with a winning record or even a positive goal differential.
Still, there have been hints for months that Miami remained very much in the Messi sweepstakes. Messi met with Inter Miami co-owner Beckham this spring, and that was shared publicly almost to ensure that everyone knew the sides were still talking. Messi and his family also own several pieces of luxury real estate in South Florida, and — almost as if to suggest something big was coming — the MLS club told fans the only way they could get tickets for the second half of this season was to purchase a season-ticket package.
He's an enormous draw everywhere on the globe, including Miami. Two days after Argentina won the World Cup, Miami Heat guard Kyle Lowry sat on his team's bench for a game unable to play because of injury. He wore a Messi jersey that night.
Inter Miami still plays home matches in a temporary home in Fort Lauderdale, about 45 minutes north of the site in Miami where the team wants to build a permanent complex.
And even in an area where the population has a serious Latin flavor, and where more people might actually call the sport futbol than soccer, Inter Miami has struggled to generate the same attention as do the area's primary pro teams — basketball's Heat, baseball's Miami Marlins, football's Miami Dolphins and hockey's Florida Panthers.
Messi could change that in an instant. In a flash, he becomes the biggest name in MLS and makes everything Miami does newsworthy.
His decision ends what has been a wild saga. Barcelona made Messi a superstar, but the financial issues that forced the team to letting him go two years ago still remain an issue.
"I heard that they'd have to sell players or lower players' salaries and the truth is, I didn't want to go through that," Messi said Wednesday.
There are no financial issues with Saudi Arabia, and speculation that he would end up there intensified when Messi made an unauthorized trip to the kingdom. PSG suspended him and some fans turned on him, serenading him with jeers toward the end of his season with the French club.
Everyone knew he wouldn't be back with PSG. Few likely thought he was heading to Miami. But here he is, a move to Miami by a superstar that might even be more shocking than LeBron James arriving to join the Heat 13 years ago.
___
AP Soccer Writer Ronald Blum contributed to this report.
___