Canada joins pledge to end public fossil fuel finance, shift resources to renewables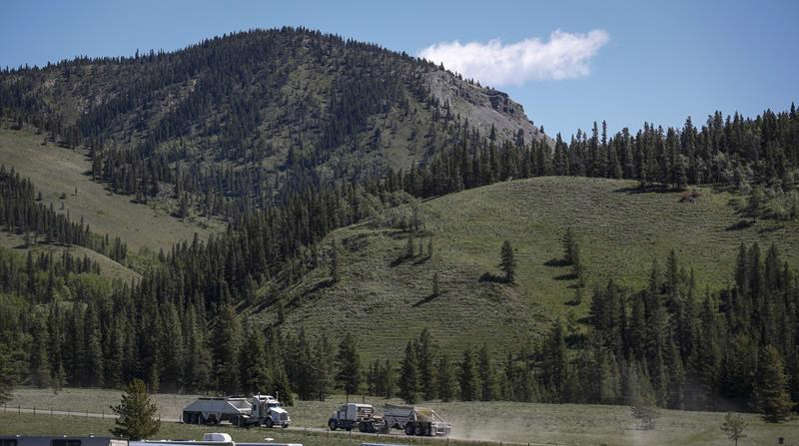 Canada has joined the United States, United Kingdom and 21 other countries in a historic deal to stop new direct public finance for coal, oil and gas development by the end of 2022 and shift investment to renewable energy.
"It's a big deal," said federal Natural Resources Minister Jonathan Wilkinson from Glasgow, Scotland, the site of a United Nations-sponsored meeting on climate change.
"It's a signal that many countries in this world are making this commitment not to use public resources to finance further exploration and development for fossil fuels."
Climate activists welcomed the deal.
"It shows that Canada recognizes the harmful social and economic impacts of fossil fuels and the urgent need to end global production and use," said Alan Andrews of Ecojustice, an environmental law firm.
But industry groups responded warily.
"We believe responsible energy producers such as Canada should be playing a larger role in meeting global energy demand," said Jay Averill of the Canadian Association of Petroleum Producers.
Few details were immediately available about the deal. It commits signatories to stop using loans, loan guarantees, grants, share purchases and insurance coverage from any government or government agency to finance new international fossil fuel developments.
Oil Change International, a group that monitors fossil fuel financing, says an average of about $78 billion a year flows to such projects. It estimates Thursday's deal could affect about $22 billion of that.
But in Canada, the issue is complicated by the fact that Export Development Canada, through which most of that financing flows, is involved with both international and domestic deals.
Wilkinson said the new agreement will affect about $1 billion in financing from the agency, roughly what was committed to such projects last year. That money could now be used for renewable energy projects.
"It certainly opens up that potential," Wilkinson said. "(Export Development Canada's) mandate, increasingly, is very much focused on a net-zero portfolio."
The deal also allows governments to keep funding projects in which carbon emissions are "abated," or that are consistent with reduction targets. Canada is still free to finance developments such as carbon capture, Wilkinson said.
"This does not affect financing to support clean technology investments that are about reducing emissions."
The government still has to figure out how the deal will specifically apply in Canada, said Wilkinson. There are also clauses that allow fossil finance "in limited circumstances" — details that need to be worked out.
"They drafted it in fairly general terms with a number of provisions that do require further detail," he said. "We are going to define exactly what Canada means by that."
Bronwen Tucker of Oil Change International said that could be a loophole.
"There's a way to do it in good faith and a way to do it in bad faith."
Everything depends on how fossil fuel investment is defined, said Tucker.
"I do have some concerns there."
She said Canada has for years been one of the world's top public financiers of fossil fuels, averaging about $13.6 billion a year.
Wilkinson acknowledged the deal doesn't include China, Japan or Korea — the world's other top fossil fuel funders. He said he hopes those countries will eventually sign on just as they recently signed on to deals to stop financing international coal development.
"We're going to work to expand the coalition and work to put pressure on all actors, including China, to ensure that it moves in this direction as well."
In Alberta, provincial Energy Minister Sonya Savage said the deals the Liberal government is agreeing to in Glasgow make Canada an "outlier" in a world that's ramping up fossil fuel production, not shutting it down.
"It sends the wrong message to investors," she said, dismissing COP26 as a "photo op."
The COP26 deal adds to previous government commitments.
During the recent election campaign, the Liberals said they would eliminate fossil fuel subsidies by 2023. Export Development Canada has said by 2023, it will reduce support to the six most carbon-intensive sectors by 40 per cent below 2018 levels and set "sustainable finance targets" by July 2022.
This report by The Canadian Press was first published Nov. 4, 2021.
Bob Weber, The Canadian Press
Oilsands execs say they can't invest in decarbonization any faster, despite profits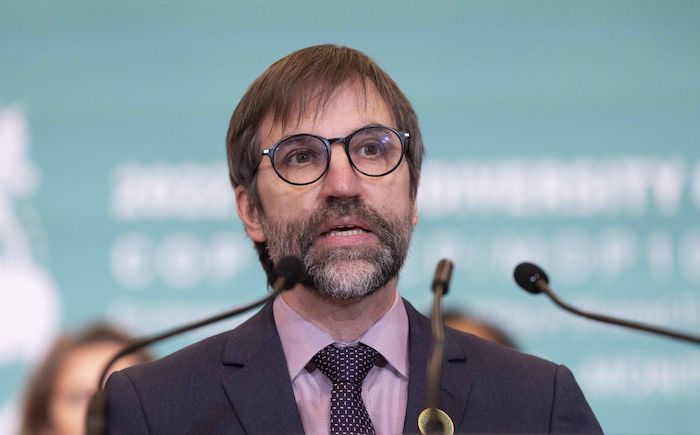 By Nojoud Al Mallees in Ottawa
Oilsands executives insist they are all in on cutting emissions and will make big investments in green technology, but they maintain there isn't a place to invest that money yet.
Many companies are coming off a year of windfall profits not because they pumped out more product, but because the war in Ukraine and global supply chain crunches pushed world oil prices way up.
Environment Minister Steven Guilbeault has said repeatedly over the last year that the companies need to prove their commitment by putting some of that cold hard cash into climate initiatives.
But in an interview with The Canadian Press, Cenovus CEO Alex Pourbaix said the companies are moving "as aggressively as (they) can."
"We're not yet at the point where we can invest billions in these projects," Pourbaix said.
Cenovus is one of six oilsands companies in the Pathways Alliance, a consortium created to work together to decarbonize their production entirely by 2050. The companies are looking to spend $24 billion by 2030 on emissions cutting, including two-thirds of that on carbon capture and storage systems.
However, who will pay for those investments is a point of contention.
So far, the consortium has spent half a billion dollars on Phase 1 of these projects, according to the alliance's president Kendall Dilling.
The industry is hoping to see the federal government do more to match the funding being offered by the U.S. government to incentivize the development of clean energy in that country.
The Liberal government has argued it has already created incentives for the industry, including an investment tax credit for carbon capture and storage projects, and that it's now time for the industry to step up.
"If they don't make those investments while they're making record-level profits, then when would it be a good time for them to make those investments?" Guilbeault said in an interview last September.
"If not now, then I don't know when."
Oil and gas companies have enjoyed record profits in the last couple of years thanks to skyrocketing energy prices. At a time when inflation is at decades-high levels, the growth of corporate profits has come under intense scrutiny, with some calling for windfall taxes to capture the excess profits.
In a new report from the Canadian Centre for Policy Alternatives, senior economist David Macdonald found that for every dollar Canadians spent on rising prices over the last two years, 25 cents went toward oil and gas sector profits.
However, Pourbaix rejected the notion that the industry needs to contribute more to government coffers.
"I think we are already contributing significantly," he said, estimating the industry will pay somewhere between $10 billion and $12 billion in federal taxes this year.
Pourbaix said countries that have opted for windfall taxes on the oil and gas sector have far less progressive tax systems than Canada.
However, Andrew Leach, an economics professor at the University of Calgary, said it's difficult to make comparisons across countries because in Canada the industry pays both royalties and taxes.
And while there is much debate about the appropriateness of windfall taxes, the federal government and some experts are concerned about the industry choosing not to invest these profits in carbon capture projects that would help decarbonize the oilsands.
"I would worry that their strategy here is, 'We can get Canadians excited about this and that will push the federal government to put more dollars in to defray some of the investment costs,'" said Leach.
He warned that strategy could backfire as Canadians watch the industry rake record profits and send cash to shareholders.
"If Canadian started asking, 'Well, if the owners of the oilsands companies aren't willing to make this bet, why should we?' then I think that becomes problematic for them."
Pourbaix said the spending will come in later phases of these projects and that in the meantime, shareholders need to be rewarded.
Many of the Canadian oil and gas giants have opted to do that through corporate share buybacks.
That prompted the federal government to introduce a two per cent corporate stock buyback tax to incentivize companies to reinvest profits rather than reward shareholders.
But some advocates want to see the federal government go further.
Keith Stewart, senior energy strategist with Greenpeace Canada, said the fact that the industry won't actually put money behind their rhetoric on climate change is a good reason to implement a windfall tax.
"They're still waiting for the government to come and pay for them," he said.
This report by The Canadian Press was first published Jan. 25, 2023.
Powell: Fed has only narrow role to play on climate change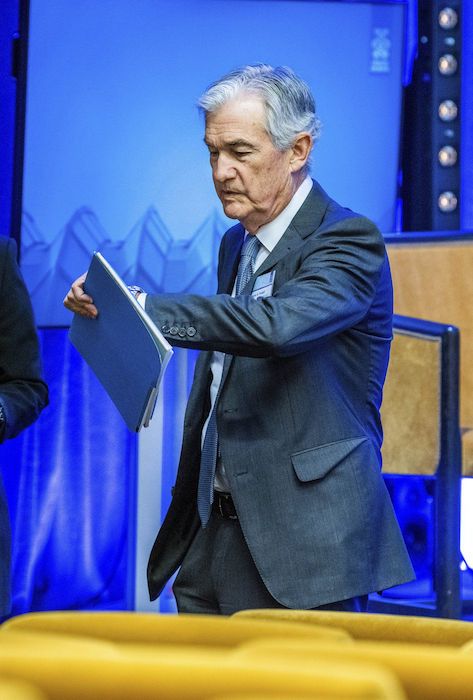 By Christopher Rugaber in Washington
WASHINGTON (AP) — The Federal Reserve has only a limited role to play in combating climate change, Chair Jerome Powell said Tuesday, a stance that puts him at odds with environmental activists who have pushed central banks worldwide to take steps to restrict lending to energy companies.
"Without explicit congressional legislation, it would be inappropriate for us to use our monetary policy or supervisory tools to promote a greener economy or to achieve other climate-based goals," Powell said in prepared remarks to be delivered during a panel discussion in Stockholm hosted by Sweden's central bank.
"We are not, and will not be, a 'climate policymaker.' "
In his written remarks, Powell stuck to the topic of central bank independence, the subject of the panel, and did not comment on the Fed's interest rate policies.
Climate activists have pushed central banks, including the Fed, to use their supervisory powers over commercial banks to push for greater consideration of environmental risks in lending.
Natural disasters, made more common by climate change, could impose significant financial losses on banks, which would require more capital held in reserve. Activist groups also argue that lending to oil and gas companies should be seen as risky.
Powell did acknowledge the Fed has "narrow, but important responsibilities" to use its oversight of banks to ensure that they manage the risks of climate change.
The Fed has taken modest steps to consider climate change risks, including joining the Network for Greening the Financial System, an international group central banks and regulators.
That move and other speeches about climate change by Fed officials had come under criticism from congressional Republicans.