Canada goes unbeaten in preliminaries after 3-0 win over Sweden at Hlinka Gretzky Cup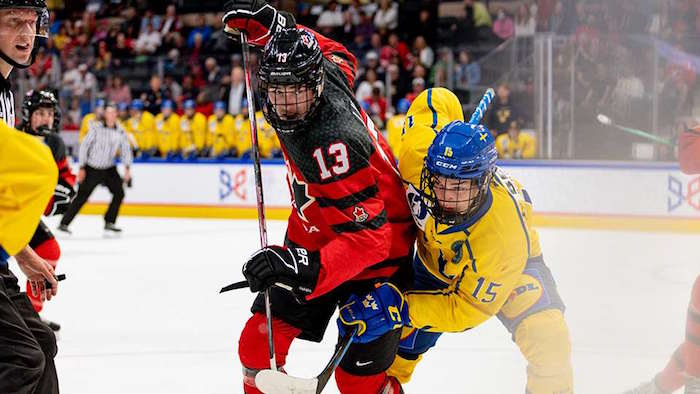 RED DEER, Alta. — Canada's men's under-18 team closed out preliminary play undefeated after a 3-0 victory over Sweden on Wednesday at the Hlinka Gretzky Cup.
Calum Ritchie and Brayden Yager each recorded one goal and one assist, while Zachary Benson added a score of his own. Scott Ratzlaff made 18 saves in the win.
The Canadians dominated offensively for much of the way, firing no less than 12 shots on goal within each period of play and totalling 43 for the night.
Canada had previously defeated Switzerland 14-0 on Sunday, and Slovakia 9-1 on Tuesday in Group A action.
Finland, which finished second in Group B awaits Canada in the semifinals on Friday. The gold and bronze medal games will take place Saturday.
This report by The Canadian Press was first published Aug. 3, 2022
The Canadian Press
National tour of Cadillac's first EV, the Lyriq, featured at Kipp Scott in Red Deer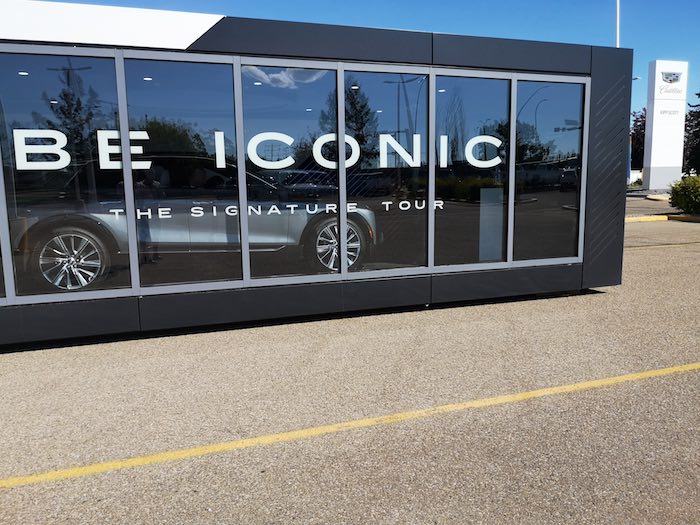 Car and Driver says "Cadillac's first electric car brings the comfort and even grace that we expect from the GM luxury brand"
Fans of the iconic Cadillac brand now have an iconic Cadillac EV to enjoy. It's called the Lyriq and it definitely sings with style. Although Canadians will have to wait a few more months to see one in person, a number of enthusiasts were able to enjoy a sneak peek when the Lyriq National Tour made a stop in Red Deer this week.
Visitors were invited to sit in the 2023 Lyriq and enjoy this presentation.
It takes an iconic TV personality and car collector to know an iconic EV Cadillac when he sees one. Drivers and other admirers will notice an amazing lighting presentation inside the car and around the exterior.
Speaking of lights, those in front of the vehicle when you turn it on, might get a little turned on themselves when they see the Lyriq say "Hello!". Push play to see what we mean.
Visitors who stopped by Kipp Scott to experience the Lyriq were greeted in the nearly completed and already beautiful new Cadillac dealership. Several visitors took the opportunity to put their names on the waiting list for the new Lyriq. Canadian production is ramping up and those who wish to join the list can expect to get their hands on one in the first half of 2023.
Here's Kipp Scott Cadillac GM Garrett Scott to give the low down on the Lyriq and some instructions on what to do if you're interested in this surprisingly (maybe shockingly) affordable luxury EV.
For more information on the Lyriq or any of the Cadillac lineup click here to see more and if you want, set up an appointment with one of the Cadillac consultants.
And if you want to take a bit of a deeper dive with Cadillac enthusiast Jay Leno check this video out.
This article was originally published on August 21, 2022.
Local golfers head to national championship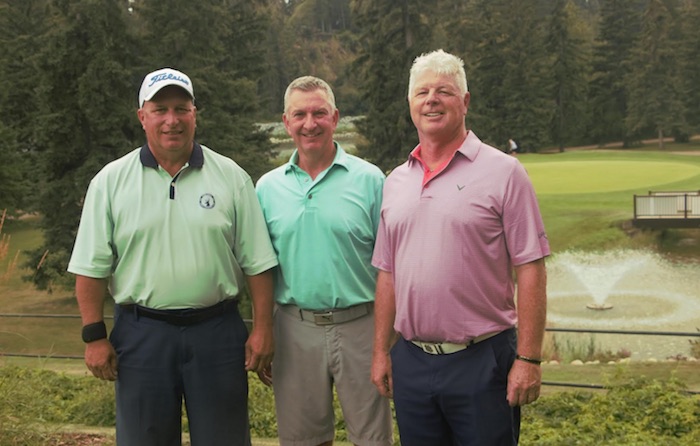 Grant Lee, Ken Griffith, Peter Innes (Club President and Senior Championship competitor)
News release from the Red Deer Golf & Country Club
The 2022 Canadian Men's Senior Championship hosted by Red Deer Golf & Country Club
Five members of the Red Deer Golf & Country Club have qualified to play in the 2022 Canadian Men's Senior Championship, presented by BDO, September 5-9, 2022, at the Red Deer Golf & Country Club. These players will be among the one hundred fifty-six male amateur golfers aged 55 and over who qualified for this national championship. The field will include the finest Canadian Senior Golfers from across the country and international players from the United States. The champion will earn a coveted exemption into the 2023 U.S. Senior Amateur Championship.
Ken Griffith, Grant Lee and Peter Innes competed and qualified for the championship at the Alberta Golf Provincial qualifier in Medicine Hat and Tom Skinner and Joe Gascon earned their way by qualifying through an exemption competition at the RDGCC Club Championship in August. "This is a
major accomplishment for our Club," says Head Professional, Dean Manz. "To have five players from our Club participate in this national championship is recording setting for our Club (for us), and it speaks to the high caliber of golf played at our Club."
Other notable central Alberta golfers who qualified for this championship include, Frank Van Dornick, Camrose Golf Club, Keith Newton, Olds Golf Club.
The attached Backgrounder provides a summary of the accomplishments for RDGCC golfers.
A complete list of all Player's competing can be viewed:
https://gc-2022canadianmensseniorchampionshippre.golfgenius.com/pages/8185216125898901540
The Canadian Men's Senior Championship has been held since 1962 and has become one of Canada's most popular amateur golf events. The Senior Championship is played over 72 holes with a cut after 36 holes. The Super Senior Championship is contested concurrently during the championship. The Senior Inter-Provincial Team Championship, established in 1977, runs concurrently with the first 36 holes of the tournament.
Over 100 volunteers from both the Red Deer Golf & Country Club and the community will be on hand to host the National and International competitors and their families.
We thank our local sponsors, the City of Red Deer, ATB, Kipp Scott, Red Deer Golf & Country Club, NOVA Chemicals, Apex Oilfield Services, Roll'n Oilfield Services, Copies Now, Heck Petroleum, IFR Workwear, Phone Experts, Reid & Wright Advertising, Red Deer Bottling for support of this national
championship.
Ken Griffith
2022 Red Deer Golf and Country Club Men's Championship – (Champion)
2022 Red Deer Golf and Country Club Senior Club Championship – (Champion)
2022 Alberta Senior Amateur Championship – (3rd place, Interprovincial Team Member)
2022 Alberta Mid Master Championship – (5th place)
2022 Alberta Mid Amateur Championship – (18 place)
2021 Central Alberta Senior Open Championship – (Champion)
2021 Alberta Senior Amateur Championship – (2nd place, Interprovincial Team Member)
2021 Alberta Mid Amateur Championship – (18 place)
2021 Red Deer Golf and Country Club Senior Club Championship – (Champion)
2021 Olds Senior Amateur Open Championship – (Champion)
2020 Alberta Senior Amateur Championship – (T 4th place)
2020 Central Alberta Senior Amateur Championship – (3rd place)
2020 Alberta Mid Amateur Championship – (18th place)
2020 Alberta Mid Master Amateur Championship – (3rd place)
2020 Red Deer Golf and Country Club Senior Club Championship – (Champion)
2019 Canadian Senior Amateur Championship – (9th place)
2019 Canadian Senior Amateur Championship – Interprovincial Team Championship – (Champion)
2019 Alberta Senior Amateur Provincial Championship – (Champion)
2019 Central Alberta Senior Amateur Championship – (Champion, Interprovincial Team Member)
2019 Alberta Mid Amateur Championship – (17 place)
2019 Alberta Mid Master Amateur Championship – (3rd place)
2019 Red Deer Golf and Country Club Senior Club Championship – (Champion)
2018 Canadian Senior Amateur Championship – (5th place)
2018 Canadian Senior Amateur Championship – Interprovincial Team Championship – (2nd place)
2018 Canadian Mid Amateur Championship – (28th place)
2018 Alberta Senior Amateur Provincial Championship – (3rd place, Interprovincial Team Member)
2018 Central Alberta Senior Amateur Championship – (Champion)
2018 Alberta Mid Amateur Championship – (8th place)
2018 Alberta Mid Master Championship – (2nd place)
2018 New Zealand Senior Amateur Championship – (5th place)
2017 Canadian Senior Amateur Championship – (15th place)
2017 Canadian Senior Amateur Championship – Interprovincial Team Championship – (Champion)
2017 Alberta Senior Amateur Provincial Championship (3rd place, Interprovincial Team Member)
2017 Central Alberta Senior Amateur Championship – (Champion)
2017 Alberta Springs Golf Course Club Championship – (Champion)