Canada faces wave of terminations as workplace vaccine mandates take effect: Lawyer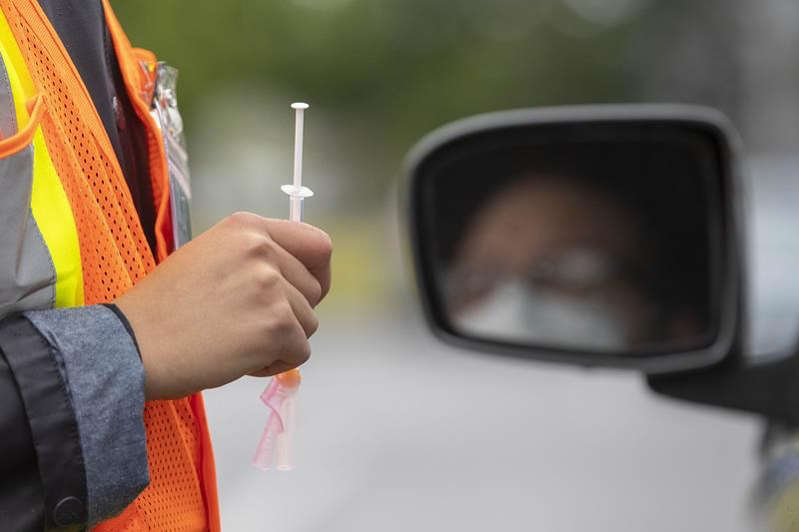 HALIFAX — Canada is facing a potential wave of terminations tied to mandatory workplace vaccine policies as a growing number of employers require workers to be fully inoculated against COVID-19 — or risk losing their jobs, legal experts say.
Governments, institutions and companies have spent months hammering out vaccine mandates in a bid to curb an unrelenting pandemic fuelled by variants.
As employer deadlines to be fully vaccinated approach, unvaccinated workers could soon be placed on unpaid leave or terminated altogether, lawyers say.
"We've been contacted by thousands of people from across Canada who all have these ultimatums in front of them saying they have to be vaccinated by a certain date or risk losing their jobs," employment lawyer Lior Samfiru, a partner with Samfiru Tumarkin LLP, said in an interview.
"We're going to see the biggest wave of terminations we've seen since the pandemic started," he said, noting that his firm has been contacted by workers in a range of industries including health care, education, banks, construction and restaurants.
"It will be significant."
Prime Minister Justin Trudeau unveiled Canada's new mandatory vaccine policy on Wednesday. It requires the core public service, air travel and rail employees to be fully vaccinated against COVID-19 by the end of October.
The federal vaccine mandate mirrors provincial policies, such as in Nova Scotia where all school and health-care workers are required to have two doses of a COVID-19 vaccine by the end of November.
Private companies have also developed corporate vaccine mandates, with looming deadlines for staff to be fully vaccinated.
The situation has left legal experts grappling with the tension between protecting the rights of individual workers and ensuring employers meet their health and safety obligations toward staff, clients and the public.
There's also the question of what reasonable accommodations or exemptions should be available to workers and whether unvaccinated employees who are ultimately terminated are owed compensation.
"There's an overriding obligation on the employer to make sure the workplace is safe," said Ron Pizzo, a labour and employment lawyer with Pink Larkin in Halifax.
"With COVID being an acute illness with the potential for loss of life, the risk of harm is pretty high," he said. "Employers are imposing those policies for valid reasons as they have a duty to keep their workplace safe."
Pizzo said his firm is getting quite a few calls from people who do not want to vaccinate and want to fight employer vaccination requirements.
Still, he said he's not expecting mass resignations that will leave companies without enough workers given the relatively high vaccination rate among the general population. Slightly more than 80 per cent of all Canadians aged 12 and older are fully vaccinated.
Pizzo added that many law firms are introducing mandatory vaccination policies for face-to-face meetings in the office.
Wayne MacKay, professor emeritus at the Dalhousie Schulich School of Law, said employers have to balance the individual rights of workers, such as by offering reasonable accommodations, with maintaining a safe work environment.
But he said a recent review of cases involving the balance between individual rights and public health have sided with the latter.
"I went through a lot of the cases and tribunals and the great majority are saying that while individual rights are important and you should do everything you can to respect them, in the time of a pandemic, reasonable limits are going to be given broad scope," MacKay said. "Most restrictions that governments are doing have been found to be reasonable given threat of COVID-19."
While these cases didn't deal specifically with vaccine mandates, he said the same reasoning would likely apply.
MacKay said there are very few legitimate reasons to seek an exemption to a vaccine policy, such as for medical reasons.
Yet he said some workplaces will likely have a stronger need for a mandatory vaccines than others.
"If you can work exclusively from home, it's not a very compelling argument at all to require that person to be vaccinated as part of their employment," MacKay said. "If you are in the public sector and serving the public, then that is a much more credible case for requiring vaccinations."
As for whether workers who are terminated for refusing to vaccinate are entitled to compensation, he said it depends on the work environment, how valid the need for the policy is and whether the worker was unionized or not.
Samfiru suggested terminated workers who are not paid sufficient compensation could claim wrongful dismissal.
"The employer is imposing a new rule, one that was not part of the original employment agreement," he said. "That becomes a termination without cause and severance has to be paid. Beyond that, there could be a human rights claim as well."
This report by The Canadian Press was first published Oct. 6, 2021.
Brett Bundale, The Canadian Press
Freeland says drop in foreign-aid spending is not a cut, Ukraine fight is pivotal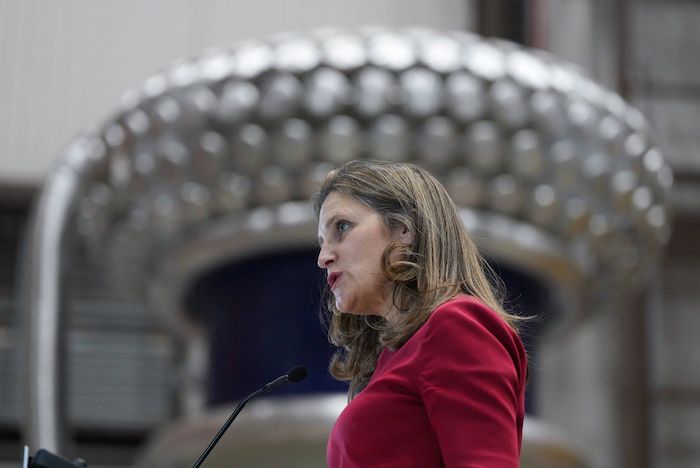 Deputy Prime Minister and Minister of Finance, Chrystia Freeland, speaks during a news conference at Powertech Labs, in Surrey, B.C., on Thursday, March 30, 2023. Freeland insists the government's projected $1.3-billion drop in foreign aid spending does not amount to a cut. THE CANADIAN PRESS/Darryl Dyck
By Dylan Robertson in Ottawa
Finance Minister Chrystia Freeland insists the government's projected $1.3-billion drop in foreign aid spending does not amount to a cut.
The Liberal budget released this week projects that Ottawa will spend nearly $6.9 billion for international development in the coming fiscal year, which is a 16 per cent drop from last year's allocation.
That's despite Prime Minister Justin Trudeau tasking International Development Minister Harjit Sajjan to increase aid spending every year.
The Liberals had delivered a historic boost in aid in response to the COVID-19 pandemic and the war in Ukraine.
Asked about criticism from the aid sector about the cut, Freeland said she "wouldn't characterize it that way."
She stressed that Canada is allocating $2.4 billion in direct financial aid to Ukraine, and called that country's fight the world's most important struggle.
The Liberals have also allocated funding for infrastructure projects in developing countries in the Indo-Pacific region, arguing that these countries want investment more than aid.
Representatives of Canada's aid sector have said they will need to end projects abroad due to the lower-than-hoped funding projected in the Liberals' budget last week, and they're particularly concerned about whether aid dollars are being diverted from Africa to Ukraine.
Freeland told reporters Thursday at a press conference in Surrey, B.C., that Ukraine's fight is crucial to Canada's interests.
"The fight that is happening in Ukraine today is the single most important battle in the world between democracy and dictatorship," she said, while defending her government's record.
"I believe that Canada has a responsibility to be strong and active around the world," she added.
"We're making a very big difference. Canada is the eighth-largest foreign-aid donor (in the world). That is a big deal."
Last October, Freeland was criticized for her response to an African aid expert who said that the West diverting dollars to Ukraine leaves the continent relying more on Russia's support, an idea she rejected.
"A democracy can only be defended by people themselves if they're actually prepared to die for their democracy," she said.
In a later apology for those remarks, she said she was sorry if people found the comments insensitive, adding: "If a white western person has offended someone, the first answer is to say, 'I really didn't mean to offend you.'"
At the time, Freeland said the western world needs to recognize that Africa's current problems stem from colonization.
"These are challenges that have been imposed from the outside. And I think that means we have a high level of responsibility."
This report by The Canadian Press was first published March 31, 2023.
China's global influence looms over Harris trip to Africa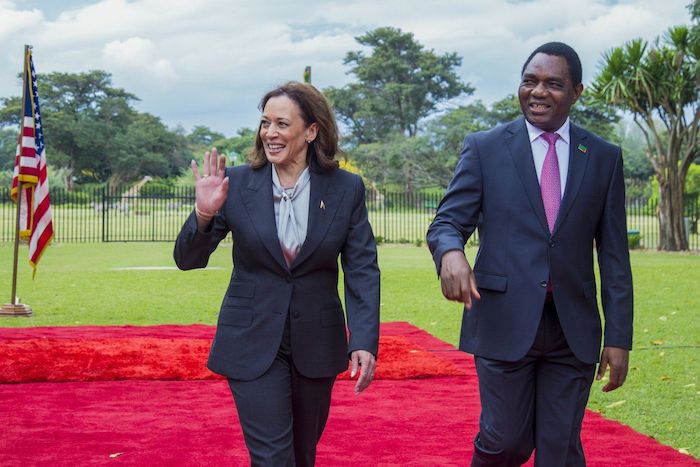 U.S. Vice President Kamala Harris, left, is greeted by Zambian President Hakainde Hichilema in Lusaka, Zambia, Friday March 31, 2023. Harris is on the last leg of a a seven-day African visit that took her to Ghana and Tanzania. (AP Photo/Salim Dawood)
By Chris Megerian, Cara Anna And Andrew Meldrum in Lusaka
LUSAKA, Zambia (AP) — When Vice President Kamala Harris arrived in Zambia on Friday for the final stop of her weeklong trip across Africa, she touched down at an airport that's doubled in size and features glittering new terminals.
Rather than a symbol of promising local development, it's a reminder of China's deep influence. Beijing financed the project, one of many that has expanded its footprint on a booming continent that's rich in natural resources, often generating goodwill among its citizens.
The global rivalry between the United States and China has been a recurring backdrop for Harris' journey, and nowhere has that been more apparent than Zambia and her previous stop in Tanzania.
Besides the airport, China built a 60,000-seat stadium in Lusaka, plus roads and bridges around the country. Zambia is on the hook for all of the development with billions of dollars in debt. Tanzania is a major trading partner with China, and it has a new political leadership school funded by the Chinese Communist Party.
The developments have alarmed Washington, and President Joe Biden's administration is worried that Africa is slipping further into Beijing's sphere of influence.
Harris has played down the issue on her trip, preferring to focus on building partnerships independent of geopolitical competition. However, she has acknowledged there's limited time for the U.S. to make inroads on the continent, telling reporters earlier in the trip that there is a "window" that is "definitely open now" for American investments.
At a news conference with Zambian President Hakainde Hichilema on Friday, Harris reiterated her call for "all bilateral official creditors to provide a meaningful debt reduction for Zambia" — an oblique reference to China — but she stressed that "our presence here is not about China."
Hichilema said it would be "completely wrong" to view Zambia's interests in terms of a rivalry between the U.S. and China.
"When I'm in Washington, I'm not against Beijing. When I'm in Beijing, I'm not against Washington," he said, adding that "none of these relationships are about working against someone or a group of countries."
China's roots in both Tanzania and Zambia run deep. In the 1970s, Beijing built the Tazara Railway from landlocked Zambia to Tanzania's Dar es Salaam port, allowing copper exports to circumvent white-minority-ruled Rhodesia and apartheid South Africa.
Today, China is Africa's largest two-way trading partner, with $254 billion of business in 2021, according to the United States Institute of Peace. That's four times the amount of trade between the U.S. and Africa. In addition, dealing with Beijing features less admonishments about democracy than with Washington.
"Most African countries are rightly unapologetic about their close ties to China," Nigeria's vice president, Yemi Osinbajo, tweeted on Thursday. "China shows up where and when the West will not and/or are reluctant."
Sen. Chris Coons, a Delaware Democrat who has worked on Africa issues in Congress, expressed frustration over China's growing influence on the continent.
"We switched from being the No. 1 trade partner or the No. 1 investment partner in two dozen countries, to China being the No. 1 trade and investment partner," he told reporters aboard Air Force Two on the flight to Ghana at the beginning of Harris' trip. "I think our challenge for this decade is to address that."
Biden has been taking steps toward that, such as hosting a summit for African leaders in December, when he announced that he wants to commit $55 billion to the continent in the coming years.
Harris has made announcements as well during her trip, including more than $1 billion in public and private money for economic development, $100 million for security assistance in West Africa and $500 million to facilitate trade with Tanzania.
However, there's skepticism about whether the U.S. will follow through on its promises, and Harris has been faced with not-so-subtle hints that Africa expects more. For example, the presidents of Ghana and Tanzania bluntly said they hope Biden chooses to visit their countries during his expected trip to Africa later this year, which would be his first to the continent as president.
By comparison, Tanzania was among the first countries that Chinese President Xi Jinping visited after becoming president in 2013. And after Xi secured a third term, Tanzanian President Samia Suluhu Hassan was the first African head of state to visit Beijing.
"Kamala faces Chinese dominance in Tanzania," the Tanzania Business Insight publication tweeted Wednesday.
Ian Johnson, a former China-based journalist who works at the U.S.-based Council on Foreign Relations, said Beijing presents a powerful narrative in the developing world as a country that rapidly built its economy and pulled much of its population out of poverty.
African leaders think "let's see what we can learn from China," he said, adding that "there's a certain fascination in how they did it."
Johnson also said China views Africa differently than the U.S.
"We have a tendency to see Africa as a series of problems — wars, famines, something like that," he said. "But in China's eyes, Africa is much more of an opportunity."
Edem Selormey, who conducts public opinion research at the Ghana Center for Democratic Development, said the feeling is often mutual.
"China's influence in Africa is largely seen as positive," she said. "And the U.S. trails China in that regard."
The difference, she said, is often about "what citizens see on the ground," such as infrastructure projects, and "the U.S. has been missing from this picture for a while."
John Kirby, a White House national security spokesman, said the debt that comes from China's involvement is ultimately corrosive. He said African leaders are "beginning to realize that China is not really their friend."
"China's interests in the region are purely selfish, as opposed to the United States," he said.
It's a sentiment that draws scoffs in some corners of Africa.
"America is like playing the role of a big Uncle Sam in trying to defend African countries against what they think is the encroachment of China into the liberty of African countries through these loans," said Tanzania-based analyst Mohamed Issa Hemed.
However, he added, "China is ahead of the U.S. in many, many ways."
Daniel Russel, a former State Department official who is now at the Asia Society Policy Institute, summed up the African perspective as "enough with the lectures" about China. "They've got something we want. And they've got it right here."
When it comes to U.S. hopes for Africa, he said, "you can't beat something with nothing."
___ Anna reported from Nairobi, Kenya, and Meldrum from Johannesburg. Associated Press writer Evelyne Musambi in Nairobi, Kenya, contributed to this report.