Canada argues court misconstrued Charter in directing feds to bring men in Syria home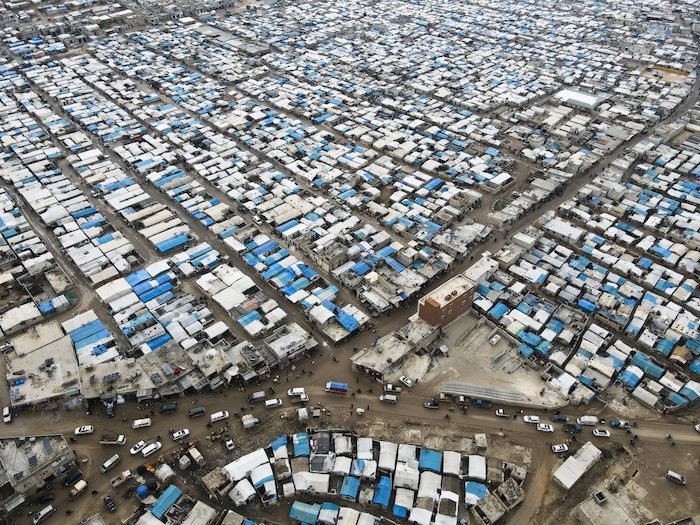 A general view of Karama camp for internally displaced Syrians, is shown Monday, Feb. 14, 2022, by the village of Atma, Idlib province, Syria. THE CANADIAN PRESS/AP/Omar Albam
By Jim Bronskill in Ottawa
The Canadian government says a federal judge misinterpreted the Charter of Rights and Freedoms in directing officials to secure the release of four men from detention in northeastern Syria.
Government lawyers are set to stress that point in the Federal Court of Appeal today as they seek to overturn a January ruling by Federal Court Justice Henry Brown.
In his decision, Brown said Ottawa should request repatriation of the men in Syrian prisons run by Kurdish forces as soon as reasonably possible and provide them with passports or emergency travel documents.
Brown ruled the men are also entitled to have a representative of the federal government travel to Syria to help facilitate their release once their captors agree to hand them over.
The government says in written arguments filed in the Court of Appeal that Brown mistakenly conflated the recognized Charter right of citizens to enter Canada with a right to return — effectively creating a new right for citizens to be brought home by the Canadian government.
Federal lawyers argue Brown's "novel and expansive" approach overshoots the text, purpose and protected interests of the Charter right to enter, and is inconsistent with established domestic and international law.
The government also contends the court usurped the role of the executive over matters of foreign policy and passports. "The mandatory actions fail to respect the proper role of the executive and prevent it from making necessary, timely and individualized assessments within its expertise about a range of complex considerations."
The judge's ruling has largely been put on hold while the appeal plays out. However, Ottawa must still get the process started by initiating contact with the Kurdish forces who are detaining the men in a region reclaimed from the Islamic State of Iraq and the Levant.
The four men include Jack Letts, whose parents John Letts and Sally Lane have waged a vigorous campaign to pressure Ottawa to come to his aid.
Lawyer Barbara Jackman, who represents Letts, points out in a submission to the Court of Appeal that the four Canadian men have not been charged with any crime.
"They have not had access to the necessities of life and have been subjected to degrading, cruel and unusual treatment during their nightmarish tenure in Syrian prisons," the filing says. "Jack Letts told his family and the Canadian government that he was subjected to torture and contemplated ending his own life."
The identities of the three other Canadian men are not publicly known.
Their lawyer, Lawrence Greenspon, says Brown's ruling that Canada should take steps to facilitate repatriation of the men is a practical solution that recognizes the Charter-entrenched right of entry.
"Justice Brown's decision is comprehensive and correct in law," Greenspon's written submission to the Court of Appeal says.
In these rare circumstances, where Canadians are being arbitrarily detained in a foreign country and the federal government has been invited to take steps to facilitate their entry into Canada, the court correctly declared that Ottawa should take those steps, the filing adds.
Family members of the men, as well as several women and children, argued in the Federal Court proceedings that Global Affairs Canada must arrange for their return, saying that refusing to do so violates the Charter.
The government insisted that the Charter does not obligate Ottawa to repatriate the Canadians held in Syria.
However, Greenspon reached an agreement with the federal government in January to bring home six Canadian women and 13 children who had been part of the court action.
In his ruling, Brown said the Canadian men are not able to return home "in part because their government seems never to have formally requested their repatriation."
They are not able to enjoy "a truly meaningful exercise" of their Charter right to enter Canada unless and until the federal government makes a formal request to the Autonomous Administration of North and East Syria on their behalf, he wrote.
"Canada must make a formal request for their repatriation because otherwise the Court is asked to construe the Charter in an 'unreal world."'
This report by The Canadian Press was first published March 27, 2023.
Records detail Jeffrey Epstein's last days and prison system's scramble after his suicide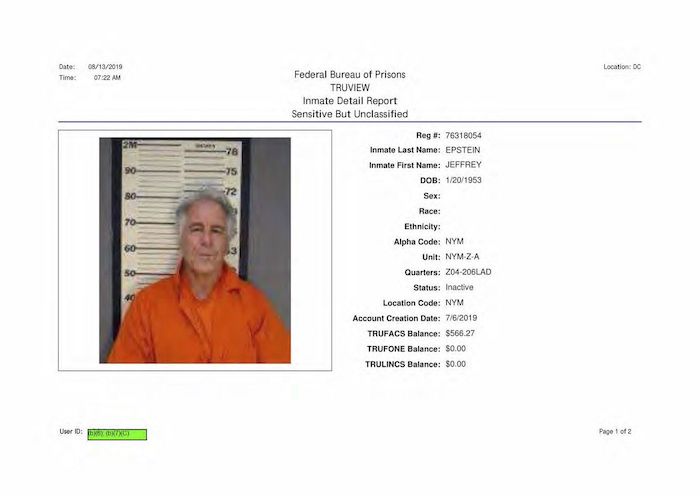 This photo shows one page of more than 4,000 pages of documents that the Associated Press obtained on Thursday, June 1, 2023, related to Jeffrey Epstein's jail suicide from the federal Bureau of Prisons under the Freedom of Information Act. (Federal Bureau of Prisons via AP)
By Jake Offenhartz And Michael R. Sisak in New York
NEW YORK (AP) — Nearly four years after Jeffrey Epstein's death, thousands of pages of records obtained by The Associated Press are shedding new light on the financier's time behind bars and a frantic response by federal corrections officials to his death.
The documents, including emails between jail officials and psychological evaluations, offer a fuller picture of Epstein as he awaited trial on sex trafficking charges at the now-shuttered Metropolitan Correctional Center.
Epstein killed himself at the federal jail in 2019. In the days and weeks that followed, corrections officials struggled to explain how such a high-profile detainee had managed to take his own life.
The records show how he was moved from the jail's general population to specialized housing and how he was briefly on suicide watch before being downgraded to psychiatric observation — his status when he killed himself.
Here are takeaways from the more than 4,000 pages of documents:
AN AGITATED INMATE
Epstein was anxious and despondent during much of his time in jail, prompting concern from jail guards and psychological experts about his mental state. He complained often about jail life, including poor sleep, constipation, the color of his uniform and his treatment by other detainees. The noise from a broken toilet in his cell left him sitting in the corner with his hands over his ears, according to one psychologist.
But despite his litany of complaints, Epstein insisted that he wouldn't take his own life. Even after he was discovered on his cell's floor with a strip of bedsheet around his neck and placed on suicide watch for 31 hours, he denied that he was contemplating suicide, which he said was against his Jewish religion. Plus, he added, he was a "coward" who didn't like pain.
"He described having a 'wonderful life,''" a psychological evaluation stated. "He said 'it would be crazy' to take his life. He furthered, 'I would not do that to myself.'"
A LETTER TO ANOTHER SEX OFFENDER
Among the new revelations was an attempt by Epstein to reach out to another notorious pedophile: Larry Nassar, the USA Gymnastics team doctor convicted of sexually abusing scores of young athletes.
A letter sent by Epstein to Nassar was found returned to sender in the jail's mail room weeks after Epstein's death. "It appeared he mailed it out and it was returned back to him," the investigator who found the letter told a corrections official by email. "I am not sure if I should open it or should we hand it over to anyone?"
The letter itself wasn't included among the documents turned over to the AP, which also don't indicate what became of the letter.
FINAL PHONE CALL
Epstein was found dead on the morning of Aug. 10, 2019. He had hanged himself with a bedsheet, according to the medical examiner. Hours earlier, he appears to have successfully deceived jail guards one last time by telling them he wanted to talk on the phone to his mother, who had been dead for 15 years.
A correctional officer escorted Epstein to a shower area at around 7 p.m., where he was permitted to make a 15 minute "social call." Reports later indicated that he had phoned his 30-year-old girlfriend.
Weeks after his death, a jail warden questioned why an employee had failed to follow policy by allowing Epstein to make an unmonitored call.
MUDDLED RESPONSE
The documents shed light on the lurching response by the Bureau of Prisons in the critical hours of Epstein's death.
In one email, a prosecutor involved in Epstein's criminal case complained to an agency lawyer that it was "frankly unbelievable" that the agency was issuing public news releases "before telling us basic information so that we can relay it to his attorneys who can relay it to his family."
In another email, the prosecutor wrote of getting "increasingly frantic calls" from Epstein's lawyers.
"We need to know as soon as possible the very basic facts, such as time and cause of death at the absolute minimum," wrote the prosecutor, whose name was redacted. "It has now been hours since this was reported publicly," the prosecutor wrote, adding that it was "extraordinary frustrating to have to tell them that we have less information than the press."
As news outlets began reporting details of the agency's failings, a high-ranking federal prison official made the apparently baseless suggestion to the agency's director that reporters must have been paying jail employees for information.
THE AFTERMATH
Epstein's death touched off a wave of anger toward the Bureau of Prisons and questions about the operation of the Metropolitan Correctional Center. In an internal memo, officials blamed "seriously reduced staffing levels, improper or lack of training, and follow up and oversight" for the death.
Two guards who were supposed to be watching Epstein on the night of his death were found to have falsified records, admitting to napping and browsing the internet instead of monitoring the high-profile inmate.
The documents show other efforts to implement reforms, such as requiring jail captains to review footage ensuring that guards are completing their rounds every 30 minutes. Jail officials said they would allow psychological experts to play a larger role in determining how housing decisions are made.
In some respects, the officials may have overcorrected. A memo sent to the Bureau of Prisons director shortly after Epstein's death warned that wardens were "defaulting to leaving inmates on suicide watch longer than the psychologists have advised."
By 2021, the Metropolitan Correctional Center had closed down. An investigation by the Justice Department's inspector general is still ongoing.
___
For more AP coverage of Jeffrey Epstein: https://apnews.com/hub/jeffrey-epstein
O'Toole says CSIS told him he was focus of Chinese misinformation, suppression effort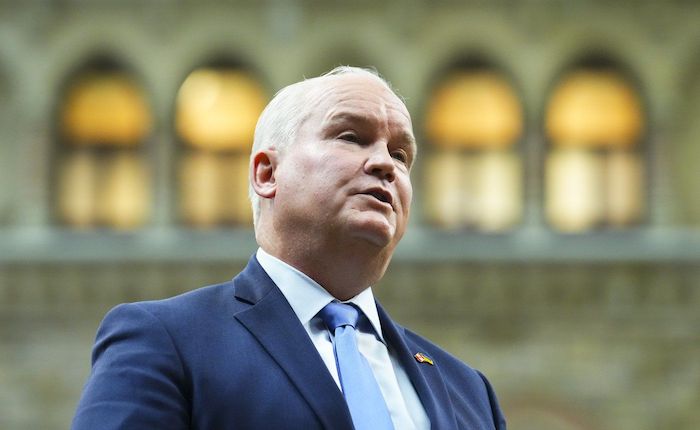 Conservative member of Parliament Erin O'Toole speaks in the House of Commons on Parliament Hill in Ottawa on Tuesday, May 30, 2023. O'Toole was speaking on an opposition motion regarding the public inquiry into allegations of foreign interference and being informed by CSIS that he is a target of China. THE CANADIAN PRESS/Sean Kilpatrick
Conservative MP Erin O'Toole says Canada's spy agency has told him he was the target of Chinese interference intended to discredit him and promote false narratives about his policies while party leader.
Rising in the House of Commons on a question of privilege Tuesday, O'Toole said the Canadian Security Intelligence Service briefing revealed a range of actions against him.
They included Chinese Communist Party funding to create misinformation, the use of groups and the WeChat social media platform to amplify the mistruths and a campaign of voter suppression against him during the 2021 general election, he said.
The former Conservative leader said the threats against him and members of his caucus were not flagged to him by the government or security agencies at the time.
They were also not communicated to the Conservatives through the federal task force intended to help safeguard the integrity of the 2021 election, he added.
O'Toole said the Liberal government's inaction amounted to a violation of his privileges as an MP and leader of the Opposition.
"The briefing from CSIS confirmed to me what I suspected for quite some time, that my parliamentary caucus and myself were the target of a sophisticated misinformation and voter suppression campaign orchestrated by the People's Republic of China before and during the 2021 general election."
On Monday, New Democrat MP Jenny Kwan said CSIS informed her last week she has been targeted by China since before the 2019 federal election over her advocacy for human rights in Hong Kong and for the Uyghur Muslim minority in China. She said she was not at liberty to discuss specifics of the targeting.
In addition, David Johnston, the federal government's special rapporteur on foreign interference, said in his recent interim report there was intelligence indicating Beijing was seeking information about Conservative MP Michael Chong and his relatives.
But Johnston's interim report found little evidence supporting O'Toole's claim specific candidates lost in the 2021 election because of foreign interference.
He said it was unclear whether information campaigns against Conservatives were tied to a state-sponsored source, and there was a legitimate possibility that Chinese-Canadians did not agree with the Conservative's hardline position on China.
In that case, it would not be foreign interference — it would be the "democratic process," the report said.
Under a federal protocol, there would be a public announcement if a panel of senior bureaucrats determined that an incident – or an accumulation of incidents – threatened Canada's ability to have a free and fair election.
There was no such announcement in 2021 or concerning the 2019 election. In both ballots, the Liberals were returned to government with minority mandates while the Conservatives formed the official Opposition.
Government House leader Mark Holland said Tuesday the federal Liberals still have faith in the man they appointed to investigate the issue of foreign interference in Canadian elections.
But Holland would not confirm whether the government could fire Johnston if an NDP motion calling for his ouster passes in the House of Commons this week.
The House debated a motion from NDP Leader Jagmeet Singh on Tuesday that calls for the government to remove Johnston as special rapporteur and to call a public inquiry.
Singh says he doesn't want to attack Johnston personally, but is concerned there is a clear apprehension of bias undermining the work he can do because of his ties to the prime minister.
Opposition party motions are not binding and the government already ignored an earlier NDP motion calling for a public inquiry that passed in March.
That motion came just a week after the Liberals appointed Johnston to look into allegations the Chinese government attempted to interfere in the last two federal elections.
Conservative Party Leader Pierre Poilievre repeated calls for a public inquiry Tuesday and discounted Johnston's role as a "fake job."
"We need to take back control of our democracy from foreign forces, we need to put Canadians back in control of their lives," he said.
Poilievre, who succeeded O'Toole as permanent party leader after the last election, said he would call a public inquiry if he becomes prime minister, reiterating his reluctance to view the classified section of Johnston's report offered to party leaders.
"The prime minister's plan is he wants to mark secret things that would otherwise be publicly debatable, but put things that would be in a grey area under the secrecy of the state, and then put them before me to prevent me from speaking publicly," he said.
Singh said he will continue to push for a public inquiry but won't end his confidence-and-supply agreement with the Liberal minority government and trigger an election.
"I don't see how it's logical if the goal is to protect our democracy to then trigger an election when we're worried about foreign interference."
This report by The Canadian Press was first published May 30, 2023.