Cameroon government says it never authorized Canada peace talks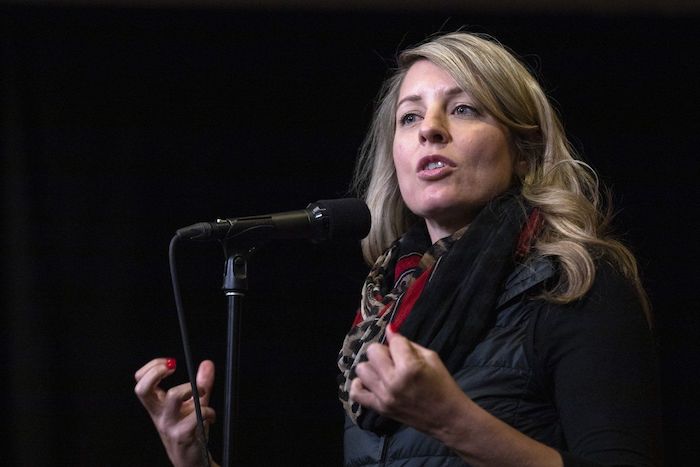 By Dylan Robertson in Ottawa
Cameroon's state-affiliated newspaper says the country's government never authorized Canada to lead peace talks aimed at ending an escalating conflict in the west-central African country.
Ottawa announced last Friday that it has been hosting talks with the government of Cameroon and various factions to come up with a peace process for a political resolution to the crisis.
Yet the country's state-affiliated newspaper, the Cameroon Tribune, said the government had mandated "no external mediator" for negotiations to end the conflict.
The newspaper cited a press release signed by the country's Communication Minister René Sadi, which said Cameroon "has not entrusted any foreign country or external entity with any role of mediator or facilitator to settle the crisis."
The Canadian Press has not independently verified the letter and Cameroon's Communications Ministry did not immediately respond to a request for comment.
The office of Foreign Affairs Minister Mélanie Joly said it already held three meetings in Canada that included representatives from the government of Cameroon.
"We are in touch with the parties and our previous statement stands," wrote spokesman Adrien Blanchard.
"Canada's sole interest in this matter is a peaceful resolution and a safer future for all civilians affected by the conflict."
Years of fighting and strife have displaced nearly 800,000 people in the country, in a conflict over how the largely English-speaking western region of the country should be governed.
The conflict has killed more than 6,000 people since 2017, and left 600,000 children without full access to an education.
According to the United Nations, there has been continued fighting between state security forces and armed groups that has led to the killing and displacement of civilians, including attacks on schools and children.
Joly had said last week that Ottawa had accepted a mandate from the Cameroonian government and some separatist groups, to help them reach a comprehensive political resolution to the conflict.
Switzerland had attempted a similar process in 2019.
Sadi's statement did not directly mention Canada.
"It is up to the Cameroonian people, to the institution and leaders that they have freely chosen, to seek appropriate ways and means to address problems facing our country," the statement reads.
Cameroon has been ruled by President Paul Biya for 40 years, and Human Rights Watch says his government has limited freedom of expression and association for opposition parties.
This report by The Canadian Press was first published Jan. 23, 2023.
Russia stops sharing missile test info with US, opens drills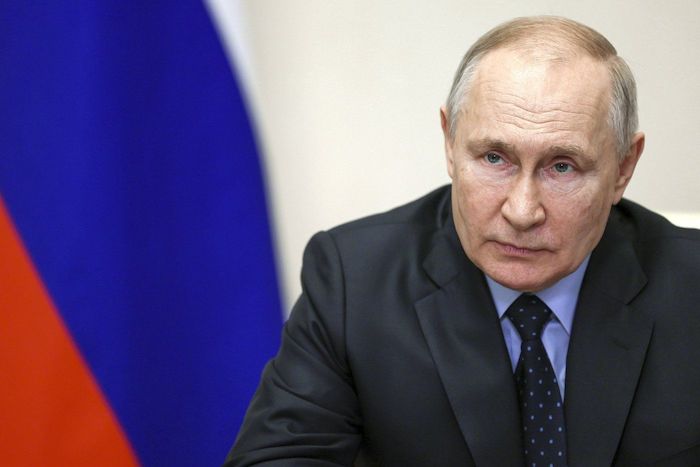 Russian President Vladimir Putin attends a cabinet meeting via videoconference at the Novo-Ogaryovo residence outside Moscow, Russia, Wednesday, March 29, 2023. (Gavriil Grigorov, Sputnik, Kremlin Pool Photo via AP)
By Vladimir Isachenkov in Moscow
MOSCOW (AP) — Russia will no longer give the U.S. advance notice about its missile tests, a senior Moscow diplomat said Wednesday, as its military deployed mobile launchers in Siberia in a show of the country's massive nuclear capability amid fighting in Ukraine.
Deputy Foreign Minister Sergei Ryabkov said in remarks carried by Russian news agencies that Moscow has halted all information exchanges with Washington after previously suspending its participation in the last remaining nuclear arms pact with the U.S.
Along with the data about the current state of the countries' nuclear forces routinely released every six months in compliance with the treaty, the parties also have exchanged advance warnings about test launches. Such notices have been an essential element of strategic stability for decades, allowing Russia and the United States to correctly interpret each other's moves and make sure that neither country mistakes a test launch for a missile attack.
The termination of missile test warnings marks yet another attempt by Moscow to discourage the West from ramping up its support for Ukraine by pointing to Russia's massive nuclear arsenal. In recent days, President Vladimir Putin announced the deployment of tactical nuclear weapons to the territory of Moscow's ally Belarus.
Last month, Putin suspended the New START treaty, saying Russia can't accept U.S. inspections of its nuclear sites under the agreement at a time when Washington and its NATO allies have openly declared Moscow's defeat in Ukraine as their goal. Moscow emphasized that it wasn't withdrawing from the pact altogether and would continue to respect the caps on nuclear weapons the treaty set.
The Foreign Ministry initially said Moscow would keep notifying the U.S. about planned test launches of its ballistic missiles, but Ryabkov's statement reflected an abrupt change of course.
"There will be no notifications at all," he said in remarks reported by Russian news agencies when asked if Moscow would also stop issuing notices about planned missile tests. "All notifications, all kinds of notifications, all activities under the treaty. will be suspended and will not be conducted regardless of what position the U.S. may take."
Ryabkov's announcement followed U.S. officials' statement that Moscow and Washington have stopped sharing biannual nuclear weapons data that were envisioned by the New START treaty. Officials at the White House, Pentagon and State Department said the U.S. had offered to continue providing this information to Russia even after Putin suspended its participation in the treaty, but Moscow told Washington it would not be sharing its own data.
The New START, signed in 2010 by then-Presidents Barack Obama and Dmitry Medvedev, limits each country to no more than 1,550 deployed nuclear warheads and 700 deployed missiles and bombers. The agreement envisages sweeping on-site inspections to verify compliance.
The inspections have been put on hold since 2020 because of the COVID-19 pandemic. Discussions on resuming them were supposed to have taken place in November 2022, but Russia abruptly called them off, citing U.S. support for Ukraine.
As part of the Russian drills that began Wednesday, Yars mobile missile launchers will maneuver across three regions of Siberia, Russia's Defense Ministry said. The movements will involve measures to conceal the deployment from foreign satellites and other intelligence assets, the ministry said.
The Defense Ministry didn't say how long the drills would last or mention plans for any practice launches. The Yars is a nuclear-tipped intercontinental ballistic missile with a range of about 11,000 kilometers (over 6,800 miles). It forms the backbone of Russia's strategic missile forces.
A Defense Ministry video shows trucks carrying the missiles driving from a base to go on patrol. The maneuvers involve about 300 vehicles and 3,000 troops in eastern Siberia, according to the ministry.
The exercise took place days after Putin announced a plan to deploy the tactical nuclear weapons in Belarus, Russia's neighbor and ally. Such weapons are intended for use on the battlefield and have a relatively short range and a much lower yield compared with the long-range strategic missiles fitted with nuclear warheads that are capable of obliterating whole cities.
Putin's decision on the tactical weapons followed his repeated warnings that Moscow was ready to use "all available means" — a reference to its nuclear arsenal — to fend off attacks on Russian territory.
Ryabkov said Wednesday that Putin's move followed the failure by Kyiv's allies to heed previous "serious signals" from Moscow because of what he described as the "fundamental irresponsibility of Western elites before their people and international security."
"Now they will have to deal with changing realities," he said, adding: "We hope that NATO officials will adequately assess the seriousness of the situation."
Russian officials have issued a barrage of hawkish statements since their troops entered Ukraine, warning that the continuing Western support for Kyiv raised the threat of a nuclear conflict.
In remarks published Tuesday, Nikolai Patrushev, the secretary of Russia's Security Council, which Putin chairs, sternly warned the U.S. and its allies against harboring hopes for Russia's defeat in Ukraine.
Patrushev alleged that some American politicians believe the U.S. could launch a preventative missile strike on Russia to which Moscow would be unable to respond, a purported belief that he described as "short-sighted stupidity, which is very dangerous."
"Russia is patient and isn't trying to scare anyone with its military superiority, but it has unique modern weapons capable of destroying any adversary, including the United States, in case of a threat to its existence," Patrushev said.
Amnesty: West's 'double standards' fuel Mideast repression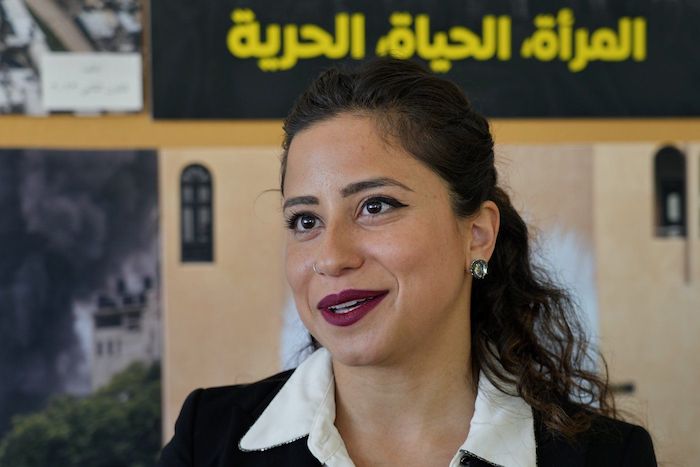 Deputy Regional Director for the Middle East & North Africa Aya Majzoub, speaks during an interview with The Associated Press in Beirut, Lebanon, Tuesday, March 28, 2023. Leading international rights group Amnesty International on Tuesday decried what it said were double standards by Western countries, which rallied behind a "robust response" to Russia's invasion of Ukraine but remain "lukewarm" on issues of human rights violations in the Middle East. The Arabic Words in the background read "Woman, life, freedom." (AP Photo/Bilal Hussein)
By Kareem Chehayeb in Beirut
BEIRUT (AP) — A leading international rights group on Tuesday decried what it said were double standards by Western countries that have rallied behind a "robust response" to Russia's invasion of Ukraine but remain "lukewarm" on issues of human rights violations in the Middle East.
According to Amnesty International, such double standards only fuel further repression for millions in the region.
The sharp rebuke came as the London-based watchdog launched its annual report at a news conference at its office in Beirut, Lebanon's capital. Every year, the report documents and analyzes patterns of human rights violations and abuses across the world.
In the report, Amnesty urged the international community to hold perpetrators of human rights abuses in the Middle East and North Africa to account, and to address the issue of migration without discrimination.
"They immediately opened their borders to receive refugees from Ukraine," Aya Majzoub, Amnesty's deputy chief for Mideast and North Africa, said of Western nations. She said that's in stark contrast to how the same countries generally treat refugees and migrants trying to flee war-torn Syria, the chaos in Libya or Lebanon's economic meltdown.
The number of attempts by migrants to enter the European Union without authorization reached around 330,000 in 2022, the highest in five years. In 2015, over 1 million people, mostly Syrian refugees fleeing the conflict, reached Europe.
Germany received accolades for welcoming large numbers of Syrian refugees at the time, and the U.S. and European countries frequently point out the billions of dollars they have given in aid to help refugees and internally displaced Syrians.
Today, many European governments are calling for reforms to the asylum-seeking system for better efficiency and to distinguish between refugees fleeing war and persecution and migrants searching for job opportunities, who they say are creating a strain on the asylum system and should be returned.
Majzoub spoke to The Associated Press in an interview after the news conference. She praised the international community for denouncing Russian President Vladimir Putin's attacks against civilians in Ukraine, including systematic torture and killing in occupied regions — which a U.N.-backed inquiry earlier this month said amount to war crimes and possibly crimes against humanity.
But such a strong response was lacking during Syria's 12-year-old brutal civil war. "That's perpetuated the culture of impunity and empowered Putin to commit the crimes that he was committing in Ukraine," she said.
Amnesty's report said Middle Eastern governments took advantage of the situation over the past year and doubled down on repressing dissidents while neglecting obligations to respond to economic crises.
The group condemned Iranian authorities for detaining over 20,000 people who took part in monthslong anti-government protests that erupted last September, following the death of a young woman in the custody of the country's morality police.
Amnesty's report also did not spare oil-rich Saudi Arabia for "changing its image to win over foreign investment" in a public relations campaign while continuing to crack down on activists promoting women's rights.
Amnesty also criticized Israel for its ongoing raids on Palestinians in the occupied West Bank, with the past months being among the deadliest in years.
In tiny Lebanon, Amnesty chastised the authorities for escalating rhetoric against Syrian refugees and the queer community — instead of undertaking badly needed economic reforms for an International Monetary Fund bailout package.