California court OKs death penalty in '80s sex slave murders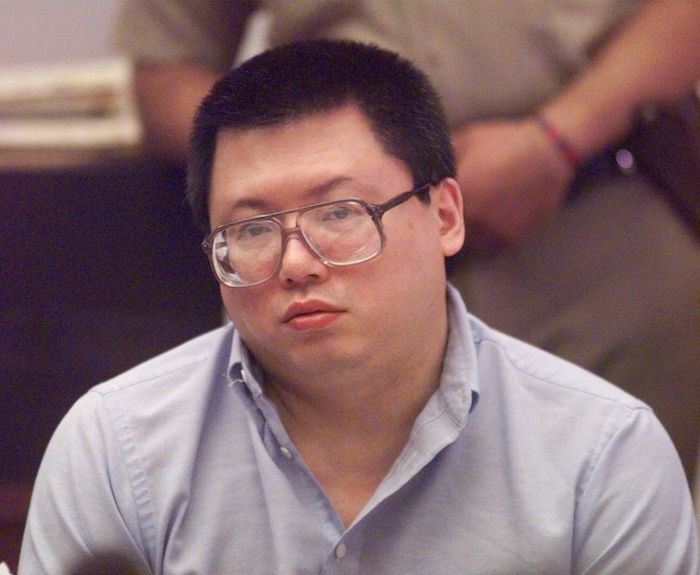 By Don Thompson in Sacramento
SACRAMENTO, Calif. (AP) — The California Supreme Court on Thursday upheld the conviction and death penalty for one of two men implicated in at least 11 notorious horrific torture-slayings in the mid-1980s in which the duo kept their victims hidden in a secret bunker in the Northern California woods.
Thirty-seven years later, authorities are still trying to identify the remains of some of their victims.
Charles Ng, now 61, was convicted in 1999 of killing six men, three women and two baby boys in 1984 and 1985. He was initially accused of 13 slayings — 12 in Calaveras County and one in San Francisco.
He and his criminal partner, Leonard Lake, committed a series of kidnappings in which they engaged in bondage and sadism ending in murder. They were initially suspected of killing up to 25 people.
"This is one of those stories that's been passed down through time in this community," said Calaveras County Lt. Greg Stark, whose father worked for the department at the time of the slayings. "There's been wild estimates and there's been conservative estimates, and honestly I don't think anybody will ever know, due to how they were disposing of the bodies."
Ng and Lake held their victims in a remote 2 1/2-acre Sierra Nevada fenced compound about 150 miles (241 kilometers) east of San Francisco. It included a bunker with three rooms, two of them behind a hidden doorway. One hidden, locked room was furnished like a cell with a bed covered with a foam pad, a plastic bucket and a roll of toilet paper.
Lake killed himself with a cyanide capsule after police arrested him for shoplifting in San Francisco in 1985 and were questioning him before any bodies were found.
The justices said in a detailed 181-page analysis of the case that Ng received a fair trial, including a change of venue from Calaveras County to Orange County because of pre-trial publicity.
It was one of California's longest and most expensive trials at the time, costing millions of dollars, partly because the court said Ng repeatedly attempted to delay and disrupt his own trial. That included extended debates over whether he could represent himself and who would be his attorneys.
The justices unanimously also concluded that Ng was properly extradited after he fled to Canada, where he was arrested in Calgary, Alberta, in 1985 for shoplifting and wounding a store guard. He fought extradition for six years before the Supreme Court of Canada ordered him returned.
The men incriminated themselves with videotapes of them tormenting bound, terrified women they used as sex slaves before their murders.
Jurors were shown a tape of one woman pleading in vain for the men to spare her husband and baby as Ng cut off her shirt and bra with a knife in front of the camera.
Investigators also discovered piles of charred bones, blood-stained tools, shallow graves and a 250-page diary kept by Lake.
Four law enforcement agencies spent five weeks scouring the property, according to the court's detailed description.
They found thousands of buried teeth and bone fragments throughout the property, with at least four of the dental specimens belonging to a child under age 3. "Many hundreds" of the bone fragments had been burned.
Two forensic anthropologists eventually concluded that the remains belonged to at least four adults, one child, and one infant. Two men were found in a shallow grave not far from the property. They had been bound, gagged and fatally shot.
Officials in Calaveras County last year exhumed additional bones and other human remains from a crypt in a cemetery where they had been kept since Ng's conviction, in hopes that modern DNA tracing could reveal their identities.
A sheriff's chaplain read a brief invocation, and soon California Department of Justice criminalists and two forensic anthropologists began sorting and analyzing the remains.
They are initially hopeful that enough viable DNA is left for a comparison, said Stark, but the Department of Justice hasn't yet been able to run the comparisons in part because of more urgent active cases.
Investigators plan to compare the DNA to that from cooperating next of kin of the known victims, and run it through DNA databases in hopes of a comparison.
"Regardless if there are 11 (slayings) or more than 11, we're hoping to categorize the remains and if possible return them to the families to give them their due respect and internment," Stark said. "If we find additional identifications, we'll definitely look into them and their connection to the case."
Ng joined the Marine Corps after he came to the United States from Hong Kong. He earlier was imprisoned at Leavenworth, Kansas, for weapons theft while serving in the Marine Corps.
He and his defense attorneys argued that he was under the influence of Lake, an older man and survivalist who they said engineered the serial slayings. Ng denied participating in many of the crimes.
His attorneys argued at the time that Ng was shaped as a child, when he was beaten by his father.
Gov. Gavin Newsom has imposed a moratorium on the death penalty so long as he is governor, and Ng still has the possibility of other federal appeals.
'Short-term pain': Group of Alberta lawyers escalate job action over legal aid cases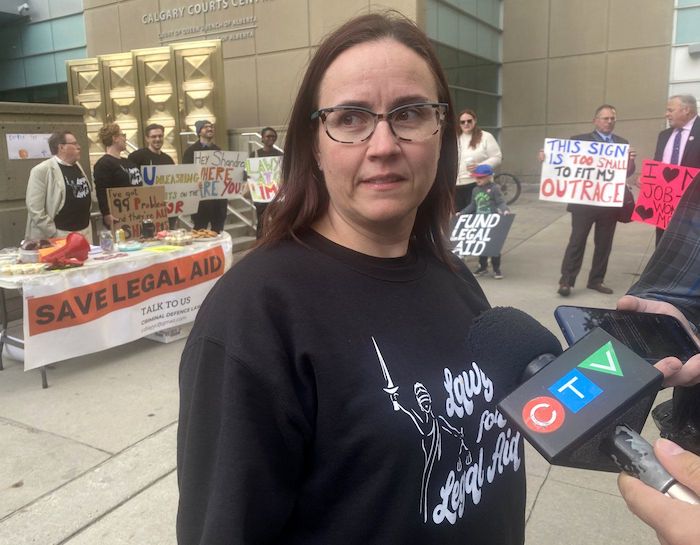 By Bill Graveland in Calgary
Alberta criminal defence lawyers are taking another step in their dispute with the provincial government over the amount of compensation paid by Legal Aid Alberta.
Organizations representing lawyers in Edmonton, Calgary, Red Deer and southern Alberta began job action Aug. 8 by refusing to accept certain bail and duty counsel files from legal aid.
The lawyers also began refusing certificates for new cases for the most serious criminal charges, including sexual offences, firearms-related crimes and homicides.
Beginning Monday, they say all services will be withdrawn.
"We're going to stop taking all certificates. That will include some our prior job actions still allowed us to take certificates for people who are already existing clients and there will be a very, very limited set of circumstances now where our members will do that," said Kelsey Sitar, vice-president of the Criminal Defence Lawyers Association in Calgary.
"The default will be: 'We are just not taking any new work from legal aid until the problem is fixed.'"
Sitar made her comments at a rally in front of the Calgary Courts Centre on Friday that drew about 50 criminal defence lawyers.
A table with a sign reading "Save Legal Aid" offered bake goods for sale. Lawyers carried signs reading "Access 2 Justice Must be Equal." Another read: "This sign is too small to fit my outrage."
"This is drastic. I mean, what we were doing up until now is something I know has happened in Ontario before, it did not last long, frankly," Sitar said.
"I can tell you that none of us want to be out here. We all want to be in there doing our jobs."
Justice Minister Tyler Shandro has said nothing is going to be done until a review of the Legal Aid Alberta administrative system is complete, which is scheduled for next month.
He said any budget changes for legal aid wouldn't happen until next year.
Sitar said the ministry chose to undertake "an incomplete and, frankly, useless review" at a time when the governing United Conservative Party is about to go through a leadership change.
"So we have to act now and they need to respond now," she said.
Sitar said she understands the people being affected the most by the job action will be people with lower incomes who need the services to afford legal representation.
"It's short-term pain right now," she said. "It's really unfortunate, but I can tell you that most of the people I've talked to on the street who are finding themselves caught up in this understand and are grateful that we're doing it."
Alberta Opposition NDP Leader Rachel Notley said the problem has been growing over the last three years. She said when her party was in power, it committed to additional funding for Legal Aid, but the UCP government backtracked.
"We simply cannot be asking the Legal Aid bar to be doing what we are asking them to do at the rate that we are asking them to do it," she told reporters.
"We have the lowest funding for Legal Aid in the country. What that means is that we don't have equal access to justice. It undermines the integrity of our justice system and, overall, it undermines our ability to build a sense of community safety, community security and an overall respect for the rule of law — all of which are important to community health and economic growth.
"It sounds like a niche issue, but it's not. It actually has knock-off effects to very, very important issues that affect all of us. So, the government needs to come to the table and negotiate decently with these lawyers."
This report by The Canadian Press was first published Sept. 23, 2022.
— With files from Colette Derworiz in Calgary.
'Kind of like carnies': International balloon festival returns to High River, Alta.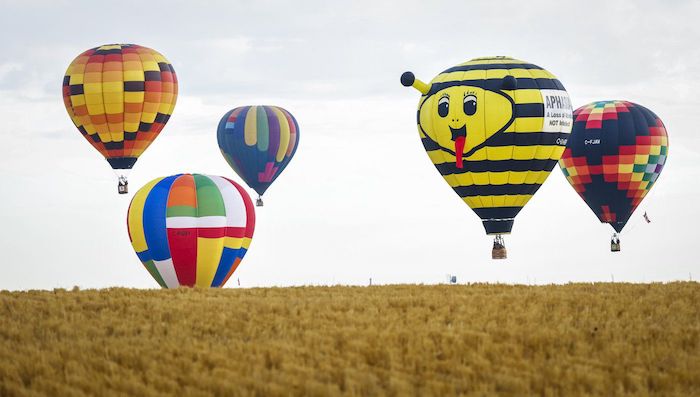 By Bill Graveland in High River, Alberta
The windswept prairie east of the Rocky Mountains seems an unlikely spot for a hot-air balloon festival, but the town of High River, Alta., is celebrating the event's 10th year.
More than 20 brightly coloured balloons — including a pink elephant, a black and yellow bee and the purple and yellow Eye of Ra, named after the Egyptian sun god — took advantage of a lull in the prevailing wind this week to get some up-in-the-air time to mark the opening of the Heritage Inn International Balloon Festival.
"We get about 50 per cent of our flights off. Weather impacts us everywhere," said event director Jamie Kinghorn, who is also a town councillor.
"This is our 10th. We started in 2013 partly because of the flood that happened. I'd been to a number of balloon events and thought this might lift the spirits of the folks in town."
The town of 12,000 just south of Calgary gained an international profile in 2013 when flooding in parts of southern Alberta caused billions of dollars in damage.
High River was one of the hardest-hit communities. Entire neighbourhoods were under water for weeks.
"I called in a bunch of friends from the balloon community and they knew what happened, so 20 of them came into High River and we put on a balloon festival that was actually amazing for the community," Kinghorn said.
"That was sort of the first major thing toward recovery after the flood and we've been doing it every year since at the end of September."
Kinghorn said the festival is a boon to local tourism and there's not a hotel room to be had in town.
He had his first hot air balloon over the city of Calgary in 1988. A year later he was a balloon pilot.
There are 23 balloons participating this year, including some from the United States, Belgium and the United Kingdom.
Kinghorn said it's a pretty small community.
"We tend to meet at various events. We tend to travel. We're kind of like carnies to some extent," he said with a laugh.
"We travel around to different cities to different balloon events."
Alan Davidson, who has been involved in the sport since 1977, is one of the volunteers.
He said those who get involved tend to stick with it.
"The amazing thing is that there are still seven or eight of the people I was ballooning with in the '70s and early '80s who are still here at this event," said Davidson. "They've been working with balloons for over 40 years."
Kinghorn, who is the owner and pilot of the Eye of Ra, was the first balloon in the air Thursday morning after a Wednesday evening flight was cancelled due to the wind.
"My God am I glad we got this off," he said as the flight came to an end.
The festival runs through Sunday.
This report by The Canadian Press was first published Sept. 23, 2022.