Calgary police lay dozens of charges against two men over 3D gun manufacturing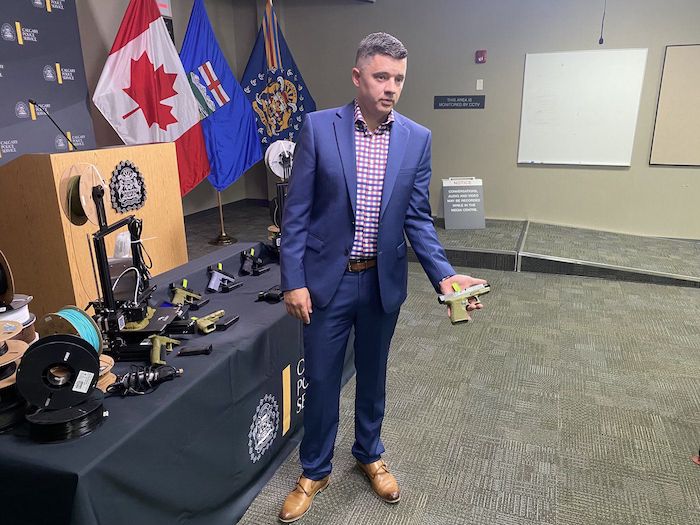 By Bill Graveland in Calgary
Police in Calgary have arrested two men suspected of producing "ghost guns" on a 3D printer and selling them to criminals.
Calgary officers have seized 1,229 firearms so far this year, including more than 300 believed to have been used in crimes.
Of those so-called "crime guns," nine per cent were homemade or 3D-printed — a significant increase over last year.
"What we are seeing is a definite trend in the use of 3D-printed firearms," acting Staff Sgt. Ben Lawson said Thursday.
He said police might have seized one or two a year when they first started tracking it in 2020.
"We are up to around 15 so far this year, so that increase has gone from about one per cent up to nine per cent of all crime guns seized in the city."
Lawson says the 3D guns function the same as regular ones.
Police have laid 66 charges against two suspects following an investigation that began last November.
Brandon Vincent-Wager, 24, and Justin Kumar, 27, are to appear in court late next month on charges that include firearms manufacturing, firearms trafficking and possession of firearms or restricted devices.
Recovered from a raid in May police were five completed 3D Glock-style handguns with magazines, three 3D printers, ammunition and additional firearm parts.
Lawson said the guns can go for between $2,000 and $5,000 on the black market and each takes about 30 to 40 hours to print. Additional parts that are required, such as triggers and barrels, can be purchased at any gun store.
"Lots of people refer to them as ghost guns and so a ghost gun is a firearm that has never had a serial number so it's not traceable," Lawson said.
The federal government has placed an import ban on restricted handguns. With limited exceptions, individuals and businesses are no longer able to import restricted handguns into Canada.
The Liberal government announced a plan in May to implement a freeze on importing, buying, selling or otherwise transferring handguns to help quell firearm-related violence.
Calgary has recorded 97 shootings so far in 2022, already more than the 95 recorded in all of 2021. Police Chief Mark Neufeld said it's "problematic" and "unprecedented."
Lawson wouldn't comment on whether the federal ban would limit the amount of firearms available in Calgary.
"We know that a criminal will attempt to get a firearm in their hands, any method that they can — whether it be from 3D-printed, whether it be from a break-and-enter, whether it be from smuggled firearms."
This report by The Canadian Press was first published Aug. 25, 2022.
'Cautiously optimistic': Lawyer for trucker in Broncos crash waiting on Federal Court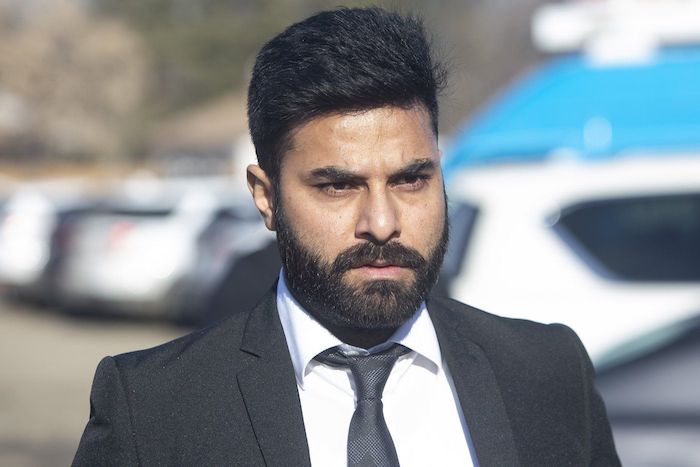 By Bill Graveland in Calgary
A lawyer for a former truck driver who caused the deadly Humboldt Broncos bus crash says he's cautiously optimistic that he will get the chance to argue against his client's possible deportation before Federal Court.
In 2019, Jaskirat Singh Sidhu was sentenced to eight years after pleading guilty to dangerous driving causing death and bodily harm in the Saskatchewan crash that killed 16 people and injured 13 others.
The Canada Border Services Agency recommended in March that Sidhu be handed over to the Immigration and Refugee Board to decide whether he should be deported to India.
Michael Greene, Sidhu's lawyer, said if the Federal Court decides not to hear the case, the deportation process would continue.
He said all written arguments with the Federal Court were filed in July, adding that no news can be good news when waiting for the court to make its decision.
"I'm cautiously optimistic, but I know enough not to get cocky about something like that," Greene said. "Usually when it takes time, it means you've got an arguable case."
It is also a high-profile case, so a judge might want to be extra careful, he said.
Court was told that the rookie Calgary trucker, a newly married permanent resident, went through a stop sign at a rural intersection and drove into the path of the Humboldt Broncos bus carrying players and staff to a junior hockey league playoff game.
The Parole Board of Canada granted Sidhu day parole in July for six months. He can get full parole after that if he follows conditions, including not contacting the families of the victims.
"Day parole means he is at home. He's with his wife and I can't tell you how happy that makes them," Greene said. "They're trying to get back to some sense of normalcy."
Greene said even if he is granted permission to appeal before the court and is successful, the matter would be sent back to Canada Border Services Agency for another review. He said the original officer put all the weight of his decision on the gravity of the harm caused.
"You can't get your hopes up too high," Greene said.
"Sometimes the judge will make comments in their decision that will give some guidance to the (CBSA) officers."
An online fundraising page set up to raise money to help keep Sidhu in Canada has reached more than $42,000.
A message from Sidhu's wife, Tanvir Mann, a Canadian citizen, said her husband made a "tragic mistake."
"When confronted by the unimaginable magnitude of the consequences of his mistake, he did everything he could to make things better," Mann writes.
"I pray that there are people out there who don't believe that Jaskirat should be deported and are willing to contribute to my fight to be able to live out our lives in Canada."
The Canada Border Services Agency has previously declined to comment on Sidhu's case, but said there are multiple steps built into the process to ensure procedural fairness.
Greene said he understands that several of the victims' families are still angry.
"It's completely understandable. It is," he said. "Everybody deals with grief and loss in their own way."
This report by The Canadian Press was first published Dec. 1, 2022.
Local moving company donating 101 moves to support vulnerable Canadians this holiday season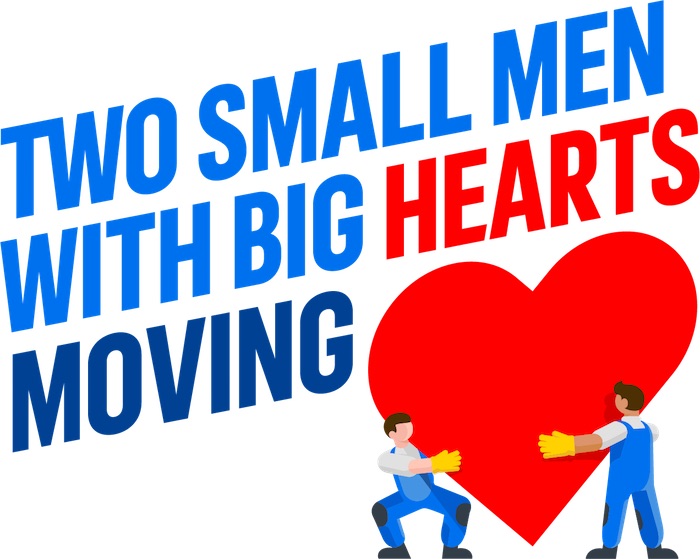 Submitted by Two Small Men with Big Hearts Moving
Two Small Men with Big Hearts Moving is moving joy, one community organization at a time
This holiday season, Two Small Men with Big Hearts Moving ("Two Small Men") is spreading joy, seeking to donate 101 moves to community organizations that support at-risk individuals. With inflation at an all-time high and the higher stresses that come with the holiday season and colder weather, Two Small Men is looking to give back to the local markets they operate in during this time of need. This marks the third year for this initiative, which Two Small Men was inspired to launch in 2020, following the hardships of COVID-19. The campaign has grown year-over-year, from 25 donated moves in 2020, to 80 moves in 2021, and now with a goal of 101 moves for 2022.
Two Small Men has a long history in Red Deer having supported the Red Deer Food Bank, Bridges Community Living, and the Alberta Motor Association in past years. They are also always actively searching for new community organizations to partner with to support with donated moving services.
This holiday season, Two Small Men will be helping organizations that support vulnerable communities with everything from moving mass amounts of food to local food banks, to supporting shelters with moving individuals into new homes, to moving toys for underprivileged children.
Two Small Men's community-first mindset is a key part of its identity. Written right into the name, it is a moving company with a big heart, that cares deeply about giving back. Two Small Men has developed a robust community giving program that supports a variety of non-profit and charitable organizations with in-kind moving services, donation collection initiatives, and other financial contributions. Each year, the business redirects 10 per cent of its annual profits to community giving and other charitable operations. In 2022, Two Small Men projects this will translate into a donation fund of $200,000, with the goal of growing to give $750,000 annually in the next 10 years.
"Moving people's possessions is our business, but the heart of what we do is really all about supporting the people who make up our communities," says Addison Parfeniuk, CEO, Two Small Men Big Hearts Moving. "We know that the winter season can be an especially challenging time for many people, and it is our hope that by partnering with local organizations such as the Red Deer Food Bank, we will be able to fill the real needs of real people in the Red Deer community."
Charitable and non-profit organizations are encouraged to submit their moving needs for consideration in this year's Season of Giving campaign.
About Two Small Men
Two Small Men with Big Hearts Moving is a Canadian moving company focused on supporting customers through every stage of their move, big or small. Founded in 1982, the company has 25 offices across the country with major operations in Calgary, Edmonton, Vancouver, Kelowna, and Winnipeg, and a fleet of more than 100 moving trucks. Committed to giving back to their communities, they donate 10 per cent of their profits each year to relevant charities and organizations that are serving the community.