Calgary Flames end season-opening drought with 5-3 win over Colorado Avalanche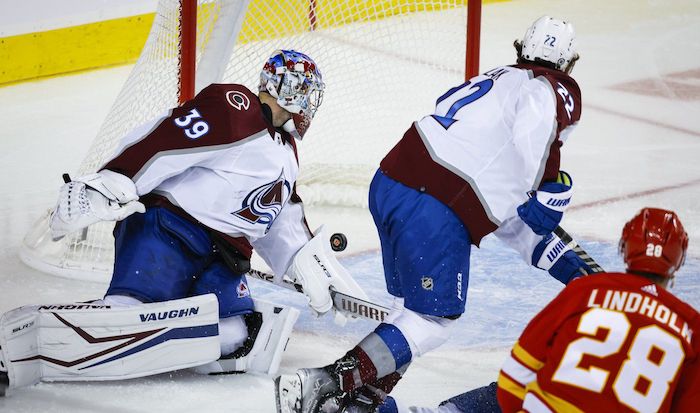 By Donna Spencer in Calgary
The Calgary Flames won their season opener for the first time in well over a decade with a 5-3 victory over the defending Stanley Cup champion Colorado Avalanche on Thursday.
The Flames halted the NHL's longest active winless streak in openers — 0-10-2 after their last win in 2009 — by scoring twice in the second and third periods.
Dillon Dube scored short-handed and defenceman Rasmus Andersson scored in the middle period. Elias Lindholm and Tyler Toffoli contributed power-play goals in the third and Brett Ritchie also scored for Calgary.
Defenceman MacKenzie Weegar had a pair of assists. He joined Calgary's other off-season acquisitions Jonathan Huberdeau, Nazem Kadri and Kevin Rooney in their regular-season debuts for the Flames.
Calgary's Jacob Markstrom, a Vézina Trophy finalist last season, made 22 saves for the win.
Defenceman Bowen Byram, Nathan MacKinnon and Valeri Nichushkin scored for Colorado. Pavel Francouz stopped 22 shots in the loss in his first start of the season.
The Avalanche had travelled overnight to play their second game in as many days. They raised the Stanley Cup banner and beat the Chicago Blackhawks 5-2 at Ball Arena on Wednesday.
Kadri signed as a free agent with Calgary in August after three seasons with Colorado. Mere weeks after lifting the Cup with the Avalanche, the centre from London, Ont., met his former teammates wearing Flames red.
Kadri assisted on Calgary's fourth goal and Huberdeau the fifth.
Lindholm and Toffoli scored power-play goals at 2:47 and 1:12 respectively, to start the third period, but MacKinnon countered at 3:08 on a breakaway and Nichushkin at 11:01 with a power-play goal.
Nichushkin cut the deficit on a give-and-go with Mikko Rantanen, who from behind the goal line fed the winger driving to the net.
With his famous turn of speed, MacKinnon went upstairs on Markstrom for Colorado's second goal of the night.
Huberdeau at the side of the net froze Francouz and dished to Lindholm in the slot for Calgary's fifth goal.
Toffoli deflected Kadri's centring pass home and then took a high stick in the face from Cale Makar for another Flames power-play chance.
Calgary led 3-1 at 14:52 of the second period when Andersson collected a stretch pass from Weegar and scored five hole on a breakaway.
Dube scored short-handed at 3:31. He opted to shoot on a two-on-one with Andrew Mangiapane and beat Francouz far corner.
Rantanen had an open net to tie the game late in the second period, but put the puck off the post during a Colorado power play.
Ritchie pulled the hosts even at 11:23 of the first period. Milan Lucic from behind the goal line fed Ritchie in the slot to shovel the puck high by Francouz's glove.
Andersson didn't tie up Byram enough in the slot and the latter was able to flick the puck under Markstrom on Colorado's first shot of the game at 1:39.
Toffoli had a good chance at the corner of Colorado's net six minutes into the game, but Avs defenceman Devon Toews got his stick in the crease in time to keep the puck out of the net.
HELLO HUBERDEAU: Huberdeau's contingent of friends and family at the Saddledome numbered over 30, including 22-year-old sister Josiane who sang "The Star-Spangled Banner" followed by George Canyon's "O Canada".
BROTHERS' BIG NIGHT: The Ritchie brothers combined for three NHL goals Thursday. Brett's brother Nick scored twice for the Arizona Coyotes in a 6-2 loss to Pittsburgh.
NOTES: The Avalanche were minus captain Gabriel Landeskog because of a lower-body injury sustained last season. He underwent knee surgery in March, but returned for playoffs … Centre Mikael Backlund appeared in his 827th career game as a Flame, moving him past Robyn Regehr into third in franchise history behind Jarome Iginla (1,219) and Mark Giordano (949).
UP NEXT: The Flames head to Edmonton to face the Oilers on Saturday. Colorado stays on the road to meet the Minnesota Wild on Monday.
This report by The Canadian Press was first published Oct. 13, 2022.
'A crisis': Calgary charity seeks one-month homes for Ukrainian refugees after influx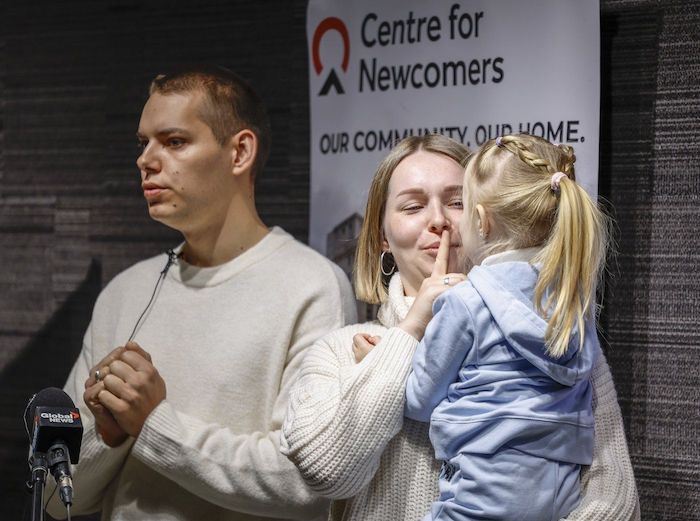 Ukrainian evacuees Dmytro Syrman, left, his wife, Anastasiia, centre, and their four-year-old daughter Varvara attend a news conference highlighting the need for temporary housing in Calgary on Wednesday, March 29, 2023. THE CANADIAN PRESS/Jeff McIntosh
By Bill Graveland in Calgary
After six months under Russian occupation, Dmytro Syrman and his family decided to flee Ukraine for a safer life abroad and are now in Calgary.
The family lived in Dniprorudne, a mining city of 17,000 in southern Ukraine. Syrman worked as a human resources manager at an iron factory.
In August, Syrman, his wife, Anastasiia, and four-year-old daughter Varvara embarked on a six-day, 3,000-kilometre drive to Poland.
"On the 24 of February, when the Russian army attacked Ukraine and occupied our city in March 2022, we lost everything," Syrman said Wednesday.
He said they began planning their escape when they realized Russian soldiers weren't leaving their city.
"We started all of this because we were scared for Varvara," he said. "When Russian bombs were falling near our city it was really scary."
Their home is still under Russian occupation.
For the past year the family stayed in Poland, sent in their paperwork to come to Canada, and two weeks ago arrived in Calgary.
They're now staying with a host family for a month while they look for long-term accommodation and to find jobs.
"We are here and starting a new life. We can't believe about people who don't know us and many helped us. We're really shocked," Syrman said.
The Syrmans were helped by Calgary's Centre for Newcomers, which started a campaign to find 100 hosts for Ukrainian families or individuals for a month while they find housing of their own.
Kelly Ernst, chief program officer with the centre, said there has been a flood of Ukrainians trying to take advantage of a federal program that allows them to temporarily resettle in Canada.
The Canada-Ukraine Authorization for Emergency Travel program has been extended until July and Ernst said he expects people will continue to flee the war-torn country.
"We're in a desperate, dire need at the moment for host homes to try to accommodate the evacuees coming from Ukraine. It's reaching the proportions of being a crisis moment," said Ernst.
He said people arriving elsewhere in Canada are migrating to Calgary because the rents are lower than in larger cities such as Toronto and Vancouver.
Ernst said approximately 450 people have been arriving in Calgary every week from Ukraine and his organization has helped people staying nights in the airport, off the street and at homeless shelters.
Natalia Shem, who is the manager of housing for the Ukrainian evacuees, said it's difficult for the newcomers to find somewhere to live before arriving.
"It's almost impossible to find long-term rent being outside of Canada and people who come here need one month of stay," Shem said. "It's an average time a family can find long-term rent, job and settle down here in Canada."
This report by The Canadian Press was first published March 29, 2023.
Budget measures unlikely enough to spur major carbon capture investments: Experts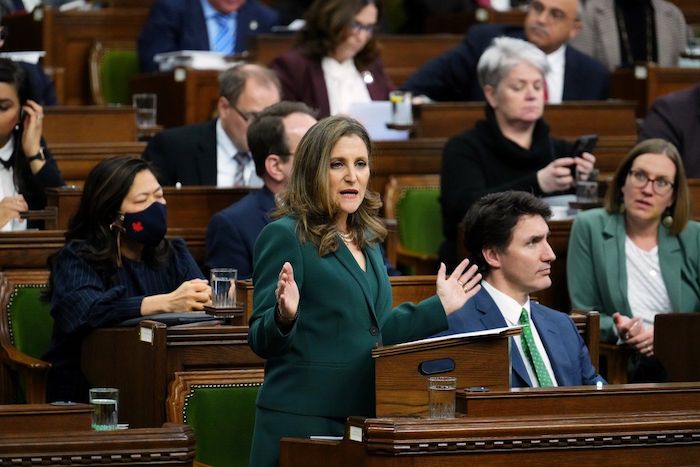 Deputy Prime Minister and Minister of Finance Chrystia Freeland delivers the federal budget in the House of Commons on Parliament Hill in Ottawa, Tuesday, March 28, 2023. Industry watchers say Tuesday's federal budget likely won't be enough to convince Canadian oil and gas companies to pull the trigger on expensive, emissions-reducing carbon capture and storage projects. THE CANADIAN PRESS/Sean Kilpatrick
By Amanda Stephenson in Calgary
A question mark continues to hang over the future of carbon capture and storage projects in Canada, in spite of a pledge in Tuesday's federal budget to deliver more investment certainty for major emissions-reducing projects.
"Look, we have set some very aggressive climate targets in Canada. You can't kick the can down the road," said carbon capture advocate James Millar, arguing that's exactly what the federal government did Tuesday when it provided no additional details around its previously stated intention to reduce the risk of investing in pricey emissions-reduction projects by essentially guaranteeing the future price of carbon.
"The difference comes down to investment certainty in the U.S., versus the promise of investment certainty in Canada."
As president and CEO of the International CCS (carbon capture and storage) Knowledge Centre, a non-profit organization based in Regina, Millar had been closely watching Tuesday's budget in hopes of obtaining more federal support for the expensive technology that can be used to trap harmful greenhouse gas emissions from industrial processes and store them safely underground.
Heavy emitters — in particular, the oil and gas sector — have identified carbon capture and storage technology as key to helping the sector meet its emissions reduction targets and have been looking for government incentives akin to what is being offered south of the border, where the U.S. Inflation Reduction Act promises to pay companies a guaranteed US$85 price for each tonne of injected carbon.
While Canada has already announced an investment tax credit that will help to offset some of the up-front capital costs of carbon capture projects, companies have so far been hesitant to pull the trigger and go ahead with proposed large-scale projects.
The Pathways Alliance, for example, a consortium of oilsands companies, has proposed building a $16.5-billion carbon capture and storage transportation line to combat emissions from existing oilsands infrastructure in northern Alberta.
But the group has not yet made a final investment decision, saying it needs to know its project will be competitive with those in the U.S. before proceeding.
One thing the oil and gas sector has said will help with that is some kind of mechanism that would reduce the risk to companies that the federal price on carbon could be lowered or eliminated. If a new government were to be elected and remove or change Canada's carbon pricing system, investing in expensive carbon-reducing technology could suddenly become uneconomical.
On Tuesday, the federal government reiterated that it intends to create such a mechanism through a so-called carbon contracts for difference system — but disappointed many who were hoping for details. Instead, the government announced it plans to begin consultations around the development of such a program.
Millar said while he doesn't doubt the government's good intentions, companies that have proposed large-scale projects need to get moving now if they have any hope of meeting Canada's goal to reduce this country's overall emissions by 40 per cent below 2005 levels by 2030 looms.
"We're already in 2023, we're seven years out. The consultations that were announced yesterday will take months," he said. "I think it will take at least a year because it's going to take time to set up the process."
The Pathways Alliance itself took a diplomatic tone Tuesday, issuing a statement after the tabling of the budget saying it was "encouraged" by the signal that more policy certainty is coming, and adding it looks forward to a "better understanding" of the government's intentions.
But Greg Pardy of RBC Capital said in a research note that in spite of some enhancements to the previously announced investment tax credit, budgetary support for carbon capture and storage was "somewhat limited — perhaps even disappointing."
"In our view, Canada's federal government needs to shift into much higher gear when it comes to incentivizing decarbonization investment if it is to achieve its bold climate change ambitions," Pardy said.
A report from BMO Capital Markets published just before the release of Tuesday's budget said Canada's policy framework for large-scale deployment of carbon capture and storage disadvantages producers here compared to the U.S., "despite claims to the contrary from some proponents of the environmental lobby."
Environmentalists have been critical of any additional federal support for carbon capture, calling it akin to a subsidy for oil and gas companies that enables them to increase production when the world should be scaling down fossil fuel usage.
But the BMO report said carbon capture is an essential part of the energy transition, and without offering improved incentives to keep up with the U.S., Canada risks not meeting its 2030 emissions reduction targets.
"Canada's market-based carbon price systems are much too uncertain to act as 'incentive' for industry to invest in major decarbonization projects," the BMO report stated.
"Emitters need financial supports that are tangible and recognized by financial institutions to underwrite bank financing."
This report by The Canadian Press was first published March 29, 2023.