Edmonton Oilers hope last year's long playoff run greases their wheels in 2023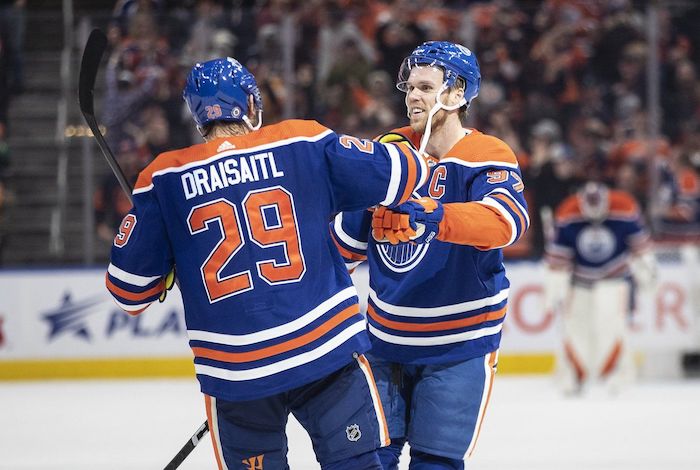 Edmonton Oilers' Connor McDavid (97) and Leon Draisaitl (29) celebrate a goal against the Arizona Coyotes during overtime NHL action in Edmonton on Wednesday March 22, 2023. THE CANADIAN PRESS/Jason Franson
By Donna Spencer in Edmonton
After their longest playoff run in 16 years in 2022, the Edmonton Oilers have the weapons to go further.
While there's currently no better one-two punch on the hockey planet than Oilers captain Connor McDavid and forward Leon Draisaitl, Edmonton's supporting cast is also deeper and more seasoned heading into the 2023 post-season.
"Being in a Canadian market in a place like Edmonton, with the group we have, it's exciting," Oilers forward Evander Kane said Sunday.
Edmonton kicks off another Stanley Cup quest against a familiar playoff opponent.
The Oilers versus the Los Angeles Kings starting Monday at Rogers Place is a rematch of last year's opening round between the two clubs.
Down 3-2 to the Kings, the Oilers won back-to-back games to advance to the second round.
Edmonton then dispatched Calgary in five games in the first playoff Battle of Alberta in 31 years.
The Oilers were swept in four straight by the eventual champion Colorado Avalanche in the Western Conference final.
"We've just kind of grown as a team from last year," Oilers forward Ryan Nugent-Hopkins said. "The little bit of a run we had last year helps us. Gives us some more confidence.
"At the same time, we understand how hard it is. Every single game in the playoffs is a battle and I think the more experience you have, the more you learn that."
The Oilers (50-23-9) finished second in the Pacific Division ahead of the Los Angeles Kings (47-25-10) in third.
They split the regular-season series, but the Oilers beat the Kings twice in the last three weeks by 3-1 and 2-0 scores.
"It'll be a tight-checking series for sure," Nugent-Hopkins said. "These guys always make it tough to get opportunities and chances, but especially the way we've been playing the last month, we make it tough too."
Game 2 in the best-of-seven series is Wednesday at Rogers, where the Oilers have gone 23-12-6 this season.
The Kings went 26-11-4 at Crypto.com Arena, which is the site of Friday's Game 3 and Sunday's Game 4.
If necessary, Game 5 is April 25, Game 6 is April 29 and Game 7 is May 1.
McDavid, winner of the Art Ross scoring trophy with 64 goals and 89 assists, and Draisaitl are coming in hot with a staggering 116 goals and 281 points between them in 2022-23.
The duo drive a lethal power play that operated at a league-record 32.4 per cent.
Should the Kings try to contain that tandem, the Oilers have other options to poke holes in a defence.
Nugent-Hopkins posting a career-high 37 goals and 67 assists made the Oilers the first team since the 1996 Pittsburgh Penguins to boast three 100-point men in a single season.
Zach Hyman produced a career-high 36 goals.
Kane, who missed 31 games midseason with a wrist slashed by a skate blade, is an X factor who brings both grit and goals.
"He's a warrior who is built for this time of year," Oilers head coach Jay Woodcroft said.
Both clubs will start goaltenders either untested or lightly tested in NHL playoffs.
Hometown product Stuart Skinner, 24, makes his post-season debut for Edmonton.
The Kings' Pheonix Copley also has no previous NHL playoff experience, but Joonas Korpisalo does.
The 28-year-old Finn, who was acquired just before March trade deadline in a goaltending swap that sent Jonathan Quick to Columbus, owns nine post-season starts.
The Kings won't be minus star defenceman Drew Doughty this time against the Oilers.
Doughty underwent season-ending wrist surgery a year ago.
TALE OF THE TAPE:
Regular-season series: 2-2
Goals for per game: Edmonton, 3.96 (1st); Los Angeles, 3.34 (10th).
Top points men: Edmonton, Connor McDavid, 153; Los Angeles, Anze Kopitar 74.
Starting goaltender: Edmonton, Stuart Skinner, 29-14-5, 2.75 GAA, .914 save percentage; Los Angeles, Joonas Korpisalo, 18-14-4, 2.87, .915/Pheonix Copley, 24-6-3, 2.64, .903
Power play percentage: Edmonton, 32.4 (1st); Los Angeles Kings, 25.3 (4th).
Penalty kill percentage: Edmonton, 77 (20th); Los Angeles Kings 75.8 (24th).
The Big Stat: McDavid and Draisaitl scored a combined 53 power-play goals; Adrian Kempe and Victor Arvidsson totalled 21 together for the Kings.
This report by The Canadian Press was first published April 16, 2023.
Premier Danielle Smith deflects shot from Liberal government, levels a blow for Alberta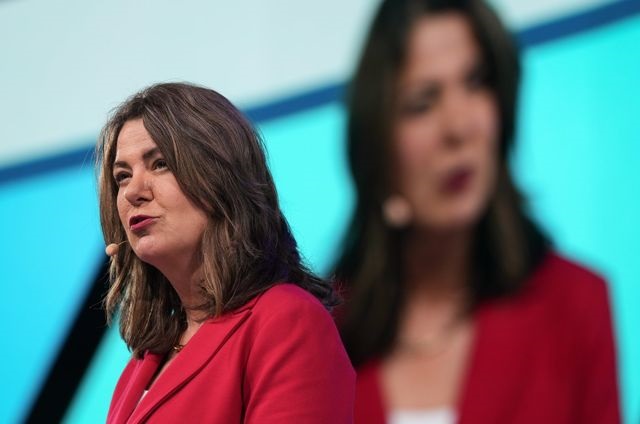 Standing up for Alberta: Statement from Premier Smith
Premier Danielle Smith issued the following statement on further attacks by the federal government on Alberta's energy sector:
"Federal Minister of Environment and Climate Change Steven Guilbeault has once again shown his utter contempt for Alberta, our economy and our energy workers.
"While advising the Chinese Communist Party about its environmental policies, Minister Guilbeault stated that, due to an Alberta oil and gas company's decision to focus on oil and gas production, he has increased his resolve to introduce an emissions cap that will effectively force energy companies to cap their oil and gas production.
"Minister Guilbeault's comments are a continuation of his provocative verbal attacks on Alberta's energy sector, the most environmentally responsible and ethical energy-producing jurisdiction in the world. His involvement in the China Council for International Cooperation on Environment and Development has him turning a blind eye to China's environmental record while they add the equivalent of two new coal emissions plants each week. Conversely, Albertans have cut emissions more than any other province this past decade, spending billions of dollars transitioning almost all electricity generation from coal to natural gas.
"Albertans are proud of our environmental leadership and do not deserve the irresponsible, destabilizing, investment-repelling and ill-informed comments of a federal cabinet minister intent on destroying one of Alberta's and Canada's most critical economic sectors. Phasing out Alberta's oil and gas sector will devastate the Canadian and Alberta economies, significantly reduce budgets for health care and other social programs, put tens of thousands of people out of work and make little to no impact on reducing global emissions. Furthermore, Minister Guilbeault's unrealistic 2035 net-zero power grid plan will make electricity unreliable and unaffordable for millions of Albertans.
"Under no scenario will the Government of Alberta permit the implementation of the proposed federal electricity regulations or contemplated oil and gas emissions cap. Ottawa has no constitutional authority to regulate in these areas of exclusive provincial jurisdiction. We would strongly suggest the federal government refrain from testing our government's or Albertans' resolve in this regard.
"As stated repeatedly, we stand ready to commence the federal-provincial working group in good faith to align Ottawa's and Alberta's efforts towards achieving a carbon-neutral economy by 2050. However, this must be done in a collaborative and respectful fashion without Minister Guilbeault's continued threats to the economic well-being of Albertans and Canadians."
Down But Not Out: The Unsinkable Bob McCown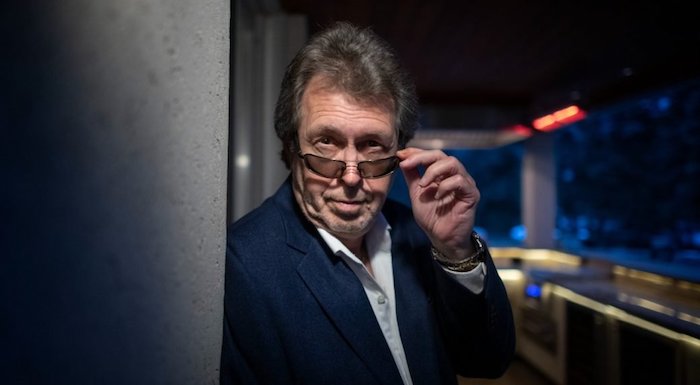 "I guess I should let you know that I have had two strokes over the last couple of weeks and have been in hospital since. Can't walk or talk but am getting better very slowly! Hope to get home and back on the podcast as quick as possible!— Bob McCown
Tough news for The BobCat. The 71-year-old has had a major medical setback, and those who know him wish him the best. Here's what I wrote about this unique broadcast maverick in December of 2020 after he'd written a controversial (shock!) column about his past, present and future.
"The first time I met Bob McCown was on his Global Sportsline show in the fall of 1982. I was the sports editor thingy at TV Guide, and every Friday I'd go on his show to pick NFL games. He was on his first marriage at the time, and I believe one of his kids was around when we pre-taped.
To say I was excited understates my mood. Bob was wearing a Mickey Mouse sweater, he was smoking furiously and the energy in the studio was incandescent as he spoke to producer Mark Askin in the control room. He carried me through the segment, demanding I be interesting, taking contrarian positions to boost the atmosphere. I try not to look at the result which is still on tape in my basement somewhere.
Off-set, he told me what his real bets were for the weekend and about a plan he had to go to Vegas to use his blackjack system to break the bank. (He did eventually author the Vegas move when he was on CJCL radio, doing his show from his place in Vegas. The blackjack system didn't work, and he returned to Toronto and other glories.)
Later, after I'd made my bones at CBC, he periodically had me on his Friday Round Table on The FAN 1430/ 590. The only rule with Bob was Don't Be Boring. That meant don't talk about the Leafs power play or how will the Blue Jays do this weekend in Milwaukee. Or else you wouldn't be back.
He wanted a take, the big picture, business talk and a healthy dose of American references.The atmosphere was all snark, all the time. And his audience loved it (the panelists did, too, unless Bob got mad at you and banned you). The people who ran sports listened. I used to say that when McCown, who rarely watched much of what he talked about, turned against someone it was over. Toronto sports was run for years by McCown, especially after Harold Ballard snuffed it.
Later, when I was sports media columnist at the Mop & Pail and McCown was battling the suits at Rogers, I'd save Bob for a slow day. I knew if I called he'd fill my ear with industry gossip and some tasty ad hominems for his current enemies. He rarely disappointed.
In short, I've known him for a while— less so since moving to Calgary in 1998. And so my take on his volcanic feature in the G&M this week is probably more measured than some others I'm hearing. It's clear from Simon Houpt's lengthy description of him that McCown is in some peril of his own making. (No surprise as he's done "King Midas in reverse" for decades) He's selling his mansion, scrambling to cover losses from the Mike Weir Winery, losing weight to start dating again.
In the piece he takes shots at Rogers as "idiots" for canning him, describes his latest business tumult, the failure of his last marriage and sarcastically rips his current broadcast partner John Shannon (also canned by Rogers in the purges following their disastrous NHL $5.2 billion brainwave). It's searingly honest and self-critical. It's also rambling and sad.
Most of all it's Bob— or The Bobcat in deference to his Ohio roots. He's always been the product. He read the room and saw the need for celebrity. So he made himself one in the fashion of the big American flannel mouths like Mike Francesa, Chris Russo, Larry King etc. His tantrums and moods and sullen periods were all part of the act.
Along the way he invented sports radio in Canada, taking it away from earnest hockey pucks talking trades to Marvin Miller discussing labour law during another MLB strike/ lockout. What's the phrase? Often imitated, never duplicated? His catch phrases became part of the vernacular. One of them, "I don't give a fadoo" gave birth to Fadoo as his company handle.
On my own radio shows I shamelessly copied his strategy of never having current marble-mouthed athletes on the show (unless the station paid for a spot). He wanted people with edge who'd appeal to the "$500 million a year Bay Street guys" he frequently cites in the G&M. Movers. Shakers. Guys who stood up at the Raptors games in their open-necked shirts and rope jewelry to shout at their developer pals two sections away.
They were his guys, and they insulated him from the suits at Rogers who wanted him gone. When his mentors (Nelson Millman, Keith Pelley, Scott Moore) left the suits finally had their chance. Sure, he made Rogers money. But the insubordination and the mailing-it-in days got to be too much drama for the phone salesmen.
There are friends out there who still believe Rogers will recant and restore him to his afternoon perch. (Indeed, Toronto sports-talk radio is largely a disaster these days, a slop of dullards and hockey pucks driving the ratings needle down to zero. They could use him.) They contend there's a niche out there for him. Bob's been fired before and come back stronger.
The problem is, as Bob would say, tempus fugit. In the piece McCown hinges this next comeback on marshalling the Bay Street guys, the sharps and the squares, for another run at glory and prosperity. But the Toronto McCown conquered does not exist anymore. The aging Bay Street guys are fleeing the Covid-infested city for Caledon or Florida.
The arbiters of speech and behaviour have made his white-guy insouciance a tough act with younger people brought up to be nice little sheeple and to toe the line. The vast community of people who moved from outside Canada to the GTA are immune to his gruff charm. If they even know him.
His notion of a super sports zone at Downsview airport to put "Toronto on the map"— Bob's idea, someone else's finances— was not predicated on a population scared stiff of sitting next to someone coughing at a ballpark. Or government coffers mortgaged to the hilt to keep the basic economy functioning. I wish him well. But like Donald Trump it's probably time for a new gig."
Sign up today for Not The Public Broadcaster newsletters. Hot takes/ cool slants on sports and current affairs. Have the latest columns delivered to your mail box. Tell your friends to join, too. Always provocative, always independent. https://share.hsforms.com/16edbhhC3TTKg6jAaRyP7rActsj5
Bruce Dowbiggin @dowbboy is the editor of Not The Public Broadcaster A two-time winner of the Gemini Award as Canada's top television sports broadcaster, he's a regular contributor to Sirius XM Canada Talks Ch. 167. Inexact Science: The Six Most Compelling Draft Years In NHL History, his new book with his son Evan, was voted the seventh-best professional hockey book of all time by bookauthority.org . His 2004 book Money Players was voted sixth best on the same list, and is available via http://brucedowbigginbooks.ca/book-personalaccount.aspx