Budget 2023: Key highlights from the federal Liberals' spending plan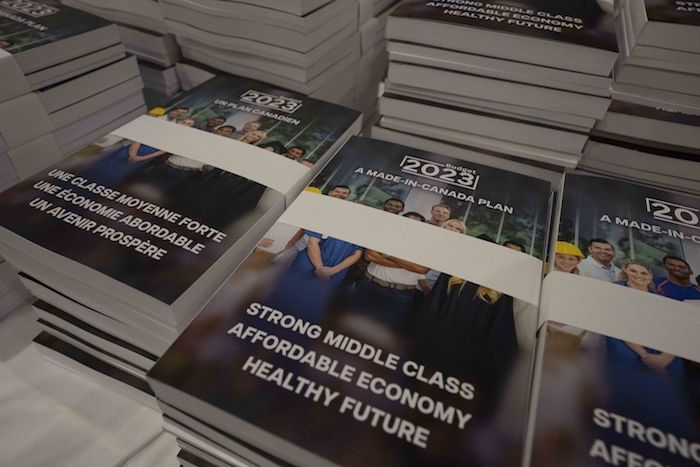 Copies of the Federal budget are seen on a table Tuesday, March 28, 2023 in Ottawa. THE CANADIAN PRESS/Adrian Wyld
By Stephanie Taylor in Ottawa
The federal Liberal government has released a 2023-24 spending plan that prioritizes spending on health care, transitioning Canadian businesses to a clean economy and offering affordability measures to help Canadians dealing with high prices from inflation.
Here are the key highlights from this year's federal budget:
– $40.1 billion: Projected federal deficit for the coming fiscal year.
– $59.5 billion: New spending over the next five years, with $8.3 billion to be spent over the coming fiscal year.
– $83 billion: The expected cost of tax credits for clean energy and electricity through to the 2034-35 fiscal year. The credits are part of Ottawa's stated goal to rapidly develop Canada's green economy.
– $13 billion: Expected cost of the Canada dental benefit over the next five years, or $7.3 billion more than the government initially projected.
– $49.4 billion: The amount of health-care cash flowing to provinces and territories in the 2023-24 year.
– $4.5 billion: Expected cost of a clean technology manufacturing investment tax credit over five years.
– $2.5 billion: The cost of another one-time doubling of GST rebates this financial year to help low-income Canadians who are struggling with high prices and inflation. The government has dubbed this measure a "grocery rebate," a nod to high food prices.
– $4 billion: How much the federal government says it plans to spend over seven years on an urban, rural and northern Indigenous housing strategy, beginning in 2024-25. But only $1.9 billion is expected to be spent in the next five years.
– An unknown amount: Finance officials would not specify how much Ottawa spent in an agreement with Volkswagen that will see the company build a battery manufacturing plant, called a "gigafactory," in St. Thomas, Ont. They said more details will be revealed in the weeks to come. The budget document stipulates that the expected costs are accounted for in this year's spending tables. Measures not yet announced have a line item in the budget that accounts for decisions related to commercial sensitivity, but the number is presented as an aggregate.
– $158 million: Funding over three years, starting this year, to create and operate a new 9-8-8 suicide prevention phone line.
– $14 per $100: What the federal government says will be the new maximum amount that payday lenders can charge people for the amount they borrow. The budget says a Criminal Code amendment will be made to that effect, while the government also intends to lower the maximum interest rates payday lenders can charge to an annual percentage rate of 35 per cent.
– "Reciprocal treatment": What Ottawa is announcing consultations about in response to the U.S. Inflation Reduction Act, which threatens to freeze out Canadian businesses, including green technology firms, from tax credits offered south of the border.
– $56 million: Spending allocated for "protecting diaspora communities and all Canadians from foreign interference, threats and covert activities." The budget announces funding for the RCMP to investigate foreign interference allegations, and says Public Safety Canada will stand up a new National Counter-Foreign Interference Office to respond to any attempted meddling by Russia, China and Iran.
– $200 million: The amount the government aims to provide to the Department of National Defence so the Canadian military can donate equipment to assist Ukraine, including the eight Leopard 2 battle tanks that the government previously announced it would deliver.
– Anti-scab legislation: The government is proposing to amend the Canada Labour Code to prohibit the use of replacement workers during a strike or lockout, fulling a commitment the Liberals made to the federal NDP in their supply-and-confidence agreement.
This report by The Canadian Press was first published March 28, 2023.
Canada under pressure to produce more food, protect agricultural land: report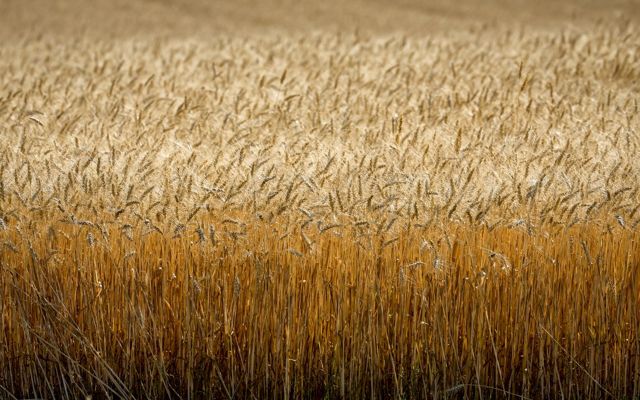 A field of wheat is pictured near Cremona, Alta., Tuesday, Sept. 6, 2022. Canada's agricultural land is under increasing pressure as demand for food grows domestically and internationally while the industry grapples with limited resources and environmental constraints, a new report found. THE CANADIAN PRESS/Jeff McIntosh
By Rosa Saba
Canada's agricultural land is under increasing pressure to produce more food as demand grows domestically and internationally, while the industry grapples with limited resources and environmental constraints, a new report found.
"We need to grow more food on less land and in a volatile climate," said Tyler McCann, managing director of the Canadian Agri-Food Policy Institute.
The report by the institute released Thursday looks at the pressures on Canada's agricultural land to produce more food while also mitigating and adapting to the effects of climate change, said McCann.
Despite Canada being a big country, it doesn't have as much agricultural land as people might think, said McCann, with the report noting that agricultural land makes up only around seven per cent of the country.
Because of that, we can't take what we do have for granted, he said. "We need to be really thoughtful about how we are using our agricultural land."
In 2020, Canada was the eighth largest country in terms of cropland area, the report said, with that cropland decreasing by seven per cent over the previous two decades.
Canada is a major producer and net exporter of agriculture and agri-food products, the report said, exporting $91 billion in products in 2022, and one of the top 10 exporters of wheat, canola, pulses, pork and beef.
In the coming years, Canada will face increased demand from countries whose populations are growing, the report said.
"With population growth on one side and climate change on the other, Canada will be amongst an increasingly smaller number of countries that is a net exporter," said McCann, noting that Canada's own population is growing, and farmland also needs to be protected against urban sprawl.
The wildfires clouding Canadian skies this week are a "vivid reminder" of the pressure that extreme weather and the changing climate are putting on the agricultural sector, said McCann.
"We need to clearly mitigate … agriculture's impact on climate change. But we also need to make sure agriculture is adapting to climate change's impacts," he said.
One of the ways the world has responded to demand for increased agricultural production over time is to create more agricultural land, in some cases by cutting down forests, said McCann. But that's not a viable option for Canada, which doesn't have a lot of land that can be sustainably converted into farmland — and even if it could, doing so could have a variety of adverse environmental effects, he said.
Some of the practices used to reduce emissions and sequester carbon in agriculture can also improve production output on existing farmland, the report found, such as precision agriculture and no-till practices.
However, intensifying the production of current agricultural land also comes with potential environmental downsides, the report said.
For example, McCann said fertilizer is an important part of sustainable agriculture, but there's a balance to be struck because excessive use of fertilizer can quickly turn food production unsustainable.
"We need to be a lot more thoughtful about the inputs that we're using," he said, adding the same can be said about the use of technology in agriculture and the policies and programs put in place to encourage sustainable intensification of Canadian agriculture.
The report recommends that Canada adopt policies that provide financial incentives and technical assistance to farmers and develop regulatory frameworks promoting sustainable land use, as well as promoting education and awareness campaigns, so that the country can "ensure the long-term sustainability of its agricultural sector while protecting the environment."
This report by The Canadian Press was first published June 8, 2023.
WestJet to wind down budget airline Swoop, integrate it into main operation
WestJet will wind down its Swoop subsidiary by late October as it integrates the budget carrier's operations into its main banner, the airline said Friday.
The move comes after pilots with the two airlines ratified a new collective agreement that brings them onto a level pay scale.
WestJet CEO Alexis von Hoensbroech said he mulled keeping Swoop separate, but that higher wages for its flight crews made the option less realistic.
"We were prepared for both possible outcomes, and then decided that, provided the overall didn't make sense, we're actually ready to integrate Swoop into the mainline business," von Hoensbroech said in a phone interview from WestJet's Calgary headquarters.
Each trip by planes in the carrier's 180-plus fleet will offer a portion of ultra-low-cost fares by Oct. 29, the day after Swoop ceases to fly, he said.
"We are actually broadening our ultra-low-cost reach to a much, much broader network than we could have ever covered with Swoop. So therefore we actually see this as an advantage and as an increased footprint for the ultra-low-cost offering in Canada."
Pilots of WestJet and Swoop secured a 24 per cent hour pay bump over four years under a deal agreed on tentatively last month that narrowly averted a strike.
Bargaining came down to the wire, with WestJet cancelling more than 230 flights in preparation for job action before a deal was reached hours ahead of the strike deadline on May 19.
Competition for budget airfares has grown in recent years, particularly in Western Canada, as upstarts Flair Airlines and Lynx Air challenged Swoop for market share on key routes.
"The market has become pretty competitive," von Hoensbroech said, but insisted Swoop's integration strengthens its grip on discount offerings, rather than marking a retreat.
The company said no layoffs are expected from the integration, with all Swoop employees slated to move to the mainline.