Budget 2022: Canada won't meet NATO target with more than $8B in new military funding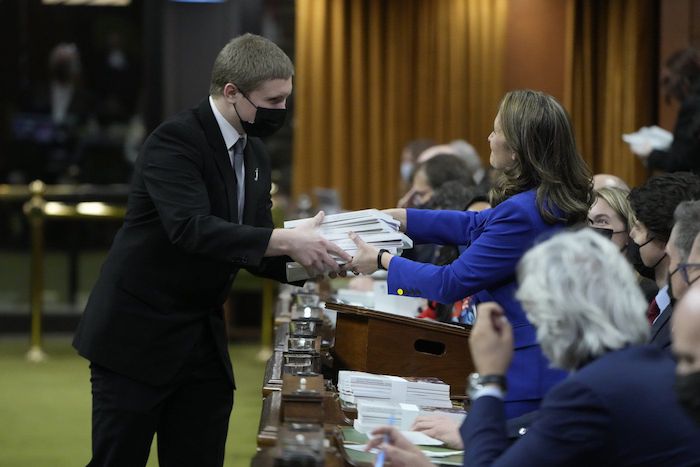 By Lee Berthiaume in Ottawa
The federal Liberal government responded Thursday to months of pressure from the NATO military alliance and others by promising more than $8 billion in new military spending over the next five years.
Yet the injection of new funds contained in the federal budget appeared largely symbolic as the government struggled to say what the money, most of which won't materialize for years, would actually buy.
Officials also acknowledged that even with the additional money, Canada will remain far short of NATO's spending target, even as other allies dramatically ramp up their own military investments following Russia's invasion of Ukraine.
Finance Minister Chrystia Freeland made only a passing reference to the new investments and the need to strengthen Canada's "hard power" as she presented the Liberals' latest budget in the House of Commons.
"We know that freedom does not come for free, and that peace is guaranteed only by our readiness to fight for it," Freeland said in her budget speech, according to prepared remarks.
"That is why we are making an immediate, additional investment in our Armed Forces, and propose a swift defence policy review to equip Canada for a world that has become more dangerous."
The budget proposes $8.5 billion in additional military spending on a cash basis spread over five years. In real terms, that means between $800 million and $3 billion in new funds for the Defence Department and Canadian Armed Forces each year.
That new money is on top of previous spending increases contained in the Liberals' 2017 defence policy.
The budget specifically earmarks around $250 million for culture change efforts, and another $450 million to extend the military's support mission to Ukraine and a long-standing anti-terrorism operation off the coast of Africa and the Middle East.
But it is noticeably vague on what the government plans to do with the vast majority of the remaining funds, including how much will be used to modernize North America's defences with the United States.
Defence Minister Anita Anand promised this week a "robust package of investments" for updating the North American Aerospace Defence Command in the coming months, raising expectations of a major announcement in the budget.
The budget plan does say the government is "currently considering options" to upgrade Norad, including looking at new surveillance, intelligence, command and control capabilities, as well as new capabilities to "deter and defeat threats."
Military officials and experts have warned for years about the state of Norad, parts of which are now obsolete as Russia and other adversaries have developed more advanced weapons.
The budget does include more than $875 million for the Communications Security Establishment to help the cyber spy agency defend and protect Canadian assets online. That includes boosting its ability to launch attacks.
But a senior Finance official speaking on background during a technical briefing suggested decisions on how the new money for the military will be spent will come at a later time, likely after the defence policy review.
Freeland directly attributed the decision to spend more on defence to Russia's invasion of Ukraine while defending the lack of details, saying the government needs to do its due diligence first.
"We will very quickly have a study of our military expenditures, of Canada's needs today," she told reporters in French. "A study that must focus on the effectiveness of spending and create a plan that we can actually implement."
The budget document also didn't say how the addition of new funds will affect defence spending as a share of Canada's gross domestic product, though the senior Finance official said Canada will eventually hit the 1.5 per cent mark in five years.
That is unlikely to satisfy Canada's allies in the NATO military alliance, which has been pressing members to dedicate two per cent of their GDP on defence in the wake of Russia's invasion of Ukraine.
Canada is estimated to have spent only 1.36 per cent of its GDP on the military last year, with only four other NATO members having spent less: Belgium, Luxembourg, Slovenia and Spain.
All NATO members agreed to the two per cent target in 2014 and reaffirmed it during a special leaders' summit in Brussels last month, with promises they would present plans for meeting that target when they meet again in Portugal in June.
Defence analyst David Perry of the Canadian Global Affairs Institute said the new money announced on Thursday falls short of the expectations the government had set in the weeks leading up to the budget's release.
Even with the new money, he said, Canada is in danger of falling behind virtually all of its allies in terms of spending as a share of GDP based on their public commitments.
And while some have questioned whether the military could spend new money given long delays in procuring equipment, Perry said there are large, pre-existing shortfalls in areas like maintenance and infrastructure.
The Conservatives had been demanding the government dramatically ramp up military spending, and interim leader Candice Bergen said her party was happy the budget included additional funds for the Armed Forces.
"But we're going to be looking for where they're going to be spending it and that they'll actually get that money out," she said.
NDP Leader Jagmeet Singh, who has previously called the NATO spending target "arbitrary," nonetheless voiced his support for the new defence funds.
"Our Armed Forces, who do important work for us, should have the equipment to do that," he told reporters.
"And there's been clear gaps identified where our Armed Forces do not have the equipment to do the work they need to do. So (a funding increase) is something understandable."
Singh did lament only minimal increases in foreign aid and development.
This report by The Canadian Press was first published April 7, 2022.
Military under fire as thousands of troops face lost cost-of-living allowance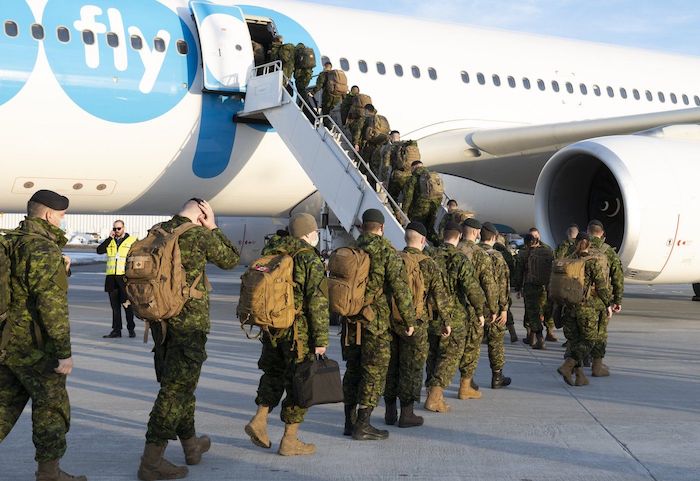 Members of the 5e Regiment d'artillerie legere du Canada board an aircraft heading for Latvia, in Quebec City, Wednesday, March 23, 2022. The Canadian Armed Forces is under fire for its plan to cut thousands of troops off a cost-of-living allowance without much notice. THE CANADIAN PRESS/Jacques Boissinot
By Lee Berthiaume in Ottawa
The Canadian Armed Forces is under fire for its plan to cut thousands of troops off a cost-of-living allowance without much notice.
The military announced last week that about 7,700 Armed Forces members will no longer receive the top-up starting in July, when it will be replaced by a new housing benefit that commanders say will better assist those who need the most help.
Social media and online forums dedicated to military personnel have been crackling with dissatisfaction over the plan, including the abbreviated timeline. Some are also unhappy with a new 10 per cent pay increase over four years, retroactive to 2021.
Experts say the lack of notice speaks to larger problems around how the military treats its people, which they worry is sparking anger and frustration at a time when the Canadian Armed Forces is struggling with a recruitment and retention crisis.
"We're pissing people off," said retired lieutenant-general Guy Thibault, who previously served as vice-chief of the defence staff. "And this may be the final straw that pisses them off. It's not really about compensation. It's just that they're not feeling valued."
The decision to replace the military's existing cost-of-living allowance with a new housing benefit follows a 14-year battle between the Department of National Defence and Treasury Board, the central department that controls federal spending.
Established in 2000 as a way to compensate members for the added costs of having to live and work in certain communities, the allowance rates were frozen in 2009 as defence and treasury officials fought over the program's cost and parameters.
Canadian Forces College professor Alan Okros said members were led to believe that that when a deal was finally struck, it would finally raise rates and expand eligibility as troops living in some parts of the country did not qualify.
"There was a generalized tone and expectation of, 'Look, we're working on it. … We're going to sort it all out,'" said Okros, who specializes in military personnel and culture. "There was this generalized expectation of, 'It's going to be much better.'"
Such expectations were predicated on the belief that the government would put more money into the pot to compensate troops for their service, particularly given that the Armed Forces is currently dealing with a recruitment and retention crisis.
That didn't happen. Instead, the military says the new housing benefit is both more equitable and more efficient than the previous allowance as it is tied to salary, includes more geographic locations, and will cost about $30 million less per year.
Charlotte Duval-Lantoine, an expert on military culture at the Canadian Global Affairs Institute think tank, said some members who were receiving the cost-of-living allowance would have accounted for that money in their budgetary planning.
"This is the distinction that frustrates people the most, because some of them will not be eligible in this (new benefit) even though they're struggling in terms of their cost of living," she said. "There's going to be a readjustment for people."
The fact it is being taken away in a matter of months without any previous consultation or warning speaks to problems with how the chain of command treats and communicates with its troops, she added.
"It's kind of emblematic of the way that we talk about personnel policy and how the military communicates (with) its personnel," she said. "It's always big announcements. And then we don't hear about it for years on end. Then there's a new announcement."
The housing benefit has also come under scrutiny, with concerns about the actual rates being based on the cost of renting a two-bedroom apartment without consideration for family size. There's also a seven-year cap on receiving the benefit in one location.
Members are also complaining that the new pay increase does not keep up with inflation.
The new benefit and pay increase have nonetheless sparked a bit of a debate over compensation for military personnel, with some arguing troops are relatively well paid and most Canadians are facing some sort of economic pressure.
"We've got a pretty well-paid force, not only against other allied forces or volunteer forces, but against the general population," said Thibault, who is now chair of the Conference of Defence Associations Institute think tank.
"In terms of where we're going with the economy, it's not unique to the Canadian Forces. It's a societal problem right now with interest rates, with inflation, with the economy, with housing."
Rather, experts feel the reaction is more symptomatic of bigger problems as the Armed Forces faces growing demands while struggling with a shortage of personnel, old equipment, and efforts to radically overhaul its culture.
"Our government and Canadians, they seem to care for the Canadian Forces," Thibault said. "But not care enough about them to make it a priority, or to address some of these longstanding problems."
This report by The Canadian Press was first published March 26, 2023.
Pentagon: Budget readies US for possible China confrontation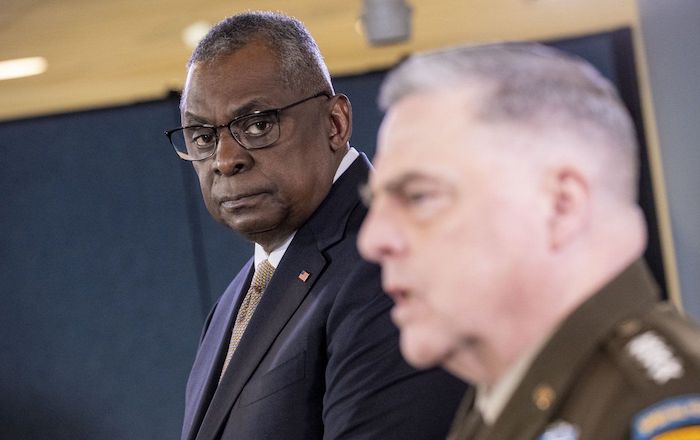 Chairman of the Joint Chiefs, Gen. Mark Milley, right, accompanied by Secretary of Defense Lloyd Austin, speaks during a briefing at the Pentagon in Washington, Wednesday, March 15, 2023. (AP Photo/Andrew Harnik)
By Lolita C. Baldor And Tara Copp in Washington
(AP) — The U.S. military must be ready for possible confrontation with China, the Pentagon's leaders said Thursday, pushing Congress to approve the Defense Department's proposed $842 billion budget that would modernize the force in Asia and around the world.
"This is a strategy-driven budget — and one driven by the seriousness of our strategic competition with the People's Republic of China," Defense Secretary Lloyd Austin said in testimony before the House Appropriations subcommittee on defense.
Pointing to increases in new technology, such as hypersonics, Austin said the budget proposes to spend more than $9 billion, a 40% increase over last year, to build up military capabilities in the Pacific and defend allies.
The testimony comes on the heels of Chinese leader Xi Jinping's visit to Moscow, amid concerns China will step up its support for Russian President Vladimir Putin's war on Ukraine and increasingly threaten the West.
China's actions, said Gen. Mark Milley, chairman of the Joint Chiefs of Staff, "are moving it down the path toward confrontation and potential conflict with its neighbors and possibly the United States." He said that deterring and preparing for war "is extraordinarily expensive, but it's not as expensive as fighting a war. And this budget prevents war and prepares us to fight it if necessary."
Milley, who will retire later this year, said the Defense Department must continue to modernize its forces to ensure they will be ready to fight if needed.
Two decades of war in Iraq and Afghanistan eroded the military's equipment and troop readiness, so the U.S. has been working to replace weapons systems and give troops time to reset. It's paid off, Milley told Congress.
"Our operational readiness rates are higher now than they have been in many, many years," Milley said. More than 60% of the active force is at the highest states of readiness right now and could deploy to combat in less than 30 days, while 10% could deploy within 96 hours, he said.