Blue Jays add three-time World Series champion Sergio Romo to bullpen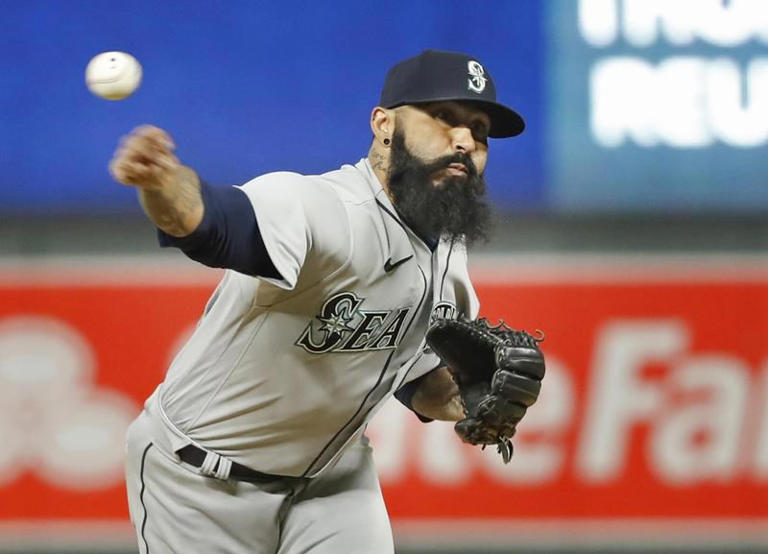 TORONTO — His activation not official until Wednesday, Blue Jays pitcher Sergio Romo watched from a stadium restaurant as his new team earned a walkoff victory over Boston a night earlier at Rogers Centre.
Enjoying a beverage on his own after passing his physical, the 39-year-old reliever — a three-time World Series champion with the San Francisco Giants — was impressed.
"Just the fight, these guys want to win and they expect to win," Romo said in a pre-game media availability. "They showed it yesterday. Backs against the ropes and they still fought it out and it wasn't just on one shot either. It was a hit, a walk, this and that.
"Everyone contributed, so it was cool. It was fun to see and I'm glad I'm here."
The Blue Jays agreed to terms with the right-hander on a one-year big-league contract. Toronto also optioned right-hander Shaun Anderson to Triple-A Buffalo and transferred left-hander Tayler Saucedo to the 60-day injured list.
Romo, who spent a month on the IL this season due to right shoulder inflammation, was recently released by Seattle after posting an 8.16 earned-run average in 17 games. He was 1-1 with a 4.67 ERA over 66 appearances last year for Oakland and has a 42-35 mark over his 15-year career with a 3.20 ERA.
"I come in here fearless, happy and appreciative, so let's go," Romo said. "I'm hungry too. I want to win. I've been blessed with three rings. By the end of my career, I wouldn't mind being able to say there's four."
It didn't take long for him to get settled in. An engaging, affable sort, Romo was holding court in the clubhouse with his new teammates before the finale of a three-game series against the Red Sox.
That kind of interaction may be where the Brawley, Calif., native is most valuable.
It's unclear how much gas he has left in the tank and what kind of leverage situation he'll be used in. But if his championship pedigree can rub off on a young team — even if it's just with a casual chat in the bullpen — then Romo could be an asset.
"I'm excited to add his experience, his skillset, his track record to the organization," said general manager Ross Atkins. "I'm really excited about his mindset and I think our team is excited as well."
The veteran right-hander also has history with Blue Jays manager Charlie Montoyo. Romo played for Tampa Bay over parts of two seasons ('17, '18) when Montoyo was on the Rays' coaching staff.
"Well you know he's not going to be nervous in any situation," Montoyo said. "We know that for sure."
After a wide-ranging 20-minute chat with reporters, Romo was all smiles as he threw balls in the outfield to bullpen catcher Alex Andreopoulos before the game.
"I'm noticing they've got this camaraderie here, plus the talent, plus the aspirations," Romo said. "It's kind of hard not to be excited to be here."
This report by The Canadian Press was first published June 29, 2022.
Follow @GregoryStrongCP on Twitter.
Gregory Strong, The Canadian Press
Canada stays undefeated at world juniors with 6-3 win over Finland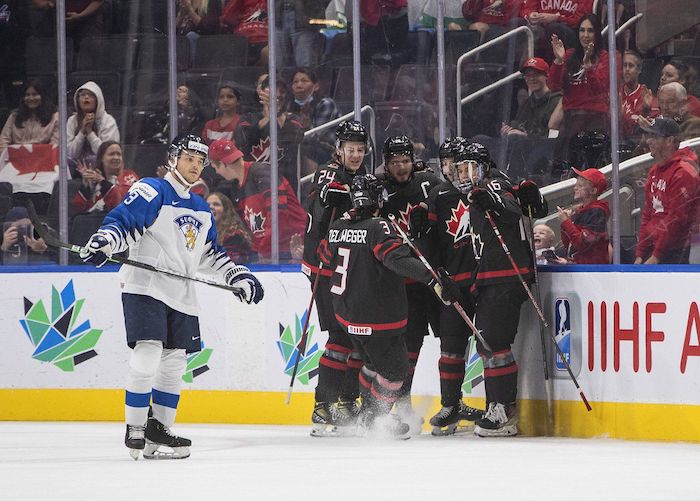 By Gemma Karstens-Smith in Edmonton
Ridly Greig was a little banged up after helping Canada to a big win at the world junior hockey championship on Monday.
Not only did the Ottawa Senators' prospect score and contribute an assist in the 6-3 victory over Finland, he blocked some big shots when the Canadians ran into third-period penalty trouble.
"Whatever it takes to win, whatever it takes to do anything for the boys or kind of get some momentum, I'm going to do it," Greig said. "Whether it's stand in front of a slap shot, I'm going to do it."
Special teams were the difference maker on Monday, with the Canadians going 2-for-2 on the power play while Finland was 1-for-5.
The Finns got their second stretch of five-on-three hockey with less than five minutes left on the clock when William Dufour joined Ethan del Mastro in the penalty box.
Finland pulled goalie Leevi Merilainen just as del Mastro's penalty expired and, with the extra man, Roby Jarventie put a puck in off the glove of Canadian goalie Dylan Garand to make it 5-3.
Dufour sealed the score at 6-3 with an empty-net strike 18:13 into the third.
The Finns had a prime opportunity to eat into Canada's lead with a minute-long two-man advantage midway through the final period.
Donovan Sebrango was sent to the box for high-sticking and less than a minute later, teammate Will Cuylee was tossed from the game for a knee-on-knee hit.
Canada weathered being down two men, then chewed through the four remaining minutes of the major penalty without conceding a goal.
"I thought our penalty kill was elite today, so many guys blocking shots. And that's a great sign for a team that's trying to win something," said Canada's captain Mason McTavish, who had a goal and two assists in the win.
"Finland, they're a great team. I think they were 3-0 coming into this, their power play is ridiculous. So the fact that our PK stood up there with one of the best power plays in the tournament is huge for us."
Connor Bedard scored and contributed an assist for Canada (4-0-0), while Dufour, Brennan Othmann and Tyson Foerester also found the back of the net. Olen Zellweger tallied three assists.
Joakim Kemell scored and contributed an assist for Finland (3-1-0) and Samuel Helenius rounded out the scoring.
Canada's Garand made 22 saves and Merilainen stopped 31 of 36 shots for the Finns.
The result was an important one for Canada, who finished the preliminary round atop Group A. They'll face Group B's Switzerland (1-3-0) in the quarterfinals on Wednesday.
Switzerland clinched its spot in the quarterfinals earlier on Monday with a 3-2 win over Austria (0-0-4).
Finland was disappointed with Monday's result, said head coach Antti Pennanen.
"It was OK but it wasn't enough. And we were angry after the game, that's for sure," he said.
A big goal early in the third whittled the Finns' deficit to 5-2.
Toronto Maple Leafs' prospect Topi Niemela fired a shot from the point and Kemell tipped it in from the slot for his third goal of the tournament.
Canada called for a coach's challenge, arguing that the puck had gone off the netting before falling back to the ice ahead of the goal.
"The guys on the ice are generally the ones who can tell you what's going on," said head coach Dave Cameron. "My players were 100 per cent sure it went in (to the net). So you trust your players."
After an extended video review, officials determined the goal was good. The Canadians did not receive a delay-of-game penalty because officials said the review was "inconclusive."
The Canadians dominated the middle frame, outshooting the Finns 20-5 and taking a 5-1 lead.
McTavish gave his country its second power-play goal of the game 16:17 into the period after Finland's Rubin Rafkin was called for interference.
Zellweger sent the Anaheim Ducks' prospect a pass from inside the blue line and McTavish uncorked a one-timer that flew over Merilainen's shoulder stick side.
Thirty-one seconds into the second, Canada went up 4-1 after the Finnish goalie bobbled a shot by Joshua Roy.
Greig slid in on one knee to put the rebound in the back of the net with his third goal of the tournament.
Canada went into the first intermission up 3-1 after a late Finland goal.
A knot of players battled for the puck behind the Canadian net and Finland's Kalle Vasisanen came up with it. He sent a pass to Helenius at the high hash marks and the L.A. Kings' prospect got a shot up and over Garland's shoulder with 57 seconds left in the period.
Bedard put away his third goal of the tournament in memorable fashion 17:19 into the first.
Canada was penned in its own zone for an extended period, but the 17-year-old phenom showed no signs of exhaustion when he collected a cross-ice pass from McTavish at the blue line and sped into the faceoff circle.
He then ripped a blistering shot past Merilainen, pinging the puck off the inside of the crossbar to make it 3-0.
A power-play strike boosted Canada's lead to 2-0 midway through the opening frame after Helenius was called for slashing.
Greig's shot ricocheted off Merilainen's pad but Foerester was in position to poke the rebound in from the top of the crease as he slid past the net.
Finland got off to a strong start, outshooting the host nation 4-0 across the first five minutes of the game.
It was Canada that opened the scoring, though, 6:21 into the first.
Defenceman Zellweger fired a long bomb from inside the blue line and Othmann batted it in past Merilainen.
The play was reviewed for a potential high stick but the goal — Othmann's second of the tournament — was determined to be good after officials reviewed the video.
The preliminary round wrapped Monday night with Group B's Sweden (3-1-0) registering a 4-2 victory over Germany (2-2-0).
Sweden will battle Latvia (1-2-1) in the quarterfinals on Wednesday while Germany will face Finland.
The reigning champion Americans (4-0-0) also went undefeated in round-robin action and will play Czechia (1-2-1), the country commonly known as the Czech Republic, in the quarterfinals.
The semifinals are scheduled for Friday and the medal games will go Saturday.
NOTES: McTavish leads the tournament in scoring with 13 points (seven goals, six assists). … Canada outscored its opponents 27-7 in the preliminary round. … The 2022 tournament is being played in August after the original event was called off on Dec. 29 after just four days as rising COVID-19 cases among players and officials forced games to be forfeited.
Glenn Anderson adds some colour to the "Day of Golf"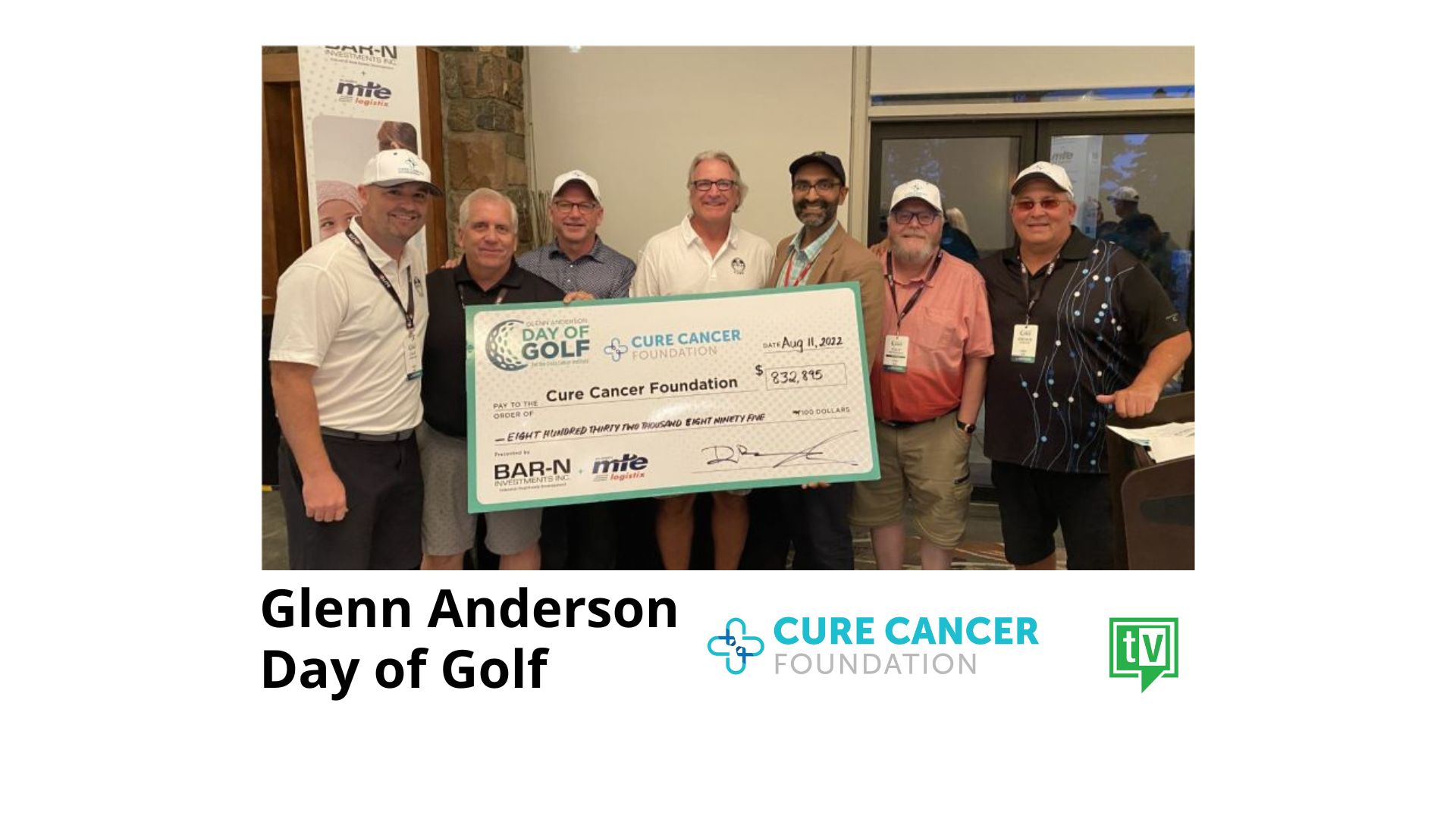 Last week, the 32nd edition of the Glenn Anderson Day of Golf raised an incredible amount of money … in fact more than $832 thousand dollars! Chances are as the numbers are tallied up, that total will be near $900K! That's a big deal and the money raised will fund cancer research. Congratulations to the organizers and a shout out to the Derrick Club who did an amazing job of hosting the event.
But today's story is more about Glenn Anderson. A class act, Anderson travels up to Edmonton from Florida each year to help make this event a roaring success. He told some great stories at a reception the night before the tournament. If you're an Oilers fan, you'll enjoy this video!
Click here to watch the video.