Blue Jays acquire two-time all-star Merrifield, add relievers Bass, Pop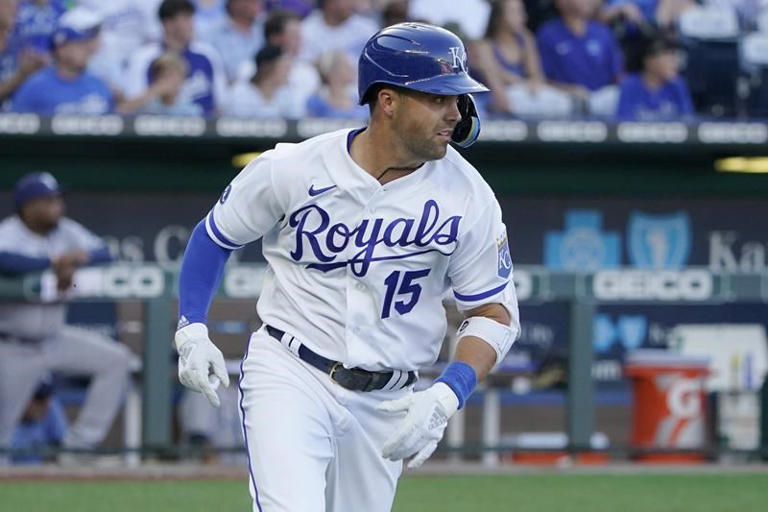 TORONTO — The Toronto Blue Jays acquired two-time all-star Whit Merrifield and solidified their bullpen by adding right-handed relievers Anthony Bass and Zach Pop before Tuesday's Major League Baseball trade deadline.
The Jays acquired Merrifield just before the 6 p.m. ET deadline from Kansas City for pitcher Max Castillo and prospect Samad Taylor.
Merrifield was one of 10 Royals who couldn't accompany the team for a four-game series in Toronto last month because he was not vaccinated against COVID-19.
The 33-year-old, who can play second base and outfield, is batting .240 with six home runs and 42 runs batted in this season.
He was an all-star last season when he hit .277 with 10 homers and 74 RBIs.
Blue Jays' GM Ross Atkins was thrilled with the deadline-beating deal.
"He (Merrifield) is such a good player. He is very accomplished with incredible experiences, the versatility, the contact ability, the speed, playing multiple positions, incredible baserunner, feel very good about him at so many different positions and that versatility will help us down the stretch … we're very well covered now," Atkins told a Zoom call minutes before the Jays opened their nine-game road trip in Florida.
The GM didn't bite when asked about his plans for get vaccinated or if he'd be playing at the Rogers Centre any time soon.
"He was acquired right at the deadline, so this is a very fresh acquisition and so because of that I'm not going to comment more on that process for him, and let him work through that with his family. I've basically said hello to him and that's it," added Atkins.
Earlier, the Jays acquired Bass and Pop from the Miami Marlins for shortstop prospect Jordan Groshans.
The Jays also acquired a player to be named later in the deal.
Bass, 34, has a 2-3 record with a 1.41 earned run average over 44 2/3 innings with the Marlins this season, with 45 strikeouts and 10 walks.
He spent the 2020 season with Toronto, going 2-3 with a 3.51 ERA in 26 appearances.
Bass will get the chance to pitch in meaningful games in front of Blue Jays fans, which he didn't have the opportunity to do in his first stint with the club. The Blue Jays played home games during the shortened 2020 season at Sahlen Field, home of the Triple-A Buffalo Bisons, because of COVID-19 restrictions at the Canada-U. S. border.
"You're going to a team that has a chance of going to the post-season, which as players is what we always want to do," Bass told reporters in Miami before the Marlins hosted the Cincinnati Reds on Tuesday.
"Our end goal is to win the World Series. So that part is exciting, going to Toronto for that opportunity."
The 25-year-old Pop, from Brampton, Ont., has a 2-0 record with a 3.60 earned-run average in 18 appearances with the Marlins this season, his second in the majors.
He was drafted by the Blue Jays in the 23rd round of the 2014 MLB draft, but decided not to sign and instead played collegiately at the University of Kentucky.
Pop, who says he grew up a Blue Jays fan, called news of the trade "bittersweet" but said he is looking forward to playing close to home.
"It's pretty special to be able to go back home and see my family and play for the Blue Jays," he said in Miami.
"I've got a lot of friends, a lot of people rooting for them right now, and to be a part of what they're doing over there is pretty amazing."
Groshans, 22, was selected 12th overall by the Blue Jays in the 2018 MLB draft.
In 67 games with the Bisons this season, he batted .250 with a home run and 24 runs batted in.
The Blue Jays also acquired right-hander Mitch White and infielder Alex De Jesus from the Los Angeles Dodgers in exchange for left-hander Moises Brito and right-hander Nick Frasso and dealt right-hander Jeremy Beasley to the Pittsburgh Pirates for cash considerations.
In other moves, left-handed pitcher Anthony Banda was designated for assignment and lefty Andrew Vasquez was claimed off outright waivers by Philadelphia.
This report by The Canadian Press was first published Aug. 2, 2022.
The Canadian Press
'Cautiously optimistic': Lawyer for trucker in Broncos crash waiting on Federal Court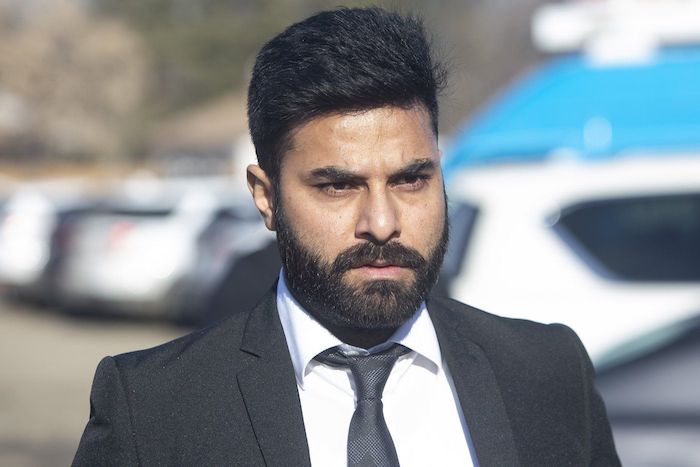 By Bill Graveland in Calgary
A lawyer for a former truck driver who caused the deadly Humboldt Broncos bus crash says he's cautiously optimistic that he will get the chance to argue against his client's possible deportation before Federal Court.
In 2019, Jaskirat Singh Sidhu was sentenced to eight years after pleading guilty to dangerous driving causing death and bodily harm in the Saskatchewan crash that killed 16 people and injured 13 others.
The Canada Border Services Agency recommended in March that Sidhu be handed over to the Immigration and Refugee Board to decide whether he should be deported to India.
Michael Greene, Sidhu's lawyer, said if the Federal Court decides not to hear the case, the deportation process would continue.
He said all written arguments with the Federal Court were filed in July, adding that no news can be good news when waiting for the court to make its decision.
"I'm cautiously optimistic, but I know enough not to get cocky about something like that," Greene said. "Usually when it takes time, it means you've got an arguable case."
It is also a high-profile case, so a judge might want to be extra careful, he said.
Court was told that the rookie Calgary trucker, a newly married permanent resident, went through a stop sign at a rural intersection and drove into the path of the Humboldt Broncos bus carrying players and staff to a junior hockey league playoff game.
The Parole Board of Canada granted Sidhu day parole in July for six months. He can get full parole after that if he follows conditions, including not contacting the families of the victims.
"Day parole means he is at home. He's with his wife and I can't tell you how happy that makes them," Greene said. "They're trying to get back to some sense of normalcy."
Greene said even if he is granted permission to appeal before the court and is successful, the matter would be sent back to Canada Border Services Agency for another review. He said the original officer put all the weight of his decision on the gravity of the harm caused.
"You can't get your hopes up too high," Greene said.
"Sometimes the judge will make comments in their decision that will give some guidance to the (CBSA) officers."
An online fundraising page set up to raise money to help keep Sidhu in Canada has reached more than $42,000.
A message from Sidhu's wife, Tanvir Mann, a Canadian citizen, said her husband made a "tragic mistake."
"When confronted by the unimaginable magnitude of the consequences of his mistake, he did everything he could to make things better," Mann writes.
"I pray that there are people out there who don't believe that Jaskirat should be deported and are willing to contribute to my fight to be able to live out our lives in Canada."
The Canada Border Services Agency has previously declined to comment on Sidhu's case, but said there are multiple steps built into the process to ensure procedural fairness.
Greene said he understands that several of the victims' families are still angry.
"It's completely understandable. It is," he said. "Everybody deals with grief and loss in their own way."
This report by The Canadian Press was first published Dec. 1, 2022.
Canada-Morocco: Canada fans look forward to next World Cup after loss in final match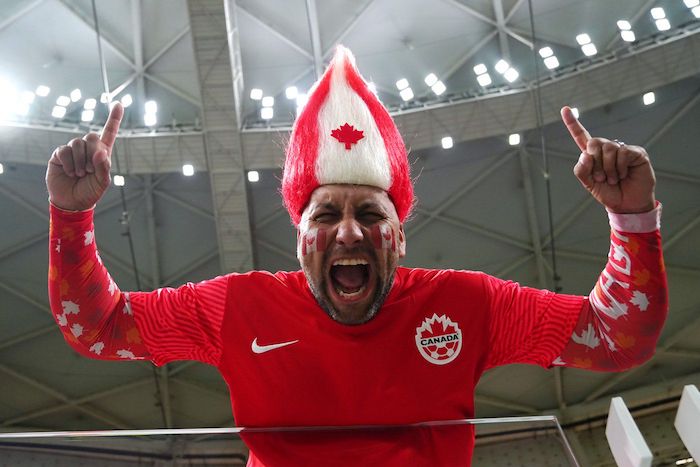 By Jacob Serebrin in Montreal
Fans of the Canadian men's soccer team were left disappointed by their 2-1 loss to Morocco on Thursday, but there was also optimism about the country's chances in World Cup 2026, which Canada will co-host.
With no chance of moving on to the knockout round in its first World Cup appearance since 1986, Canada was playing for pride. Fans said the team showed it belonged on soccer's biggest stage, and they expect the country to be stronger for the next tournament, which will include 10 games on Canadian soil.
"It's great to see Canada in the World Cup," said Nick Whalen, a former member of Parliament and an avid soccer player. He was one of about two dozen people who watched the game at the Duke of Duckworth pub, in St. John's, N.L.
"A lot of these young players are going to be around when Canada hosts in 2026. And they'll be even better then."
Fans at the darkened bar groaned as Morocco scored its second goal, expanding an early lead. But 20 minutes later, there were booming cheers as Canada scored its first goal of the game — and its second goal in men's World Cup history.
After Canada's Atiba Hutchinson headed the ball toward the net around the 71-minute mark, there were screams of anguish as the ball hit the crossbar and bounced on the goal line but didn't cross it.
In the final moments, fans erupted in cheers and applause when Canada's goalkeeper Milan Borjan ran out onto the field in a bid to add an extra player to the effort to score a tying goal. But the cheers dampened quickly as the game ended and Moroccan players jumped and waved in victory.
"You really can't fault the Canadians," Whalen said. "They really showed their hearts out there, and they made us all proud."
Sarah Dominic, who has played soccer since she was five years old, said she is also looking forward to the next World Cup.
"They're a great team," Dominic said. "They played an amazing game against Belgium. I think they've had some unfortunate results at this tournament, but I do think that we can certainly play at this level and show the world in 2026 how great we are."
Melanie Bradley, general manager at Brams United Girls Soccer Club in Brampton, Ont., said she was proud that Team Canada was playing at the World Cup, even if the team didn't make it to the knockout stage.
"We are really proud, especially here in Brampton, to have seven players that have grown up playing at our fields across the city, competing at this level and representing the country. It is a very proud moment for us," Bradley said before the game. "I think we are really starting to show the world that we are a soccer nation."
Canada did not win any of its three games. The team lost 1-0 to Belgium and 4-1 to Croatia. But despite Canada's losses, Shayne Grimmer, a lifelong soccer fan in Vancouver, said Canada "showed that we can play against the best in the world and we deserve to be on that stage."
"We're the only team other than Qatar to not get a point, but I don't think that really represents what we did in this tournament," Grimmer said shortly after the end of Canada's final match.
Grimmer, vice-president of the Vancouver Southsiders — a group of supporters for Major League Soccer's Vancouver Whitecaps — said he has high hopes for the Canadian men moving forward, noting Alphonso Davies and other top players are still in their early 20s.
"I think we're going to surprise a lot of people when we're hosting," he said.
Mexico and the United States are co-hosting the 2026 tournament with Canada; most games — including the quarterfinals, semifinals and final — will be played in the U.S.
In Montreal's Little Maghreb neighbourhood — home to a large Moroccan population — a euphoric crowd took to the streets after Thursday's win, singing and dancing amid fireworks and the sound of honking car horns.
"I came here in 2019. I am so happy for this win and for this victory," said Ali Araqi, 26. "I am very proud for all Moroccans in Montreal and for my team. They are the best in the world, and we are going to win this World Cup if we play well."
Morocco advances to the knockout stage as the winner of the tournament's Group F — the team's best performance since 1986.
Even with the loss, Canada will continue to be represented at the tournament, said Abderrahman El Fouladi, 70, who moved to Canada from Morocco 31 years ago. Morocco's goalie, Yassine Bounou, was born in Montreal and is Canadian-Moroccan, he said.
This report by The Canadian Press was first published Dec. 1, 2022.
— With files from Marisela Amador in Montreal, Sarah Smellie in St. John's, N.L., Sharif Hassan in Brampton, Ont., and Brenna Owen in Vancouver.