Bill Blair blames CSIS director for not passing along memo warning of threats to MP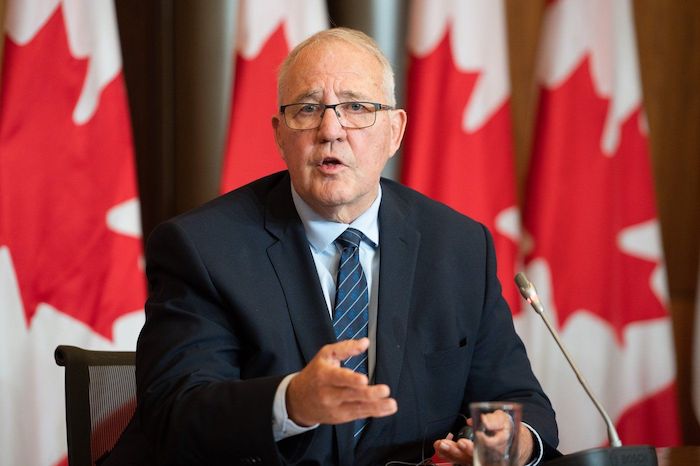 Bill Blair is blaming Canadian Security Intelligence Service director David Vigneault for the fact he didn't receive a memo warning about threats against Conservative MP Michael Chong and his family by a Chinese diplomat. Blair speaks during an update in Ottawa, on Thursday, June 1, 2023. THE CANADIAN PRESS/Spencer Colby
By David Fraser in Ottawa
Bill Blair is blaming Canadian Security Intelligence Service director David Vigneault for the fact that he didn't receive a memo warning about the alleged targeting of Conservative MP Michael Chong and his family by a Chinese diplomat.
"The director determined this was not information the minister needed to know," Blair said Thursday afternoon.
The former public safety minister made the comments at a meeting of a parliamentary committee that is investigating allegations that members of Parliament were targeted by foreign interference.
Blair's appearance follows the release of watchdog David Johnston's first report, which found there were serious issues with the way the government handles confidential information.
The former governor general's report concluded that CSIS was aware of indications Chinese officials were contemplating action directed at Canadian MPs, but did not identify negligence at the highest political levels.
Johnston concluded that intelligence about Chinese officials seeking information on Conservative MP Michael Chong didn't reach the prime minister, the public safety minister or Chong himself until after it was leaked and reported by media.
The prime minister's national security adviser, Jody Thomas, told MPs at the committee meeting that in 2021, the memo was sent to deputy ministers of Public Safety, Global Affairs and National Defence.
But it effectively went into a "black hole" and wasn't shared with the appropriate people, she said.
Thomas was the deputy minister of National Defence at the time and was one of the three to receive the memo.
She said she didn't see it because she was on leave when it was delivered, and the memo would have been destroyed after a certain amount of time for security reasons.
The memo didn't specifically mention Chong, but Johnston's report said there was an additional note sent to Blair and his deputy minister indicating there was intelligence the People's Republic of China intended to target Chong and another, unnamed MP.
The report also said CSIS intended to provide Chong and the other MP with a briefing. Chong said he did receive a briefing but it did not include any details about a threat to his family.
Thomas said the memo about Chong was sent to the Privy Council Office in July 2021 and was provided to her predecessor David Morrison, who is currently the deputy minister of foreign affairs, that August.
But she wouldn't say why it wasn't then shared with the prime minister, Chong or other relevant people at the time.
"I'm not going to account for what's happened with my predecessor," she told the committee.
Johnston's report confirmed that CSIS also sent information about the targeting of Chong to the public safety minister and his chief of staff via a top-secret email platform, but they never received it. The public service told Johnston that they don't have access to the right system.
Thomas said it should have been the responsibility of the security apparatus to ensure the information was provided, arguing that his lack of access to the email system was not the primary reason Blair didn't see it.
"Minister Blair would have been given a reading package," she said.
Blair, who was public safety minister at the time, said Thursday afternoon that he, too, first learned about threats against Chong in the media — and that if he had been briefed about threats against an MP, he would have taken action.
"I didn't have a password to an email account," he told reporters following his appearance. "That's not exactly how this works."
He told MPs on the committee there is no email account where top-secret information is shared with people, but there is a top-secret terminal, and he did not have access to one in his offices.
"If (CSIS) determined that information is not required to be shared with us, and I have no knowledge of that, I would not have the opportunity to act on it," he said, adding that questions about why the information wasn't shared with him should be put to Vigneault.
He said that when CSIS did want to share information with him, he was brought to a secure facility and briefed with printed materials.
"I am not suggesting that CSIS purposely withheld information. They make a determination. They make a determination on the credibility and the seriousness of the intelligence that they've gathered."
Thomas said steps have been taken to ensure better information flow since her arrival to the national security adviser position in 2022, and more is now being done to ensure officials are aware of how to consume intelligence.
The Liberal government recently issued a directive that any threats against members of Parliament, their families or their staff must be elevated to the highest political levels, even if CSIS does not deem the threat to be serious or legitimate.
The Liberal government expelled Chinese diplomat Zhao Wei in May, accusing him of being involved in a plot to intimidate Chong and his relatives in Hong Kong.
Chong's alleged targeting had come after he successfully sponsored a motion in the House of Commons labelling Beijing's treatment of Uyghur Muslims in China a genocide.
"We will not tolerate any form of foreign interference in our internal affairs," Foreign Affairs Minister Melanie Joly wrote in a statement at the time, declaring the Toronto-based diplomat as "persona non grata."
In response, China's embassy expelled Canada's consul in Shanghai and issued a statement accusing Canada of breaching international law and acting based on anti-Chinese sentiment. It said the move has "sabotaged" relations between China and Canada, according to an official English translation provided by the embassy, and promised unspecified retaliatory measures.
Thomas told MPs during her committee appearance that proxies of foreign diplomats in Canada continue to be "working contrary to the interests of the diaspora community."
She hesitated to put a number on how many people are involved or speak further about what their activities entail, citing national security considerations.
This report by The Canadian Press was first published June 1, 2023.
— With files from Dylan Robertson.
Excess deaths in Canada and most western nations remain very high long after pandemic deaths subside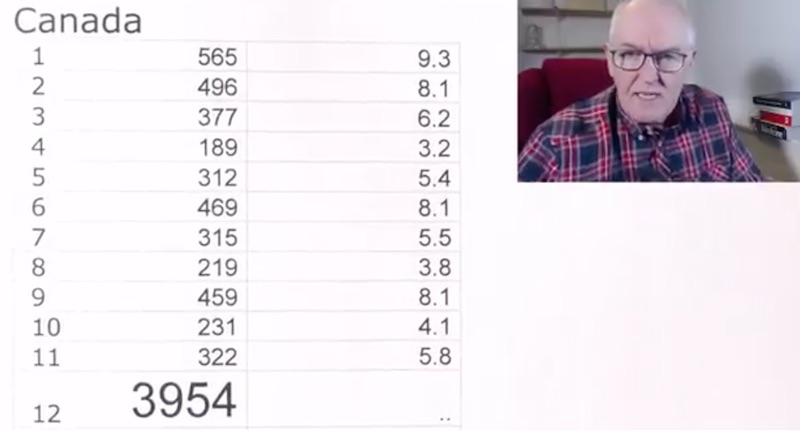 The numbers for 2023 are rolling in and they show a disturbing trend in most of the wealthy nations in the world. In Canada, the United States, and virtually every country in Western Europe, the excess rate of death is astounding and so far unexplained by officials in any nation.
British health researcher Dr. John Campbell shares official data from the OECD (Organization for Economic Co-operation and Development) and wonders why the media doesn't seem to notice or care.
Confirmation of excess deaths in 2023 for US, UK, Canada, Australia, NZ, Netherlands, and Denmark. However, deaths are lower than expected in Poland, Hungary, and Sweden.
OECD data https://stats.oecd.org/index.aspx?que…
Migrants hoping to reach US continue north through Mexico by train amid historic migration levels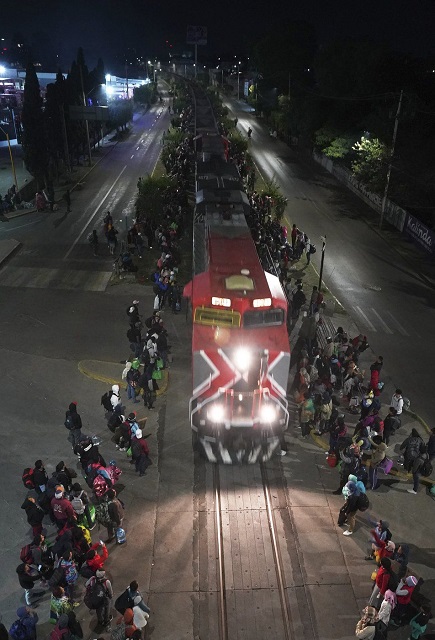 Migrants stand alongside a rail track as a northbound freight train pulls into Irapuato, Mexico, Saturday, Sept. 23, 2023. (AP Photo/Marco Ugarte)
By Megan Janetsky in Irapuato
IRAPUATO, Mexico (AP) — As a train roared in the distance, some 5,000 mostly Venezuelan migrants hoping to make it to the U.S. snapped into action.
Families with young children sleeping on top of cardboard boxes and young men and women tucked away in tents under a nearby bridge scrambled to pack their things. After the train arrived on the outskirts of the central Mexican city of Irapuato, some swung their bodies over its metal trailers with ease, while others tossed up bags and handed up their small children swaddled in winter coats.
"Come up, come up," migrants atop the train urged those below. Others yelled, "God bless Mexico!"
After three days of waiting for the train that many in the group worried would never come, this was their ticket north to Mexico's border with the United States.
Thousands of other migrants were stranded in other parts of the country last week after Mexico's biggest railroad said it halted 60 freight trains. The company, Ferromex, said so many migrants were hitching rides on the trains that it became unsafe to move the trains. The company said it had seen a "half dozen regrettable cases of injuries or deaths" in a span of just days.
When the train arrived Saturday, "Ferromex" was painted on many of the gondolas. Local police were stationed around the improvised camp where the migrants had been waiting, but when the train stopped for about 30 minutes there was no attempt to stop migrants from climbing aboard.
Despite violence from drug cartels and the dangers that come with riding atop the train cars, such freight trains — known collectively as "The Beast" — have long been used by migrants to travel north.
The closures temporarily cut off one of the most transited migratory routes in the country at a time of surging migration, and left families like Mayela Villegas' in limbo.
Villegas, her partner and their six children had spent three days sleeping on the concrete ground surrounded by masses of other migrants. Before boarding the train, the Venezuelan family said they had packed food for only a few days of train rides and struggled to feed their kids.
"The more days we are here, the less food we have. Thankfully people here have helped us, have given us bread," Villegas said. "We're sleeping here because we don't have anything to pay for a room or hotel. We don't have the funds."
The halting of the train routes also underscores the historic numbers of people heading north in search of a new life in the United States, and the dilemma it poses for countries across the Americas as they struggle to cope with the sheer quantities of migrants traversing their territories.
When several thousand migrants crossed into Eagle Pass, Texas, over a few days the border town declared an emergency.
In August, the U.S. Border Patrol made 181,509 arrests at the Mexican border, up 37% from July but little changed from August 2022 and well below the high of more than 220,000 in December, according to figures released Friday.
It reversed a plunge in the numbers after new asylum restrictions were introduced in May. That comes after years of steadily rising migration levels produced by economic crisis and political and social turmoil in many of the countries people are fleeing.
Once, just dozens of migrants from Central American countries would pass through Irapuato by train each day, said Marta Ponce, a 73-year-old from who has spent more than a decade providing aid to those who travel the tracks running through her town.
Now, that number often reaches the thousands.
"We once thought that 50 or 60 people was massive, now it's normal," Ponce said. "It has grown a lot, a lot, a lot."
And migrants come from all over. Ponce noted that Venezuelan migrants fleeing economic crisis in their country are in the overwhelming majority, but she's seen people from around the world, including African nations, Russia and Ukraine.
Most travel through the Darien Gap, a dayslong trek across the rugged Colombia-Panama border. The crossing was once so dangerous that few dared to attempt it, but now so many migrants flood through its dense jungles that it's rapidly become a migratory highway similar to the trains winding through Mexico.
Crossings of the Darien Gap have shot up so much they could approach 500,000 people this year alone.
Villegas, whose family spent three days in Irapuato waiting for the train, was among many who saw the Darien Gap as an opportunity. The family was among 7.7 million people to leave Venezuela in recent years, and spent three years in neighboring Colombia.
The family was able to set up a small barbershop business on the fringes of the Colombia's capital, but rising xenophobia and low pay left the family of eight struggling to scrape by.
This summer, when a gang threatened them for not paying extortion money, Villegas and her partner, 32-year-old Yorver Liendo, decided it was time to go to the U.S. For them, the dangers are worth it if it means a change for their children, who ate yogurt out of plastic bottles and snuggled together on the ground.
"It's the country of a thousand opportunities, and at least my kids are still small. They can keep studying, and have a better quality of life," Liendo said.
But it's not just Ferromex that has been overwhelmed by the crush of people. Regional governments have also struggled with what to do.
Colombia, which has taken on the brunt of the exodus from Venezuela, has long called on the international community for aid. Panama and Costa Rica, meanwhile, have tightened migratory restrictions and demanded that something be done about hundreds of thousands of people passing through the Darien Gap.
Panama even launched a campaign dubbed "Darien is a jungle, not a highway."
Meanwhile, the Biden administration has pushed Mexico and Central American nations to control migratory flows and now requires asylum seekers to register through an app known as CBP One.
On Thursday, the Biden administration announced it would grant temporary protected status to nearly a half million more Venezuelans already in the country.
Meanwhile, activists like Ponce say they expect migration along the train line to grow.
As bleary-eyed migrants climbed onto the train early Saturday morning, they cheered as the train picked up speed and continued them on their winding route north.