Biggest stock slide on Wall Street since '20 as oil surges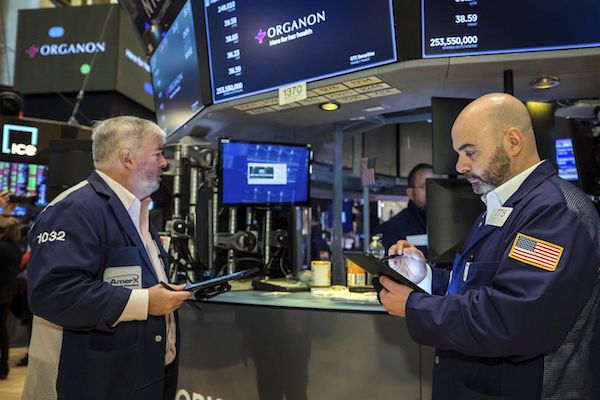 By Stan Choe And Alex Veiga in New York
NEW YORK (AP) — Wall Street had its biggest drop in more than a year Monday as another leap for oil prices threatened to squeeze inflation's grip on the global economy.
The S&P 500 fell 3%, its biggest decline in 16 months, after a barrel of U.S. oil surged to $130 overnight on the possibility the U.S. could bar imports from Russia. Stocks around the world also fell earlier in the day, taking their cue from oil's movements.
The benchmark S&P 500 fell 122.78 points to 4,201.09. The Dow Jones Industrial Average fell 797.42 points, or 2.4%, to 32,817.38.
The Nasdaq composite slid 482.48 points, or 3.6%, to 12,830.96. The tech-heavy index is now 20.1% below its record set in November. Such a decline means the index is now in what Wall Street calls a bear market. The S&P 500 is down a more modest 12.4% from the peak it set in early January.
Gold and a measure of nervousness on Wall Street also rose, though not by quite as much as when oil prices hit their peak. The price of gold briefly rose above $2,000 an ounce before settling at $1,995.90, up 1.5%.
"This could be something that drags on for a while as the tensions in Ukraine persist, as oil prices remain elevated," said Sam Stovall, chief investment strategist at CFRA. "The higher and longer oil prices stay elevated, the greater the eroding impact that they will have on economic growth."
Oil prices have soared recently on worries that Russia's invasion of Ukraine will upend already tight supplies. Russia is one of the world's largest energy producers, and oil prices were already high before the attack because the global economy is demanding more fuel following its coronavirus-caused shutdown.
U.S. House Speaker Nancy Pelosi said in a letter to her colleagues on Sunday that "the House is currently exploring strong legislation" to further isolate Russia because of its attack on Ukraine. That could include a ban on imports of Russian oil and energy products, she said.
It's a major step that the U.S. government has not yet taken, despite a long list of moves to punish Russia, as the White House has said it hopes to limit disruptions to oil markets. It wants to limit price jumps at the gasoline pump.
Reports also said U.S. officials may be considering easing sanctions against Venezuela. That potentially could free up more crude oil and ease concerns about reduced supplies from Russia.
A gallon of regular already costs an average of $4.065 across the country after breaching the $4 barrier on Sunday for the first time since 2008. A month ago, a gallon averaged $3.441, according to AAA.
A barrel of U.S. crude oil settled at $119.40 per barrel, up 3.2%, after earlier touching $130.50. Brent crude, the international standard, settled at $123.21 per barrel, up 4.3%, after earlier topping $139.
Meanwhile, smaller company stocks also fell sharply. The Russell 2000 index fell 49.57 points, or 2.5%, to 1,951.33.
Markets worldwide have swung wildly recently on worries about how high prices for oil, wheat and other commodities produced in the region will go because of Russia's invasion, inflaming the world's already high inflation. In the United States, prices for consumers jumped last month from their year-ago level at the fastest rate in four decades.
The conflict in Ukraine also threatens the food supply in some regions, including Europe, Africa and Asia, which rely on the vast, fertile farmlands of the Black Sea region, known as the "breadbasket of the world."
The war puts extra pressure on central banks around the world, with the Federal Reserve on course to raise interest rates later this month for the first time since 2018. Higher rates slow the economy, which hopefully will help rein in high inflation. But if the Fed raises rates too high, it risks forcing the economy into a recession.
"Their reaction to geopolitics can't really be measured, so there's uncertainty around that," said Sameer Samana, senior global market strategist at Wells Fargo Investment Institute.
Some investors have seen the war in Ukraine as potentially pushing the Fed to go easier on rate increases. Investors love low rates because they tend to boost prices for stocks and all kinds of markets.
But that may not necessarily be the case this time, Goldman Sachs economists wrote in a report. With prices for oil, wheat and other commodities potentially rising even more, the threat is higher for a sustained, high inflation to settle on the economy. That could flip the Fed's traditional playbook.
"After several decades in which economic, financial, or political shocks invariably caused interest rates to fall, markets may have to re-learn that the opposite can also be true," Goldman Sachs economist Jan Hatzius wrote.
Beyond sanctions brought on Russia by governments because of its invasion of Ukraine, companies are also levying their own punishments. The list of companies exiting Russia has grown to include Mastercard, Visa and American Express, as well as Netflix.
The value of the Russian ruble continued to slide amid all the financial pressure, falling 12% to 0.7 cents.
Treasury yields climbed. The 10-year yield rose to 1.78% from 1.72%.
___
AP Business Writers Damian J. Troise and Yuri Kageyama contributed. Veiga reported from Los Angeles.
78 years on, Jewish Holocaust rescuers want their story told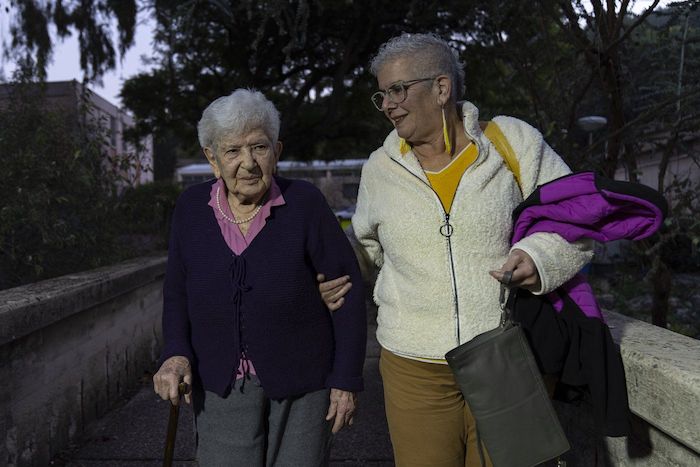 By Alon Bernstein in Kibbutz Hazorea
KIBBUTZ HAZOREA, Israel (AP) — Just before Nazi Germany invaded Hungary in March 1944, Jewish youth leaders in the eastern European country jumped into action: They formed an underground network that in the coming months would save tens of thousands of fellow Jews from the gas chambers.
This chapter of the Holocaust heroism is scarcely remembered in Israel. Nor is it part of the official curriculum in schools. But the few remaining members of Hungary's Jewish underground want their story told. Dismayed at the prospect of being forgotten, they are determined to keep memories of their mission alive.
"The story of the struggle to save tens of thousands needs to be a part of the chronicles of the people of Israel," said David Gur, 97, one of a handful of members still alive. "It is a lighthouse during the period of the Holocaust, a lesson and exemplar for the generations."
As the world marks International Holocaust Remembrance Day on Friday, historians, activists, survivors and their families are all preparing for the time when there will no longer be living witnesses to share first-person accounts of the horrors of the Nazi genocide during World War II. In the Holocaust, 6 million Jews were wiped out by the Nazis and their allies.
Israel, which was established as a refuge for Jews in the wake of the Holocaust, has gone to great lengths over the years to recognize thousands of "Righteous Among the Nations" — non-Jews who risked their lives to save Jews during the Holocaust.
Accounts of Jewish resistance to the Nazis, such as the Warsaw Ghetto uprising, are mainstays in the national narrative but rescue missions by fellow Jews — such as the Hungarian resistance — are less known.
Hungary was home to around 900,000 Jews before the Nazi invasion. Its government was allied with Nazi Germany, but as the Soviet Red Army advanced toward Hungary, the Nazis invaded in March 1944, to prevent its Axis ally from making a separate peace deal with the Allies.
Over the 10 months that followed, as many as 568,000 Jews were killed by the Nazis and their allies in Hungary, according to figures from Yad Vashem, Israel's official Holocaust memorial.
Gur said he and his colleagues knew that disaster was looming when three Jewish women arrived at Budapest's main synagogue in the fall of 1943. They had fled Nazi-occupied Poland and bore disturbing news about people being shipped off to concentration camps.
"They had fairly clear information about what was happening, and saw the many trains, and it was obvious to them what was happening," said Gur.
Gur oversaw a massive forgery operation that provided false documents for Jews and non-Jewish members of the Hungarian resistance. "I was an 18-year-old adolescent when the heavy responsibility fell upon me," he said.
There was great personal risk. In December 1944, he was arrested at the forgery workshop and brutally interrogated and imprisoned, according to his memoir, "Brothers for Resistance and Rescue." The Jewish underground broke him out of the central military prison in a rescue operation later that month.
The forged papers were used by Jewish youth movements to operate a smuggling network and run Red Cross houses that saved thousands from the Nazis and their allies.
According to Gur's book, at least 7,000 Jews were smuggled out of Hungary, through Romania to ships on the Black Sea that would bring them to British-controlled Palestine. At least 10,000 forged passes offering protection, known as Shutzpasses, were distributed to Budapest's Jews, and around 6,000 Jewish children and accompanying adults were saved in houses ostensibly under the protection of the International Red Cross.
Robert Rozett, a senior historian at Yad Vashem, said that although it was "the largest rescue operation" of European Jews during the Holocaust, this episode remains off "the main route of the narrative."
"It's very significant because these activities helped tens of thousands of Jews stay alive in Budapest," he said.
In 1984, Gur founded "The Society for Research of the History of the Zionist Youth Movements in Hungary," a group that has promoted awareness about this effort.
Last month at a kibbutz in northern Israel, Sara Epstein, 97, Dezi Heffner-Reiner, 95, and Betzalel Grosz, 98, three of the remaining survivors who helped save Jews in Nazi-occupied Hungary, received the Jewish Rescuers Citation for their role in the Holocaust. The award is given by two Jewish groups — B'nai B'rith World Center-Jerusalem and the Committee to Recognize the Heroism of Jewish Rescuers During the Holocaust.
"There aren't many of us left, but this is important," said Heffner-Reiner.
More than 200 other members of the underground were given the award posthumously. Gur received the award in 2011, the year it was created.
Yuval Alpan, a son of one of the rescuers and an activist with the society, said the citations were meant to recognize those who saved lives during the Holocaust.
"This resistance underground youth movement saved tens of thousands of Jews during 1944, and their story is not known," he said. "It's the biggest rescue operation in the Holocaust and nobody knows about it."
International Holocaust day falls on the anniversary of the Red Army's liberation of the Auschwitz death camp 78 years ago. Israel is home to some 150,600 Holocaust survivors, almost all of them over the age of 80, according to government figures. That is 15,193 less than a year ago.
The United Nations will be holding a memorial ceremony at the General Assembly on Friday, and other memorial events are scheduled around the globe.
Israel marks its own Holocaust Remembrance Day in the spring.
___
Associated Press writers Eleanor Reich and Ilan Ben Zion in Jerusalem contributed to this report.
Canada donating four Leopard battle tanks to Ukraine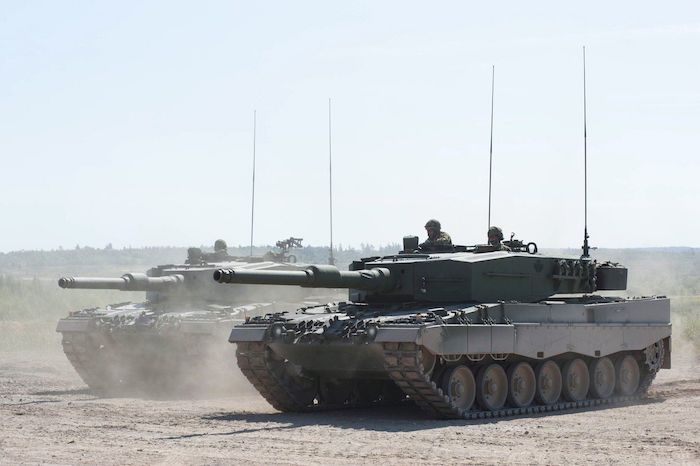 Ottawa – Defence Minister Anita Anand says Canada will send four of its German-made Leopard 2 tanks to Ukraine "in the coming weeks."
Anand announced the move this afternoon, making Canada the latest country to promise the heavy weapons to Ukraine.
Canada is also providing trainers, spare parts and ammunition, while Anand left open the possibility of sending more Leopards in the future.
Ukraine has implored Western allies to send such weapons for weeks as its forces struggle to make gains against Russia.
But Canada was unable to respond until Germany agreed on Wednesday that countries could re-export their Leopards.
The Leopards that Canada is donating are among the 112 currently owned by the Canadian Army, which includes 82 designed specifically for combat.
Retired military officers had warned that any donation would have an impact on the Army and will need to be replaced, given that the fleet is already stretched thin.
This report by The Canadian Press was first published Jan. 26, 2023.