Biden administration holding its first onshore oil sales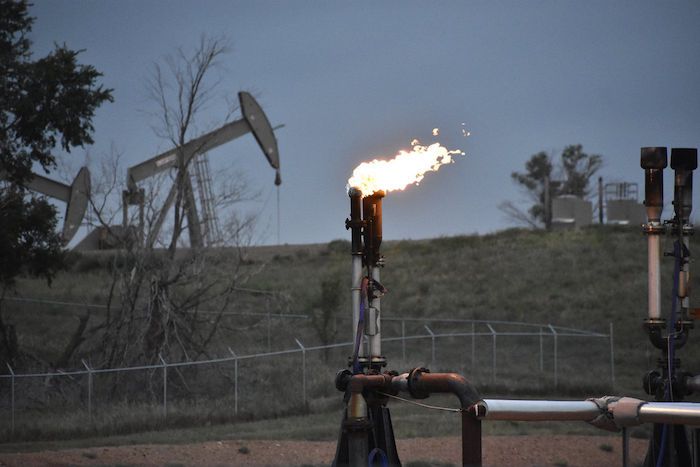 BILLINGS, Mont. (AP) — The U.S. government this week is holding its first onshore oil and natural gas drilling lease auctions since President Joe Biden took office after a federal court blocked the administration's attempt to suspend such sales because of climate change worries.
The online auctions start Wednesday and conclude Thursday. About 200 square miles (518 square kilometers) of federal lands were offered for lease in eight western states. Most of the parcels are in Wyoming.
The sales come as federal officials try to balance efforts to fight climate change against pressure to bring down high gas prices.
Republicans want Biden to expand U.S. crude production. He faces calls from within his own party to do more to curb fossil fuel emissions that are heating the planet.
Oil production increased in the U.S. in recent months, but it's still well below pre-pandemic levels. Companies have been hesitant to expand too quickly because of uncertainty over how long high prices will continue.
A coalition of 10 environmental groups said in a lawsuit filed before the sales even began that they were illegal because officials acknowledged the climate change impacts but proceeded anyway.
An immediate ruling was not expected. Interior Department spokesperson Melissa Schwartz said the agency did not have comment on the litigation.
Beginning with this week's sales the royalty rate for oil produced from new federal leases is increasing to 18.75% from 12.5%. That's a 50% jump and marks the first increase since the 1920s.
Parcels also are being offered in Colorado, Utah, New Mexico, Montana, Nevada, North Dakota and Oklahoma.
Hundreds of parcels of public land that companies nominated for leasing had been previously dropped by the administration because of concerns over wildlife being harmed by drilling rigs. More parcels covering about 19 square miles (49 square kilometers) were dropped at the last minute in Wyoming because of potential impacts on wilderness, officials said.
But attorney Melissa Hornbein with the Western Environmental Law Center said the reductions in the size of the sales were not enough.
"They are hoping that by choosing to hold sales on a smaller amount of acreage they are threading the needle. But from our perspective, the climate science is the one thing that doesn't lie," Hornbein said.
Oil industry representative Kathleen Sgamma said the environmentalists' lawsuit ignores the fact that lease sales from U.S. lands are required under federal law.
"Public lands are managed in a balanced manner. Balance is a word these groups don't understand," said Sgamma, president of the Denver-based Western Energy Alliance, which represents oil and gas companies.
Fossil fuels extracted from public lands account for about 20% of energy-related U.S. greenhouse gas emissions, making them a prime target for climate activists who want to shut down leasing.
Biden suspended new leasing just a week after taking office in January 2021. A federal judge in Louisiana ordered the sales to resume, saying Interior officials had offered no "rational explanation" for canceling them and only Congress could do so.
The government held an offshore lease auction in the Gulf of Mexico in November, although a court later blocked that salebefore the leases were issued.
___
Follow Matthew Brown on Twitter: @matthewbrownAP
Regulator rules in favour of Trans Mountain route deviation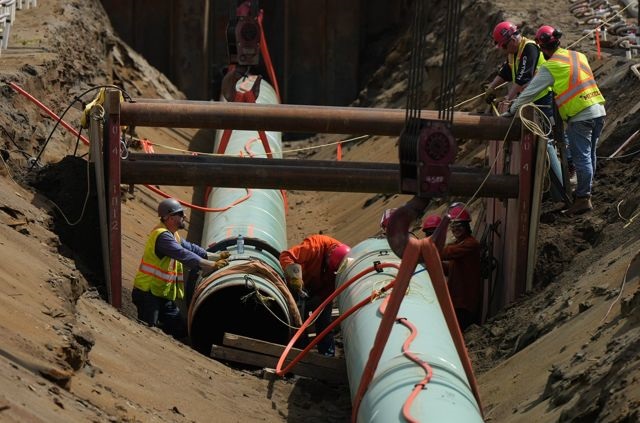 Workers place pipe during construction of the Trans Mountain pipeline expansion on farmland, in Abbotsford, B.C., on Wednesday, May 3, 2023. THE CANADIAN PRESS/Darryl Dyck
By Amanda Stephenson in Calgary
The Canada Energy Regulator has approved Trans Mountain Corp.'s application to modify the pipeline's route, a decision that could spare the government-owned pipeline project from an additional nine-month delay.
The regulator made the ruling Tuesday, just one week after hearing oral arguments from Trans Mountain and a B.C. First Nation that opposes the route change.
It didn't release the reasons for its decision Tuesday, saying those will be publicized in the coming weeks.
By siding with Trans Mountain Corp., the regulator is allowing the pipeline company to alter the route slightly for a 1.3-kilometre stretch of pipe in the Jacko Lake area near Kamloops, B.C., as well as the construction method for that section.
Trans Mountain Corp. had said it ran into engineering difficulties in the area related to the construction of a tunnel, and warned that sticking to the original route could result in up to a nine-month delay in the pipeline's completion, as well as an additional $86 million more in project costs.
Trans Mountain has been hoping to have the pipeline completed by early 2024.
But Trans Mountain's application was opposed by the Stk'emlúpsemc te Secwépemc Nation, whose traditional territory the pipeline crosses and who had only agreed to the originally proposed route.
In their regulatory filing, the First Nation stated the area has "profound spiritual and cultural significance" to their people, and that they only consented to the pipeline's construction with the understanding that Trans Mountain would minimize surface disturbances by implementing specific trenchless construction methods.
The Stk'emlúpsemc te Secwépemc argued that Trans Mountain never said its originally proposed construction method was impossible, only that it couldn't be done in time to meet a Jan. 1 in-service date for the pipeline.
The First Nation didn't respond to a request for comment by publication time.
The Trans Mountain pipeline is Canada's only pipeline system transporting oil from Alberta to the West Coast. Its expansion, which is currently underway, will boost the pipeline's capacity to 890,000 barrels per day (bpd) from 300,000 bpd currently.
The pipeline — which was bought by the federal government for $4.5 billion in 2018 after previous owner Kinder Morgan Canada Inc. threatened to scrap the pipeline's planned expansion project in the face of environmentalist opposition and regulatory hurdles — has already been plagued by construction-related challenges and delays.
Its projected price tag has since spiralled: first to $12.6 billion, then to $21.4 billion and most recently to $30.9 billion (the most recent capital cost estimate, as of March of this year).
Keith Stewart with Greenpeace Canada said it's alarming to see the regulator over-rule the wishes of Indigenous people in order to complete a pipeline on deadline.
"Every Canadian should be outraged that our public regulator is allowing a publicly owned pipeline to break a promise to Indigenous people to protect lands of spiritual and cultural significance," Stewart said.
The federal government has already approved a total of $13 billion in loan guarantees to help Trans Mountain secure the financing to cover the cost overruns.
Trans Mountain Corp. has blamed its budget problems on a variety of factors, including inflation, COVID-19, labour and supply chain challenges, flooding in B.C. and unexpected major archeological discoveries along the route.
Given the Canadian regulatory system has a reputation for being slow and cumbersome, it was surprising to see the Canada Energy Regulator rule so quickly on Trans Mountain's route deviation request, said Richard Masson, executive fellow with the University of Calgary's School of Public Policy.
"It's a challenging decision to have to make, when you've got a $30 billion pipeline that needs to be completed," Masson said.
"If there's no feasible way to do that tunnel, then I guess you have to allow for this."
Masson added that if the regulator had denied Trans Mountain's request, it would have been bad news for taxpayers as well as the federal government, which is seeking to divest the pipeline and has already entered into negotiations with several interested Indigenous-led buyers.
It also would have been bad news for Canadian oil companies, who have been eagerly anticipating the pipeline's start date to begin shipping barrels to customers.
"If this can result in the pipeline being completed by year-end and started up in the first quarter, that's good news. The world is still looking for oil, and oil prices are up at US$90 a barrel," Masson said.
This report by The Canadian Press was first published Sept. 25, 2023.
Top warming talks official hopes for 'course correction' and praises small steps in climate efforts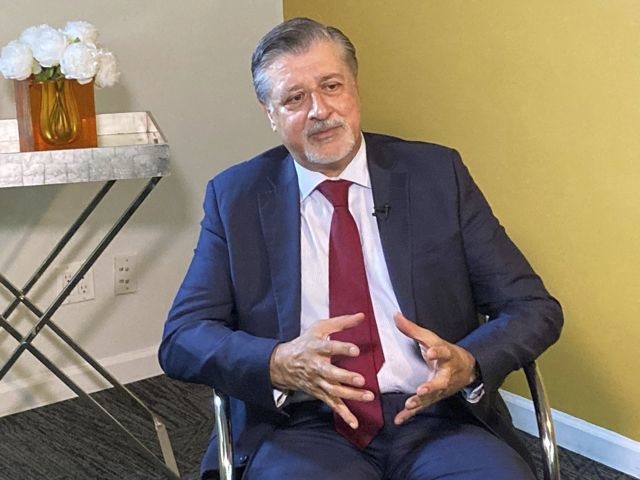 Adnan Amin, CEO and number two official at the upcoming Conference of Parties (COP28) in Dubai, answers questions during an interview, Monday, Sept. 18, 2023, at United Nations Headquarters. Amin said he knows what activists, critics and the head of the United Nations really want – a phase out of fossil fuels that cause climate change. He said it looks unlikely. (AP Photo/Joseph Frederick)
By Seth Borenstein in New York
NEW YORK (AP) — A top official helping to oversee upcoming international climate negotiations hopes to prove critics wrong — and surprise them with a "course correction" for an ever-warming world.
But don't expect that big a turn.
Adnan Amin, the CEO and No. 2 official at the upcoming Conference of Parties (COP28) in Dubai in late November and December, said he also knows what activists, critics and the head of the United Nations really want — a phase-out of fossil fuels that cause climate change. He said it looks unlikely.
Yet Amin said that while an agreement ridding the world of fossil fuels doesn't look likely, a "phase-down of fossil fuels is inevitable."
In an interview with The Associated Press, Amin demonstrated how the leadership of the climate talks is trying to thread a moving diplomatic needle and praised steps in a decarbonizing direction, however small. Amin's boss, the COP28 president, is an oil executive; Amin was the founding director of the U.N.'s renewable energy agency. The talks are being hosted by petrostate United Arab Emirates.
The Kenya-born Amin is quick to defend COP28 President Sultan al-Jaber, pointing out that al-Jaber also runs a renewable energy company and was key in the founding of the U.N.'s renewable energy agency in the UAE. He will surprise critics, Amin said.
In 10 years when critics and others look back at the talks, Amin wants to hear amazement.
"I hope they will be saying that 'we didn't think that an oil producing country could achieve an outcome on climate of this sort. We didn't think that a process that we thought was blah blah ( the words activist Greta Thunberg used to describe climate negotiations ) could achieve an outcome of this sort'," Amin said. "But that was a course correction that the world needed to get us to a place of comfort for all of us."
AN ELABORATE ECOSYSTEM IS IN THE WAY
It all comes down to the role of coal, oil and natural gas, the nations that rely on them and the companies that profit from them.
Amin welcomes fossil-fuel interests to negotiations, while U.N. Secretary-General Antonio Guterres, activists and some scientists literally want them gone. They say a phase-out of fossil fuels is the only way to curb warming to a manageable level.
But given oppositions by some countries and the climate talks requirement to act by consensus – so one nation can stop everything – it's unlikely that a phase-out will be approved, Amin said. He pointed to the desire by some African countries to use fossil fuels to develop. Rich nations already emitted heat-trapping gases to develop, he said, and it's not fair to ask Africa to forego that without massive financial aid to help them leapfrog to clean energy.
Outside experts don't buy that argument.
"We don't need these historic polluters using Africa poverty to promote fossil fuels which will ultimately inhibit Africa's development," said longtime climate analyst Mohamed Adow, director of Power Shift Africa.
Africa, which produces less than 4% of the world's carbon emissions, gets hard hit with extreme weather, such as the rainy storm that triggered Libya's floods and intense droughts, and have fewer resources to cope with disasters.
"If we truly want to be able to tackle climate change, the first thing we need to do is phase out fossil fuels," Adow said in an email. "We don't want UAE to hide behind low expectations of itself because it is an oil country. If it couldn't deliver a radical, decarbonizing COP28 summit it should not be volunteering to coordinate it."
THE DIFFERENCE BETWEEN 'PHASE OUT' AND 'PHASE DOWN'
Climate scientists Niklas Hohne at the New Climate Institute and Bill Hare at Climate Analytics say there's a significant difference between "phase out" and "phase down." They say "phase down" is what the fossil-fuel industry wants, not what the world needs.
"The scale of investment in fossil fuel development by the UAE is the clearest indication of the direction of travel and it is not towards decarbonization but locking in massive fossil gas infrastructure," Hare said.
While a phase-out is crucial, former U.S. State Department climate lawyer Nigel Purvis said Amin is probably right that ending to fossil fuel is likely an impossible ask. That's because it seemed as if major nations like Russia, China and Saudi Arabia were blocking such a move at a recent meeting of rich economies, he said.
Amin said upcoming climate talks aim to be the most inclusive ever, but that also includes the at-times vilified fossil fuel industry.
"We believe that the oil and gas industry needs to be part of the climate equation," Amin said. "We're engaging with them to see if we can get them to commit to, you know, more rapid decarbonization of their operations."
Amin said he understands the angst and anger of young people. It's their future, he says, so they will have more of an official role in this year's negotiations than in the past.
Amin said he will consider the upcoming talks a success if they accomplish four things: fix and increase climate financial aid from rich nations to poor; decarbonize energy systems more; increase funding for nations to adapt to a warming world, especially hunger and health problems; and include more groups in the negotiations.
Fixing climate change is painstakingly slow, he said, but agreements from 2015 and 1997 have produced progress.
"There is a lot of impatience given the scale of the crisis," Amin said. "The multilateral system moves slowly, but it moves."
___