Backlund, Mangiapane lead Flames in 3-1 win over Stars to take series lead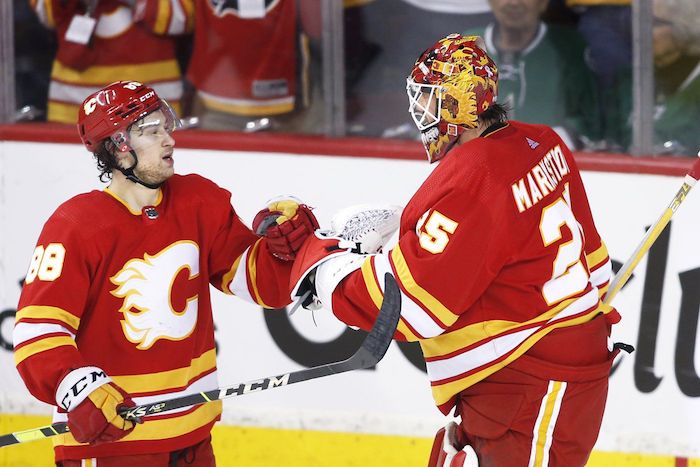 By Donna Spencer in Calgary
Andrew Mangiapane and Mikael Backlund led a third-period surge by the Calgary Flames in Wednesday's 3-1 win over the Dallas Stars to take a 3-2 lead in their playoff series.
Mangiapane and Backlund each had a goal and an assist and Trevor Lewis added an empty-net goal for the Flames, who pushed the Stars to the brink of elimination in the best-of-seven conference quarterfinal.
Game 6 is Saturday in Dallas.
"It feels a lot better than if we were down, but we know it's going to be a really hard game" Backlund said.
"Of course, we feel confident and excited going there. It's a big game."
Game 7, if necessary, is Sunday back in Calgary.
Calgary goaltender Jacob Markstrom made 20 saves for the win. Jason Robertson scored the lone goal and Jake Oettinger stopped 29 shots for Dallas.
Calgary (50-21-11) topped the Pacific Division, while Dallas (46-30-6) entered the post-season via the top wild-card spot in the Western Conference.
Both teams earned splits in each other's arenas to send the series to Calgary deadlocked at 2-2.
Their playoff series reverted to low-scoring at the Saddledome, where Calgary won 1-0 and lost 2-0 to start the series.
Dallas won 4-2 and lost 4-1 at American Airlines Arena.
The Stars didn't allow Calgary many clean exits from their own end, or entries into the offensive zone, with sound positional hockey for the first 40 minutes to lead 1-0.
But the line of Mangiapane, Backlund and Blake Coleman struck in the third for a 2-1 Flames lead.
"We knew they were going to come hard. We tried to minimize their speed to the neutral zone and we didn't and it cost us," Robertson said.
Backlund in the neutral zone fed a backhand pass to Mangiapane at the Stars' blue line.
Mangiapane took three strides in and whipped a high shot over Oettinger's glove at 13:20 to ignite the Saddledome.
"It was loud," Mangiapane said. "It was great even when Backs scored. You could hear the building erupt. I think the fans were waiting for a goal. Our whole team just fed off that energy from the fans."
Calgary drew even 1-1 at 6:49 of the third period when Mangiapane collected the puck from Coleman's drive to the net.
Mangiapane circled out from behind the goal-line and centered the puck for Backlund's redirect by Oettinger.
"I was screaming my emotions, too. I don't think anybody heard me," Backlund said. "I haven't scored much down the stretch here. It felt really good to put the puck in the net and such a big goal as well."
Robertson, a team-leading 41-goal man in the regular season, scored his first NHL playoff goal at 13:21 of the second period.
Stars head coach Rick Bowness had moved the 22-year-old off the top line alongside Joe Pavelski and Roope Hintz to join Jamie Benn and Tyler Seguin.
Robertson drove in from the boards and wristed a shot that deflected off Markstrom's glove and then off defenceman Noah Hanifin into Calgary's net.
The Stars didn't score on three power-play chances and were 2-for-20 in the series. Calgary went 0-for-2 on Wednesday and was 2-for-19.
Flames coach Darryl Sutter deployed 11 forwards and seven defenceman for a second straight game with Michael Stone remaining in the lineup for Brett Ritchie.
Flames winger Johnny Gaudreau took a deflected puck in the side of the head at the Stars' blue line late in the first period.
He went to the dressing room for treatment late in the period, but returned in the second period.
When a best-of-seven series is tied 2-2, the winner of Game 5 holds an all-time series record of 219-58, according to NHL statisticians.
When the home team wins Game 5 to take a 3-2 lead, it closes out the series 80.7 per cent of the time (138-33). When the road team does so, it wins 76.4 per cent of the series (81-25).
"We're going to look at some stuff from this game and get ready for the next game and it's not over yet," Hintz said.
Bowness altered his Game 5 lineup, scratching forwards Denis Gurianov and Alexander Radulov.
Jacob Peterson, 22, made his NHL playoff debut and Marian Studenic, 23, drew in for his second game in the series.
Notes: With 92 career playoff wins, Sutter is two back of Pat Quinn for the sixth-most among NHL coaches . . . Joe Pavelski's 166th career playoff game surpassed Brian Rafalski for fifth in NHL history among U.S.-born skaters.
This report by The Canadian Press was first published May 11, 2022.
Cenovus Energy to buy remaining stake in Toledo refinery from BP for $300 million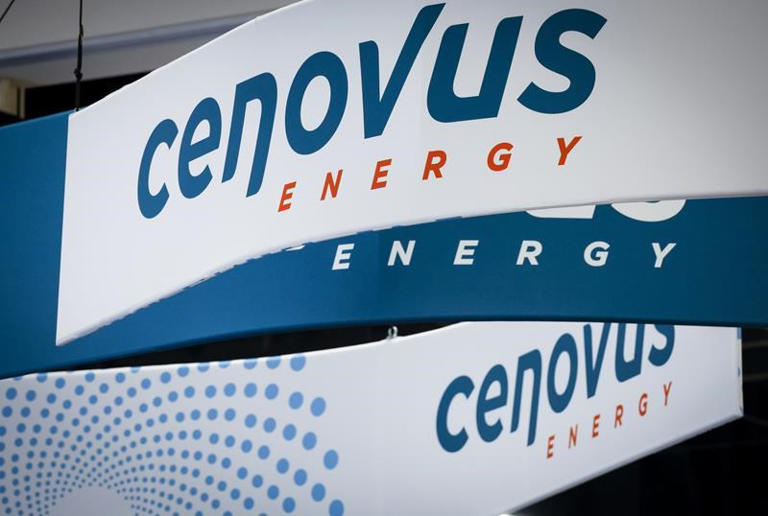 CALGARY — Cenovus Energy Inc. has reached a deal with British energy giant BP to buy the remaining 50 per cent stake in the BP-Husky Toledo Refinery for $300 million.
The Calgary-based oil producer has owned the other 50 per cent of the Ohio-based refinery since its combination with Husky Energy in 2021.
Cenovus says its U.S. operating business will take over operations when the transaction closes, expected before the end of the year.
The company says the Toledo refinery recently completed a major, once in five years turnaround to improve operational reliability.
It says the transaction will give Cenovus an additional 80,000 barrels per day of downstream throughput capacity, including 45,000 barrels per day of heavy oil refining capacity.
The deal brings Cenovus' total refining capacity to 740,000 barrels per day.
Alex Pourbaix, Cenovus president and CEO, says fully owning the Toledo refinery provides an opportunity to further integrate the company's heavy oil production and refining capabilities, including with the nearby Lima Refinery.
"This transaction solidifies our refining footprint in the U.S. Midwest and increases our ability to capture margin throughout the value chain," he said in a statement.
This report by The Canadian Press was first published Aug. 8, 2022.
Companies in this story: (TSX:CVE)
The Canadian Press
Nutrien names Ken Seitz president, CEO amid sweeping changes in agriculture markets
Saskatoon-based fertilizer giant Nutrien Ltd. has named Ken Seitz president and CEO following a months-long global talent search.
The company says Seitz, who has served as interim CEO since January and previously headed up its potash operation, brings 25 years of experience in agriculture and mining to the role.
Nutrien says it has achieved record results under Seitz's leadership amid sweeping changes in agricultural markets and unprecedented global food security challenges.
Russ Girling, chairman of Nutrien's board of directors, says the company's record performance during some of the most turbulent times in the sector underscore the strength of Seitz's leadership.
Seitz, who grew up on a dairy farm in Saskatchewan, says he's "honoured and humbled" to work alongside growers during challenging times.
He says Nutrien is well positioned to help meet the global goals of food security and climate action.
This report by The Canadian Press was first published Aug. 8, 2022.
Companies in this story: (TSX:NTR)
The Canadian Press