Back to gravity: Russians talk about world's 1st space movie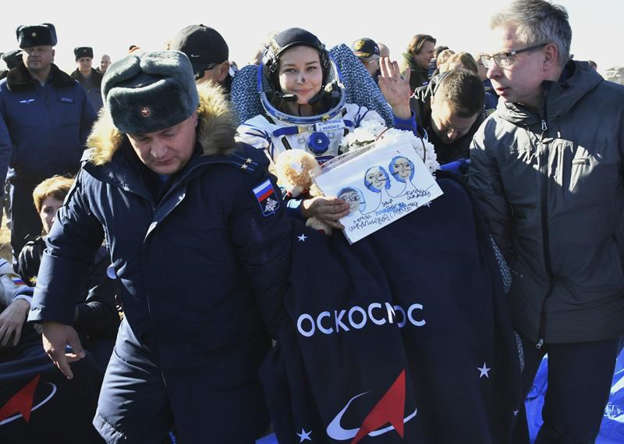 MOSCOW (AP) — A Russian actor and a film director who spent 12 days in orbit making the world's first movie in space said Tuesday they were so thrilled with their experience on the International Space Station that they felt sorry to leave.
Actor Yulia Peresild and director Klim Shipenko flew to the International Space Station in a Russian Soyuz spacecraft together with cosmonaut Anton Shkaplerov. After a stint on the station, they returned to Earth on Sunday with another veteran Russian cosmonaut, Oleg Novitskiy.
Peresild and Klimenko filmed segments of a movie titled "Challenge," in which a surgeon played by Peresild rushes to the space station to save a crew member who needs an urgent operation in orbit. Novitskiy, who flew the film crew home, stars as the ailing cosmonaut in the movie.
Speaking to reporters via video link Tuesday, 37-year-old Peresild lamented that a busy filming schedule left little chance to enjoy the views.
"We realized only a day before the departure that we didn't spend enough time looking in the windows," she said. "I had a mixed feeling. On the one hand, it felt like an eternity but on the other hand it felt like we just arrived and immediately need to return."
Peresild and Shipenko said they were feeling fine but still were having some trouble adapting to the pull of gravity.
"We have to learn again how to walk," Peresild said, adding that she still instinctively tries to attach various items with Velcro to prevent them from floating away.
She said she slept very well in orbit and four hours of sleep were enough to have a good rest.
Shipenko, 38, who has made several commercially successful movies, said he filmed over 30 hours of movie material on board the space station.
"Of course, it posed both artistic and technical challenges," he said.
Shipenko, who will continue the shooting on Earth after filming the movie's space episodes, said the film's release date would be announced next year.
Dmitry Rogozin, head of the Russian state space corporation Roscosmos, was a key force behind the movie project, describing it as a chance to burnish the nation's space glory and rejecting criticism from some Russian media over the efforts spent on it.
Before Russia took the lead in feature filmmaking in space, NASA had talked to actor Tom Cruise about making a movie in orbit.
NASA confirmed last year that it was in talks with Cruise about filming on the International Space Station with SpaceX providing the lift. In May 2020, it was reported that Cruise was developing the project alongside director Doug Liman, Elon Musk and NASA.
Vladimir Isachenkov, The Associated Press
Louie Anderson, Emmy-winning comedian, dies at 68
LOS ANGELES (AP) — Louie Anderson, whose more than four-decade career as a comedian and actor included his unlikely, Emmy-winning performance as mom to twin adult sons in the TV series "Baskets," died Friday. He was 68.
Anderson died at a hospital in Las Vegas of complications from cancer, said Glenn Schwartz, his longtime publicist. Anderson had a a type of non-Hodgkin lymphoma, Schwartz said previously.
Anderson won a 2016 Emmy for best supporting actor for his portrayal of Christine Baskets, mother to twins played by Zach Galifianakis. Anderson received three consecutive Emmy nods for his performance.
He was a familiar face elsewhere on TV, including as host of a revival of the game show "Family Feud" from 1999 to 2002, and on comedy specials and in frequent late-night talk show appearances.
Anderson voiced an animated version of himself as a kid in "Life With Louie." He created the cartoon series, which first aired in prime time in late 1994 before moving to Saturday morning for its 1995-98 run. Anderson won two Daytime Emmy Awards for the role.
He made guest appearances in several TV series, including "Scrubs" and "Touched by an Angel," and was on the big screen in 1988′s "Coming to America" and in last year's sequel to the Eddie Murphy comedy.
Anderson also toured regularly with his stand-up act and as a stand-up comedian.
Lynn Elber, The Associated Press
No national security issue in Chinese takeover of Canadian lithium company: Liberals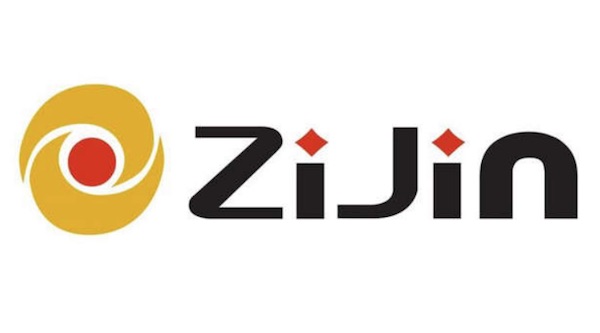 OTTAWA — The pending takeover of a Canadian lithium mining company by a Chinese state-owned company raises no national security concerns, federal Liberals argued Thursday.
Liberal MP Andy Fillmore, parliamentary secretary to Industry Minister François-Philippe Champagne, told a House of Commons committee that the Industry Department reviewed last fall the proposed takeover of Neo Lithium Corp. by China's Zijin Mining Group Ltd.
That review concluded that Neo Lithium is "really not a Canadian company," he told the industry committee, describing it as an Argentine company with directors in the United Kingdom and only three Canadian employees "on paper."
He said the only reason Neo Lithium "had any Canadian toehold whatsoever," was to get on the Toronto Stock Exchange in a bid to raise money for what Fillmore called an "increasingly dubious appearing" mine development project in Argentina.
Moreover, he said that project involves lithium carbonate, not the lithium hydroxide used to manufacture batteries that are critical for electric vehicles.
For those reasons, Fillmore said a formal national security review of the takeover was deemed unnecessary.
"These are the things they found, right? That in fact it's not a relevant lithium to Canada's national security interests and it's not really a Canadian company."
However, Conservative MP Ed Fast, who had called for the emergency committee meeting to find out why no formal security review was done, said it's "just false" to say Neo Lithium is not a Canadian company.
And he noted that the company's own website touts the mine as "the pre-eminent lithium brine asset in the world" to meet surging global demand for electric vehicle batteries.
"It goes without saying but bears restating that critical minerals such as lithium are a strategic asset, not only for Canada but for the world, and will play a critical role in driving our future prosperity and in meeting our environmental objectives," Fast said.
While the mine in question is in Argentina, Fast argued that it is incumbent on Canada and other "free-trading, rules-following allies" to ensure the global critical minerals industry is not monopolized by one country, especially one whose interests "are sometimes hostile toward ours."
China currently dominates the world's supply of lithium and batteries.
Conservative MP Tracy Gray further argued that lithium carbonate can be converted into lithium hydroxide for use in batteries.
But Fillmore countered that the conversion process involves additional costs and "significant environmental implications," which is why lithium hydroxide is preferred.
"I could probably make a passable hat using my socks but I'd much rather wear a hat," he said.
Thursday's meeting was called to consider a motion by Fast, calling for the committee to hold six meetings to explore the Neo Lithium takeover and whether a formal national security review should have been conducted.
In the end, committee members unanimously agreed to a Bloc Quebecois compromise to hold two meetings on the subject next week. The steering subcommittee, which is also to meet next week to set the committee's agenda for the coming months, could decide to schedule more meetings on Neo Lithium.
This report by The Canadian Press was first published Jan. 20, 2022.
Joan Bryden, The Canadian Press