B.C. proposes new law for sharing of intimate images online without permission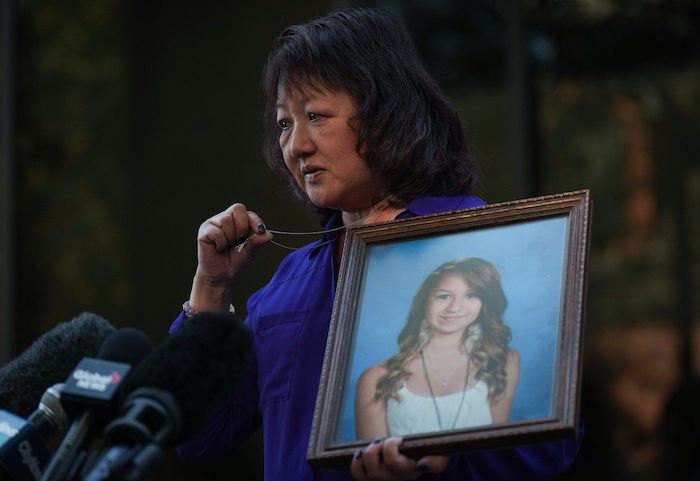 Carol Todd holds a photo of her late teenage daughter Amanda Todd and the necklace she was wearing in the school photo as she speaks outside B.C. Supreme Court in New Westminster, B.C., on Friday, October 14, 2022. B.C. Todd says she was emotional to hear that British Columbia is planning legal changes to protect those whose intimate photos are shared without their consent.THE CANADIAN PRESS/Darryl Dyck
Victoria (CP) – The mother of a teenage girl who became the face of online extortion in Canada says she was emotional to hear that British Columbia is planning legal changes to protect those whose intimate photos are shared without their consent.
Carol Todd said the legislation is an important step in protecting other youth from being victimized in the same way.
Attorney General Niki Sharma presented a bill in the legislature Monday that would create new legal rights and remedies to stop the distribution of intimate images and allow the injured person to seek compensation for their harms.
Todd said her daughter would have been proud of the progress.
Amanda Todd of Port Coquitlam, B.C., died by suicide at age 15 in 2012, shortly after she posted a video in which she used flash cards to describe being tormented by an anonymous harasser.
The video has been watched more than 15 million times.
"If she were alive to see and hear us, she would certainly be grinning down upon us and cheering loudly as change is made," Todd told a news conference. "This is the dream of helping kids that she always wanted."
Sharma told the news conference the legislation covers intimate images, near-nude photos, videos, livestreams and digitally altered images, including videos known as deep fakes.
It will require an offender to delete or destroy images or order social media platforms to remove them and scrub the images from search engines, she explained.
"The Intimate Images Protection Act sends a clear message: circulating or threatening to distribute intimate images is sexualized violence, and it can have devastating impacts," Sharma said.
She said the Civil Resolution Tribunal — an online tribunal that is part of B.C.'s justice system — is also working to expand its portal to provide information on people's rights, provide access to immediate self-help tools and to connect them to mental-health supports.
If the bill is approved, Sharma said the legislation will be retroactive or available to prosecutors back to the moment she tabled it on Monday.
"That means that people who distribute or threatened to distribute intimate images without consent are on notice that they will face new legal consequences, even if the wrongful conduct happens before the legislation comes into force."
The announcement comes as police across Canada issue cautions to parents and young people about the rise in online sextortion of youth, where criminals threaten to share sexual images unless they are given money.
Cybertip, a tip line operated by the Canadian Centre for Child Protection, has also reported receiving an average of 70 youth sextortion reports a week.
"We missed the mark when Amanda died," Carol Todd said in an interview ahead of the news conference. "We thought it was a one-off. No one knew what (sextortion) was, but here we are 10 years later, and it's an epidemic now with young kids."
Aydin Coban, a Dutch national, was convicted in B.C. Supreme Court last year of extortion, harassment and distribution of child pornography in the teen's case.
At the time, Carol Todd called for legal changes to protect youth, including that the word sextortion to be included in the Criminal Code.
"Never in my deepest thoughts did I think that we could do it in British Columbia, but today has shown that we have," she said.
— By Brieanna Charlebois in Vancouver
This report by The Canadian Press was first published March 6, 2023.
Conservatives call on feds to see killer Bernardo returned to maximum-security prison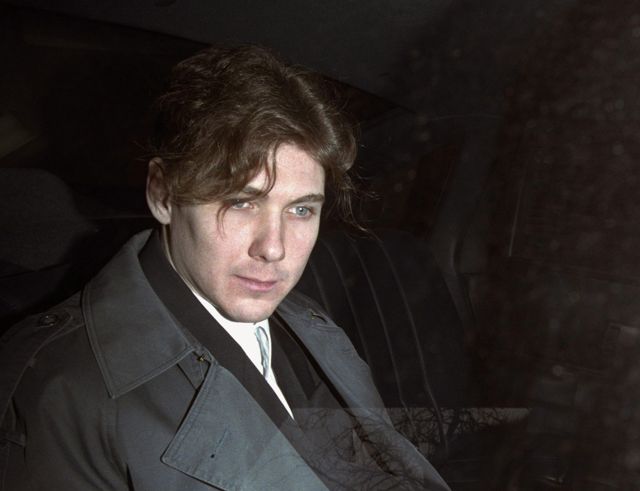 Paul Bernardo sits in the back of a police cruiser as he leaves a hearing in St. Catharines, Ont., April 5, 1994. The lawyer for the families of Paul Bernardo's victims says the killer and serial rapist should be returned to his maximum-security prison and transparency be provided around what led to his transfer to a medium-security facility in the first place.THE CANADIAN PRESS/Frank Gunn
By Stephanie Taylor in Ottawa
Conservative Leader Pierre Poilievre is calling on the federal government to use whatever tools it can to reverse a decision by the Correctional Service of Canada to transfer killer Paul Bernardo to a medium-security prison.
Bernardo's move to a facility in Quebec was made public last week after the correctional service notified the lawyer representing the families of 15-year-old Kristen French and 14-year-old Leslie Mahaffy, whom Bernardo kidnapped, tortured and murdered in the early 1990s.
The killer and serial rapist had been serving a life sentence at Millhaven Institution, a maximum-security penitentiary near Kingston, Ont.
Tim Danson, a lawyer for the victims' families, says it was unacceptable that the prison service refused to answer questions about the reason for the Bernardo's move or details of his custody conditions, citing his privacy rights.
Speaking to reporters in Ottawa, Poilievre called Bernardo a "monster" and said Prime Minister Justin Trudeau's government should work to see him returned to a maximum-security prison.
In a statement last Friday, Public Safety Minister Marco Mendicino said Bernardo's transfer was "shocking and incomprehensible," adding that he planned to raise the issue with Anne Kelly, commissioner of the federal correctional service.
Danson said he was pleased to the minister's statement
"Now we need action," he told The Canadian Press on Sunday. "This is one of Canada's most notorious, sadistic, psychopathic killers."
"We need the public in masses, in millions, to be writing to the minister, to the commissioner of corrections, and to the members of Parliament, to express their outrage over this — that secrecy will not work. We want transparency."
Mendicino said in his statement he expects the correctional service to "take a victim-centred and trauma-informed approach in these cases."
The service, for its part, issued a statement offering no details about Bernardo's transfer but saying safety is its "paramount consideration" in all such decisions.
"While we cannot comment on the specifics of an offender's case under the Privacy Act, we want to assure the public that this offender continues to be incarcerated in a secure institution, with appropriate security perimeters and controls in place," the statement read.
It went on to note that Bernardo, who has been designated a dangerous offender, is serving an "indeterminate sentence" with no end date.
Danson said the French and Mahaffy families were shocked to hear of Bernardo's transfer, with the move bringing up decades of anguish and grief.
"Then for me to have to tell them as their lawyer and their friend, 'I'm afraid I have no answers for you because of Bernardo's privacy rights,'" he said.
"Of course their response is the one that you would expect: What about the rights of Kristen? What about the rights of Leslie? What about their rights?"
"These are questions I can't answer other than just to agree with them and share in their despair."
Bernardo's dangerous offender status makes the move all the more puzzling, Danson added as he questioned why Bernardo should reap any benefits of being in a medium-security facility with more lenient living conditions.
"We need an open and transparent discussion and debate. These are major, major public institutions paid for by the taxpayers of Canada."
He suggested the correctional service's handling of the matter risks leading the public to feel suspicious of the entire system.
"They want to do everything behind closed doors and secretly."
This report by The Canadian Press was first published on June 5, 2023.
Vigilantes in Haiti strike back at gangsters with brutal street justice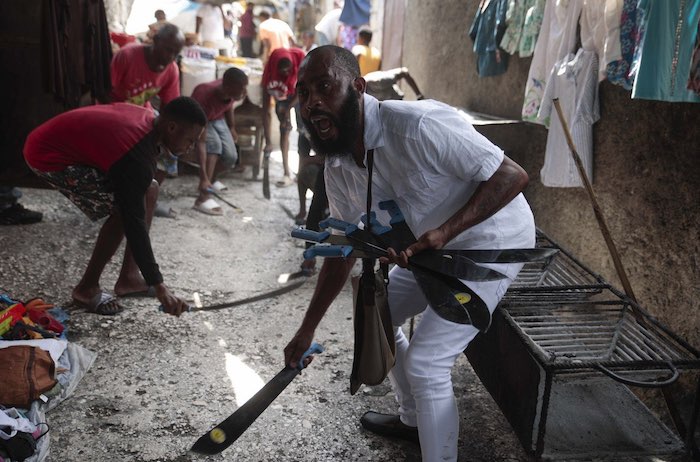 PORT-AU-PRINCE, Haiti (AP) — Old cars, used tires and barbed wire block off the biggest neighborhood in the capital of Haiti.
Gun-toting gangsters have been robbing, raping and murdering the innocent. Weak or corrupt police and officials have done little, or worse.
Now, the people are taking action and a wave of brutal vigilante justice is roiling Haiti, concentrated in this capital of about 1 million. The vigilantes close off neighborhoods. They stone and often chop the limbs of suspected gangsters, behead them and set them afire, sometimes while they are still alive.
Vigilantes have killed at least 164 people since the movement dubbed "bwa kale" began in April, according to the United Nations. The name means "peeled wood" in Haitian Creole and insinuates male dominance and power in street slang.
"If you're not from here, we're going to kill you," said Leo, a community leader who granted the AP access to the Turgeau neighborhood so that journalists could see how the neighborhood is responding to the gangs estimated to control 80% of Port-au-Prince. He did not provide his last name to protect his family.
Banners that read, "We are tired of the kidnapping," and "Watch out for one another," are strung throughout the city, and many neighborhoods have erected barricades like those closing off Turgeau.
On a recent afternoon, Leo and neighbors guarded one of the four makeshift barriers blocking roads into their hilly community of doctors, nurses, pastors, lawyers, street vendors and engineers.
People who wanted to enter had to show their IDs, open their bags, lift their shirts to reveal any gang tattoos, and, if they didn't live there, explain where they were going. At night, those seeking to enter Turgeau also had to provide a password, which the community changes every week.
Haitian police don't keep reliable crime statistics. But gang-related killings and kidnappings have dropped because of bwa kale, say human-rights activists, who also worry about the gruesome violence, and that innocent people could be killed.
Weslander Al Cégaire, a cook in the southern city of Les Cayes with a round face and easy smile, told the AP that his cousin was recently killed by bwa kale participants while riding with a motorcycle driver who was targeted.
"It's a good movement, but at the same time, the innocent are paying for the guilty," Cégaire said, adding that he left Port-au-Prince because he feared the gang violence and the bwa kale movement.
Turgeau is under siege by a gang known as "5 Seconds," because that's supposedly how long it takes them to kill someone. The bwa kale movement gained momentum in Turgeau after residents said the gang launched a pre-dawn attack in late April, killing nearly a dozen people.
"They burned down motorcycles. They burned down houses. They burned people. They raped. They looted," said Kenson Dimanche, a volunteer who controls one of the barricades.
Kettia, a resident who provided only her first name to protect her and her family, said that the gang snatched her husband, forced him to lead them out of the neighborhood, and used him as a shield as they exchanged fire with police. He survived.
Kettia, a short woman with a soft demeanor, tries to stay strong for her 4-year-old and 1-year-old, but they keep wondering if the gang will return.
"If the people doing bwa kale didn't stand up, it could've been worse," she said.
More than 1,630 people were killed, wounded or kidnapped in Haiti in the first three months of the year, a nearly 30% increase compared with the previous quarter, according to a report issued in May by the United Nations Integrated Office in Haiti. In April alone, more than 600 people were reported killed, compared with a total of 846 people slain in the first three months of the year.
In October, Prime Minister Ariel Henry requested the immediate deployment of an international military force to quell gang violence, but neither the U.N. Security Council, the U.S. or Canada has acted.
María Isabel Salvador, the U.N. special envoy for Haiti, told The Associated Press that, "Haiti truly can't take it anymore."
"The world has to respond," she said.
Haiti's National Police has only some 9,000 active officers for a country of more than 11 million people. Police have arrested more than 2,700 suspected criminals and seized dozens of weapons since launching an operation dubbed "Tornado" in January to target gangs, but they are often overwhelmed. Both police and civilians are fighting against an estimated seven major gang coalitions that operate in Haiti, along with some 200 affiliated groups.
In Turgeau, some vigilantes walked around with sharpened machetes, like 63-year-old Réné Mizak, who said he was a former Tonton Macoute — a private militia that terrorized Haiti during the dictatorships of Francois "Papa Doc" Duvalier and his son, Jean-Claude.
"I bought it to defend myself," said Mizak, a tall, slender man with a relaxed gait. "We are seeking justice our way."
Mizak, who also declined to provide his full identity due to fear of gangsters, said he recently cut off one man's arm and burned another's face with gasoline because no one in the community recognized them, adding that bwa kale participants have killed at least three people in Turgeau who were suspected gang members.
The bwa kale movement began when police detained 13 suspected gang members during a traffic stop in Port-au-Prince in late April.
"We took them from the police and finished them," recalled Israel Bien-Aimé, who said he helped stone and set fire to the group that day. "This is the only movement that can give us a solution to the gangs in Haiti."
Bien-Aimé, a tall man with an athletic build, vowed to continue.
"If we found a bandit right now, we would hold them, beat them and kill them," he said.
The killings have grown increasingly grisly.
Just a couple of blocks from Turgeau, a man on a motorcycle carried a decapitated head as the crowd yelled, "Bwa kale! Bwa kale!" The incident could be seen in a video that has been shared on social media and discussed among international observers.
Gangs have yet to respond to the bwa kale movement, although some neighborhoods are bracing for revenge. In a recent TikTok video, a man who said he's a member of the gang that controls the Grand Ravine area southeast of Port-au-Prince said he's waiting for the bwa kale movement to come to the area.
With a black balaclava covering his face and a belt of .50-caliber bullets draped around his neck, the man said his gang will give Haitians their own taste of bwa kale in due time.
"We are very relaxed," he said. "We're not going to rush. We're not going to fuss. We're just going to wait."
___
Associated Press reporter Evens Sanon contributed to this report.
Nertil Marcelin, leader of a community group, goes door-to-door to distribute machetes to residents in an initiative to resist gangs seeking to take control of their neighborhood, in the Delmas district of Port-au-Prince, Haiti, Saturday, May 13, 2023. (AP Photo/Odelyn Joseph)