B.C. parent launches class-action lawsuit against makers of Fortnite video game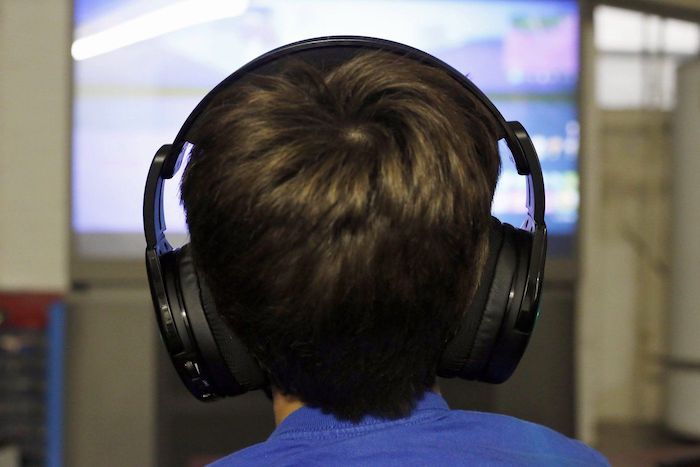 A child plays the video game "Fortnite" in Chicago, Saturday, Oct.6, 2018. A Vancouver parent has launched a proposed class-action lawsuit against the makers of Fortnite, saying the popular video game is designed to be "as addictive as possible" for children. THE CANADIAN PRESS/AP/Martha Irvine
By Chuck Chiang in Vancouver
A Vancouver parent has launched a proposed class-action lawsuit against the makers of Fortnite, saying the popular video game is designed to be "as addictive as possible" for children.
In the lawsuit filed in B.C. Supreme Court on Friday, the plaintiff identified only as A.B. says her son downloaded Fortnite in 2018 and "developed an adverse dependence on the game."
The statement of claim says the game incorporates a number of intentional design choices such as offering rewards for completing challenges and making frequent updates, which encourages players to return repeatedly.
Fortnite creator Epic Games says in a written response released Monday that it will fight the "inflammatory allegations."
The plaintiff statement says Epic Games enriches itself by making content and customization options purchasable via an in-game currency, which are purchased with real cash.
The class-action lawsuit would still need approval from a judge and none of the allegations have been proven in court.
The plaintiff is seeking damages alleging the game breaches the B.C. Business Practices and Consumer Protection Act, as well as for "unjust enrichment" and medical expenses for psychological or physical injuries, among other claims.
"Video games have been around for decades, but Fortnite is unique in that the science and psychology of addiction and cognitive development are at the core of the game's design," the court statement says.
It describes the game as "predatory and exploitative," given its popularity among minors.
Epic Games says the company has had "cabined accounts" in place since 2022, which allow for parents to track their children's playtime and limit purchases.
Other measures such as a daily spending limit for players under 13 and instant purchase cancellations are also in place, the company says.
"These claims do not reflect how Fortnite operates and ignore all the ways parents can control their child's experience through Epic's parental controls," the statement says.
In the lawsuit, A.B. says her son began playing Fortnite: Battle Royale on a Sony PlayStation 4 game console when he was nine years old. The boy, she said, soon began buying various Fortnite products while adding the game to different platforms at home, including on a mobile phone and a computer.
Since that time, A.B. says Epic Games "received payment for numerous charges" made to her credit card without her authorization. The statement says A.B.'s son spent "thousands of dollars" on in-game purchases.
"If Epic Games had warned A.B. that playing Fortnite could lead to psychological harm and financial expense, A.B. would not have allowed (her son) to download Fortnite," the statement says.
The lawsuit, if approved by the court, would cover three classes of plaintiffs: an "Addiction Class" of people who suffered after developing a dependence on Fortnite, a "Minor Purchaser Class" that includes gamers who made purchases in the game while under the age of majority, and an "Accidental Purchaser Class" of users who mistakenly bought items due to the game's design.
The lawsuit would cover all persons affected by Fortnite in Canada except Quebec, where Epic lost its attempt last month to appeal a court decision there to authorize a similar class-action suit.
In the Quebec class-action appeal attempt, Epic lawyers argued the claims that children were becoming addicted to Fortnite were "based purely on speculation," and no scientific consensus exists on cyberaddiction.
Epic Games also said in the Quebec case that it was not given a chance to argue against the claim that minors who bought Fortnite's in-game currency were taken advantage of.
Quebec Appeal Court Justice Guy Cournoyer said in his decision that Epic did not demonstrate any significant error on the lower court judge's decision to authorize the class-action lawsuit in that case.
Epic said in documents made public in a separate legal battle with Apple in the United States that Fortnite made more than US$9 billion combined in 2018 and 2019.
The legal claim in Quebec against the video game maker still needs to be argued in court.
This report by The Canadian Press was first published March 20, 2023.
Parliament votes down Conservative motion against safe supply of drugs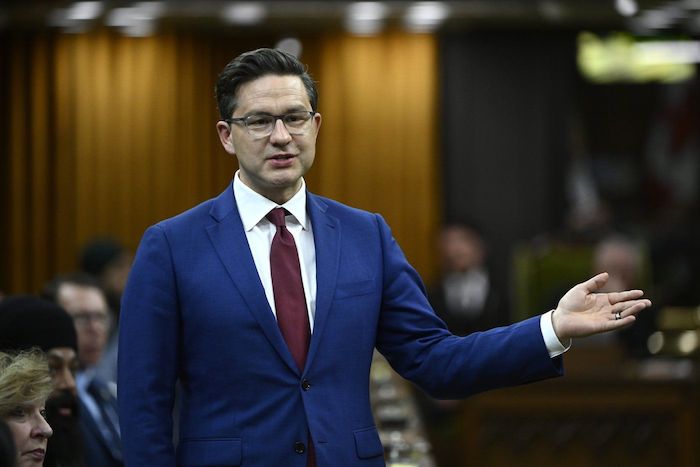 Conservative Leader Pierre Poilievre rises during Question Period in the House of Commons on Parliament Hill in Ottawa on Monday, May 29, 2023. An attempt from Poilievre for the House of Commons to condemn the Liberal government's approach to drug addiction has failed.THE CANADIAN PRESS/Justin Tang
By Stephanie Taylor in Ottawa
Conservative Leader Pierre Poilievre has failed to persuade the House of Commons to condemn the Liberal government's approach to fighting drug addiction.
In a vote of 209-113 Monday, MPs defeated a motion presented by Poilievre.
The motion took aim at the federal government's harm-reduction policies for drug users, but focused mainly on its decision to fund the supply of pharmaceutical alternatives as a replacement for certain illicit drugs to combat the opioid crisis.
Such programs are commonly referred to as "safe supply," or "safer supply," although the federal Conservatives and other critics dispute that term, given the risks associated with drug use.
The federal government has pointed to experts who say that a poisoned drug supply is one of the main reasons so many Canadians are dying from unintentional overdoses, and that providing access to other drugs as a substitute saves lives.
The Public Health Agency of Canada says nearly 35,000 people died from opioid toxicity between 2016 and 2022.
Since becoming Conservative leader last fall, Poilievre has pointed to the alarming number of people who have died from opioid overdoses as evidence of a failed approach. He has criticized the option of offering an alternative supply of drugs, which his motion referred to as the "tax-funded drug supply," as fuelling addiction rather than recovery.
He argues such policies have led to wider access to dangerous drugs by users who, instead of taking them, turn around and sell them. Poilievre has proposed diverting money used to fund safe supply towards treatment.
His motion specifically called on the House to "immediately reverse its deadly policies and redirect all funds from taxpayer-funded, hard drug programs to addiction, treatment and recovery programs."
Mental Health and Addictions Minister Carolyn Bennett has told MPs that Poilievre's criticism of a replacement drug supply is not based on evidence, with her office adding in a statement Monday that Health Canada is not aware of substitute drugs "flooding the streets."
"For Pierre Poilievre to state untrue information about safer supply, and try to create barriers to accessing harm reduction services that are saving lives amid this ongoing crisis is incredibly irresponsible and dehumanizing to people who use drugs," a spokeswoman said in a statement from Bennett's office.
It said the government takes reports of diversion "very seriously." Bennett's office also pointed out that the British Columbia coroners service, which studied deaths from drug toxicity from 2012 to 2022 in the province, concluded there was "no indication that prescribed safe supply is contributing to illicit drug deaths."
"The Conservatives want to take us back to the failed ideology of Harper-era drug policy, and the war on drugs that was proven to be ineffective, costly, deadly, and deeply stigmatizing," said Bennett's office.
A coalition of groups that advocate on behalf of drug users in B.C. and those whose loved ones have died from opioid-related overdoses released a statement Monday, voicing concern about hydromorphone, one of the drug alternatives Poilievre has singled out as problematic.
The joint statement from organizations, including the Vancouver Area Network of Drug Users, says such prescriptions "help many of us reduce or eliminate our reliance on street drugs."
"If we get cut off, our risks will go up."
This report by The Canadian Press was first published May 29, 2023.
After yearslong delay, DEA revokes license of wholesale drug distributor over opioid crisis failures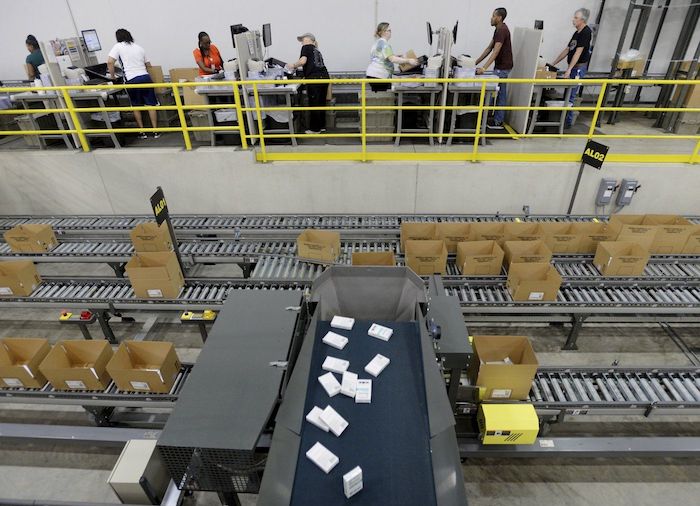 By Joshua Goodman And Jim Mustian
The U.S. Drug Enforcement Administration stripped one of the nation's largest drug distributors of its license to sell highly addictive painkillers Friday after determining it failed to flag thousands of suspicious orders at the height of the opioid crisis.
The action against Morris & Dickson Co. that threatens to put it out of business came two days after an Associated Press investigation found the DEA allowed the company to keep shipping drugs for nearly four years after a judge recommended the harshest penalty for its "cavalier disregard" of rules aimed at preventing opioid abuse.
The DEA acknowledged that the time it took to issue its final decision was "longer than typical for the agency" but blamed Morris & Dickson in part for holding up the process by seeking delays due to the COVID-19 pandemic and its lengthy pursuit of a settlement that the agency said it had considered. The order becomes effective in 90 days, allowing more time to negotiate a settlement.
DEA Administrator Anne Milgram said in the 68-page order that Morris & Dickson failed to accept full responsibility for its past actions, which included shipping 12,000 unusually large orders of opioids to pharmacies and hospitals between 2014 and 2018. During this time, the company filed just three suspicious order reports with the DEA.
Milgram specifically cited testimony of then-president Paul Dickson Sr. in 2019 that the company's compliance program was "dang good" and he didn't think a "single person has gotten hurt by (their) drugs."
"Those statements from the president of a family-owned and operated company so strongly miss the point of the requirements of a DEA registrant," she wrote. "Its acceptance of responsibility did not prove that it or its principals understand the full extent of their wrongdoing … and the potential harm it caused."
Shreveport, Louisiana-based Morris & Dickson traces its roots to 1840, when its namesake founder arrived from Wales and placed an ad in a local newspaper selling medicines. It has since become the nation's fourth-largest wholesale drug distributor, with $4 billion a year in revenue and nearly 600 employees serving pharmacies and hospitals in 29 states.
In a statement, the company said it has invested millions of dollars over the past few years to revamp its compliance systems and appeared to hold out hope for a settlement.
"Morris & Dickson is grateful to the DEA administrator for delaying the effective date of the order to allow time to settle these old issues," it said. "We remain confident we can achieve an outcome that safeguards the supply chain for all of our healthcare partners and the communities they serve."
Morris & Dickson's much larger competitors, a trio of pharmaceutical distributors known as the Big Three, have already agreed to pay the federal government more than $1 billion in fines and penalties to settle similar violations. Cardinal Health, AmerisourceBergen and McKesson also agreed to pay $21 billion over 18 years to resolve claims as part of a nationwide settlement.
While Morris & Dickson wasn't the only drug distributor who the DEA accused of fueling the opioid crisis, it was unique in its willingness to challenge those accusations in the DEA's administrative court.
In a scathing recommendation in 2019, Administrative Law Judge Charles W. Dorman said Morris & Dickson's argument that it has changed its ways was too little, too late.
Anything less than the most severe punishment, the judge said, "would communicate to DEA registrants that despite their transgressions, no matter how egregious, they will get a mere slap on the wrist and a second chance so long as they acknowledge their sins and vow to sin no more."
But as the ensuing years passed, neither the Biden-nominated Milgram nor her two predecessors took any enforcement action. Past DEA officials told the AP such decisions usually take no more than two years.
As the pills kept flowing, Morris & Dickson attempted to stave off punishment, appealing directly to Milgram to order a reopening of the proceedings, arguing it would introduce new evidence showing it had implemented an "ideal" compliance program with the help of a consultant who is now second-in-command at the DEA, Louis Milione. The DEA said that Milione has recused himself from all agency business related to Morris & Dickson.
Milione retired from the DEA in 2017 after a 21-year career that included two years leading the division that controls the sale of highly addictive narcotics. Like dozens of colleagues in the DEA's powerful-but-little-known Office of Diversion Control, he went to work as a consultant for some of the same companies he had been tasked with regulating.
Milione was hired by Morris & Dickson in 2018 as part of a $3 million contract and later testified that the company "spared no expense" to overhaul its compliance systems, cancel suspicious orders and send daily emails to the DEA spelling out its actions.
A footnote of the DEA's order Friday said that since Milione returned to the DEA as principal deputy administrator in 2021, he has not had any contact with Milgram or other agency staff about the Morris & Dickson case due to his prior involvement with the company.
___
Goodman reported from Miami, Mustian from New York. Contact AP's global investigative team at [email protected].