Avalanche down Oilers 8-6 in a wild Game 1 to open Western Conference final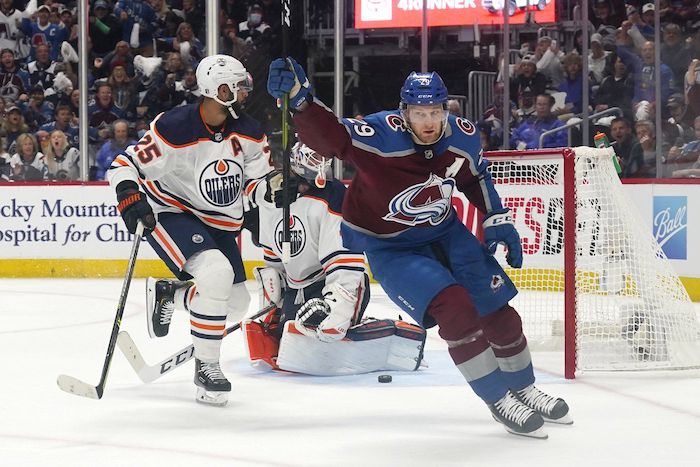 By Joshua Clipperton in Denver
The Oilers have seen this script play out before.
This opponent, however, is a different beast.
And if Edmonton doesn't solve its defensive issues, the Western Conference final could be over quick.
Cale Makar had a goal and two assists Tuesday as the high-flying Colorado Avalanche dominated early and hung on late to defeat the Oilers 8-6 in a wild Game 1.
Much like the opener of Edmonton's second-round series — an equally frantic 9-6 loss to the Calgary Flames before the team rebounded with four straight victories to advance — there were mistakes left and right for a group that's prided itself on structure since interim head coach Jay Woodcroft took over in February.
Sure, the Oilers battled back from a 7-3 deficit to get within a goal in the final minute, but the type of effort on display at Ball Arena won't be nearly good enough for a franchise looking to book its first trip to the Stanley Cup Final since 2006.
"Similar to the last series, ultimately," said Edmonton captain Connor McDavid, who finished with a goal and two assists to give him an NHL-best 29 points in the playoffs. "We just weren't good enough from the start."
J.T. Compher scored twice for Colorado, while Nathan MacKinnon and Mikko Rantanen added an goal and an assist each. Andrew Cogliano and Gabriel Landeskog, into an empty net, also connected, while Devon Toews added two assists.
"It's tough when everything starts to open up like that," Makar said. "We're getting scoring chances (and) capitalizing.
"They're doing the same."
Darcy Kuemper made 13 saves before suffering an upper-body injury in the second period. Avalanche backup Pavel Francouz finished with 18 stops.
"I liked our checking game for the most part," said Colorado head coach Jared Bednar, who didn't have an update on Kuemper. "It felt like when we made mistakes they capitalized on them."
Evander Kane and Ryan Nugent-Hopkins, with a goal and an assist each, Zach Hyman, Ryan McLeod and Derek Ryan also scored for Edmonton. Leon Draisaitl chipped in with two assists.
"Score six goals in a game you should win the game," Woodcroft said. "We know we have to be better. And we will be."
"A lot of stuff that we can clean up," McDavid added. "A lot of stuff that was self-inflicted."
Mike Smith allowed six goals on 25 shots until getting the hook in the second. Mikko Koskinen made 20 stops the rest of the way.
"Obviously, we don't like Game 1s," said Smith, whose team also fell behind 1-0 to the Los Angeles Kings in the opening round. "We're a resilient group that doesn't just roll over and die. That's an encouraging part."
"We stuck with it," Oilers defenceman Darnell Nurse said. "But you give up seven — empty netter, eight — it's tough to win."
MacKinnon and McDavid grabbed the headlines coming into this talent-loaded series.
The opener of the teams' third playoff meeting all-time, and first since 1998, didn't disappoint with a lightning-quick pace, jaw-dropping sequences and a controversial video review.
Edmonton — no slouches when it comes to skating — just needs to find a way to slow down the Avalanche's ferocious attack.
That might be easier said that done.
"We obviously have to change something," Draisaitl said. "We can't be giving up that many goals.
"That's the second time this has happened. We've got to make sure we're ready to go right off the bat."
The Oilers are in the third round for the first time since 2006 — when they lost to the Carolina Hurricanes in Game 7 of the Stanley Cup Final — after defeating Calgary in the first post-season Battle of Alberta in 31 years.
The Avalanche, meanwhile, finally got over a significant hump by making it to the NHL's final four following three straight second-round exits thanks to their defeat of the St. Louis Blues.
After falling behind by a combined 5-0 score line in the first periods of their previous Game 1s losses, the Oilers opened the scoring just over five minutes into Tuesday when Kane scored his 13th goal in 13 playoff games.
The lead, however, lasted all of 36 seconds as Compher, who scored twice in Colorado's Game 6 victory to clinch the series against St. Louis, finished off a 2-on-1 for his third.
The conference's top seed continued to flex its muscles with shift after dominant shift as the period wore on before MacKinnon beat Smith on a breakaway for his ninth at 15:10.
The Oilers woke up late in the first, with Hyman banging home his ninth, and seventh in his last six games, with 22.8 seconds left in the period.
It looked like Edmonton would escape tied, but the visitors switched off when play resumed. Makar jumped on a turnover in the neutral zone and wired his fourth with 13.8 seconds remaining.
Woodcroft challenged for offside, which appeared to be the case at first glance, but the goal stood after video review.
The NHL's situation room determined Colorado winger Valeri Nichushkin "legally tagged up at the blue line before (Makar) entered the offensive zone with the puck on his stick."
The league added in its explanation that "Makar made contact with the puck in the offensive zone after Nichushkin was in an onside position."
"We felt the player had control of the puck, didn't know there was an offside player," Woodcroft said. "We thought it was the right move to challenge that call, didn't go our way. That stuff happens."
The beneficiary of a hotly debated video review in its series-clincher against Calgary, Edmonton was assessed a penalty for delay of game for the failed challenge, and Kadri made the Oilers pay 32 seconds into the second period with his sixth.
"We didn't like what we gave up," Woodcroft said. "Those are all things within our control.
"Bottom line is, to a man, we can all be better."
Kuemper gave Edmonton life when he spilled a shot for McCleod to bang in his second at 2:59 to make it 4-3.
The Avalanche goaltender redeemed himself moments later on a Zack Kassian breakaway to set the stage for Rantanen to snipe his second at 4:38.
Colorado then went up 6-3 at 6:20 when Compher tipped home his second of the night.
That was it for Smith, while Kuemper was forced from the game with his upper-body injury shortly thereafter.
"On the bench halfway through the game, it's not a good sign," Smith said. "I've been in this position before.
"You park it."
Cogliano scored his second of the playoffs at 16:20 to push the lead to 7-3 — if proceedings weren't already giving Oilers fans flashbacks to that 9-6 loss to Calgary, they were now — before McDavid got one back with his eighth just 31 seconds later off a Draisaitl feed.
Ryan got Edmonton to within two with his first at 3:28 of the third to make it 7-5 after Koskinen made a nice stop at the other end with Rantanen in home free.
"When you're giving up touchdowns in the last two series in Game 1 … that's not a good sign," Smith said. "But I think it shows a lot of our team that when we're down, we're not out of the fight, and continue to battle right to the end.
"But lots to clean up."
The Oilers got a power play with under nine minutes left in regulation, and Nugent-Hopkins scored his fifth with 7:24 remaining.
Edmonton continued a desperate late push with Koskinen on the bench for an extra attacker, but couldn't find the equalizer before Landeskog scored his seventh into the empty net to cap a wild night that included 14 goals, four netminders, and plenty of drama.
They'll do it again Thursday in Game 2.
This report by The Canadian Press was first published May 31, 2022.
'Short-term pain': Group of Alberta lawyers escalate job action over legal aid cases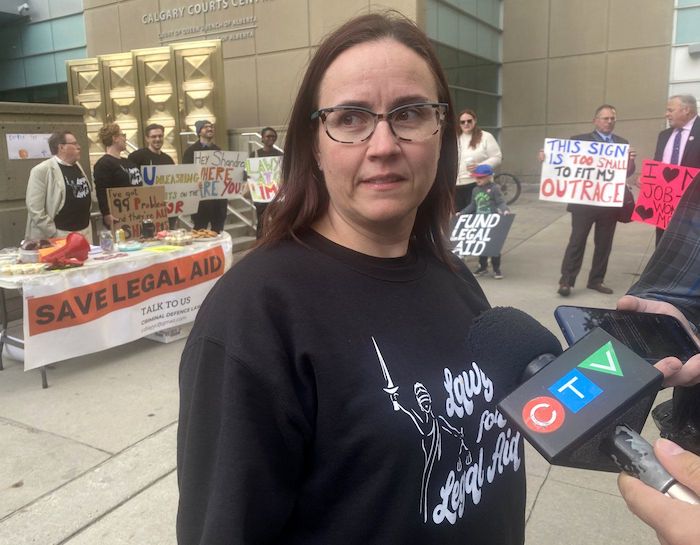 By Bill Graveland in Calgary
Alberta criminal defence lawyers are taking another step in their dispute with the provincial government over the amount of compensation paid by Legal Aid Alberta.
Organizations representing lawyers in Edmonton, Calgary, Red Deer and southern Alberta began job action Aug. 8 by refusing to accept certain bail and duty counsel files from legal aid.
The lawyers also began refusing certificates for new cases for the most serious criminal charges, including sexual offences, firearms-related crimes and homicides.
Beginning Monday, they say all services will be withdrawn.
"We're going to stop taking all certificates. That will include some our prior job actions still allowed us to take certificates for people who are already existing clients and there will be a very, very limited set of circumstances now where our members will do that," said Kelsey Sitar, vice-president of the Criminal Defence Lawyers Association in Calgary.
"The default will be: 'We are just not taking any new work from legal aid until the problem is fixed.'"
Sitar made her comments at a rally in front of the Calgary Courts Centre on Friday that drew about 50 criminal defence lawyers.
A table with a sign reading "Save Legal Aid" offered bake goods for sale. Lawyers carried signs reading "Access 2 Justice Must be Equal." Another read: "This sign is too small to fit my outrage."
"This is drastic. I mean, what we were doing up until now is something I know has happened in Ontario before, it did not last long, frankly," Sitar said.
"I can tell you that none of us want to be out here. We all want to be in there doing our jobs."
Justice Minister Tyler Shandro has said nothing is going to be done until a review of the Legal Aid Alberta administrative system is complete, which is scheduled for next month.
He said any budget changes for legal aid wouldn't happen until next year.
Sitar said the ministry chose to undertake "an incomplete and, frankly, useless review" at a time when the governing United Conservative Party is about to go through a leadership change.
"So we have to act now and they need to respond now," she said.
Sitar said she understands the people being affected the most by the job action will be people with lower incomes who need the services to afford legal representation.
"It's short-term pain right now," she said. "It's really unfortunate, but I can tell you that most of the people I've talked to on the street who are finding themselves caught up in this understand and are grateful that we're doing it."
Alberta Opposition NDP Leader Rachel Notley said the problem has been growing over the last three years. She said when her party was in power, it committed to additional funding for Legal Aid, but the UCP government backtracked.
"We simply cannot be asking the Legal Aid bar to be doing what we are asking them to do at the rate that we are asking them to do it," she told reporters.
"We have the lowest funding for Legal Aid in the country. What that means is that we don't have equal access to justice. It undermines the integrity of our justice system and, overall, it undermines our ability to build a sense of community safety, community security and an overall respect for the rule of law — all of which are important to community health and economic growth.
"It sounds like a niche issue, but it's not. It actually has knock-off effects to very, very important issues that affect all of us. So, the government needs to come to the table and negotiate decently with these lawyers."
This report by The Canadian Press was first published Sept. 23, 2022.
— With files from Colette Derworiz in Calgary.
'Kind of like carnies': International balloon festival returns to High River, Alta.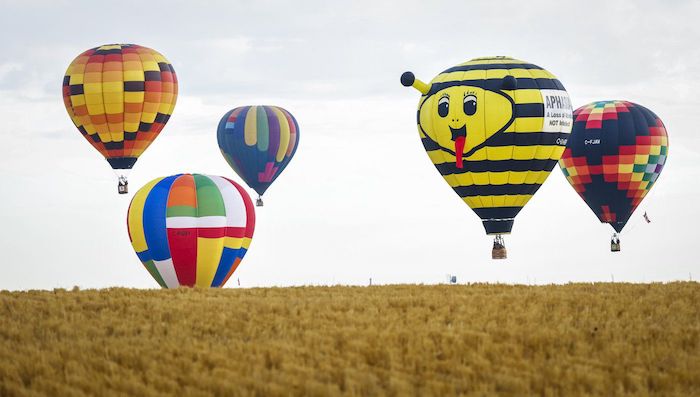 By Bill Graveland in High River, Alberta
The windswept prairie east of the Rocky Mountains seems an unlikely spot for a hot-air balloon festival, but the town of High River, Alta., is celebrating the event's 10th year.
More than 20 brightly coloured balloons — including a pink elephant, a black and yellow bee and the purple and yellow Eye of Ra, named after the Egyptian sun god — took advantage of a lull in the prevailing wind this week to get some up-in-the-air time to mark the opening of the Heritage Inn International Balloon Festival.
"We get about 50 per cent of our flights off. Weather impacts us everywhere," said event director Jamie Kinghorn, who is also a town councillor.
"This is our 10th. We started in 2013 partly because of the flood that happened. I'd been to a number of balloon events and thought this might lift the spirits of the folks in town."
The town of 12,000 just south of Calgary gained an international profile in 2013 when flooding in parts of southern Alberta caused billions of dollars in damage.
High River was one of the hardest-hit communities. Entire neighbourhoods were under water for weeks.
"I called in a bunch of friends from the balloon community and they knew what happened, so 20 of them came into High River and we put on a balloon festival that was actually amazing for the community," Kinghorn said.
"That was sort of the first major thing toward recovery after the flood and we've been doing it every year since at the end of September."
Kinghorn said the festival is a boon to local tourism and there's not a hotel room to be had in town.
He had his first hot air balloon over the city of Calgary in 1988. A year later he was a balloon pilot.
There are 23 balloons participating this year, including some from the United States, Belgium and the United Kingdom.
Kinghorn said it's a pretty small community.
"We tend to meet at various events. We tend to travel. We're kind of like carnies to some extent," he said with a laugh.
"We travel around to different cities to different balloon events."
Alan Davidson, who has been involved in the sport since 1977, is one of the volunteers.
He said those who get involved tend to stick with it.
"The amazing thing is that there are still seven or eight of the people I was ballooning with in the '70s and early '80s who are still here at this event," said Davidson. "They've been working with balloons for over 40 years."
Kinghorn, who is the owner and pilot of the Eye of Ra, was the first balloon in the air Thursday morning after a Wednesday evening flight was cancelled due to the wind.
"My God am I glad we got this off," he said as the flight came to an end.
The festival runs through Sunday.
This report by The Canadian Press was first published Sept. 23, 2022.