Author defends book about Humboldt Broncos after families call for boycott
SASKATOON — A Saskatchewan author says he had good intentions when he wrote a book about the Humboldt Broncos and the team's deadly bus crash.
"Humble Beginnings of the Humboldt Broncos and the 2017-2018 Team," written by Barry Heath, was published last month.
Heath, a former veterinarian and community coroner, says he's sorry some of the victims' families believe they had to give him permission to celebrate their loved ones.
Sixteen people were killed and thirteen were injured in April when the junior hockey team's bus and a semi truck collided at a rural intersection near Tisdale, Sask.
Several family members say they didn't want the book published and have asked people not to buy it.
Michelle Straschnitzki, whose son Ryan was paralyzed in the crash, says most of the families weren't ready and didn't want to participate in the book.
The team's president at the time also asked Heath not to write it, she said.
"It seems very opportunistic and exploitive, to be honest," said Straschnitzki.
"It's not that we want to hurt this man's way of making a living but … for him to include this very, very raw tragedy without our consent — the timing is really suspect."
Heath said he relied on media interviews with family members and others to "capture and retell the beautiful memories of lives lost and changed." Two parents had initially been willing to participate in the book, he said.
He believes some of the families are understandably still grieving and need someone to be angry at.
"Without knowing what is in the book — a tribute to the Broncos of last year, the response, the worldwide attention and giving, and the team history from its inception — I am the current focus of blame and anger.
"I am sorry they feel that way and understand one's anger needs to have a focus."
Indigo's website lists the book as available in some of its Saskatchewan stores as well as online.
Heath has written three other books that include his work as a coroner and veterinarian.
— By Chris Purdy in Saskatoon. With files from Bill Graveland
The Canadian Press
Protesters march for freedom as crowds celebrate Canada Day in Ottawa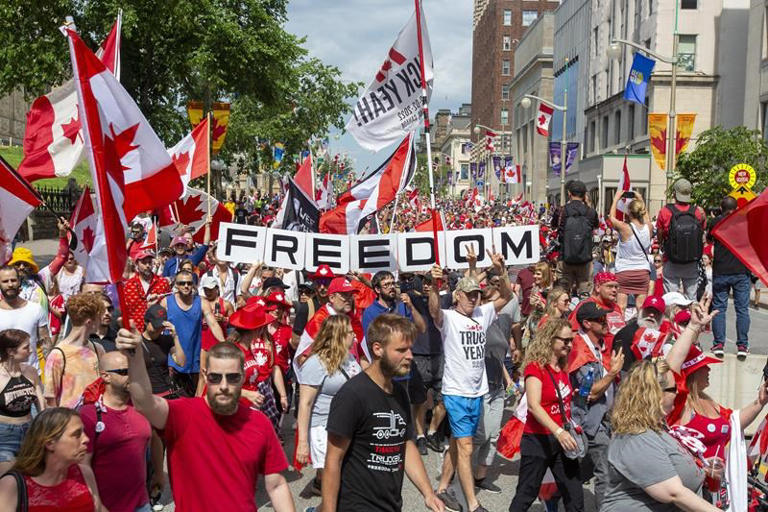 OTTAWA — Plans for a full day of protest events alongside Canada Day celebrations in Ottawa caused only minimal disruptions Friday as a few hundred people marched through downtown to voice their opposition to the federal government and public health restrictions.
The city was once again crowded with people draped in the Maple Leaf, but this time the vast majority of them were joining in the official celebrations.
There was a celebratory, if low-key mood in the capital, where the main holiday events were moved away from Parliament Hill to nearby LeBreton Flats Park, and Place des Festivals Zibi across the Ottawa River in Gatineau, Que.
Large numbers of police were present throughout Ottawa's downtown core, and people hoping to enter the Hill were screened with metal detectors and bag searches.
In the late afternoon, police directed traffic and escorted hundreds of marchers who chanted, danced and called for the resignation of Prime Minister Justin Trudeau. They gathered at the National War Memorial east of Parliament Hill, where they sang O Canada.
Along the way they were met by both supporters and some counter-protesters weary of the now-familiar shouts of "Freedom" after February's convoy blockades and April's Rolling Thunder event.
Organizers re-routed the march after learning the Supreme Court was fenced off as part of the extra security measures. When they arrived back at Parliament Hill after the march, supporters were frustrated to hear they would need to submit to a search and security check to enter the grounds for planned speeches and a scheduled dance party.
With some refusing to enter the security lineup, the crowd of marchers largely dispersed.
The atmosphere by evening was charged and at times noisy, but remained peaceful.
Lisa Owens came from Port Hope, Ont., to join the group.
"I am here because I believe that the government has turned to evil," she said. "This is darkness vs. light."
Jason Kowalyshyn, a biological engineer from Hamilton, said he came to celebrate Canada Day and to "advocate for collective rights and freedoms."
"What bothers me the most are child suicides during the lockdown, because of the lockdown. They got depressed and they were taken away from their friends," he said.
Officials had warned there would be zero tolerance for "unusual noise," blockading roads and sidewalks or setting off fireworks this weekend. But attempts to enforce one bylaw led to a tense situation in front of the gates to Parliament around noon.
The brief clash centered around two women with a group called Stand For Thee, which had been handing out copies of the Bill of Rights and calling for Trudeau's arrest. The Bill of Rights was superseded in 1982 by the Charter of Rights and Freedoms, which governs the application of laws at both the federal and provincial level.
The women were selling merchandise from a table on the sidewalk when bylaw officers told them to take the table down, citing a the city's use and care of roads bylaw.
That order prompted a crowd to start shouting and chanting. Bylaw and police officers retreated as the crowd pressed in, chanting, "Rule of law!" But the group eventually removed the table.
One woman, who refused to give her name, told the crowd: "Everything they're doing is a violation of our rights."
"Do your job, go into the Hill and take down the people that have created tyranny," she said.
No one took her up on that suggestion and protesters dispersed not long afterward. In all, the disruption lasted about 20 minutes.
Meanwhile, the vast majority of people in the downtown were there to enjoy warm weather under skies that turned sunny late afternoon. Families strolled through the closed-off streets eating ice cream, snapping photos and taking in street performances.
Longtime Ottawa residents Trudy and Michael Hallen said Friday's celebrations were much smaller than years past. Still, Trudy Hallen said it was nice to see children out wearing red and white, and what she called a nice cross-section of Canada celebrating.
As for the protesters, "I hope they get the message that they're a really small part of society, they don't speak for everybody else," she said.
This report by The Canadian Press was first published July 1, 2022.
Sarah Ritchie and Marie Woolf, The Canadian Press
Police make arrests after anti-vaccine mandate soldier leads march into Ottawa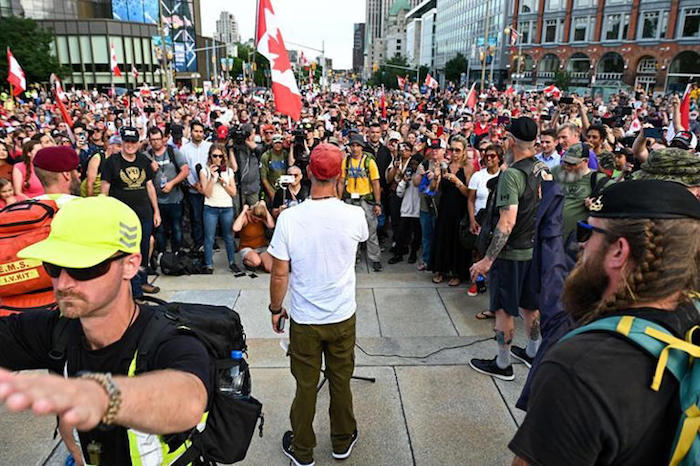 OTTAWA — Police arrested four people in downtown Ottawa Thursday after a Canadian soldier charged for speaking out against COVID-19 vaccine requirements led a procession into the city and delivered a speech on "freedom" to a rapt crowd of about 1,200 supporters.
James Topp was charged in February with two counts of conduct to the prejudice of good order and discipline for comments made while wearing his uniform and has since been leading a four-month march to the capital from Vancouver.
His march has been supported by many of the same figures involved in the "Freedom Convoy" that snarled downtown Ottawa for weeks until police used force to end what they and the government described as an illegal occupation.
Cheers and chants of "Freedom!" erupted as he arrived at the National War Memorial on Thursday evening. He knelt, weeping, with his hand on the Tomb of the Unknown Soldier before he spoke to the crowd, thanking them for their support and urging them not to give up.
"I have met thousands of people in my journey from Vancouver to Ottawa and a lot of them have lost hope. They feel lost. They're angry. They've lost faith in the system. We've already started something," he said.
"Heed the call. Assemble. Organize yourselves. Plan. What's the answer? Non-violence. Peace."
But not long after Topp's remarks, police said they were responding to a "situation" in the area and arrested four people over incidents including assaulting officers. Police later said the arrests happened after an interaction with officers "became confrontational and one officer was choked."
In the immediate aftermath of the arrests, dozens of officers surrounded the war memorial, holding back the crowd. One officer poured water into his eyes as a woman nearby yelled about police using pepper spray. Others heckled police about their "taxpayer-funded" salaries and pensions.
At the same time, however, most members of the crowd continued to mill about happily and peacefully and line up for photographs with Topp. Tourists and families were also wandering by the scene, appearing puzzled as they snapped pictures of the war memorial.
As the sun began to set, fireworks could be heard in downtown Ottawa. Two young women set off firecrackers while officers looked on.
Topp's arrival in the capital and promises of a new round of protests starting Canada Day have set residents on edge. Ottawa Mayor Jim Watson and the city's interim police chief, Steve Bell, have promised to crack down on any illegal activity.
Earlier Thursday, Conservative leadership candidate Pierre Poilievre joined the final leg of Topp's march. Poilievre walked alongside Topp west of downtown Ottawa, where hundreds of people had gathered to see the army reservist.
Video of the meeting shows Poilievre expressing his opposition to vaccine mandates and citing to Topp a famous quote by then-prime minister John Diefenbaker about being a "free Canadian" when he signed the Canadian Bill of Rights in 1960.
When Topp said he wanted reinstatement and reparations for anyone who lost their job because of vaccine mandates, Poilievre replied: "Everybody who lost their job simply because of a COVID mandate should be restored to their job, no question about it."
The two also spoke about the divisions within Canada, with Poilievre saying: "People are desperate for hope … I think it's time to put this country back together, and heal the wounds and reunite our country."
The two were then followed by about 200 supporters, many of them carrying Canadian flags and some sporting camouflaged backpacks and other gear, as they walked down the sidewalk of a major street for about half an hour before Poilievre left.
A few hours later, hundreds of people gathered in a park south of downtown Ottawa for the final stretch to the National War Memorial. A long line of marchers, including at least one wearing a black armoured vest, snaked along the length of the park.
At one point the crowd was treated to a speech by a man wearing a military beret and civilian clothes who denounced defence chief Gen. Wayne Eyre's order that all Canadian Armed Forces members be fully vaccinated. Members of the crowd booed loudly.
Poilievre's appearance with Topp comes as the presumed Conservative leadership front-runner has been accused of unabashedly cozying up to anti-vaccine protesters and other groups associated with the "Freedom Convoy."
Tamara Lich, a leader of the convoy that gridlocked Ottawa in February, briefly appeared in court on Thursday after allegedly breaching one of her bail conditions. Lich, who faces multiple charges including mischief and obstructing police, will remain in custody until her bail hearing on Tuesday.
Many marchers declined to be interviewed, saying they did not trust that their words would not be twisted.
But Ottawa resident Richard Gervais, who was among the hundreds of people marching along the Rideau Canal to downtown Ottawa, called Topp an "inspiration to us all."
"Here he is, the most peaceful, the nicest, the most decent human being you could possibly ever want to meet, and he's walking across Canada to make a point," he added.
Gervais said his adult son was one of the hundreds of federal public servants forced to take leave without pay because he refused to get vaccinated.
While the requirement has since been suspended, "we never know when they're going to come back," said Gervais. "And we know that it can come back in the flimsiest of excuses."
He went on to accuse the World Economic Forum of trying to take away Canada's sovereignty while questioning the severity of COVID-19 and the efficacy of vaccines. All of these claims have figured prominently in the discourse surrounding the "Freedom Convoy."
Topp has said he has no plans to lead an occupation of the capital, and invited Ottawa police to work with him to facilitate his march through the city.
However, an organizer for a group calling itself Veterans 4 Freedom said in a recent video posted to YouTube that it plans to set up a semi-permanent camp east of Ottawa called "Camp Eagle" and hold events in the city all summer.
While police have since managed to prevent similar protests from taking over the city, stopping planned demonstrations from getting out of hand during Canada Day is likely to be complicated by the presence of thousands of people celebrating the holiday.
The charges against Topp relate to two videos posted online in the winter in which the army reservist appears in uniform criticizing vaccine requirements for military personnel and other federal employees.
Canadian Armed Forces members are severely restricted in the comments they can make while in uniform, particularly when it comes to criticizing government policies, in large part to protect the military from any perception of politicization.
His lawyer has argued such restrictions should not apply to policies that affect Armed Forces members personally.
Prime Minister Justin Trudeau on Thursday said police are taking their responsibility to keep people safe during Canada Day celebrations "very seriously," while Ontario Premier Doug Ford called on those intending to protest in Ottawa to respect the law.
More than two dozen Conservative MPs hosted Topp and other leading figures in the "Freedom Convoy" on Parliament Hill last week, posing for pictures, promising their support and listening to a lecture on the purported dangers of COVID-19 vaccines.
Health Canada says only vaccines that meet strict safety, efficacy and quality standards are approved for use in the country, and the benefits of COVID-19 vaccines continue to outweigh the risks of the disease. About 85 per cent of Canadians have received at least one dose.
Topp told the MPs that he was marching in part to get all vaccine mandates repealed, as well as to demand the reinstatement of anyone who lost their job because of such a requirement and compensation for wages lost.
At the same time, he and the others raised the spectre of civil war in describing the state of the country.
This report by The Canadian Press was first published June 30, 2022.
Lee Berthiaume and Sarah Ritchie, The Canadian Press