Austin hopes F-16 fight jet training for Ukrainian pilots will begin in coming weeks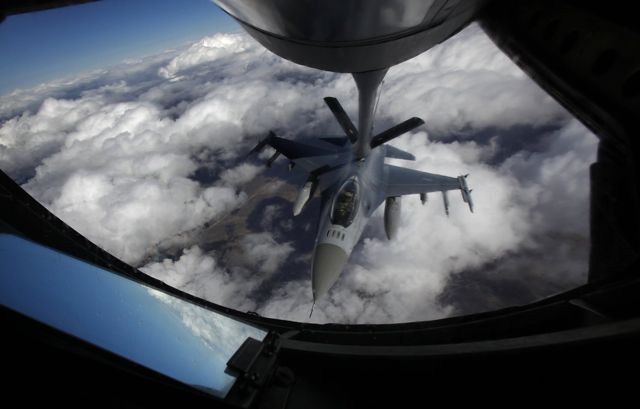 WASHINGTON (AP) — Defense Secretary Lloyd Austin said Thursday he hopes that training for Ukrainian pilots on American-made F-16 fighter jets will begin in the coming weeks, bolstering Ukraine in the long run but not necessarily as part of an anticipated spring counteroffensive against Russia.
Austin spoke as defense leaders from around the world assembled for a virtual meeting to discuss the ongoing military support for Ukraine. They were expected talk about which countries will provide F-16s, and how and where the pilot training will be done.
The officials will also get an update on the war effort from Ukrainian leaders, including preparation for that anticipated counteroffensive and how the allies, who have faced their own stockpile pressures, can continue to support Kyiv's fight against Russia.
"We're going to have to dig deeper, and we're going to have to continue to look for creative ways to boost our industrial capability," Austin said before the military leaders began their closed session. "The stakes are high. But the cause is just and our will is strong."
European countries have said they are talking about which countries may have some of the F-16s available. The United States had long balked at providing the advanced aircraft to Ukraine, and only last weekend did President Joe Biden agree to allow other nations to send their own U.S.-made jets to Kyiv.
"We hope this training will begin in the coming weeks," Austin said. "This will further strengthen and improve the capabilities of the Ukrainian Air Force in the long term. And it will complement our short-term and medium-term security agreements. This new joint effort sends a powerful message about our unity and our long-term commitment to Ukraine's self-defense."
The leaders will also likely discuss Ukraine's other continuing military needs, including air defense systems and munitions, artillery and other ammunition.
It was not immediately clear whether they will make any firm decisions on the F-16 issue, but initial steps have begun.
Josep Borrell, the European Union's foreign policy chief, said Tuesday that training for Ukrainian pilots had begun in Poland and some other countries, though Polish Defense Minister Mariusz Blaszczak said training was still in the planning phase. The Netherlands and Denmark, among others, are also making plans for training.
"We can continue and also finalize the plans that we're making with Denmark and other allies to start these these trainings. And of course, that is the first step that you have to take," Dutch Defense Minister Kajsa Ollongren said, adding that initial discussions about who may have F-16s available to send is underway.
Ukraine has long sought the sophisticated fighter to give it a combat edge as it battles Russia's invasion, now in its second year.
The Biden administration's decision was a sharp reversal after refusing to approve any transfer of the aircraft or conduct training for more than a year because of worries that doing so could escalate tensions with Russia. U.S. officials also had argued against the F-16 by saying that learning to fly and logistically support such an advanced aircraft would be difficult and take months.
Air Force Brig. Gen. Pat Ryder, the Pentagon press secretary, said this week that the U.S. decision on the F-16 was part of a broader long-term commitment to meet Ukraine's future military needs. He said the jets would not be relevant in any counteroffensive expected to begin shortly.
The US will provide cluster munitions to Ukraine as part of a new military aid package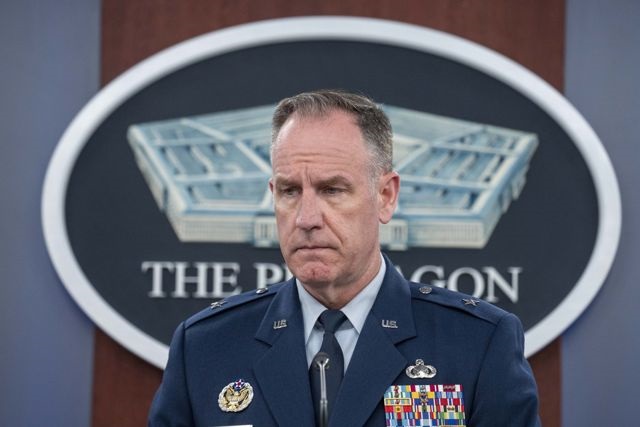 Pentagon spokesman U.S. Air Force Brig. Gen. Patrick Ryder listens to a question during a media briefing at the Pentagon, Thursday, July 6, 2023, in Washington. (AP Photo/Alex Brandon)
By Nomaan Merchant, Lolita C. Baldor And Ellen Knickmeyer in Washington
WASHINGTON (AP) — President Joe Biden's administration has decided to provide cluster munitions to Ukraine and is expected to announce on Friday that the Pentagon will send thousands of them as part of a new military aid package worth up to $800 million for the war effort against Russia, according to people familiar with the decision.
The decision comes despite widespread concerns that the bombs have a track record of causing civilian casualties and sparked a call from the United Nations to both Russia and Ukraine to avoid using them. The Pentagon says it will provide munitions that have a reduced "dud rate," meaning fewer unexploded rounds that can result in unintended civilian deaths.
U.S. officials said Thursday they expect the military aid to Ukraine will be announced on Friday. The weapons will come from Pentagon stocks and include Bradley and Stryker armored vehicles and an array of ammunition, such as rounds for howitzers and the High Mobility Artillery Rocket System, officials said.
Long sought by Ukraine, cluster bombs are weapons that open in the air, releasing submunitions, or bomblets, that are dispersed over a large area and are intended to wreak destruction on multiple targets at once.
The officials and others familiar with the decision were not authorized to discuss the move publicly before the announcement and spoke to The Associated Press on the condition of anonymity.
Ukrainian officials have asked for the weapons to aid their campaign to push through lines of Russian troops and make gains in the ongoing counteroffensive. Russian forces are already using cluster munitions on the battlefield and in populated civilian areas, U.S. officials have said.
According to the International Committee of the Red Cross, some cluster munitions leave behind bomblets that have a high rate of failure to explode — up to 40% in some cases. U.S. officials said Thursday that the rate of unexploded ordnance for the munitions that will be going to Ukraine is under 3% and therefore will mean fewer unexploded bombs left behind to threaten civilians.
At a Pentagon briefing Thursday, Brig. Gen. Pat Ryder said the Defense Department has "multiple variants" of the munitions and "the ones that we are considering providing would not include older variants with (unexploding) rates that are higher than 2.35%."
Ryder would not say whether Defense Secretary Lloyd Austin has reached out to NATO counterparts to address some of their concerns on the use of cluster munitions.
If the decision were made to provide the munitions to Ukraine, he said, the U.S. "would be carefully selecting rounds with lower dud rates, for which we have recent testing data."
Ryder said they can be loaded with charges that can penetrate armor and fragment so they can hit multiple personnel — "a capability that would be useful in any type of offensive operations." Ryder said the Russians have been using cluster munitions that have a very high dud rate.
Asked about the move by the U.S., which has led allied support of Ukraine, NATO Secretary-General Jens Stoltenberg stressed on Friday that the military alliance takes no position on cluster munitions.
"So it is for these individual allies then to make those decisions," Stoltenberg told reporters in Brussels.
Oleksandra Ustinova, a member of Ukraine's parliament who has been advocating that Washington send more weapons, noted that Ukrainian forces have had to disable mines from much of the territory they are winning back from Russia. As part of that process, Ukrainians will also be able to catch any unexploded ordnance from cluster munitions.
"We will have to de-mine anyway, but it's better to have this capability," Ustinova said.
She credited Congress with pushing the Democratic president's administration over several months to change its position on the munitions.
Army Gen. Mark Milley, chairman of the Joint Chiefs of Staff, said last week that the U.S. has been thinking about providing the cluster munitions "for a long time."
"The Ukrainians have asked for it, other European countries have provided some of that, the Russians are using it," Milley said during a speech at the National Press Club.
Cluster bombs can be fired by artillery that the U.S. has provided to Ukraine, and the Pentagon has a large stockpile of them.
The last large-scale American use of cluster bombs was during the 2003 invasion of Iraq, according to the Pentagon. But U.S. forces considered them a key weapon during the invasion of Afghanistan in 2001, according to Human Rights Watch. In the first three years of that conflict, it is estimated the U.S.-led coalition dropped more than 1,500 cluster bombs in Afghanistan.
Proponents of banning cluster bombs say they kill indiscriminately and endanger civilians long after their use
The International Committee of the Red Cross said it is clear "that where cluster munitions have been used on a large scale, they cause significant numbers of preventable civilian casualties." Male civilians, including farmers or others out working in fields, are the main victims, the committee said, citing a 2007 study. Children are the second most common victims, attracted by the submunitions' size, shape and color.
A convention banning the use of cluster bombs has been joined by more than 120 countries that agreed not to use, produce, transfer or stockpile the weapons and to clear them after they've been used.
The United States, Russia and Ukraine are among the countries that have not signed on.
Marta Hurtado, speaking for the U.N. human rights office, said Friday "the use of such munitions should stop immediately and not be used in any place."
"We will urge the Russian Federation and Ukraine to join the more than 100 states that have ratified the convention of cluster munitions and that effectively ban their use," she added.
It is unclear how America's NATO allies would view the U.S. providing cluster bombs to Ukraine and whether the issue might prove divisive for their largely united support of Kyiv. More than two-thirds of the 30 countries in the alliance are signatories of the 2010 convention on cluster munitions.
Germany, one of the signers of the ban treaty, made clear on Friday that it won't be providing any cluster ammunition to Ukraine. But it expressed understanding for the American position.
"We're certain that our U.S. friends didn't take the decision about supplying such ammunition lightly," German government spokesman Steffen Hebestreit told reporters in Berlin. "We need to remember once again that Russia has already used cluster ammunition at a large scale in its illegal war of aggression against Ukraine."
____ AP Diplomatic Writer Matthew Lee and Associated Press writers Geir Moulson, Tara Copp, Zeke Miller, Lorne Cook and Frank Jordans contributed to this report.
UN: Sudan's war displaces over 2 million, as fighting rages in Darfur region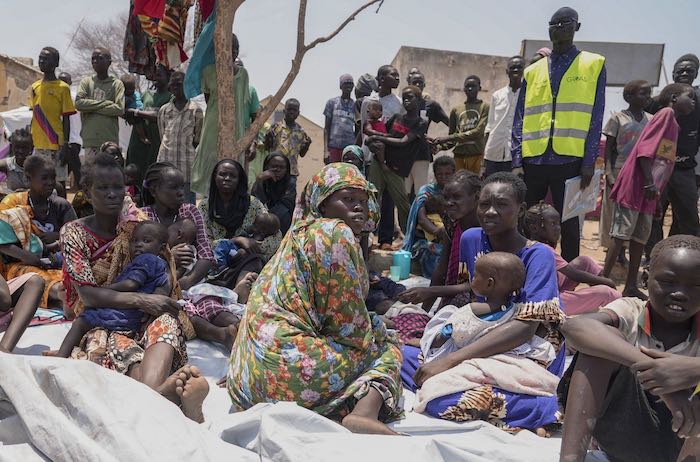 CAIRO (AP) — The conflict in Sudan has displaced more than 2 million people, the United Nations said on Wednesday, as a U.N. official warned that escalating attacks in Darfur city could amount to "crimes against humanity."
Sudan has plunged into chaos since mid-April when monthslong tensions between the military and its rival, the paramilitary Rapid Support Forces, exploded into open fighting in the capital, Khartoum, and elsewhere across the northeastern African nation.
The fighting continued unabated Wednesday in parts of the capital and the western region of Darfur, both have seen some of the worst battles. At least 959 civilians have been killed and about 4,750 others were wounded as of June 12, according to Sudan's Doctors Syndicate, which tracks civilian casualties.
The brutal clashes have forced more than 1.6 million people to leave their homes for safer areas inside Sudan, according to the International Organization for Migration. About 530,000 others fled to the neighboring countries of Egypt, South Sudan, Chad, Ethiopia, the Central African Republic, and Libya, the agency said.
The medical group said the toll could be much higher, given it was unable to take into account those who were killed or wounded in the ongoing clashes in Genena, the provincial capital of West Darfur. The city's hospitals have been out of service since the fighting erupted there in April, the group said.
All of Sudan's 18 provinces experienced displacement, with Khartoum at the top of the list with around 65% of the total number of displaced people, followed by West Darfur with over 17%, according to the IOM's Displacement Tracking Matrix.
In Genena, the provincial capital of West Darfur, the RSF and allied Arab militias rampaged through the city over the past week, killing and wounding hundreds of people, according to local activists and U.N. officials.
Activists and residents in Genena reported dozens of women were sexually attacked inside their homes and while trying to flee the fighting. Almost all rape cases were blamed on the RSF, which didn't respond to repeated requests for comment.
Khamis Abdalla Abkar, the provincial governor of West Darfur province, accused the RSF and allied militias of attacking local communities across Genena. In a phone interview on Wednesday with Saudi-owned television station, Al-Hadath, he urged the international community to intervene to protect civilians in his province.
Hours after his interview with the television station, Abkar was abducted and killed, said Mini Arko Minawi, the governor of the Darfur region. The circumstances of Abkar's abduction and killing were not immediately clear.
A video footage circulating on social media late Wednesday showed a group of armed men, some wearing RSF uniforms, detaining Abkar. Another night footage — too graphic to broadcast — purportedly showed Abkar laying on the ground with wounds in his neck and face. Sounds of gunfire were heard as well as people shouting in Arabic, "This is the governor," and "God is great."
Volker Perthes, the U.N envoy in Sudan, said Tuesday the fighting in Genena has taken "an ethnic dimension," with Arab militias and armed men in RSF uniforms showing "an emerging pattern of large-scale targeted attacks against civilians based on their ethnic identities."
Such attacks, "if verified, could amount to crimes against humanity," he warned.
Alice Wairimu Nderitu, the U.N. special adviser on the prevention of genocide, also condemned "the shocking violence" in Genena. She warned in a statement Tuesday that such fighting could turn into "renewed campaigns of rape, murder, and ethnic cleansing amounting to atrocity crimes."
Darfur had been the scene of genocidal war in the early 2000s, when ethnic Africans rebelled, accusing the Arab-dominated government in Khartoum of discrimination. Former dictator Omar al-Bashir's government was accused of retaliating by arming local nomadic Arab tribes, known as Janjaweed, who targeted civilians.
The Janjaweed later evolved into the RSF.