Asylum seeker deal between U.S. and Canada won't stop drama at border, advocates say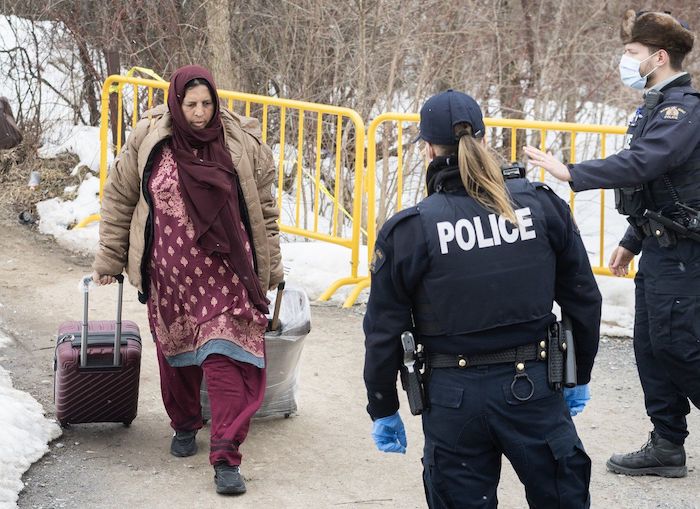 RCMP officers approach a woman entering Canada via Roxham road on the Canada/US border in Hemmingford, Que., Saturday, March 25, 2023. THE CANADIAN PRESS/Graham Hughes
By Marisela Amador in Plattsburgh
About a dozen asylum seekers hoping to start a new life in Canada saw their plans hit a snag on Saturday afternoon when they learned an unofficial crossing between the Canadian and U.S. border no longer offered the safe passage they'd come to expect.
An expansion to the 2004 treaty known as the Safe Third Country Agreement took effect while they were en route to the Roxham Road crossing from New York to Quebec, making it illegal to claim refugee status at the entry point where thousands had previously succeeded.
The new rules kicked in Saturday morning, stunning newcomers as they disembarked from a bus that brought them to Plattsburgh, N.Y. only to learn of the change from assembled media.
"Wow," said a man from Colombia with a look of disbelief on his face. He did not give his name but said in Spanish that he was travelling with his wife and young son. A few minutes later, he approached The Canadian Press and asked if Roxham Road was truly closed.
Up until Friday, lines of taxis would be stationed at the bus stop waiting to carry asylum seekers to Roxham Road. On Saturday afternoon, only one van showed up.
The driver, who declined to provide his name, ferried two Colombian families to the crossing, only shrugging when asked if he knew his passengers risked possible arrest once they reached their destination.
A sign emblazoned with such warnings for illegal asylum seekers now looms over the Roxham Road crossing. But experts who work directly with those seeking refugee status in Canada say they doubt such cautions, and the new migration rules they're intended to uphold, will do much to deter cross-border traffic.
Restricting access to the border and preventing migrants from accessing a safe pathway into the country will only incentivize bad-faith actors, said Abdulla Daoud, executive director of Montreal-based The Refugee Centre.
"This type of decision-making … in the past, has led to the creation of many human traffickers and smuggling rings," Daoud said in an interview on Friday. "Canada never really had to deal with that too much. But now I think we're going to see the numbers increase because these individuals are not going to go away."
The new rules were announced on Friday during U.S. President Joe Biden's trip to Ottawa.
It was described in U.S. documents as a "supplement" to the Safe Third Country Agreement. That treaty prevents people in either Canada or the United States from crossing the border and making a refugee claim in either country — but until now, it only covered official points of entry.
The agreement now applies along the nearly 9,000-kilometre border, including at unofficial crossings like Roxham Road.
All was quiet there on Saturday, with mostly members of the media on-hand awaiting the arrival of new would-be asylum seekers.
The sign installed on Friday and unveiled at midnight when the new agreement took effect now warns newcomers that it is illegal to enter Canada through Roxham Road.
"You will be arrested and may be returned to the United States. Refugee claimants must request protection in the first safe country they arrive in," it reads.
The executive director of Home of the World, a shelter for asylum seekers and migrants in Montreal, said it is possible that would-be refugees determined to cross into Canada may end up dying by taking dangerous routes into the country.
"It's very possible that people will try to cross over using more hidden places and get stuck in the woods for two weeks and end up losing their lives," Eva Gracia-Turgeon said in an interview. "We are talking about not only individuals but also families and pregnant women and young children who are going to cross. So potentially, there will be more drama at the border."
One American official also voiced concern about the impact the new deal would have on residents on the U.S. side of the border.
"This becomes a local issue when you still have an influx of people coming here," said Billy Jones, an assembly member in the New York state legislature. "If they are denied entry, where are they going? What are they doing? As well as the humanitarian part of it. We don't want people stranded along the border, oftentimes not prepared for the conditions that we have out here."
The expanded Safe Third Party Agreement will also see Canada commit to welcoming 15,000 immigrants from across the Western Hemisphere this year, more than three times the number previously intended.
But Jenny Kwan, the New Democrat critic for Immigration, Refugees and Citizenship, said widening official pathways to refugee status will do little to ease pressures at the border.
"In 2022, nearly 40,000 migrants entered the country through Roxham Road," she said in a statement in which she roundly condemned the expanded agreement. "This ineffective measure will not protect Canadians — it will only further endanger and marginalize asylum seekers fleeing persecution and trying to come to safety in Canada."
Both Kwan and the Canadian Council for Refugees also criticized the Liberal government for proceeding with the expansion while the country's top court is still grappling with questions about the constitutionality of the original deal.
"The Supreme Court (of Canada) is expected to rule soon on whether the existing Safe Third Country Agreement violates the Canadian Charter of Rights and Freedoms — it is shocking that the Canadian government is extending the Agreement while the question of the constitutionality of the Agreement is before the Court," the council said in a statement.
At least one asylum seeker indicated he planned to press on with efforts to come to Canada.
A man identifying himself only as Herman said he arrived in New York on Friday after fleeing Congo and hopes to join relatives currently living in Ottawa.
His wife and four kids remain in his home country, but Herman — speaking in French — said there's no choice but to forge ahead with the search for a new home.
"I miss them, but the conditions over there are dire," he said.
This report by The Canadian Press was first published March 25, 2023.
Alberta United Conservatives win majority government, NDP makes inroads in Calgary
The Canadian Press has projected a United Conservative Party majority government in Alberta.
Leader Danielle Smith and her party rode a wave of rural support to victory, but the NDP made inroads in the traditional conservative stronghold of Calgary.
UCP Leader Danielle Smith won her seat in Brooks-Medicine Hat and other key cabinet members were also returned, including Education Minister Adriana LaGrange, Agriculture Minister Nate Horner, Indigenous Relations Minister Rick Wilson and Affordability and Utilities Minister Matt Jones.
NDP Leader Rachel Notley won her seat in Edmonton-Strathcona for a fifth time and her party was on track to sweep the capital.
No election winner had been called more than two hours after polls closed at 8 p.m. Elections Alberta said in a statement it was moving as fast as possible.
"We are not seeing any issues at this time, but understand that people are keen to see the results," said Elections Alberta in a statement.
"Processing the votes takes some time. The hand count of today's ballot is occurring."
To win, the NDP needed to flip 20 seats in the 87-seat legislature and early results showed promise in multiple Calgary constituencies outside of traditional UCP core support in the south end of the city.
UCP cabinet heavyweights in the city were facing stiff challenges from the NDP, including Justice Minister Tyler Shandro in Calgary-Acadia and Health Minister Jason Copping in Calgary-Varsity.
Calgary cabinet minister Nicholas Milliken, responsible for mental health and addiction, was defeated in Calgary-Currie by the NDP's Janet Eremenko.
Smith's two deputy premiers were also in tough against Notley's crew: Kaycee Madu in Edmonton-South West and Nathan Neudorf in Lethbridge-East.
The UCP was seeking a second mandate while the NDP was fighting to regain the majority government it lost to the UCP in 2019.
Voter turnout was expected to be strong, given advance polls set a record of 758,540 votes cast, eclipsing the previous record of more than 700,000 in 2019.
The campaign took place alongside a record-breaking spring for wildfires in Alberta. Ten communities were under evacuation orders Monday.
Elections Alberta set up alternate voting locations for those displaced. Evacuation was added as an eligible reason to vote by special ballot and mobile voting stations were placed in evacuation centres.
To win, the NDP would have to continue its dominance in Edmonton, flip the majority in Calgary and hope for some help in smaller cities, while defeating scores of UCP incumbents including cabinet ministers.
The UCP won 63 seats under then-leader Jason Kenney in 2019 to 24 for Notley's NDP in the 87-seat legislature.
Polls suggested the UCP should continue its near total domination in rural areas and smaller centres, giving it a cushion of up to 40 or so seats to reach the 44 needed to form a majority government.
The month-long campaign was dominated by the economy and health care.
Albertans are struggling with high costs for consumer goods, a shortage of family doctors and long waits in emergency rooms.
Smith promised to keep Alberta the lowest tax regime in Canada.
Her government, she said, would introduce a law to mandate a referendum before any personal or corporate income tax hikes. There would also be tax changes to benefit those making more than $60,000 a year, at a cost of $1 billion annually to the treasury.
The NDP promised to maintain Alberta's status as Canada's lowest tax regime. It pledged to end the tax on small businesses and raise the corporate income tax to 11 per cent from eight per cent, which it said would help pay for investments in health and education while keeping the books balanced and maintaining the lowest corporate rate in Canada.
The NDP also promised legislation to counteract UCP policies that hiked the cost of utilities, auto insurance, a range of fees and tuition.
Both leaders promised to preserve the publicly funded health system while creating more primary care teams — physicians accompanied by related specialists such as nurses and therapists — so more Albertans are able to access a family doctor and not clog emergency wards for care.
Polls showed trust was a key issue, with Notley viewed more favourably than her party and vice versa for Smith.
Smith was dogged during the campaign by past comments she made comparing those who took the COVID-19 vaccine to credulous followers of Adolf Hitler. A report also came out mid-campaign from the province's ethics commissioner that concluded Smith undermined the rule of law by pressuring her justice minister to end the criminal court case of a COVID-19 protester.
The future isn't clear for Jennifer Johnson, the winning UCP candidate in Lacombe-Ponoka.
During the campaign, Johnson apologized for comments last year comparing transgender students to feces. Smith has said Johnson would not sit in the UCP caucus because of the remarks but later said, when asked about Johnson, that she believes in redemption and second chances.
This report by The Canadian Press was first published May 29, 2023.
More coming.
Dean Bennett, The Canadian Press
Parliament votes down Conservative motion against safe supply of drugs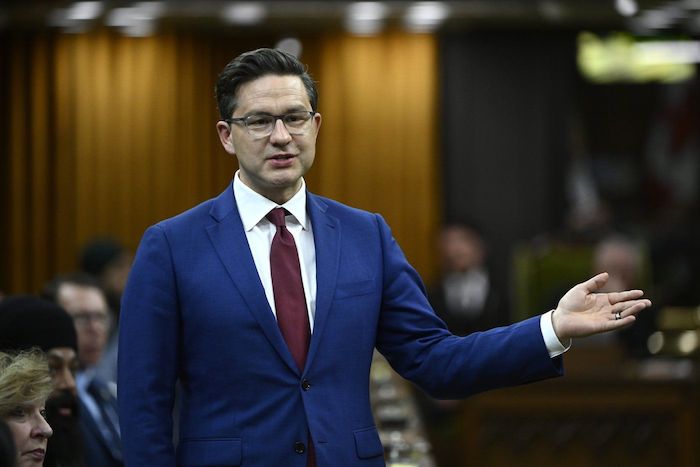 Conservative Leader Pierre Poilievre rises during Question Period in the House of Commons on Parliament Hill in Ottawa on Monday, May 29, 2023. An attempt from Poilievre for the House of Commons to condemn the Liberal government's approach to drug addiction has failed.THE CANADIAN PRESS/Justin Tang
By Stephanie Taylor in Ottawa
Conservative Leader Pierre Poilievre has failed to persuade the House of Commons to condemn the Liberal government's approach to fighting drug addiction.
In a vote of 209-113 Monday, MPs defeated a motion presented by Poilievre.
The motion took aim at the federal government's harm-reduction policies for drug users, but focused mainly on its decision to fund the supply of pharmaceutical alternatives as a replacement for certain illicit drugs to combat the opioid crisis.
Such programs are commonly referred to as "safe supply," or "safer supply," although the federal Conservatives and other critics dispute that term, given the risks associated with drug use.
The federal government has pointed to experts who say that a poisoned drug supply is one of the main reasons so many Canadians are dying from unintentional overdoses, and that providing access to other drugs as a substitute saves lives.
The Public Health Agency of Canada says nearly 35,000 people died from opioid toxicity between 2016 and 2022.
Since becoming Conservative leader last fall, Poilievre has pointed to the alarming number of people who have died from opioid overdoses as evidence of a failed approach. He has criticized the option of offering an alternative supply of drugs, which his motion referred to as the "tax-funded drug supply," as fuelling addiction rather than recovery.
He argues such policies have led to wider access to dangerous drugs by users who, instead of taking them, turn around and sell them. Poilievre has proposed diverting money used to fund safe supply towards treatment.
His motion specifically called on the House to "immediately reverse its deadly policies and redirect all funds from taxpayer-funded, hard drug programs to addiction, treatment and recovery programs."
Mental Health and Addictions Minister Carolyn Bennett has told MPs that Poilievre's criticism of a replacement drug supply is not based on evidence, with her office adding in a statement Monday that Health Canada is not aware of substitute drugs "flooding the streets."
"For Pierre Poilievre to state untrue information about safer supply, and try to create barriers to accessing harm reduction services that are saving lives amid this ongoing crisis is incredibly irresponsible and dehumanizing to people who use drugs," a spokeswoman said in a statement from Bennett's office.
It said the government takes reports of diversion "very seriously." Bennett's office also pointed out that the British Columbia coroners service, which studied deaths from drug toxicity from 2012 to 2022 in the province, concluded there was "no indication that prescribed safe supply is contributing to illicit drug deaths."
"The Conservatives want to take us back to the failed ideology of Harper-era drug policy, and the war on drugs that was proven to be ineffective, costly, deadly, and deeply stigmatizing," said Bennett's office.
A coalition of groups that advocate on behalf of drug users in B.C. and those whose loved ones have died from opioid-related overdoses released a statement Monday, voicing concern about hydromorphone, one of the drug alternatives Poilievre has singled out as problematic.
The joint statement from organizations, including the Vancouver Area Network of Drug Users, says such prescriptions "help many of us reduce or eliminate our reliance on street drugs."
"If we get cut off, our risks will go up."
This report by The Canadian Press was first published May 29, 2023.