As inquiry decision looms, here's how Canada's foreign interference saga has evolved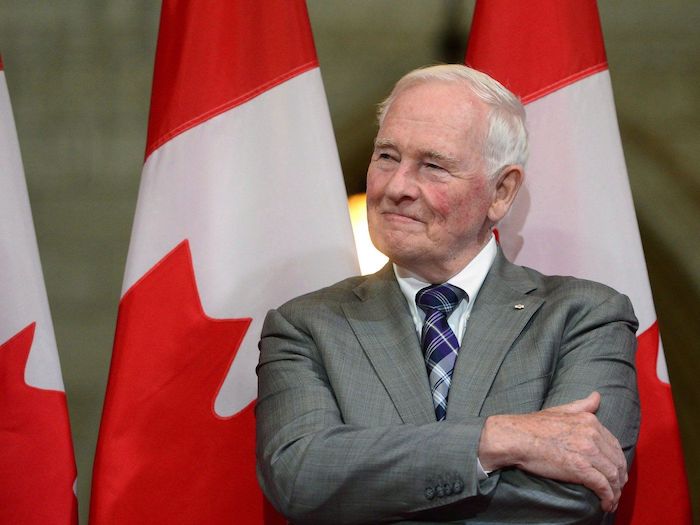 David Johnston looks on during a farewell reception in Ottawa on Thursday, Sept. 28, 2017. Special rapporteur David Johnston is expected to release his decision Tuesday on whether the federal Liberals should hold a public inquiry on foreign interference. THE CANADIAN PRESS/Sean Kilpatrick
By David Fraser in Ottawa
Special rapporteur David Johnston is expected to release his decision Tuesday on whether the federal Liberals should call a public inquiry on foreign interference.
With allegations that China meddled in the last two federal elections dominating the political conversation for months, experts say an inquiry would allow for a detailed, transparent conversation about what kind of threat Canada is actually facing.
It would also allow the Liberal government to demonstrate that it is doing more to address the issue, they say.
Johnston's recommendation on the inquiry is set to come as part of an initial report about how the government should proceed with the allegations of interference. The former governor general is scheduled to give a news conference at noon on Tuesday upon releasing the report publicly.
In what many saw at the time as too little, too late, Prime Minister Justin Trudeau tapped Johnston in March to lead an investigation into the extent and impact of foreign interference in Canada.
The federal government said it gave Johnston access to classified documents and Canada's security agencies to conduct that work.
Though opposition parties had by then been clamouring for a formal public inquiry for weeks, Trudeau said Johnston would have until late May to decide whether it was warranted. He would have until the end of October to produce a final report.
The pressure has not abated since then.
"The way that the conversation has evolved over the past few months has really aggravated and made more stark partisan divides in the country," said University of Ottawa professor Artur Wilczynski.
"That, in my opinion, has not contributed to an effective defence of Canadian democracy and has not contributed to an effective governmental response to the threats of foreign interference."
Wilczynski, who spent more than 30 years in the public service working on foreign policy, intelligence, security and defence issues, said an inquiry would help bring the conversation back around to the details of the foreign interference threat itself and how Canada should position itself to combat that threat.
The signs that foreign interference was happening — and getting worse — were already in plain sight well before the current controversy began.
Officials in Canada knew the 2016 American election was subject to foreign interference attempts.
And for years, the Canadian Security Intelligence Service has been warning of growing concern in its annual reports.
But a series of reports by the Globe and Mail and Global News beginning last fall, many of which cited unnamed security sources, brought new attention to the issue. The reports alleged that specific influence attempts had taken place in the 2019 and 2021 federal elections.
"Despite various attempts by officials to talk about foreign interference, the only thing that prompted a real fundamental conversation about foreign interference were the illegal leaks," Wilczynski said.
When a Global News report was published in November that alleged China was funding campaigns through an illegal network of donors, Trudeau and his officials said they had no knowledge of specific candidates receiving backing by Beijing.
But the government began showing signs that it was reframing its approach to China.
A week after the allegations emerged, Trudeau's office said the prime minister raised concerns about "interference" with Chinese President Xi Jinping face-to-face at the G20 summit.
Later the same month, Canada released an Indo-Pacific strategy that dedicated a slice of its $2.3 billion value to combating foreign interference.
And before November ended, then-RCMP commissioner Brenda Lucki confirmed an ongoing investigation into broad foreign interference allegations.
Still, the calls for further scrutiny were amplified as more reports emerged, including a February story from the Globe and Mail that asserted the Chinese government sought to defeat Conservative politicians in the 2021 election who were considered unfriendly to the regime.
By the time Trudeau announced in early March that a special rapporteur would be named — and that investigations by the National Security and Intelligence Committee of Parliamentarians and the National Security and Intelligence Review Agency would begin — the writing was on the wall.
His political opponents already saw any action other than an independent public inquiry as far too little. A parliamentary committee passed a non-binding motion calling on the government to do begin one.
"It's created a huge political drama for the Liberal government and put it on the defensive, certainly," said Wesley Wark, a senior fellow with the Centre for International Governance Innovation.
"The Liberal government has struggled to come up with a convincing portrait of the actions and policies it has taken to respond forcefully to foreign interference. It clearly has done some things, but it hasn't been enough."
Since Trudeau named Johnston as the special rapporteur in mid-March, the government promised funding to combat foreign interference in its 2023 budget, launched consultations on a foreign agent registry and ordered security agencies to improve their reporting mechanism up to the political level.
But even as the Liberals sought to show they were working on the issue, still more reports emerged that ramped up the pressure.
Days after Johnston's appointment — which itself was controversial, since Conservative accused him of being too close to Trudeau — MP Han Dong announced he was leaving the Liberal caucus.
Global News had published a story citing unidentified security sources who alleged Dong told a Chinese diplomat in February 2021 that releasing Michael Kovrig and Michael Spavor would benefit the Conservatives.
The two Canadian men had been detained in China since December 2018, just over a week after the RCMP arrested Huawei executive Meng Wanzhou in Vancouver on a U.S. extradition warrant.
Global had previously published allegations that Dong benefited from Chinese foreign interference in his successful bid to become the Liberal candidate for his riding in 2019.
Dong has denied the allegations and is suing Global over its reporting.
Early this month, the Globe and Mail reported that Conservative MP Michael Chong and his relatives in Hong Kong had been targeted by the Chinese government via a Toronto-based diplomat.
Chong said he confirmed that allegation was contained in a CSIS intelligence assessment that had reached officials in the Privy Council Office, while Trudeau denied that the information about the alleged threat had ever reached his office.
Canada expelled the accused Chinese official. China responded by expelling a Canadian diplomat. And this week, the public safety minister ordered security agencies to ensure that any future threats against parliamentarians, their families or their staff are communicated at the political level.
For Wilczynski, this latest chapter in the story has brought home the tangible implications of foreign meddling.
It was one thing for people to imagine that an electoral candidate might have received financial support from people linked to a foreign regime. It was another to think about allegations that a parliamentarian's family members being actively threatened.
This "crystallized for Canadians in a very robust way what the scope of the threat is," he said.
It's against that backdrop that Johnston is now expected to recommend the government's best course of action.
Formal hearings would give elections officials, political parties, parliamentarians, provinces, communities and other actors a voice, Wilczynski said — "and in a thoughtful way talk about what the threat is, and what their experiences are."
Trudeau has said he will abide by Johnston's recommendations, including if he recommends a public inquiry.
It's a big burden to bear, Wark noted.
"Johnston's been thrust out in front of this problem. And he will take the heat."
This report by The Canadian Press was first published May 22, 2023.
Saskatchewan premier defends plan to use notwithstanding clause for pronoun policy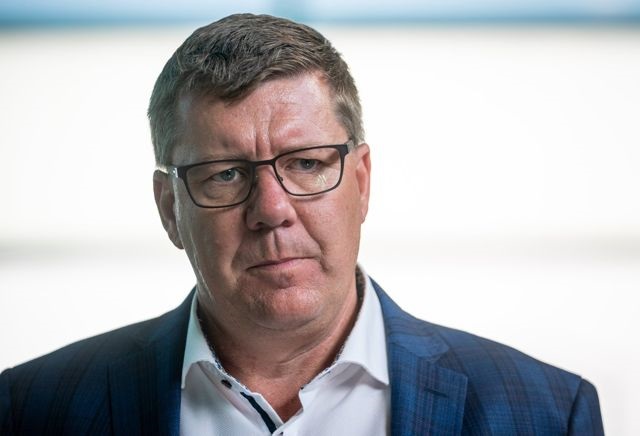 Saskatchewan Premier Scott Moe holds a news conference during a tour at Lakewood Civic Centre in Saskatoon, Sask., on Friday, Sept. 29, 2023. Moe is defending his decision to recall the legislative assembly early and use the notwithstanding clause to ensure the province's pronoun policy stays in place. THE CANADIAN PRESS/Heywood Yu
Saskatoon
Saskatchewan Premier Scott Moe is defending his decision to recall the legislative assembly early and use the notwithstanding clause to ensure the province's pronoun policy in schools stays in place.
Speaking to reporters in Saskatoon, he said he wants to make it clear the policy will go ahead.
"The policy is paused here today," Moe said Friday.
"What we feel is of paramount importance is to provide clarity to parents, to families and ultimately to school divisions and educators that are in our classrooms across the province. This will provide that clarity.
"We've said for a number of weeks now that there are tools available for the government to ensure this policy is in place moving forward for the next number of months and years."
Moe made the announcement Thursday that he plans to use the notwithstanding clause, shortly after a judge granted an injunction to pause the policy that requires parental consent when children under 16 want to go by different names and pronouns at school.
He had said in a statement that he was extremely dismayed by the injunction, calling it judicial overreach, and suggested the policy has strong support from the majority of Saskatchewan residents and parents.
On Friday, Moe added that he wants to provide clarity as soon as possible to families and school divisions.
"The school divisions, up until yesterday, have informed us they've been working on their implementation plans of this policy," he said.
"What pausing the policy means is for a period of time it will not be mandatory to include the parents in some of these discussions."
The legislative assembly is to be recalled on Oct. 10 to use the notwithstanding clause, a provision that allows governments to override certain Charter rights for up to five years.
This report by The Canadian Press was first published Sept. 29, 2023.
Cyberattacks hit military, Parliament websites as India hacker group targets Canada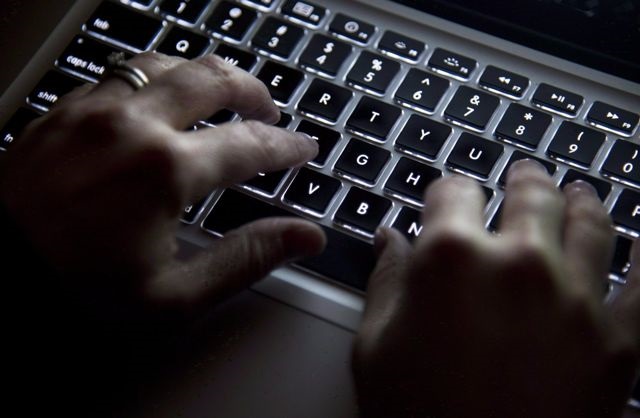 The federal government is coping with apparent cyber attacks this week, as a hacker group in India claims it has sowed chaos in Ottawa. Hands type on a keyboard in Vancouver on Wednesday, December, 19, 2012. THE CANADIAN PRESS/Jonathan Hayward
By Dylan Robertson in Ottawa
The federal government is coping with apparent cyberattacks this week, as a hacker group in India claims it has sowed chaos in Ottawa.
The Canadian Armed Forces said that its website became unavailable to mobile users midday Wednesday, but was fixed within a few hours.
The military said the site is separate from other government sites, such as the one used by the Department of Defence and internal military networks. The incident remains under investigation.
"We have no indication of broader impacts to our systems," said a statement from spokeswoman Andrée-Anne Poulin.
Meanwhile, various pages on the House of Commons website continued to load slowly or incompletely on Thursday due to an ongoing attack that officials say started Monday morning.
The Commons administration said it was facing a distributed denial-of-service attack, which is when bots swarm a website with multiple visits and cause it to stop loading properly.
"House of Commons systems responded as planned to protect our network and IT infrastructure. However, some websites may be unresponsive for a short period," spokeswoman Amélie Crosson said in a written statement Thursday morning.
"The House of Commons IT support team, in collaboration with our partners, have implemented mitigating measures and restored services to appropriate service levels. The IT team is still continuously monitoring for such activities."
She added that the Commons administration is helping their Senate colleagues "to provide guidance and support them to restore services."
Elections Canada also experienced roughly an hour-long denial-of-service attack starting around midnight early Wednesday, Ottawa time.
"This website does not host any sensitive data or information. It is separate from our main website, elections.ca, and is hosted by an external service provider. It is in no way connected to the network that supports elections.ca," the agency wrote in a statement.
"Our systems are monitored in real time both internally, and by the Canadian Cyber Security Centre, enabling us to quickly detect any anomalies on our platforms and systems. They are aware of the incident."
That centre is under the umbrella of the Communications Security Establishment, Canada's signals-intelligence agency.
A hacking group named Indian Cyber Force claimed responsibility for the incidents involving the military and Elections Canada, and it appeared to have managed to infiltrate a handful of websites owned by small businesses in Canada.
The group made reference to Prime Minister Justin Trudeau telling Parliament on Sept. 18 that there were "credible allegations" of Indian involvement in the killing of Sikh independence activist Hardeep Singh Nijjar, who had been wanted by India for years and was gunned down in June outside the temple he led.
The hacking group has posted multiple versions of a message riddled with spelling and grammatical errors onto websites of restaurants and medical clinics.
The affected sites show a message on a black background with green digits, similar to the film "The Matrix," as warlike music plays.
The message described Canada as a haven for terrorists — a "heaven hub," it said in butchered English — and similarly insulted Sikh separatists.
It also criticized Trudeau for "throwing something without any prove," or proof.
The group claimed to have attacked Elections Canada and the Ottawa Hospital, though these sites appeared to be operating normally Thursday morning. The Canadian Press has asked those responsible for these web pages to confirm whether they have been affected.
The hacking group also claimed to have taken down the Global Affairs Canada website for travel advisories, but the department insists this hasn't happened, and the group deleted that claim from its account on the social-media application Telegram.
News of the attacks came as questions abounded over Indian officials' level of co-operation with Canadian officials over Trudeau's allegations — and to what extent allies such as the United States were advocating on Canada's behalf.
On Thursday, U.S. Secretary of State Antony Blinken met with India's foreign-affairs minister Subrahmanyam Jaishankar.
Neither of them made mention of the controversy in Canada when they emerged briefly to pose for photos before their meeting began.
During a State Department briefing prior to that meeting, spokesman Matthew Miller refused to speculate on what the secretary would tell Jaishankar directly.
"What I will say, however, is we have consistently engaged with the Indian government on this question and have urged them to co-operate, and that engagement and urging them to co-operate will continue," Miller said.
"We urge them to co-operate with the Canadian investigation."
Miller flatly refused comment when asked about a television interview last week with U.S. ambassador to Canada David Cohen, who confirmed that Canada received intelligence from one of its Five Eyes security partners.
"I am not going to speak to intelligence matters from the podium."
This report by The Canadian Press was first published Sept. 28, 2023.
— With files from James McCarten in Washington, D.C.