Appropriate for Alberta premier to discuss COVID case with accused, deputy says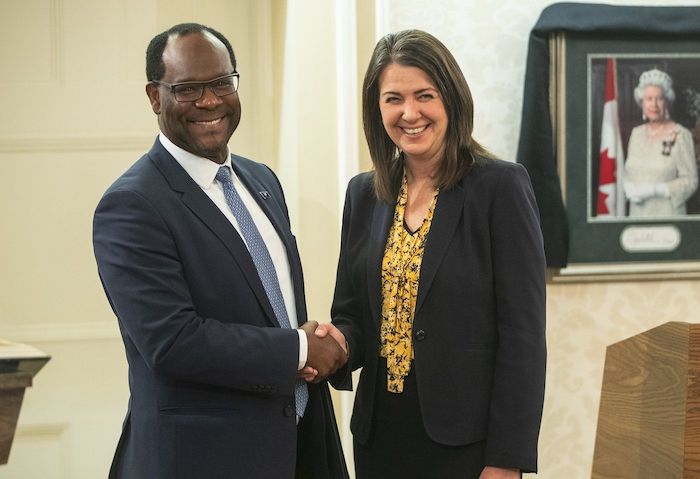 Kaycee Madu shakes hand with Alberta Premier Danielle Smith after he was sworn into cabinet in Edmonton, Monday, Oct. 24, 2022. Madu says it was appropriate for his boss to phone up a pastor charged over pandemic-rule protests and discuss the accused's upcoming criminal trial. THE CANADIAN PRESS/Jason Franson
By Dean Bennett in Edmonton
Alberta's deputy premier says it was appropriate for Premier Danielle Smith to phone up a pastor and discuss his upcoming criminal trial on charges stemming from protests over pandemic restrictions.
Kaycee Madu, who is also the province's former justice minister, said Thursday that Smith is working to make Alberta better, adding that she is free to contact whomever she wants in pursuing that mission.
Opposition NDP Leader Rachel Notley labelled Madu's comments a dangerous "la la land" rationale and the start of a slippery slope toward a "tinpot dictatorship."
Smith faces renewed criticism over a leaked phone conservation she had with Calgary pastor Artur Pawlowski in January about his looming criminal trial for his role at a protest over COVID-19 health measures that blocked the United States-Canada border-crossing at Coutts, Alta., in January 2022.
Audio of the call was obtained by the Opposition NDP and played for reporters Wednesday.
In it, Smith is heard commiserating with Pawlowski over her government's trial tactics, offering to make inquiries on his behalf and saying the Crown is pursuing politically motivated charges against him.
Legal and political observers say the call is a profound breach of the firewall separating politicians from those who decide who gets prosecuted.
Smith has long been critical of COVID-19 masking, gathering and vaccine mandate rules, questioning if they were needed to fight the pandemic. She has called them intolerable violations of personal freedoms.
Madu, when asked by reporters whether it was proper for Smith to have called Pawlowski, said: "COVID policies were divisive for the people of Alberta. I am looking to see us pass that particular era and focus on the people's priorities."
He said Smith's focus as premier has been on things that matter to Albertans, such as affordability, economic growth and taking care of the vulnerable.
"In the course of that particular work, the premier is free to speak with anyone that she wishes to speak with."
Notley said those remarks, coupled with Smith's words on the phone call, put Alberta on a slippery path to the politicization of its justice system. She called for an expedited independent inquiry into the matter before the writ is dropped next month for a scheduled provincial election.
"We're on the verge of a tinpot dictatorship," Notley said.
"You start ripping apart the fundamental tenets of democracy, you move into dictatorship. It's that simple."
Madu moved out of the justice portfolio under former premier Jason Kenney after a third-party report found he tried to interfere in the administration of justice by calling up Edmonton's police chief to complain about a traffic ticket.
Madu was given a new portfolio under Kenney, then promoted to deputy premier when Smith won the party leadership and became premier in October.
Smith has not spoken to reporters since the audio was released, but in a statement Wednesday reiterated she has acted strictly within the parameters of advice from justice officials and has not spoken directly to Crown prosecutors.
"There is no need for further investigation of this matter," Smith said in a statement Thursday.
Notley said the call is dramatic and disturbing proof of Smith breaching the judicial firewall.
"You cannot have unfettered power in the office of the premier. There are limits," Notley said. "Our Constitution for as long as we've been a country has said that those limits are defined by an independent judicial system."
Calgary-based pollster Janet Brown said the controversy will reanimate voter concerns with Smith.
"Why was she even taking a call from someone facing a criminal offence and talking about their criminal charges?" said Brown in an interview.
"This will give undecided voters pause. They will be wondering about her judgment, and her judgment is her Achilles heel."
Political scientist Duane Bratt said Smith is exerting pressure on the justice system by constantly questioning justice officials about why they are pursuing COVID-19 cases.
"Even if this isn't about talking to Crown prosecutors, this is clear pressure on (Justice Minister Tyler) Shandro," said Bratt, with Mount Royal University in Calgary.
Constitutional law professor Eric Adams, with the University of Alberta, said the call threatens public trust in the courts.
"You expose the administration of justice to the reasonable concern of the public that some people have access to the premier and preferential treatment and some people don't," said Adams.
"Our system can't function on that basis."
This report by The Canadian Press was first published March 30, 2023.
'All about the campfire': Campers adjust their plans with fire bans in place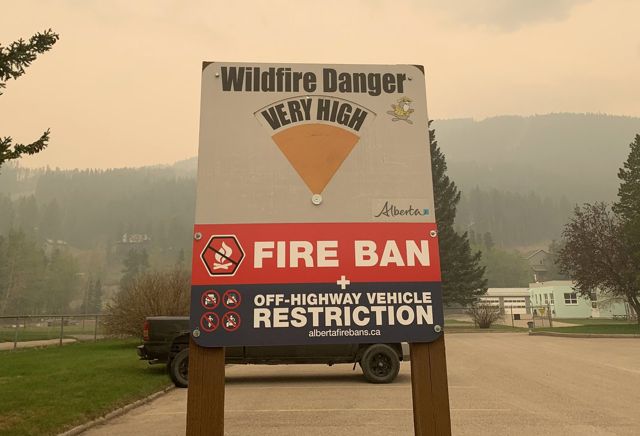 Blairmore area wildfire warning signage is shown in this handout image provided by the Government of Alberta Fire Service. As fire bans continue in many provinces, businesses selling camping gear and firewood are seeing a shift in demand. THE CANADIAN PRESS/HO-Government of Alberta Fire Service
By Ritika Dubey in Edmonton
Jade Najam was getting excited about camping during the May long weekend, sitting around the campfire late into the night with his family and sipping hot chocolate.
"Camping is all about the campfire. Just surfing the fire and sitting around the fire," said Najam. "Sitting around the campfire is the most important part of our evening."
But Alberta's fire ban, which was put in place in early May, still hadn't been lifted. Najam called off the plans to go camping in the wilderness, deciding it was better to stay home instead.
Fire bans began rolling in after hot, dry weather took over much of Canada early in the season — starting in Alberta, Saskatchewan and British Columbia, now expanding to the Maritimes. While Saskatchewan and Alberta have lifted the bans in some regions, people in the Prairies have been monitoring the wildfire season closely.
Companies that supply camping enthusiasts have been seeing trends change.
Najam, who is the managing director of Smart Firewood Products, based in Leduc, Alta., says demand usually picks up around mid-April and continues until mid-October.
"This May, I'm not even at five per cent of what I did last year in sales," he said.
Najam said his company provides "truckloads" of firewood to national parks in Alberta every year, while serving locals with retail firewood in his yard.
"My semi-truck full of firewood didn't even get out of the yard," he said of the current season.
One outdoor outfitter, meanwhile, is seeing a jump in sales for propane gas outdoor firepits.
"People have to look at things a bit differently when planning their camping trip due to fire bans," said Mike Eerkes, general manager at a Mountain Equipment Company store in Edmonton.
He said campers are opting for alternatives that don't get the classic smoky-wood campfire but still provide a warm glow.
For propane fires, Eerkes said, "All you need is a propane firepit, a propane tank and some gas in it."
The biggest advantage to propane fire is that "you can have it," he said. "They're fully compliant with the fire bans."
However, he acknowledges that propane fires are not fuel efficient, based on his experience. He suggested buying larger, refillable propane tanks for cost-effectiveness.
Overall, Eerkes said he hasn't seen a remarkable shift in the sales of camping gear overall.
"It's certain the fires are going to have some effect … but I'm not convinced we're seeing a massive downturn in people going camping this year."
A private campground about 100 kilometres southwest of Halifax has been getting cancellations since the fire ban and camping bans in wooded areas of Nova Scotia earlier this week.
"When fire bans are in place, it's the private campground's choice to follow the fire ban to not," said Minseo Kim, manager of the Little Lake Family Campground in Lunenburg, N.S. "But for this fire ban, private campgrounds have to listen as well.
"This has never happened before. We never faced this issue."
Kim said the cancellations will not have a huge effect in the coming weeks, partly because the peak season begins in July and the campground also has an open space outside of the wooded area.
He is hoping the fire ban lifts soon for overnight campers.
Nova Scotia imposed the fire ban on Monday, with Prince Edward Island following Tuesday.
Chris Nuttall-Smith, the author of the newly released book "Cook It Wild," said campers don't really need campfires to enjoy the outdoors or prepare meals.
A longtime backpacker and camper, Nuttall-Smith said fire bans are not a "huge limitation" for cooking outdoors with alternatives like backpack stoves available.
Nuttall-Smith, in his book, shares 75 recipes to cook in the wild, with up to 65 of them possible without a campfire, he said.
"Some of the best trips that I've ever taken are in places where you're never allowed to have a campfire," he said. "I don't think a lot of people miss it."
He recommends campers making due without fire this season bring pre-prepared food and enjoy the outdoors.
"You can find so much beauty out in the wild at dusk, after dark, like looking at the fireflies, looking at the stars. There is so much to do."
This report by The Canadian Press was first published June 2, 2023.
—-
RCMP chopper pilot pulls off amazing helicopter rescue of missing woman west of Innisfail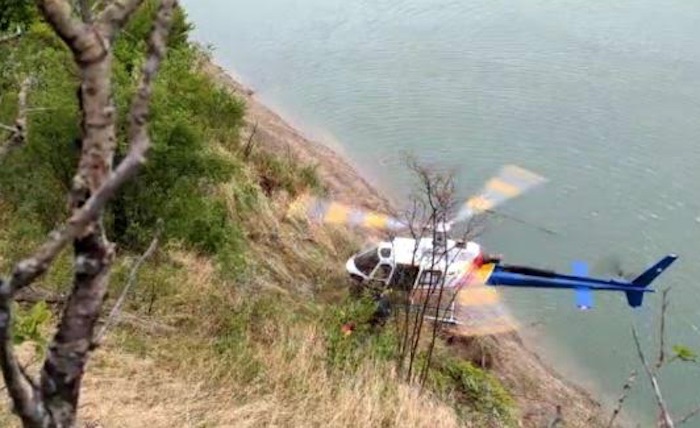 News release from Innisfail RCMP
Innisfail RCMP seek public assistance in locating missing elderly female – Update #3
Innisfail, Alta. – RCMP would like to provide additional details and clarify some information with regards the search efforts and the ultimate rescue of Lorraine Vandenbosch who went missing from Dickson Point Campground on May 29, 2023.
Upon locating Lorraine as she emerged from a heavily wooded area, rescue teams had difficulties transporting her due to a steep embankment. Alberta RCMP Air Services were again up to the task in supporting rescue efforts by landing in the difficult location and transporting Lorraine . She was taken for medical assessment and ultimately transported by STARS to hospital. Lorraine remains confused about her ordeal and RCMP have few details at this time.
Background
June 1, 2023
Innisfail RCMP seek public assistance in locating missing elderly female – Update #2
Innisfail, Alta. – RCMP are please to report that after 4 days of searching, Lorraine Vandenbosch has been located by rescue teams alive and in good spirits.
The RCMP helicopter located Lorainne this morning at approximately 9:30 a.m. walking out of a heavily wood area near the Dickson Trout Pond.
Lorainne is receiving precautionary medical attention and is with her family.
RCMP would like to thank the tireless effort of all involved in this search: Red Deer County SAR, Rocky Mountain House SAR, Sundre SAR, Wetaskiwin SAR, Red Deer County Patrol, Innisfail Fire Dept, Red Deer County Fire Dept, Spruceview Fire Dept, Alberta Conservation Officers, Raven Crime Watch and Mounted Horse volunteers.
RCMP would also like to thank the organizations that provided food to the teams, Spruceview Bakery and Red Deer Costco. This support allowed the rescue teams to continue working long hours.
Background
Innisfail RCMP seek public assistance in locating missing elderly female – Update
Innisfail, Alta. – Innisfail RCMP continue to search for Lorraine Vadenbosch who went missing from the Dickson Point Campground at Glennifer Lake yesterday. RCMP with assistance from Red Deer County, Sundre, and Rocky Mountain House Search and Rescue teams are actively searching the area.
While search teams continue to search, we are asking residents in the Glennifer Lake, Dickson, Spruce View, and nearby areas, to check your properties including treed outcroppings and outbuildings for Lorraine.
If you have any information regarding the whereabouts of Lorraine, please contact the Innisfail RCMP Detachment at 403-227-3342. If you want to remain anonymous, you can contact Crime Stoppers at 1-800-222-8477 (TIPS), online at www.P3Tips.com or by using the "P3 Tips" app available through the Apple App or Google Play Store.
May 29, 2023
Innisfail RCMP seek public assistance in locating missing elderly female
Innisfail. Alta. – Innisfail RCMP are seeking public assistance in locating a missing elderly female. Lorraine Vandenbosch (78), a resident of Didsbury, was last seen on May 29, 2023, at 10:30 a.m., at the Dickson Point Campground at Gleniffer Lake. Lorraine may be confused and there is great concern for her safety.
Lorraine is described as:
5 feet tall
Red hair
Light complexion
Last seen wearing white pants, white and black shirt, black runners and a cream colored hat
If you have any information regarding the whereabouts of Lorraine, please contact the Innisfail RCMP Detachment at 403-227-3342. If you want to remain anonymous, you can contact Crime Stoppers at 1-800-222-8477 (TIPS), online at www.P3Tips.com or by using the "P3 Tips" app available through the Apple App or Google Play Store.