Anti-government protesters in Kenya march in Nairobi streets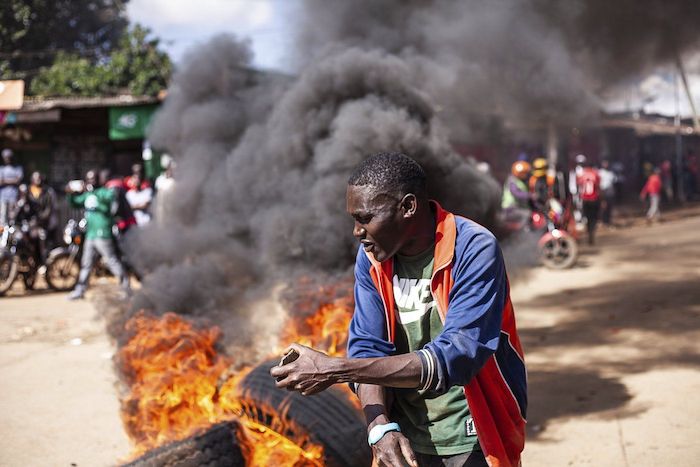 A protesters reacts next to a burning barricade during a mass rally called by the opposition leader Raila Odinga over the high cost of living in Kibera Slums, in Nairobi, Monday, March 27, 2023. Police in Kenya are on high alert ahead of the second round of anti-government protests organized by the opposition that has been termed as illegal by the government. Police chief Japheth Koome insists that Monday's protests are illegal but the opposition leader Raila Odinga says Kenyans have a right to demonstrate. (AP Photo/Samson Otieno)
By Evelyne Musambi in Nairobi
Nairobi, Kenya (AP) — Thousands of anti-government protesters marched on the streets of Kenya's capital, Nairobi, on Monday despite the government's declarartion that the protests are illegal.
Opposition leader Raila Odinga joined protesters on the western side of the capital where his convoy attracted thousands of supporters and he addressed them at various stops calling for electoral justice and reduced prices for food items.
Police used a water cannon and teargas to disperse supporters. Police chief Japheth Koome insists that the protests are illegal but Odinga says Kenyans have a right to demonstrate.
Odinga and his party, Azimio la Umoja–One Kenya Coalition, are leading the protests against the rising cost of living and calling for President William Ruto's resignation saying he wasn't validly elected in last year's election.
More than a dozen civil society groups have in a joint statement expressed concern over police declaring Monday's protests illegal and urged authorities to uphold people's constitutional right to peaceful demonstrations.
Ruto over the weekend urged Odinga to face him directly and "stop terrorizing the country."
Odinga last week said the protests would be held twice a week, on Mondays and Thursdays.
Odinga's plan in last week's protests was to march to the president's offices at State House but police erected barriers to prevent public access and motorists were directed to alternative routes.
Ruto is currently out of the country visiting Germany.
Deputy President Rigathi Gachagua shared photos of himself at his office early Monday morning and urged Kenyans to report to work.
Nairobi's central business district remained calm but most businesses were closed on Monday morning due to the uncertainty over demonstrations and if there would be violence.
There were reports of some violence directed at Odinga and his supporters. Some people raided a farm in the outskirts of the capital owned by the family of the former president Uhuru Kenyatta, cutting trees and taking away sheep, according to local media reports. The former president supported Odinga in 2022 elections.
Odinga's gas cylinder manufacturing business near the central business district was pelted with stones.
There was a heavy police presence within the capital and surrounding neighborhoods on Monday. Police have dispersed crowds that gathered in Kibera and Mathare, poor areas of Nairobi.
A resident on Kibera, Emily Atieno, told the Associated Press she would continue to protest until the "price of cooking flour is reduced". Another protester Mario Omari said protests would continue until Ruto resigns from office.
Local media have been warned against broadcasting Monday's protests. The Communication Authority of Kenya said the airing of last week's demonstrations caused panic, incited the public and threatened peace.
The High Court, however, ruled that the authority's notice was unconstitutional and upheld media freedom in response to a petition filed by a civil society group, a journalists' union and the Law Society.
In 2018, Kenya's main television stations were taken off air for one week by the regulator after airing Odinga's "mock" swearing in ceremony where he claimed to be the people's president." Odinga had rejected the 2017 election results and organized anti-government protests.
Police last week threatened to take action against those pictured hurling stones at officers.
They released photos of people who they said were wanted for crimes committed during the protests but were called out by local media outlets for using old photos and others that were taken during protests in Burundi.
BMO completes US$160M deal to purchase Air Miles loyalty rewards program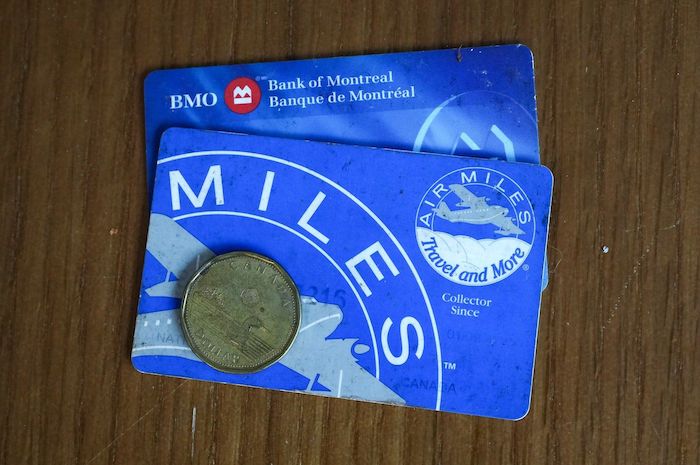 Air Miles and BMO cards are displayed in Mississauga, Ont., on Friday, March 10, 2023. BMO Financial Group closed its acquisition of the Air Miles loyalty rewards program in Canada on Thursday, saying it plans to expand the program with new ways to earn and redeem points. THE CANADIAN PRESS/Nathan Denette
Toronto
BMO Financial Group closed its acquisition of the Air Miles loyalty rewards program in Canada on Thursday, saying it plans to expand the program with new ways to earn and redeem points.
"Going forward, BMO ownership gives the program stability, but more importantly, the opportunity for us to invest in the program," said Air Miles president Shawn Stewart.
BMO announced in March it would purchase Air Miles after the program's U.S. parent company filed for bankruptcy. The bank's so-called stalking horse offer for LoyaltyOne Co. was US$160 million, subject to certain adjustments, according to court documents.
With the bank's ownership, Stewart says he's excited for the program's new chapter.
"We wanted to come out of the gate strong and reinvigorate what is a Canadian leading loyalty program. And what you'll see over the summer is a continued release of of new products, and new opportunities for collectors to earn."
Air Miles is one of the oldest and largest loyalty programs in Canada, with nearly 10 million active users, but the program has lagged in recent years as numerous companies dropped out of the program.
Last summer, Sobeys and Safeway owner Empire Co. Ltd. and office supply retailer Staples said they would be scrapping the program, a year after the Liquor Control Board of Ontario and Lowe's Canada pulled out.
BMO said it plans to introduce enhancements to the program including an improved travel booking platform and a new way for collectors to earn Bonus Miles through receipt scanning. The latter will be available first for collectors in Atlantic Canada, followed by those in other regions.
Stewart said the main complaint coming from program partners was a lack of investment in the Air Miles program, an issue the acquisition is expected to address.
"When partners see our investment, our hope and our plan is that they'll see the growth in the program, the opportunity for them to speak to 10 million Canadians, to understand and use the data and analytics the program provides," he said.
The Air Miles program is re-introducing itself to Canadians in a market that's seen more stores launching loyalty programs in recent years, but Stewart said that Air Miles stands out as a longtime brand with a broad catalogue for points redemption.
This report by The Canadian Press was first published June 1, 2023.
Total Canadian debt hit new record in first quarter: TransUnion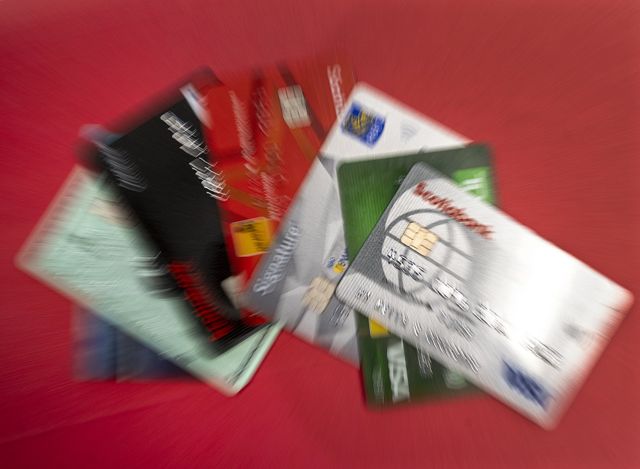 Canadians' combined outstanding debt hit a new record in the first quarter, reaching $2.32 trillion, TransUnion said Wednesday.
As the cost of living rose with high inflation and interest rate hikes, many Canadians turned to credit to alleviate financial pressures, the credit reporting agency said in its latest industry insights report.
The number of Canadians with access to credit grew 2.9 per cent year over year, led by subprime consumers, which grew by 8.3 per cent, TransUnion said.
However, the agency said consumers considered prime or higher still make up almost three-quarters of total consumers with a balance, characterizing that as a "relatively healthy risk distribution."
Credit card originations were up 20 per cent amid heavy competition in the market, while the average line of credit monthly payment increased by 43 per cent to $436.
Mortgage origination dropped 32 per cent year over year as higher interest rates slowed demand for new mortgages, especially in the refinance market.
Meanwhile, serious consumer delinquency increased, though TransUnion noted that overall delinquency levels remain below pre-pandemic levels.
"The financial position of Canadian credit consumers improved coming out of the pandemic, bolstered by higher savings accumulated through the pandemic and supported by a strong labour market," said TransUnion director of research and industry insights Matthew Fabian in the report.
"However, the longer the current conditions of elevated inflation and higher interest rates persist, the more likely it is that a segment of more vulnerable consumers may increasingly feel the pinch," he said.
"As available disposable incomes become more stretched, we expect a segment of consumers will be more likely to miss payments, and as a result, that delinquency rates will rise."
Average consumer balances on most credit products rose, with the average credit card balance up 11.4 per cent to $3,909, and the average mortgage balance up 7.1 per cent to $349,178.
TransUnion expects credit trends for 2023 to be mixed due to the uneven impact of higher inflation and interest rates.
This report by The Canadian Press was first published May 31, 2023.