Andersson, Flames top Tkachuk, Panthers in shootout 5-4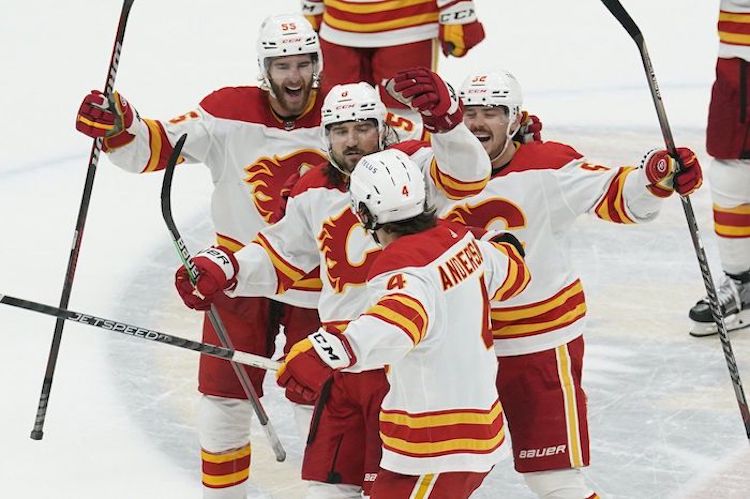 By George Richards in Sunrise
SUNRISE, Fla. (AP) — Rasmus Andersson scored in the fifth round of the shootout to lead the Calgary Flames over the Florida Panthers 5-4 Saturday night in a matchup of teams that made a major trade last summer.
Adam Ruzicka had two goals and an assist for Calgary. Nikita Zadorov and Blake Coleman also scored.
Florida got goals from Colin White, Sam Reinhart, Eetu Luostarinen and Matthew Tkachuk.
"It was a good game,'' Calgary coach Darryl Sutter said. "We fought back through a lot of adversity during the game."
Tkachuk spent six seasons with the Flames before going to Florida in a trade for Jonathan Huberdeau and MacKenzie Weegar on July 22.
Tkachuk scored with 6:14 left in regulation to make it 4-all and help force overtime.
"It felt good to get it to overtime,'' Tkachuk said. "It felt like we were dominating them yet it was somehow 4-3."
Ruzicka scored on a power play at 15:13 of the first period and Zadorov made it 2-0 with a goal 51 seconds into the second.
Florida tied it with two goals in the second — the first coming when Colin White stripped goalie Jacob Markstrom of the puck as he played it along the end board, took off and put it into the vacated net.
Reinhart made it 2-all with a power-play goal from the slot off a pass from Tkachuk.
Both Markstrom and Spencer Knight ended with 31 saves.
"This was a tight, even game where I did not think one team had a long stretch of dominance,'' Florida coach Paul Maurice said. "It is one of those games that, 20 years ago, would have ended in a tie. And you would have thought that was right."
WELCOME BACK
The Panthers honored both Huberdeau and Weegar with a video during a break in the first period. The two were both drafted by and spent their NHL careers with the Panthers before the July trade.
Huberdeau and Weegar both stayed out together for warmups as fans cheered them on.
Florida captain Aleksander Barkov, Huberdeau's longtime linemate, sent one more pass his way before they both skated to their rooms. Huberdeau was booed when he came out — and scored — in the second round of the shootout.
Tkachuk returns to Calgary for the first time since the trade later this month.
"I didn't expect to have that many jerseys out there and that was cool to see that,'' Huberdeau said. "I've been here a long time and I think they gave me a great ovation, so that was cool."
NOTES: Barkov returned to the Florida lineup after missing Thursday's game against Dallas with an undisclosed illness. He did not practice on Friday. … Defenseman Connor Mackey and forward Kevin Rooney were healthy scratches for the Flames. … The Florida power play has scored in six consecutive games.
UP NEXT
Flames: Play at Philadelphia on Monday night.
Panthers: Play at Columbus on Sunday night.
Premier Smith uses First Ministers' meeting to catch up with Quebec Premier Legault and Saskatchewan's Scott Moe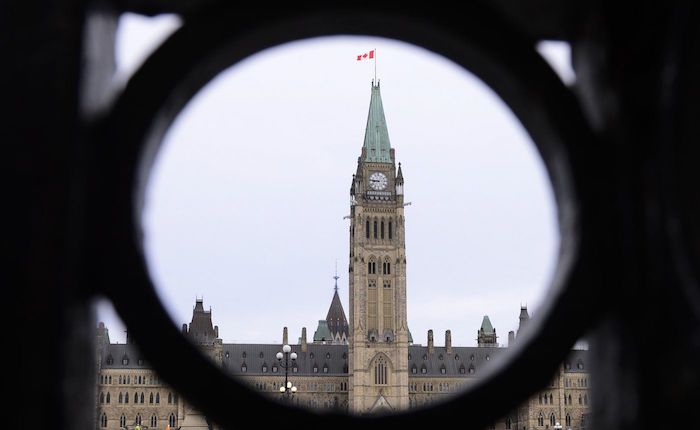 Premier Smith's update from the Ottawa
Premier Danielle Smith participated in the First Ministers' Meeting on health care in Ottawa and provided the following update.
Alberta is leading the country with major reform to health care. After 2.5 years of requests from Canada's premiers, today, the federal government presented their plan. While this is a start, overall, this is significantly lower than the premiers anticipated. Premier Smith will take this information back to her team in Alberta in advance of meeting with Canada's premiers again in the coming days.
Premier Smith also met with premiers François Legault of Quebec and Scott Moe of Saskatchewan in Ottawa in advance of today's first ministers' meeting.
Premier Smith and Premier Legault committed to a desired outcome for a health-care deal that recognizes and respects provincial jurisdiction over health delivery and leads to better outcomes for Albertans and Quebecers. Premier Smith stressed the importance of Alberta's energy sector, advocating for the importance of natural gas exploration and development both for the growth of the Canadian economy and to provide energy security for Canada's allies. Premier Legault reiterated his desire to invest in clean energy like hydroelectricity to fight climate change. Both premiers expressed concern about federal overreach and the need for the federal government to respect provincial autonomy in areas of provincial jurisdiction to better meet the needs of their citizens.
Premier Smith and Premier Moe expressed a need for flexibility in the delivery of health-care services, especially those that Alberta's Healthcare Action Plan commits to, such as reducing surgical wait times, improving ambulance services and reducing emergency room wait times. Premier Smith emphasized Alberta's progress on recovery-oriented care to support those struggling with mental health and addictions challenges and invited Premier Moe to Alberta to visit the province's recovery-oriented treatment centres. The premiers also discussed the mutual importance of the energy sector to their provinces for job growth and export to Canada's allies and a desire to work together on establishing economic corridors for trade and energy export.
Premier Smith asks Prime Minister to halt "Just Transition" legislation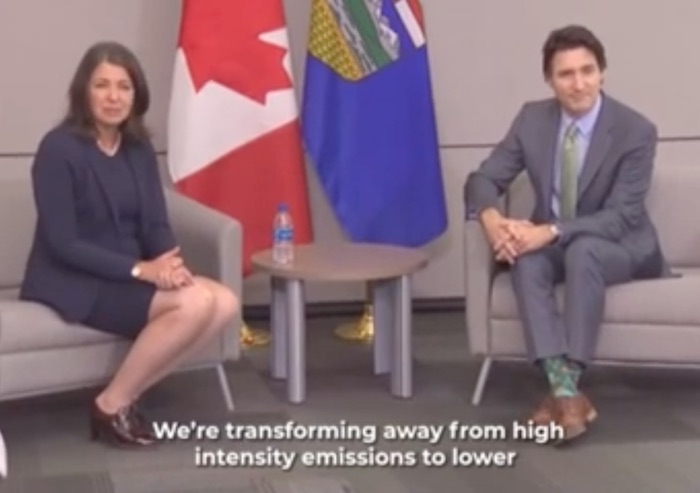 Premier Smith meets with the Prime Minister
Premier Danielle Smith met with the Prime Minister for approximately 30 minutes primarily discussing Alberta's request for the federal government to halt the introduction of its proposed 'Just Transition' legislation and other emission reduction strategies.
The Premier asked the federal government to instead work collaboratively with the Government of Alberta on developing a plan and partnership to attract energy investment and workers into Alberta's conventional, non-conventional and emerging energy sectors while reducing Canada's and Alberta's net emissions.
The Prime Minister expressed a willingness to explore this strategy with the Premier through their respective ministers and the Premier will be following up with further correspondence regarding proposed next steps in the near future.
The Premier used today's discussion to outline Alberta's expectations as to what must and must not be included in any future federal legislation, targets or policies as it relates to Alberta's energy sector. These expectations included:
Abandonment of any references to 'just transition' or any other terminology or policies that signal the phaseout of Alberta's conventional or non-conventional energy sector or workforce.
Increased workforce training and participation in all of the conventional, non-conventional and emerging energy sectors.
The need for formal consultation and collaboration with Alberta before the federal government announces or implements legislation, targets or policies that materially impact Alberta's energy sector.
Substantial increase in LNG exports to Asia through the lens of meeting targets through replacement of higher emitting fuel sources with clean Canadian LNG.
Joint federal-provincial initiatives to facilitate increased private investment in nuclear, hydrogen, bitumen beyond combustion, geothermal, lithium, helium, zero-emission vehicle, CCUS, petrochemical and other emerging technologies and fuels that make Alberta's conventional and non-conventional energy sector increasingly carbon neutral.