Alliances shift to Danielle Smith in final days to sign up for UCP leadership vote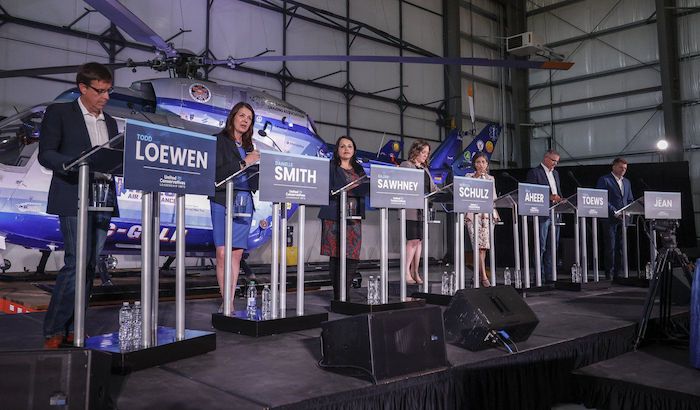 By Dean Bennett in Edmonton
Seven candidates scrambled Friday to sign up last-minute memberships in Alberta's United Conservative Party leadership race while political observers say that without hard data on which contender has a leg up, follow the feet.
Danielle Smith, who started out with a handful of supporters in the United Conservative caucus and cabinet, has seen more in-house support in recent days, including some who had initially pledged to back rival Travis Toews.
"Sometimes when you see people starting to shift allegiances, it sort of gives you a sense of where the momentum is going," political scientist Lori Williams, with Mount Royal University, said Friday in an interview.
"It's those people who want to be in cabinet or in a position where they can work with whoever the new premier is. They think things are moving in that direction and they're moving with them."
Labour Minister Kaycee Madu was the latest convert, announcing his support for Smith at rally in Edmonton on Thursday.
Earlier Thursday, former cabinet minister Devin Dreeshen said he would support Smith. Earlier in the week, Service Alberta Minister Nate Glubish switched his support from Toews to Smith.
Before that, Toews supporter Pat Rehn switched his support to Smith, joining fellow backbenchers Devinder Toor, Peter Guthrie and Nathan Neudorf.
Toews, who quit as finance minister to run in the contest, still has the lion's share of support, with about two dozen cabinet and caucus members openly in his camp.
Political scientist Duane Bratt said even so, by any metric from crowd sizes to polling to the fact Smith is the focus of attacks by her opponents, she is clearly the one to beat as party members being voting next month, with results to be announced Oct. 6.
"She's drawing the biggest crowds, we've got (MLA) endorsements that are now coming her way because they see her as the front-runner," said Bratt, also with Mount Royal University.
"All the other candidates are responding to her in some fashion (and) some are adopting the same policies.
"I wonder after midnight, (when membership sales end) if there is some soul searching among the other candidates and whether they drop out or not."
The party says hand-delivered-memberships were due by 5 p.m. Friday, with the cutoff for online memberships by midnight. These are to be the only memberships allowed to vote in the race.
Final count totals on memberships aren't expected from the party for about two weeks.
Smith, a former Wildrose party leader, grabbed headlines out of the starting gate in the contest with her proposed Alberta sovereignty act. The act, as pitched by Smith, would seek to give Alberta the right to ignore federal laws and court rulings deemed not in its interest.
Legal scholars and most of the other candidates in the race have labelled it an outrageously inflammatory, bizarre and illegal scheme that would create a domino effect of economic and investment uncertainty bordering on chaos.
But Bratt noted the other two main contenders have excoriated Smith's plan while adopting versions of it.
Toews has promised his government would seek to levy tariffs on goods and services or imports from specific regions to counter rules and policies deemed unfair to Alberta. Brian Jean has pledged to affirm that the Alberta Bill of Rights is paramount over Section 1 of the Constitution.
"It's an attempt by the sovereignty act by a different name," Bratt said.
Candidates Rajan Sawhney and Rebecca Schulz have been equally critical of Smith's sovereignty act, but have in recent days adopted more combative policies when it comes to federal relations.
Schulz has promised a protecting provincial rights summit within two months of winning, while Sawhney is pledging to pursue go-it-alone initiatives such as a provincial pension plan and police force.
Both Bratt and Williams said Smith has done a better job capturing and harnessing latent anger within the party's base when it comes to Prime Minister Justin Trudeau and the federal government
And they note Alberta's 4.5 million people could, come Oct. 6, be propelled in a new direction dictated by 40,000 or so UCP voters.
"To me, it looks like it's only the really animated, diehard, engaged and largely angry folks that are driving the narrative right now," said Williams.
"They're angry and they want to see change not just provincially but federally, and they want someone who is going to fight."
This report by The Canadian Press was first published Aug. 12, 2022.
'Ludicrous': Prosecutor questions testimony of teen in Calgary hit-and-run cop death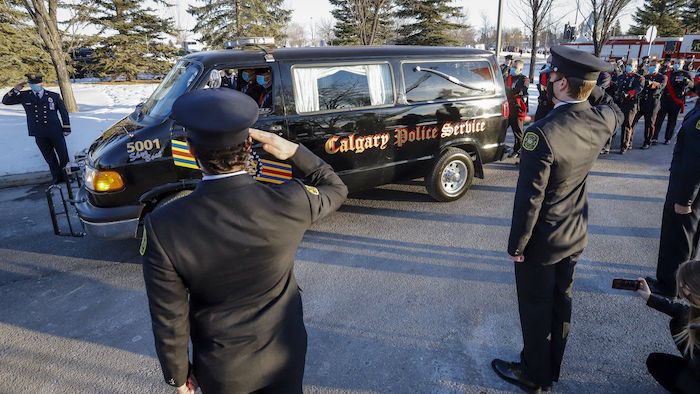 By Bill Graveland in Calgary
A prosecutor suggested Wednesday a teen charged with first-degree murder in the hit-and-run death of a Calgary Police Service officer had no reason to believe he was in danger.
Sgt. Andrew Harnett died in hospital on Dec. 31, 2020, after being dragged by a fleeing SUV and falling into the path of an oncoming car.
The alleged driver, who cannot be identified because he was 17 at the time, has testified he was scared when Harnett and another officer approached the vehicle during a traffic stop and he saw Harnett put his hand on his gun.
But during cross-examination, Crown prosecutor Mike Ewenson played the body-camera footage of the stop. He asked the accused, who is now 19, if there was any proof Harnett was being threatening or insulting during the routine traffic stop.
"You brought up George Floyd in your direct examination. Do you remember what happened to George Floyd?" Ewenson asked.
The accused replied: "He got pulled out of the vehicle and I think they stepped on his neck … and he said he couldn't breathe."
Floyd was a Black man who was killed during an arrest by Minnesota police on May 25, 2020.
During testimony Tuesday, the teen testified he and his friends had discussed the Floyd case on social media.
"Let's talk about what we just saw with Sgt. Harnett if we could, because you're bringing this up at a trial that involves his death," said Ewenson. "Any abusive language from him?"
"No," the teen replied.
"Anything that was insulting to your age, your race, your ethnic background or religion," Ewenson asked.
"Not necessarily, no. Actually, I felt like I was being racialized, right? Just the fact that the door opened and the fact that he asked for my phone number. I've never been asked for my phone number."
Ewenson said any talk of the traffic stop being racist was just something the teen wanted the court to "take his word for" and there's nothing that would be considered racist from Harnett's behaviour.
"That's how I felt," the accused replied.
The teen repeatedly told Ewenson that he wasn't sure how he ended up in the neighbourhood. He said he was following his GPS to get to a party. He also said he didn't know who the third person in the back seat of the vehicle was, who had come with a friend.
Ewenson said it's unlikely there would be memory lapses after an event that was the "most traumatic, powerful" and "consequential" night of the teen's life.
"So looking back on it, you realize the story is ludicrous? The story doesn't make sense, does it?" Ewenson asked. "Everything for you is a mindless reaction."
The suspect said at the time he panicked and just decided to take off because he was afraid. The teen said looking back, he wishes his decision had been different.
"Look, to be frank to you, I've sat for two years in jail and I've thought about this over and over and over again," he said. "It's different when I think about it now and what I was going through at the moment."
Ewenson suggested it was more likely something illegal was inside the suspect vehicle that made fleeing a simple traffic stop worth the risk.
Closing arguments in the trial are scheduled for Thursday.
This report by The Canadian Press was first published Sept. 28, 2022.
Incredible luxury homes and vehicles seized in massive international $55 million drug bust with Alberta roots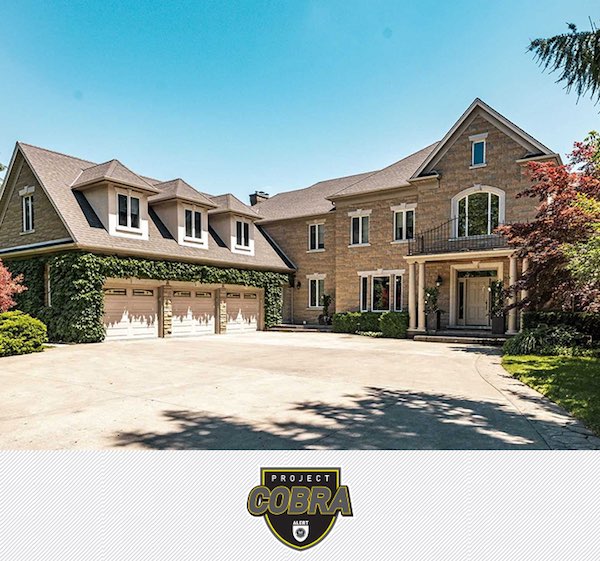 Niagara-On-The-Lake home seized by police in Project Cobra operation
News release from the Alberta Law Enforcement Response Team (ALERT)
Project Cobra intercepts $55 million worth of drugs
More than an estimated $55 million worth of methamphetamine and cocaine has been seized following a cross-border investigation by ALERT, RCMP Federal Serious and Organized Crime, and the U.S. Drug Enforcement Administration.
Project Cobra is a nearly three-year organized crime investigation into transnational drug importation, drug trafficking, and money laundering.
As the result of enforcement initiatives on both sides of the border, 928 kilograms of methamphetamine and 6 kilograms of cocaine were intercepted. In addition, approximately $7 million worth of assets have been seized or placed under criminal restraint.
Project Cobra relied on the assistance of a number of police agencies and specialized units, including: Calgary Police Service, Edmonton Police Service, U.S. Homeland Security Investigations, U.S. Customs and Border Protection, Canada Border Services Agency (CBSA), Niagara Regional Police, Canada Revenue Agency, Financial Transactions and Reports Analysis Centre of Canada (FINTRAC), and RCMP units in Ontario, Nova Scotia, Saskatoon, North Battleford, Sask., and Osoyoos, B.C.
Police agencies collaborated to make numerous large-scale drug seizures during the course of Project Cobra. These were shipments destined for Alberta, and included the following seizures:
342 kg of meth in Wyoming;
308 kg of meth in Los Angeles;
137 kg of meth in Calgary;
84 kg of meth in Los Angeles;
50 kg of meth at Lake Koocanusa, B.C.;
7 kg of meth and 1 kg of cocaine in Calgary; and
5 kg of cocaine in North Battleford, Sask.

Nineteen firearms were also seized, which included handguns, rifles, submachine guns, and suppressors.
Seven million dollars' worth of property, bank accounts, luxury vehicles, and other suspected proceeds of crime has been seized or placed under criminal restraint. This includes a $3.5 million home in Niagara-on-the-Lake, two Lamborghinis, a Porsche, classic cars, and $200,000 cash.
Project Cobra began in 2020 and a series of 11 coordinated search warrants were executed in December 2021. Homes, vehicles, businesses, and storage locations were searched in Calgary, Bedford, Nova Scotia, Niagara-on-the-Lake, Ont., and Leduc County, Alta.
Fifteen people and one business have been charged with 80 criminal offences ranging from participation in a criminal organization, to importation of a controlled substance, to laundering proceeds of crime, to drug trafficking.
The suspects were arrested and charged between May 2022 and August 2022:
Elias Ade, 38-year -old from Calgary, charged with 12 offences;
Abdul Akbar, 37-year-old from Calgary, charged with 8 offences;
Tianna Bull, 25-year-old from North Battleford, charged with 1 offence;
Lina El-Chammoury, 50-year-old from Calgary, charged with 2 offences;
Russell Ens, 39-year-old from North Battleford, charged with 2 offences;
Talal Fouani, 46-year-old from Calgary, charged with 3 offences;
Belal Fouani, 44-year-old from Calgary, charged with 3 offences;
Kari-Lynn Grant, 51-year-old from Calgary, charged with 4 offences;
Scott Hunt, 33-year-old from Calgary, charged with 3 offences;
Ricco King, 50-year-old from Bedford, N.S., charged with 5 offences;
Jarett Mackenzie, 32-year-old from Calgary, charged with 6 offences;
Jesse Marshall, 52-year-old from Calgary, charged with 4 offences;
Daniel Menzul, 32-year-old from Calgary, charged with 4 offences;
Sean Nesbitt, 44-year-old from Calgary, charged with 3 offences;
William Whiteford, 39-year-old from Leduc County, charged with 20 offences; and
Fouani Equity Funds Ltd. charged with 1 offence.
Fouani Equity Funds Ltd. is a Calgary-based investment company and was charged with laundering proceeds for an organized crime group.
Members of the public who suspect drug or gang activity in their community can call local police, or contact Crime Stoppers at 1-800-222-TIPS (8477). Crime Stoppers is always anonymous.
ALERT was established and is funded by the Alberta Government and is a compilation of the province's most sophisticated law enforcement resources committed to tackling serious and organized crime.