'All about the campfire': Campers adjust their plans with fire bans in place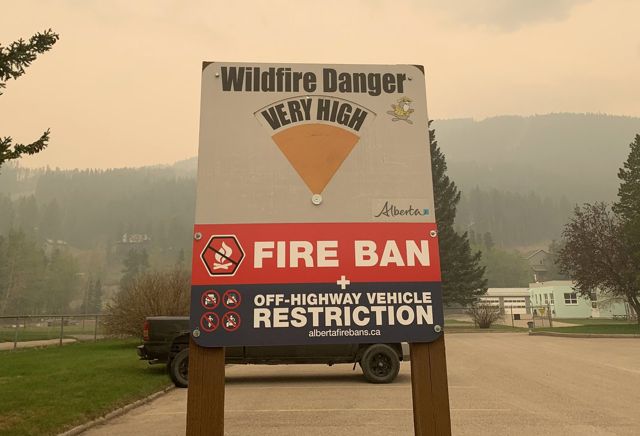 Blairmore area wildfire warning signage is shown in this handout image provided by the Government of Alberta Fire Service. As fire bans continue in many provinces, businesses selling camping gear and firewood are seeing a shift in demand. THE CANADIAN PRESS/HO-Government of Alberta Fire Service
By Ritika Dubey in Edmonton
Jade Najam was getting excited about camping during the May long weekend, sitting around the campfire late into the night with his family and sipping hot chocolate.
"Camping is all about the campfire. Just surfing the fire and sitting around the fire," said Najam. "Sitting around the campfire is the most important part of our evening."
But Alberta's fire ban, which was put in place in early May, still hadn't been lifted. Najam called off the plans to go camping in the wilderness, deciding it was better to stay home instead.
Fire bans began rolling in after hot, dry weather took over much of Canada early in the season — starting in Alberta, Saskatchewan and British Columbia, now expanding to the Maritimes. While Saskatchewan and Alberta have lifted the bans in some regions, people in the Prairies have been monitoring the wildfire season closely.
Companies that supply camping enthusiasts have been seeing trends change.
Najam, who is the managing director of Smart Firewood Products, based in Leduc, Alta., says demand usually picks up around mid-April and continues until mid-October.
"This May, I'm not even at five per cent of what I did last year in sales," he said.
Najam said his company provides "truckloads" of firewood to national parks in Alberta every year, while serving locals with retail firewood in his yard.
"My semi-truck full of firewood didn't even get out of the yard," he said of the current season.
One outdoor outfitter, meanwhile, is seeing a jump in sales for propane gas outdoor firepits.
"People have to look at things a bit differently when planning their camping trip due to fire bans," said Mike Eerkes, general manager at a Mountain Equipment Company store in Edmonton.
He said campers are opting for alternatives that don't get the classic smoky-wood campfire but still provide a warm glow.
For propane fires, Eerkes said, "All you need is a propane firepit, a propane tank and some gas in it."
The biggest advantage to propane fire is that "you can have it," he said. "They're fully compliant with the fire bans."
However, he acknowledges that propane fires are not fuel efficient, based on his experience. He suggested buying larger, refillable propane tanks for cost-effectiveness.
Overall, Eerkes said he hasn't seen a remarkable shift in the sales of camping gear overall.
"It's certain the fires are going to have some effect … but I'm not convinced we're seeing a massive downturn in people going camping this year."
A private campground about 100 kilometres southwest of Halifax has been getting cancellations since the fire ban and camping bans in wooded areas of Nova Scotia earlier this week.
"When fire bans are in place, it's the private campground's choice to follow the fire ban to not," said Minseo Kim, manager of the Little Lake Family Campground in Lunenburg, N.S. "But for this fire ban, private campgrounds have to listen as well.
"This has never happened before. We never faced this issue."
Kim said the cancellations will not have a huge effect in the coming weeks, partly because the peak season begins in July and the campground also has an open space outside of the wooded area.
He is hoping the fire ban lifts soon for overnight campers.
Nova Scotia imposed the fire ban on Monday, with Prince Edward Island following Tuesday.
Chris Nuttall-Smith, the author of the newly released book "Cook It Wild," said campers don't really need campfires to enjoy the outdoors or prepare meals.
A longtime backpacker and camper, Nuttall-Smith said fire bans are not a "huge limitation" for cooking outdoors with alternatives like backpack stoves available.
Nuttall-Smith, in his book, shares 75 recipes to cook in the wild, with up to 65 of them possible without a campfire, he said.
"Some of the best trips that I've ever taken are in places where you're never allowed to have a campfire," he said. "I don't think a lot of people miss it."
He recommends campers making due without fire this season bring pre-prepared food and enjoy the outdoors.
"You can find so much beauty out in the wild at dusk, after dark, like looking at the fireflies, looking at the stars. There is so much to do."
This report by The Canadian Press was first published June 2, 2023.
—-
Alberta says first steps to reform provincial health delivery system coming this fall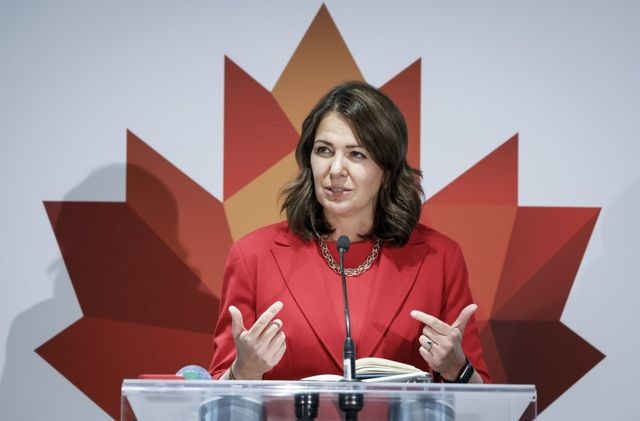 Alberta Premier Danielle Smith speaks to the media in Calgary, Monday, Sept. 18, 2023. Smith says the first steps are coming this fall to reconfigure Alberta's health delivery system – a plan the Opposition calls a recipe for more chaos from a government fresh off turning lab testing into a debacle. THE CANADIAN PRESS/Jeff McIntosh
By Dean Bennett in Edmonton, Alberta, Canada
Premier Danielle Smith says the first steps are coming this fall to reconfigure Alberta's health delivery system — a plan the Opposition calls a recipe for more chaos from a government fresh off turning lab testing into a debacle.
"We will not delay," Smith told mayors, councillors and other local leaders at the Alberta Municipalities convention Friday.
She said Health Minister Adriana LaGrange is to present her proposal to Smith and cabinet Wednesday on how to decentralize Alberta Health Services.
"If we get the cabinet approval and the caucus approval, we would be moving on some of that direction in the fall so that we are prepared for the new budget cycle in February."
Smith has directed LaGrange to revamp the structure of Alberta Health Services, better known as AHS, saying it needs to be more responsive to regional needs and focus more on direct hospital care.
She has said LaGrange will look at whether AHS still needs to be in charge of non-acute functions such as midwifery, primary care staffing and continuing care.
Alberta finished centralizing its health system 15 years ago to create AHS.
Smith has made AHS reform the centrepiece of her leadership.
Last year, she fired the governing board of AHS and replaced it with a single administrator. She blamed the agency for failing to step up during the COVID-19 pandemic as hospitals came close to being overrun with patients.
Opposition NDP Leader Rachel Notley said Smith's plan is only going to make things worse, particularly given the province abandoned last month its attempt to fully privatize community lab services after the changes resulted in long waits for tests in Calgary and southern Alberta.
"People all across this province are struggling to get access to lab (testing) now because of the dysfunction of this UCP (government)," Notley told reporters after her speech to Alberta Municipalities delegates.
"Overlaying more disorganization on top of that is a recipe for further undermining our health care and our public health care.
"There is not a single solitary thing that this UCP government has done under (former premier) Jason Kenney's leadership or Danielle Smith's leadership that has made our health care better."
Alberta Municipalities represents and speaks for villages, towns and cities that make up about 85 per cent of the province's population.
Wetaskiwin Mayor Tyler Gandam, the newly elected president of Alberta Municipalities, said they're hoping for changes and improvements to fix doctor shortages and emergency rooms forced to limit their operating hours.
"I was speaking with members of council from Ponoka and hearing that their emergency room had been shut down nearly 20 times this year so far," Gandam told reporters.
"The last thing that a person should be worrying about is whether or not the emergency room is going to be open or an ambulance is going to able to respond to their call when they need it."
The convention focused mainly on calls for more funding from the province.
On Thursday, delegates voted 98 per cent on a motion calling on the province to roll back years of municipal funding cuts on infrastructure.
The association says the province has cut both per capita spending and the percentage of total budget spending for years, resulting in about $1.3 billion less investment in community infrastructure per year that needs to be returned, particularly as the province continues to attract thousands more newcomers a year.
Smith said she will look at ways to get more money to municipalities to help bring property taxes down along with more one-time funding from recent budget surpluses to help accelerate capital projects.
"'I've watched it happen many times that we're very generous (and) increase the funding when times are good, and then when times turn the other way, we ask you to take a pretty big haircut, and that puts a lot of extra pressure on you," Smith told the delegates.
This report by The Canadian Press was first published Sept. 29, 2023.
Man dies in Edmonton mall parkade after standing up through car sunroof: police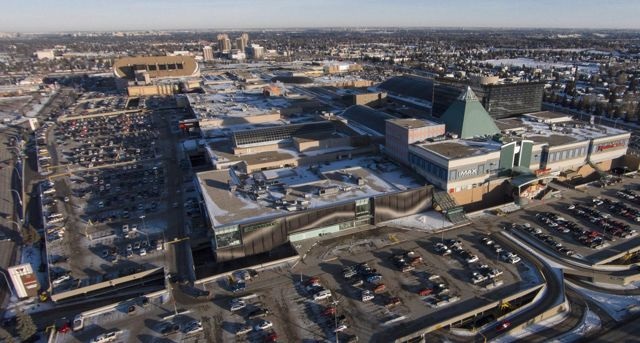 The West Edmonton Mall is shown on Sunday, Feb. 22, 2015. Edmonton police say they are investigating the death of a man in a parkade at the mall after he stood up through the sunroof of a car and was struck by a beam. THE CANADIAN PRESS/Ian Jackson
Edmonton
Edmonton police say they are investigating the death of a man in a mall parkade after he stood up through the sunroof of a car and was struck by a beam.
Officers responded to the call Thursday at West Edmonton Mall.
They were told a sedan had been travelling through the mall parkade when the 18-year-old passenger stood up.
As the car passed underneath a ramp, the man was struck by a concrete beam.
Emergency workers treated the man at the scene and took him to hospital, but he died of his injuries.
The 17-year-old male driver and 15-year-old female passenger were unhurt.
Police say speed and impairment are not believed to be factors.
This report by The Canadian Press was first published Sept. 29, 2023.