Alberta's Kenney defends calling party opponents 'lunatics,' comparing them to bugs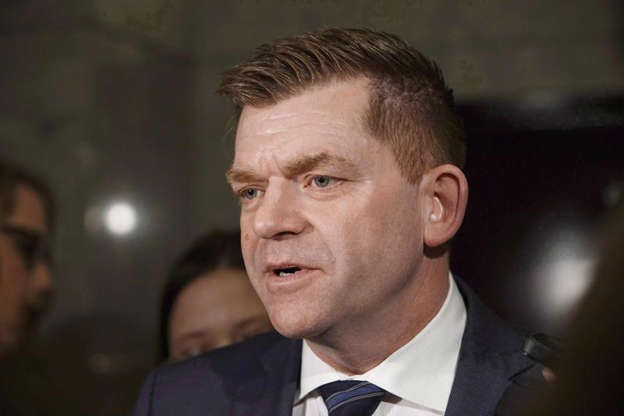 Alberta Premier Jason Kenney says he won't apologize for comments he is heard making in recordings in which he compares political opponents in his party to insects and calls them lunatics.
Kenney says the United Conservative Party is under siege from extremist elements, including homophobes and religious bigots, seeking a hostile takeover by toppling him in an upcoming leadership review.
"I am determined to ensure that such hateful, extreme and divisive voices do not find a home in this mainstream broad conservative party," Kenney told reporters in Calgary on Friday.
"That is an issue that is very much at play here and I will not apologize for calling out these kinds of voices of division."
The private remarks he made to his staff were secretly recorded earlier this week, then leaked to the media.
In the remarks, Kenney is heard characterizing the fractious leadership review as a fight for the soul of his mainstream big-tent party.
"The lunatics are trying to take over the asylum. And I'm not going to let them," Kenney says on the recording, as reported by CBC and Global.
"These are just kooky people generally," he added.
He said the fight is a natural consequence of success, noting "a bright light attracts a few bugs. Well, there's more than a few bugs attracted to us, this party, right now."
Kenney said Friday he stands by his plan to listen to the will of the party in the leadership review, but he will otherwise stay in place to keep the UCP from fracturing.
Kenney's comments cap a week of upheaval and anger within party ranks after UCP executive cancelled the April 9 leadership review and replaced it with a provincewide mail-in ballot.
The executive said with 15,000 members expected to vote, the process had become unwieldy for the planned one-day, in-person vote in Red Deer.
Two UCP backbenchers have called the change blatantly unfair and urged Kenney to resign. Some party constituency presidents representing thousands of members have also demanded the old rules be reinstated.
Segments of the party and Kenney rival Brian Jean, who recently won a byelection to rejoin the UCP caucus, had been selling memberships for months with the aim of getting Kenney turfed as leader at the review.
Kenney needs majority support or a race is called to pick a new leader.
Critics say Kenney was poised to lose the vote, so pressure was applied and the mail-in change was made to drastically expand the voter pool and boost his chances.
Jean lost the UCP leadership to Kenney in 2017 in a race marred by allegations of collusion and voting irregularities.
He said he's heard again of possible membership mining to harvest favourable ballots for Kenney.
"It doesn't matter how he tries to cheat or how he tries to manipulate the system, and how his team tries to do things to stay in power," said Jean in an interview. "If (Kenney) stays in power, the UCP is gone."
In Edmonton, Jean's spokesman Vitor Marciano and David Parker of the citizen's advocacy group Take Back Alberta said they will be asking the provincial election commissioner to investigate the membership drive.
They told reporters they are concerned UCP membership rolls may have been improperly inflated by Kenney supporters just prior to the Saturday cutoff.
They said the membership list was at about 29,000 before almost doubling to 55,000 in the space of a few days.
The two allege an estimated 18,000 names may have been added without the registrants' knowledge and with the $10 fee for each registration paid in bulk by credit card or through a cheque. Adding those names and bulk-paying the fee, they said, would violate provincial election laws.
Harrison Fleming, a spokesman for Kenney's leadership review campaign, dismissed the allegations.
"While Mr. Jean might want to spend his time suing the UCP to prevent members from voting, we are encouraged by the widespread interest from UCP members to remain engaged and active in this big-tent conservative movement," said Fleming.
Marciano and Parker also said some of the ballots in question were paper ones while the rest were added electronically and shipped via a web portal set up by the party.
UCP spokesman Dave Prisco, when asked about the party setting up a web portal for Kenney, said such portals are routine and legal.
"Their purpose is to get candidates to do the data entry work for us. They still must still follow all rules outlined on our website," said Prisco in a statement.
This report by The Canadian Press was first published March 25, 2022.
Alanna Smith and Dean Bennett, The Canadian Press
'Short-term pain': Group of Alberta lawyers escalate job action over legal aid cases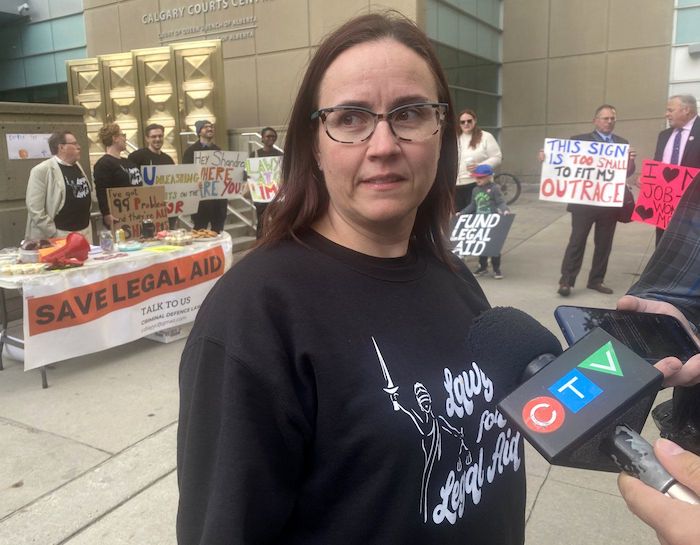 By Bill Graveland in Calgary
Alberta criminal defence lawyers are taking another step in their dispute with the provincial government over the amount of compensation paid by Legal Aid Alberta.
Organizations representing lawyers in Edmonton, Calgary, Red Deer and southern Alberta began job action Aug. 8 by refusing to accept certain bail and duty counsel files from legal aid.
The lawyers also began refusing certificates for new cases for the most serious criminal charges, including sexual offences, firearms-related crimes and homicides.
Beginning Monday, they say all services will be withdrawn.
"We're going to stop taking all certificates. That will include some our prior job actions still allowed us to take certificates for people who are already existing clients and there will be a very, very limited set of circumstances now where our members will do that," said Kelsey Sitar, vice-president of the Criminal Defence Lawyers Association in Calgary.
"The default will be: 'We are just not taking any new work from legal aid until the problem is fixed.'"
Sitar made her comments at a rally in front of the Calgary Courts Centre on Friday that drew about 50 criminal defence lawyers.
A table with a sign reading "Save Legal Aid" offered bake goods for sale. Lawyers carried signs reading "Access 2 Justice Must be Equal." Another read: "This sign is too small to fit my outrage."
"This is drastic. I mean, what we were doing up until now is something I know has happened in Ontario before, it did not last long, frankly," Sitar said.
"I can tell you that none of us want to be out here. We all want to be in there doing our jobs."
Justice Minister Tyler Shandro has said nothing is going to be done until a review of the Legal Aid Alberta administrative system is complete, which is scheduled for next month.
He said any budget changes for legal aid wouldn't happen until next year.
Sitar said the ministry chose to undertake "an incomplete and, frankly, useless review" at a time when the governing United Conservative Party is about to go through a leadership change.
"So we have to act now and they need to respond now," she said.
Sitar said she understands the people being affected the most by the job action will be people with lower incomes who need the services to afford legal representation.
"It's short-term pain right now," she said. "It's really unfortunate, but I can tell you that most of the people I've talked to on the street who are finding themselves caught up in this understand and are grateful that we're doing it."
Alberta Opposition NDP Leader Rachel Notley said the problem has been growing over the last three years. She said when her party was in power, it committed to additional funding for Legal Aid, but the UCP government backtracked.
"We simply cannot be asking the Legal Aid bar to be doing what we are asking them to do at the rate that we are asking them to do it," she told reporters.
"We have the lowest funding for Legal Aid in the country. What that means is that we don't have equal access to justice. It undermines the integrity of our justice system and, overall, it undermines our ability to build a sense of community safety, community security and an overall respect for the rule of law — all of which are important to community health and economic growth.
"It sounds like a niche issue, but it's not. It actually has knock-off effects to very, very important issues that affect all of us. So, the government needs to come to the table and negotiate decently with these lawyers."
This report by The Canadian Press was first published Sept. 23, 2022.
— With files from Colette Derworiz in Calgary.
'Kind of like carnies': International balloon festival returns to High River, Alta.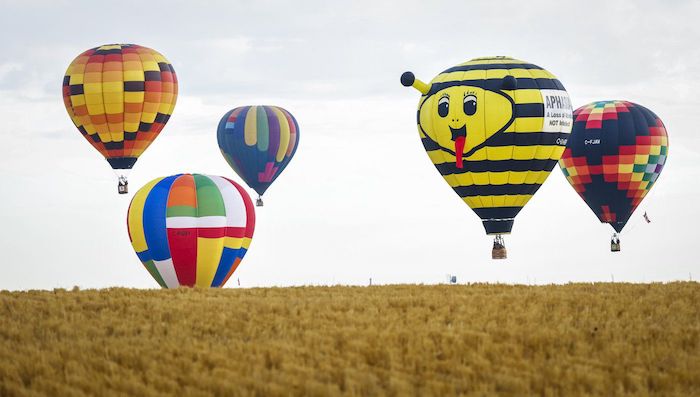 By Bill Graveland in High River, Alberta
The windswept prairie east of the Rocky Mountains seems an unlikely spot for a hot-air balloon festival, but the town of High River, Alta., is celebrating the event's 10th year.
More than 20 brightly coloured balloons — including a pink elephant, a black and yellow bee and the purple and yellow Eye of Ra, named after the Egyptian sun god — took advantage of a lull in the prevailing wind this week to get some up-in-the-air time to mark the opening of the Heritage Inn International Balloon Festival.
"We get about 50 per cent of our flights off. Weather impacts us everywhere," said event director Jamie Kinghorn, who is also a town councillor.
"This is our 10th. We started in 2013 partly because of the flood that happened. I'd been to a number of balloon events and thought this might lift the spirits of the folks in town."
The town of 12,000 just south of Calgary gained an international profile in 2013 when flooding in parts of southern Alberta caused billions of dollars in damage.
High River was one of the hardest-hit communities. Entire neighbourhoods were under water for weeks.
"I called in a bunch of friends from the balloon community and they knew what happened, so 20 of them came into High River and we put on a balloon festival that was actually amazing for the community," Kinghorn said.
"That was sort of the first major thing toward recovery after the flood and we've been doing it every year since at the end of September."
Kinghorn said the festival is a boon to local tourism and there's not a hotel room to be had in town.
He had his first hot air balloon over the city of Calgary in 1988. A year later he was a balloon pilot.
There are 23 balloons participating this year, including some from the United States, Belgium and the United Kingdom.
Kinghorn said it's a pretty small community.
"We tend to meet at various events. We tend to travel. We're kind of like carnies to some extent," he said with a laugh.
"We travel around to different cities to different balloon events."
Alan Davidson, who has been involved in the sport since 1977, is one of the volunteers.
He said those who get involved tend to stick with it.
"The amazing thing is that there are still seven or eight of the people I was ballooning with in the '70s and early '80s who are still here at this event," said Davidson. "They've been working with balloons for over 40 years."
Kinghorn, who is the owner and pilot of the Eye of Ra, was the first balloon in the air Thursday morning after a Wednesday evening flight was cancelled due to the wind.
"My God am I glad we got this off," he said as the flight came to an end.
The festival runs through Sunday.
This report by The Canadian Press was first published Sept. 23, 2022.