Alberta Premier says he won't 'take lectures' from federal health minister on COVID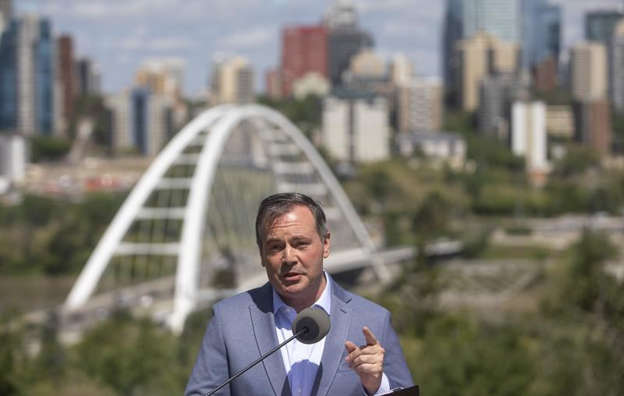 CALGARY — Alberta Premier Jason Kenney says he won't "take lectures" from federal Health Minister Patty Hajdu on how to handle COVID-19.
Hajdu earlier penned a letter to her Alberta counterpart saying she agrees with the Canadian Paediatric Society's description of Alberta's move to lift all COVID-19 measures as an "unnecessary and risky gamble."
"We're not going to … take lectures from Minister Hajdu, particularly when it appears that she and her boss (Prime Minister) Justin Trudeau are hell-bent on a federal election campaign," Kenney said Friday at a news conference in Bowden, Alta., about drought support for farmers.
"If they really are that concerned about COVID, then why is she getting ready to put up campaign signs?"
Kenney went on to describe Hajdu's letter as a political ploy and criticized her handling of COVID-19 in the early days of the pandemic.
He said the federal government should respect the advice of Alberta's top doctor, as his government does.
Hajdu is one of many political leaders and health-care experts across the country who have spoken out about Alberta's decision to eliminate COVID-19 isolation, testing and contact tracing measures.
Dozens of people chanted "test, trace and isolate" outside the legislature in Edmonton on Friday. It was the ninth consecutive day of protests, which have also taken place in Calgary.
Organizers said they will continue to protest every day until Aug. 16 – the day quarantine requirements lift in Alberta for people infected with COVID-19.
David Walsh, 14, said even though he is fully vaccinated, he is concerned for his peers when they return to school in September.
"It's idiotic, quite frankly," Walsh said. "I'm worried about asymptomatic people in the school … and not having to isolate anymore is concerning. I'm worried about my classmates and those who have been fed misinformation and haven't been vaccinated."
Businessman Rob Sproule attended the protest with his wife and children. He said he is gravely concerned about a fourth COVID-19 wave.
"No other jurisdiction has gone this far. Dropping restrictions is one thing. You don't have to take it one step further and treat COVID like it's the cold. It's not a cold," said Sproule.
As concerns mount, so are cases in Alberta. Thursday marked the single highest daily case count since July 1 with 397 new infections. Alberta also had the highest active case count in all of Canada, according to federal data.
On Friday, the province reported 369 more cases, and 11 new hospitalizations.
Dr. Craig Jenne, an infectious disease expert at the University of Calgary, said severe outcomes as a result of community transmission is the biggest concern.
"If this trend continues, I think we're going to have to face some tough decisions on how to slow it," said Jenne.
"If, however, we see a stronger disconnect between rising cases in the community and limited hospitalizations, then that's an indication we can continue moving forward."
Earlier Friday, Alberta's Opposition NDP called on Kenney to release internal modelling that the government says supported its decision to eliminate its public health measures.
NDP deputy leader Sarah Hoffman said the government needs to release the data so Albertans can make decisions on their health and gauge the risks.
Dr. Deena Hinshaw, Alberta's chief medical officer of health, has said the modelling looked at transmission and severe outcomes related to the highly contagious Delta variant.
Hinshaw said the modelling suggests cases will rise for a month but will have a limited impact on the province's acute care system.
Chris Bourdeau, a spokesman for Alberta Health, said in a statement that Hinshaw's decisions are based on "thorough medical analysis, using the best data available from Alberta and around the world."
Bourdeau said Hinshaw will release some data next week, but did not clarify if the internal modelling will be included.
Late Friday afternoon, the province released a 126-page independent report into its response during the first wave of the pandemic.
The review looked into the government's response to acute and continuing care, the economic consequences of the pandemic, messaging on COVID-19, the government's decision-making process and procurement of personal protective equipment.
It made three recommendations, including one for the province to work collaboratively with other stakeholders, such as municipalities.
This report by The Canadian Press was first published Aug. 6, 2021.
— With files from Fakiha Baig in Edmonton
Alanna Smith, The Canadian Press
Most unused COVID-19 vaccines will expire at the end of the year: auditor general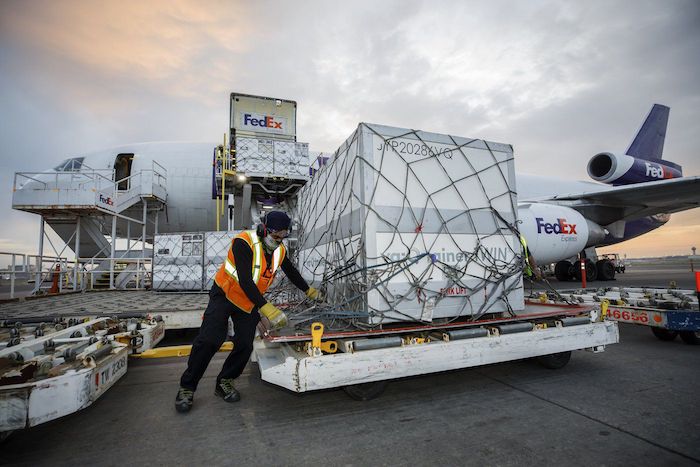 By Laura Osman in Ottawa
Tens of millions of doses of COVID-19 vaccines are likely about to expire and go to waste because of a failure to manage an oversupply, Canada's auditor general reported Tuesday — a failure with an estimated price tag of about $1 billion.
Karen Hogan has released the results of her office's investigation into the government's efforts to get ahold of COVID-19 vaccine doses in the early days of the pandemic, and track how many people got them.
The auditor gave the Public Health Agency of Canada and the Procurement Department a thumbs up when it came to quickly getting enough doses into the country to meet vaccination goals, but said the government did a much poorer job of managing all that supply.
"We found that the Public Health Agency of Canada was unsuccessful in its efforts to minimize vaccine wastage," Hogan wrote in the report.
The government knew that by signing advanced purchase agreements with a number of pharmaceutical companies there was a risk of buying up more COVID-19 vaccines than Canadians needed.
PHAC and the federal government signed deals with seven companies that were developing vaccines in 2020 and 2021, in case only a few them were approved by Health Canada.
So far six of those have been authorized by the drug review agency.
"In my view, it was a prudent approach given all the uncertainty back in 2020," she said at a press conference Tuesday.
The auditor found that about half of the 169 million doses the government paid for have made it into the arms of Canadians between December 2020 and May 2022.
The federal government announced plans to donate some 50 million surplus doses to other countries, but as of May 31 only about 15 million had been given away and another 13.6 million expired before they could be donated.
Canada has offered the remaining 21.7 million doses to other countries but so many countries are now offering donations that the market is saturated, Hogan said, and those vaccines will be wasted if they are not distributed soon.
There were also 32.5 million doses in federal and provincial inventories by the end of the audit period in May, worth about $1 billion, based on the auditor's estimate.
Hogan said in her report that the majority of those doses will expire by the end of 2022.
Hogan said the public health agency informed her that another 10 million have expired since the end of the audit and another 11 million were donated.
Part of the problem, she said, was that provinces and territories did not communicate and share data with PHAC.
"Although some provinces and territories consistently reported to the agency, the agency was unable to obtain complete data from most. This meant that the status of these doses was unknown and reduced the agency's ability to predict supply needs and plan for donations," the report said.
The auditor general's office and the public health agency itself warned for a decade before the COVID-19 pandemic that there were serious gaps in the federal and provincial health data sharing plans.
In January 2021, Deloitte Inc. was awarded a $59.1 million contract to come up with a national vaccine management system called VaccineConnect to share timely information about vaccine distribution, coverage and safety.
Some elements of that program were up and running on time, but others were delayed and the auditor found that PHAC was instead using spreadsheets to manually track expiration dates and waste as of June 2021.
The information silos made it difficult for vaccine companies to monitor national safety indicators of their products, as they've been ordered to by Health Canada.
"Companies cannot entirely fulfil this requirement when they do not have access to the necessary data on adverse events," the report said.
Hogan found two incidents in 2021 where companies learned of adverse effects to their vaccines from the media and urgently requested the data from the government, but couldn't get access to it for three months.
Canada is also the only G7 country that does not follow World Health Organization guidance to share case-level information about patients who have adverse effects after immunization, and instead sends only summary data.
This report by The Canadian Press was first published Dec. 6, 2022.
Military was told to prepare to intervene in 'Freedom Convoy' protests: official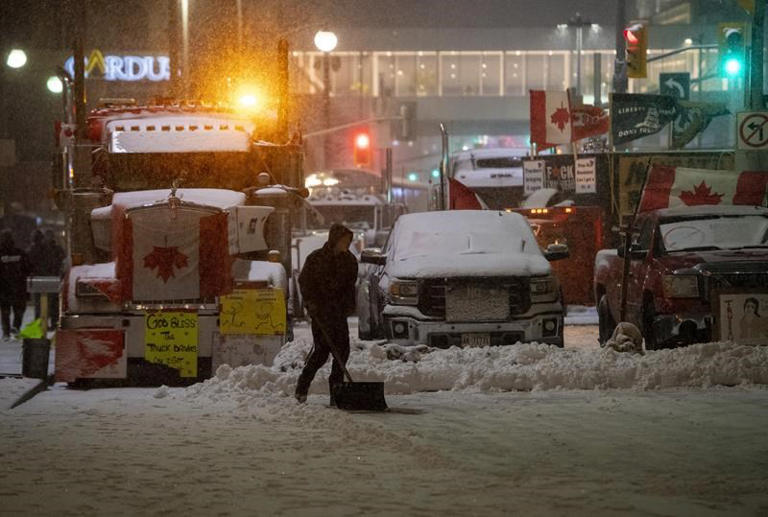 OTTAWA — The Defence Department's top official says he directed the military to prepare to intervene in the "Freedom Convoy" protests earlier this year, but the resulting plans were never seriously considered — in part due to concerns about another Oka Crisis.
Deputy minister Bill Matthews and another top defence official also said the Canadian Armed Forces was prepared to fly police officers to demonstration sites across the country, but that its tow trucks were too big ⁠— and too old ⁠— to help with the protests.
Matthews and Defence Department associate deputy minister Stefanie Beck made the comments in an August interview with lawyers for the public inquiry looking into the Liberal government's decision to use the Emergencies Act to end the protests.
A summary of that interview is among thousands of documents released by the Public Order Emergency Commission, which will ultimately determine whether the government was justified in invoking the act in February.
Neither was called to publicly testify before the commission.
The Liberals faced public calls in January and February to deploy the military as thousands of protesters opposed to vaccine mandates and pandemic restrictions gridlocked Ottawa and border crossings with the United States for three weeks.
The inquiry was also shown text messages in recent weeks in which federal Justice Minister David Lametti and then-Alberta premier Jason Kenney raised the prospect of using the military alongside police to clear protesters.
In one text exchange, Lametti and Public Safety Minister Marco Mendicino raised the idea of using a tank to end the protests. Lametti told the commission last week that the exchange was a joke.
Lametti and Defence Minister Anita Anand instead told the commission that the military was always considered a last resort — a position that Matthews and Beck echoed in their interview with commission lawyers.
Both defence officials "strongly emphasized that CAF members are not police officers," the summary reads.
"They are trained to use lethal force, not do crowd control. Indeed, the domestic use of military force is, and in their view should always be, seen as a last resort."
Matthews did say he asked defence officials to prepare "for the possibility that the CAF might be called out to intervene in the protests," with a number of scenarios and internal plans subsequently drawn up.
"These plans considered the use of military equipment, infrastructure and deployment of CAF members."
Yet Matthews and Beck said it was clear throughout the planning process that the government and the minister did not want to use the military due to fears "deploying the military in any way would inflame tensions with the protesters."
The two officials "noted that the shadow of the Oka Crisis still looms large," reads the summary.
On July 11, 1990, Quebec provincial police moved in on a barricade near the small town, which is about 50 kilometres northwest of Montreal. The barricade was erected by Indigenous activists to protest the planned expansion of a golf course and development on ancestral land.
After a police officer was killed, the situation escalated into a tense, 78-day standoff between Mohawk and thousands of Canadian soldiers that captured the country's attention and raised enduring concerns about using the military in protests.
Matthews and Beck told the commission lawyers that they shared their concerns about a possible repeat of the crisis with senior officials in other departments, but that the military's actual plans were not shared with them or with Anand.
"It was a necessary planning exercise, but the option of deploying the CAF was never seriously considered."
The military did end up providing limited support to law enforcement efforts, with Ottawa police using the Cartier Drill Hall in downtown Ottawa as a staging area. It also provided 1,200 ration packs to the Parliamentary Protective Service.
The Defence Department and Armed Forces expected and considered requests for military planes to fly police to various parts of the country, but Matthews and Beck said domestic flights ended up being adequate.
Officials also considered whether the military could be used to clear protesters' trucks from downtown Ottawa, the border crossing in Coutts, Alta., and other places where local officials were having trouble getting local tow companies to help.
However, Matthews and Beck said that ultimately wasn't an option as the military's own tow trucks weren't designed for the types of vehicles involved in the protests, and using them would damage not only those vehicles but also any roads driven upon.
There were also concerns that moving the military's tow trucks would represent a "significant logistical effort" and could have "drawn significant attention to themselves and the CAF members operating them."
"Third, the trucks are quite old and require frequent maintenance," the interview summary adds. "DND has plans to replace these trucks."
This report by The Canadian Press was first published Dec. 1, 2022.
Lee Berthiaume, The Canadian Press