Alberta justice minister demands answers from Edmonton on crime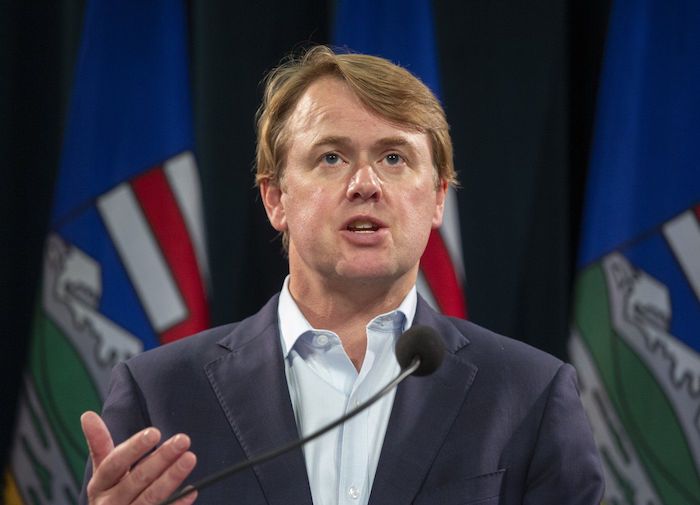 By Dean Bennett in Edmonton
Alberta's justice minister says people in Edmonton are not being kept safe from violent crime, particularly on public transit, and he's ordering Mayor Amarjeet Sohi to provide answers.
Tyler Shandro has told Sohi he's invoking his ministerial powers under the province's Police Act to demand a report within two weeks on what the city will do to arrest a spike in serious crime.
In a letter to Sohi made public Thursday, Shandro cited an increase in downtown crime as well as in aggressive encounters and drug use on light-rail rapid transit.
He pointed to the killings last week of two men in the Chinatown district downtown.
"As the minister of justice and solicitor general, I have a responsibility under the Police Act to ensure the people of Edmonton receive adequate and effective policing," Shandro said in the letter.
"It is quite apparent that residents feel uncomfortable and unsafe in the downtown core, riding transit and traversing the transit centre corridors.
"In short, the people of Edmonton deserve better than what this city council is delivering."
Sohi called the letter an overreach by the provincial government, but added that he is glad the provincial government is finally paying attention.
"I share the same concerns about the safety in our downtown, Chinatown and on the LRT that he highlighted in this letter," Sohi said Thursday. "The social issues that are causing these safety issues are nothing new.
"The disorder and crime that we are seeing in our downtown is directly linked to the lack of provincial investments in ending houselessness, the mental-health crisis, the drug poisoning and addictions crisis."
Shandro's letter said the United Conservative government is doing its part to address core issues that can lead to crime, including spending millions of dollars to fight drug addiction and homelessness.
Shandro did not make himself available to media to answer questions.
There was no comment from the Edmonton Police Service. Chief Dale McFee was to attend a city council meeting Friday.
Edmonton city councillors are currently debating whether to set this year's police budget at $385 million, which would be a drop of $22 million if police could not secure extra funds from declining photo radar revenues.
Shandro said earlier this week he would be concerned if Edmonton's police budget were to be cut.
The police budget has not been cut, said Sohi, who added that the city has invested more in transit officers, community action teams and in safety-related projects in affected areas.
"Council is investing in many issues that are the responsibility of the province and, frankly, they are falling short," he said.
"The pandemic has brought to light so many social issues that are not being properly addressed or adequately funded."
Sohi said he looks forward to meeting with the minister next week to outline his concerns and explain how the city is doing its part.
Irfan Sabir, justice critic for the Opposition NDP, said violent crime in Alberta's capital is a serious issue that needs to be addressed. But, he added, the UCP government is choosing to off-load complex problems and pick fights instead of collaborating.
"People in Edmonton want a plan in place (so) they can be assured that they are safe in their homes and their communities. But in this instance, the minister is just passing the buck," said Sabir.
This report by The Canadian Press was first published May 26, 2022.
— with files from Colette Derworiz in Calgary
Telus Corp. marks opening of Telus Sky in downtown Calgary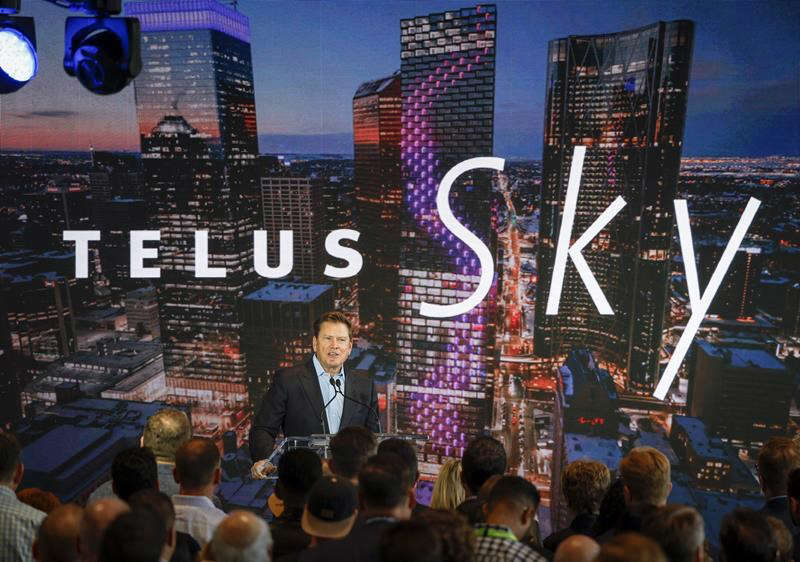 CALGARY — Telus Corp. marked the opening of its new 60-storey Calgary headquarters on Wednesday.
The new $400-million skyscraper, Telus Sky, has been in development for nine years and is now the third-tallest building in downtown Calgary. It features 750,000 square feet of office and retail space as well as 326 rental homes.
The building's eye-catching design, by architects Bjarke Ingels Group (BIG) and Dialog, along with developer partner Westbank and Allied, starts with a rectangular floorplate and then gradually twists as it rises.
Integrated into the facade of Telus Sky is Canada's largest public art display. "Northern Lights" by Canadian author and artist, Douglas Coupland, creates a light show across the building's exterior.
Telus Sky will be home to more than 1,600 Telus employees. It joins TELUS Garden in Vancouver, TELUS Harbour Toronto, TELUS House Ottawa, and Place TELUS Québec as one of the company's LEED (Leadership in Energy and Environmental Design) Platinum-certified buildings.
Among the building's environmental features is a storm water management system that recycles rainwater for use in washroom toilets, reducing the building's municipal water demand by 70 per cent.
This report by The Canadian Press was first published July 6, 2022.
Companies in this story: (TSX:T)
Amanda Stephenson, The Canadian Press
First set of tickets for Pope's mass in Edmonton booked within minutes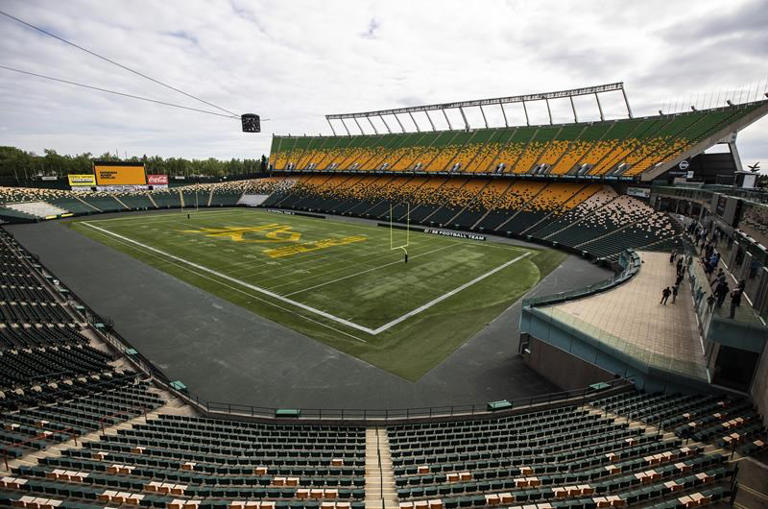 EDMONTON — Thousands of tickets for the Pope's open-air mass at Edmonton's Commonwealth Stadium were all booked about 15 minutes after they were made available to the public for free.
The July 26 mass with Pope Francis is part of his six-day Canadian tour, which also includes stops in Quebec City and Iqaluit.
Neil McCarthy, a spokesperson for the papal visit, says organizers were hopeful the first block of 16,000 tickets would be booked immediately because the impact of the event cannot be underestimated.
A total of 65,000 people can attend the mass at the football stadium.
McCarthy says if people haven't been able to book a seat, they can do so on two other days later this month, when the remaining blocks of free tickets will be made available.
Organizers divided the booking process for the mass over three days, because they say it is easier to manage and want to prioritize some Indigenous people who want to attend.
"We've got seating allocations for Indigenous participation, whether it's residential school survivors, elders, knowledge keepers or those who are supporting them," McCarthy said Wednesday.
"Today was a very, very positive start to the day. People really want to be with him."
The Pope is to arrive in Edmonton on July 24. The next day, he is to meet survivors and visit the site of the former Ermineskin Residential School in Maskwacis, about 80 km south of Edmonton.
He is scheduled to arrive in Quebec City on July 27 and stop in Iqaluit on July 29.
The Pope's visit comes after he apologized in April to Indigenous delegates at the Vatican for the Roman Catholic Church's role in Canada's residential schools and the intergenerational trauma it caused.
This report by The Canadian Press was first published July 6, 2022.
The Canadian Press