Advocates of windfall tax on oil and gas sector can now point to EU for inspiration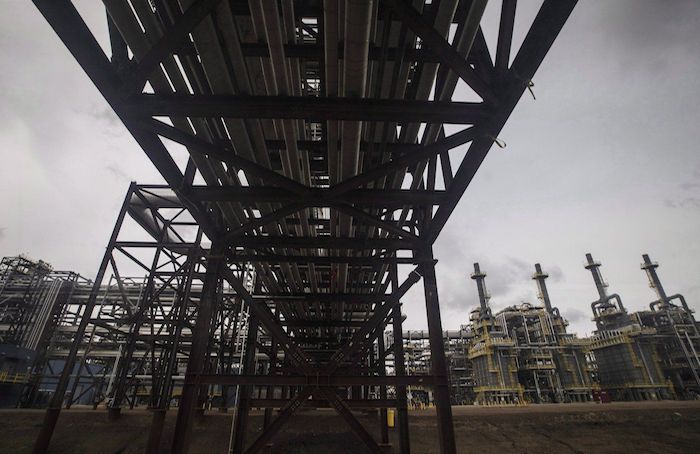 By Nojoud Al Mallees in Ottawa
Proponents of imposing a windfall tax on the Canadian oil and gas industry now have another global power setting precedent for the policy.
On Wednesday, the European Commission proposed levying such a tax on the energy sector and redirecting funds to households and businesses struggling with high inflation. It estimates the policy would bring in 140 million euros (around $186 million) in revenue.
The European Union is not the only jurisdiction to pursue an extra tax on the energy sector. Earlier this year, the United Kingdom imposed a windfall tax on oil and gas producers. Since then, however, new Prime Minister Liz Truss has come out against the policy and indicated she would not bring in any new windfall taxes.
Progressives in the United States have also campaigned for a windfall tax on oil and gas companies amid rising inflation.
The global push for windfall taxes comes as some corporations, especially those in the oil and gas sector, have posted record profits since the onset of the COVID-19 pandemic.
In Canada, the latest quarterly report on gross domestic product from Statistics Canada says non-financial corporations have benefited from strong energy prices. According to the federal agency, dividends paid out by such corporations were up 9.1 per cent in the second quarter of 2022. Meanwhile, worker compensation in Canada rose two per cent.
Senior economist David Macdonald of the Canadian Centre for Policy Alternatives recently looked at just how much gross domestic product is accounted for by corporate profits. His analysis found that after-tax corporate profits reached a historically high percentage of the total Canadian economy output in the second quarter of this year.
In contrast, Macdonald found workers' compensation as a share of gross domestic product fell to the lowest level since 2006. "The inflationary period has been a tremendously good period for corporate profits, less so for workers' wages."
Macdonald supports imposing windfall taxes to address this trend.
The NDP has been calling on the federal government to extend the windfall tax levied on financial institutions earlier this year to the oil and gas sector as well as big box stores. The party has argued the funds raised from extending the windfall tax could be used to send more money to low- and modest-income families struggling with high inflation.
On the latter proposal, the NDP posted a win when the Liberals announced on Tuesday they would double the GST rebate for six months. As for extending the windfall tax, NDP finance critic Daniel Blaikie said he's received no indication from Finance Minister Chrystia Freeland that it was on the table.
"We are going to continue to push on these things," Blaikie said. "And I think the announcement about the GST rebate is cause for some optimism that even when the government gets it wrong out of the gate that we can make them change course."
The Finance Department declined to comment on whether it is considering extending the windfall tax policy.
Many economists oppose windfall taxes over concerns they can discourage business investment.
Michael Smart, an economics professor at the University of Toronto and co-director of the Finances of the Nation project, said the EU's pursuit of a windfall tax reflects a unique situation in that region, with energy prices having shot up dramatically.
"We don't face quite the same situation here," Smart said, adding that windfall taxes are difficult to implement and should be seldom used.
"I don't think it's warranted (here)."
Mostafa Askari, chief economist at the Institute of Fiscal Studies and Democracy, said if the government were to pursue a windfall tax, it would first have to decide its intended purpose.
"Targeting (the) energy sector, to me, it's somewhat odd, unless there is a desperate need for extra funding for the government," he said.
Given government revenues have been up because of high inflation, Askari said the case for extra funding isn't there. The other concern, he said, is oil and gas companies might be able to pass on these additional taxes to consumers through higher prices.
However, despite disagreement among economists on the policy, polling suggests the overwhelming majority of Canadians support a tax on businesses whose profits were extraordinarily high during the pandemic. A poll conducted by Abacus Data on behalf of the Broadbent Institute and the Professional Institute for the Public Service of Canada in July 2021 found 87 per cent of Canadians were in favour of the policy.
The survey was conducted online with 1,500 Canadian adults from July 13 to 19, 2021. It cannot be assigned a margin of error because online polls are not considered truly random samples.
Blaikie said the NDP is relying on public support to convince the Liberals on the policy.
"I think the more Canadians that are out there calling for these kinds of measures alongside us in the NDP, the more likely we are to see a positive result."
This report by The Canadian Press was first published Sept. 18, 2022.
Two deputy chief medical officers resign from their positions with Alberta Health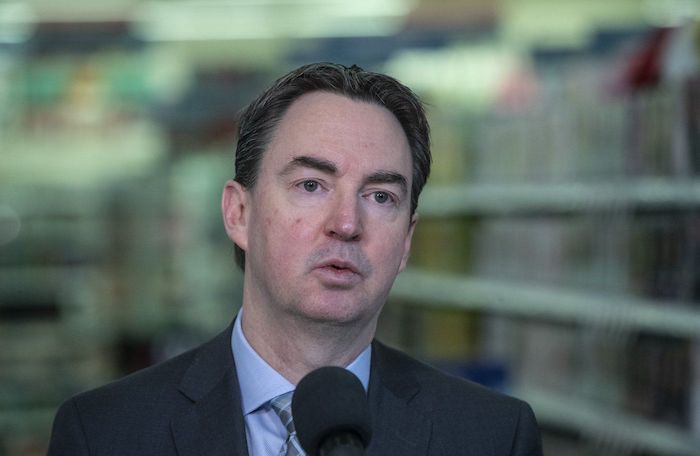 Edmonton – Alberta's two deputy chief medical officers of health are leaving their roles — less than a month after Dr. Deena Hinshaw was removed as the province's top doctor.
Health Minister Jason Copping confirmed during question period Wednesday that both of the doctors have submitted letters of resignation.
"They are still continuing to work at this point in time," he said in the legislature. "We are in the process of actually looking to fill those roles."
A statement from Alberta Health said Dr. Rosana Salvaterra and Dr. Jing Hu, who are listed as public health physicians on the department's website, have given notice.
When reached by her department email, Salvaterra responded: "Unfortunately, we are not able to comment."
She later added that she respects and admires both Dr. Hinshaw and Dr. Hu.
"They are brilliant, hard-working, and compassionate public health physicians and I consider myself fortunate to have had the opportunity to work alongside them for these past 14 months."
Salvaterra, who has extensive public health experience including as the medical officer of health for Peterborough, Ont., joined the office in October 2021.
Her career in public health includes work in "the COVID-19 response, mental health, the opioid response, women's health, poverty reduction, health equity, community food security and building stronger relationships with First Nations."
Hu's out-of-office message said her "last day at work with Alberta Health was Nov. 18, 2022," and noted she wouldn't have access to the department email after that date.
She got extensive training in China and at the University of Calgary before joining the health department in January 2020.
Their resignations came within a month of Hinshaw, who became the face of Alberta's public health response to the COVID-19 pandemic, being removed from her position.
Hinshaw was replaced by Dr. Mark Joffe, a senior executive member of Alberta Health Services, on an interim basis.
"Dr. Joffe will be supported by medical officers of health within AHS, by other staff in the Office of the Chief Medical Officer of Health, and by the Public Health Division," said the statement from Alberta Health late Wednesday.
"We expect these changes to have no impact on the department's and Dr. Joffe's ability to meet the requirements of the Public Health Act."
Hinshaw's dismissal didn't come as a surprise.
Premier Danielle Smith announced on her first day in office in October that she would be replaced.
Smith has made it clear that she blames both Hinshaw and Alberta Health Services for failing to deliver the best advice and care for Albertans as the hospital system came close to buckling in successive waves of the COVID-19 pandemic.
"A lot of the bad decisions were made by Alberta Health Services on the basis of bad advice from the chief medical officer of health," Smith told reporters on Oct. 22.
Smith has not placed the blame on front-line doctors and nurses but broadly on AHS senior management. Joffe, while serving as chief medical officer of health, retains his role in AHS senior management as a vice-president responsible for areas in cancer and clinical care.
Hinshaw, an Alberta-trained public health specialist, became a celebrity of sorts in the first wave of the pandemic in the spring of 2020, as she delivered regular, sometimes daily, updates to Albertans on the virus, its spread and methods to contain it.
This report by The Canadian Press was first published Dec. 7, 2022.
— By Colette Derworiz in Calgary.
Alberta introduces bill for $2.8 billion in inflation-fighting payouts, rollbacks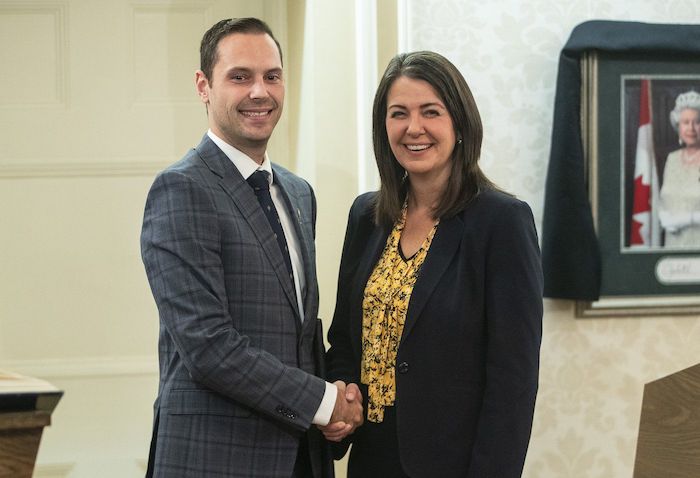 Edmonton – The Alberta government has introduced legislation to implement inflation-fighting rebates and payouts announced recently by Premier Danielle Smith.
Affordability Minister Matt Jones says the changes allow for help for families, seniors and the vulnerable soon.
Middle- to lower-income families, those with a household income of less than $180,000 a year, are to get $600 over six months for each child under 18 years of age.
The same income threshold and benefit applies to seniors, and the payout will also go to those on disability supports.
There will be electricity rebates and the 13 per cent provincial tax on gasoline is suspended from January to June.
The total cost of the package is pegged at $2.8 billion.
This report by The Canadian Press was first published Dec. 7, 2022.