Advocates come together to help sailors stuck for months on tugboats in Quebec port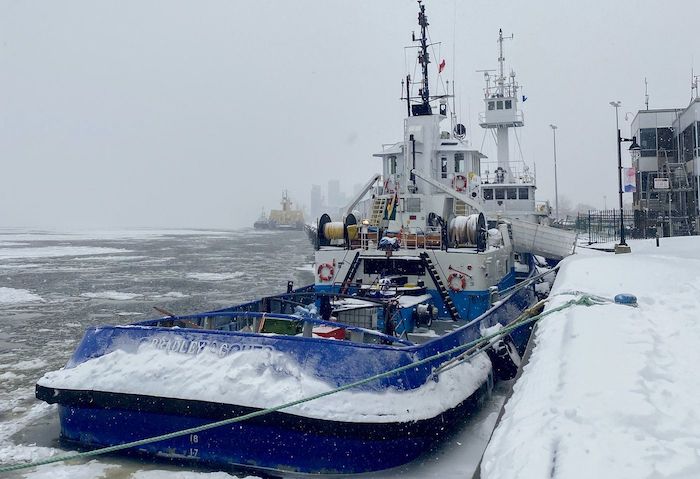 By Morgan Lowrie in Trois-Rivières
Groups that advocate for seafarers are expressing concern for 11 sailors who are spending a harsh Quebec winter aboard three tugboats that have been detained for months in the port of Trois-Rivières.
Paul Racette, who operates the Foyer des Marins seafarers' club in the port, said the workers, who hail from Mexico, Cuba and Guyana, aren't used to winter.
"For them, 17 degrees is cold, so imagine them having to work outdoors at the temperatures we're having now," he said in an interview.
Furthermore, they're weathering the winter on the moored tugboats, which he says aren't designed for long-term living.
"It's very small, it's narrow, there are no conveniences inside, so it's problematic," he said.
The boats, which are in the 30 to 40 metre range, were sold last year to a company that wants to bring them to the South American nation of Guyana. But they've been detained in the port, halfway between Quebec City and Montreal, since October due to what Transport Canada describes as "non-compliance with various international maritime conventions," including labour regulations that ensure the crew's well-being.
"Before lifting the detention and authorizing the vessels to depart, Transport Canada will verify that the outstanding items have been rectified," wrote spokeswoman Sau Sau Liu.
Racette said that while there were about 25 crew members originally, their numbers have dwindled to 11 as some have left and fewer have come to replace them.
On a recent visit, two of the three tugboats could be seen moored along the river's edge, dwarfed in size by the much larger ship behind them. Canadian and Guyanese flags whipped in the wind as heavy snow fell.
None of the sailors stepped out when a reporter stopped by, and Racette said none of the current crew wanted to speak with media out of concern they could face reprisals.
The vice president for the St. Lawrence and East Coast for the Seafarers International Union of Canada, who has been working with the crew, said he's concerned about the sailors' working and living conditions.
Vince Giannopoulos said some of these are matters of "base level legality," including contracts. He said some of the seafarers were sent to the ships with only verbal agreements regarding pay, only to find upon arrival that the compensation in the written contract was far less than promised.
His visits to the ship, the most recent of which was in December, revealed "all sorts of problems," ranging from a lack of safety and cold-weather equipment to inadequate food, he said.
"During a couple of my visits the crew was having Mr. Noodles three times a day," he said. "That was their breakfast, lunch and supper.
"It's hard to even find out where to begin with this story because there are just so many issues."
Mark Wong, a seafarer from Guyana, spent six months aboard the vessels working as an engineer before flying home in late December.
While he found the living conditions aboard the tugboats to be generally good, the 59-year-old said it's the first time he's been stuck on a detained vessel for so long.
He said the situation began to drag on as crew members had to be switched out and inspections kept revealing more issues to be fixed.
He said the arrival of winter was "terrible," and his strongest memory is the ice on the deck.
"I'm not accustomed to it," he said.
Wong said he was one of those who arrived without a contract, and, while he's received his wages, he says the company still owes him leave pay. Despite the issues, he said he would be willing to go back.
"Not in the winter though," he added.
Racette said the seafarer's club, which has a small budget and is mostly volunteer-run, has been doing what it can to support the crew. Members visit the vessels to bring treats, chat, and encourage the seafarers to visit their clubhouse, which has a pool table, snacks, comfortable chairs and Internet access.
Volunteers have come forward to help drive some of the crew to shopping centres or to attend a Spanish-language religious service, while community members have donated warm clothing, he said.
More recently, he's been making an appeal for donations to take the crew on outings such as restaurant visits or bowling trips.
While it's not clear how long it will take for the tugboats to get authorization to leave, Racette's opinion is that they'll remain in the port until at least April when the ice clears.
This report by The Canadian Press was first published Feb. 5, 2023.
Canada argues court misconstrued Charter in directing feds to bring men in Syria home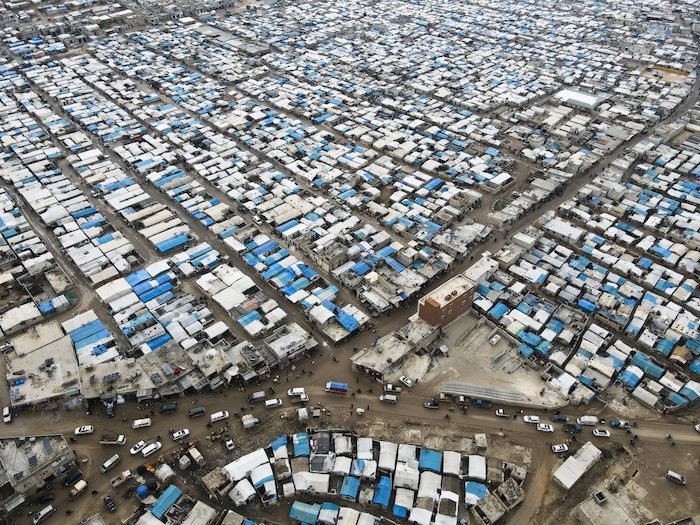 A general view of Karama camp for internally displaced Syrians, is shown Monday, Feb. 14, 2022, by the village of Atma, Idlib province, Syria. THE CANADIAN PRESS/AP/Omar Albam
By Jim Bronskill in Ottawa
The Canadian government says a federal judge misinterpreted the Charter of Rights and Freedoms in directing officials to secure the release of four men from detention in northeastern Syria.
Government lawyers are set to stress that point in the Federal Court of Appeal today as they seek to overturn a January ruling by Federal Court Justice Henry Brown.
In his decision, Brown said Ottawa should request repatriation of the men in Syrian prisons run by Kurdish forces as soon as reasonably possible and provide them with passports or emergency travel documents.
Brown ruled the men are also entitled to have a representative of the federal government travel to Syria to help facilitate their release once their captors agree to hand them over.
The government says in written arguments filed in the Court of Appeal that Brown mistakenly conflated the recognized Charter right of citizens to enter Canada with a right to return — effectively creating a new right for citizens to be brought home by the Canadian government.
Federal lawyers argue Brown's "novel and expansive" approach overshoots the text, purpose and protected interests of the Charter right to enter, and is inconsistent with established domestic and international law.
The government also contends the court usurped the role of the executive over matters of foreign policy and passports. "The mandatory actions fail to respect the proper role of the executive and prevent it from making necessary, timely and individualized assessments within its expertise about a range of complex considerations."
The judge's ruling has largely been put on hold while the appeal plays out. However, Ottawa must still get the process started by initiating contact with the Kurdish forces who are detaining the men in a region reclaimed from the Islamic State of Iraq and the Levant.
The four men include Jack Letts, whose parents John Letts and Sally Lane have waged a vigorous campaign to pressure Ottawa to come to his aid.
Lawyer Barbara Jackman, who represents Letts, points out in a submission to the Court of Appeal that the four Canadian men have not been charged with any crime.
"They have not had access to the necessities of life and have been subjected to degrading, cruel and unusual treatment during their nightmarish tenure in Syrian prisons," the filing says. "Jack Letts told his family and the Canadian government that he was subjected to torture and contemplated ending his own life."
The identities of the three other Canadian men are not publicly known.
Their lawyer, Lawrence Greenspon, says Brown's ruling that Canada should take steps to facilitate repatriation of the men is a practical solution that recognizes the Charter-entrenched right of entry.
"Justice Brown's decision is comprehensive and correct in law," Greenspon's written submission to the Court of Appeal says.
In these rare circumstances, where Canadians are being arbitrarily detained in a foreign country and the federal government has been invited to take steps to facilitate their entry into Canada, the court correctly declared that Ottawa should take those steps, the filing adds.
Family members of the men, as well as several women and children, argued in the Federal Court proceedings that Global Affairs Canada must arrange for their return, saying that refusing to do so violates the Charter.
The government insisted that the Charter does not obligate Ottawa to repatriate the Canadians held in Syria.
However, Greenspon reached an agreement with the federal government in January to bring home six Canadian women and 13 children who had been part of the court action.
In his ruling, Brown said the Canadian men are not able to return home "in part because their government seems never to have formally requested their repatriation."
They are not able to enjoy "a truly meaningful exercise" of their Charter right to enter Canada unless and until the federal government makes a formal request to the Autonomous Administration of North and East Syria on their behalf, he wrote.
"Canada must make a formal request for their repatriation because otherwise the Court is asked to construe the Charter in an 'unreal world."'
This report by The Canadian Press was first published March 27, 2023.
Military under fire as thousands of troops face lost cost-of-living allowance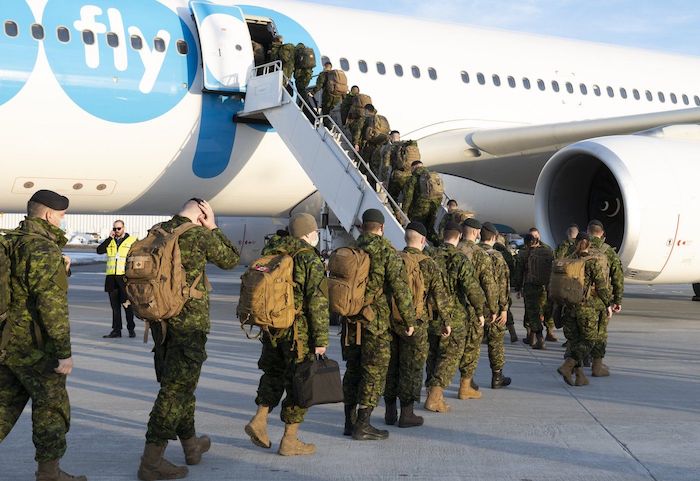 Members of the 5e Regiment d'artillerie legere du Canada board an aircraft heading for Latvia, in Quebec City, Wednesday, March 23, 2022. The Canadian Armed Forces is under fire for its plan to cut thousands of troops off a cost-of-living allowance without much notice. THE CANADIAN PRESS/Jacques Boissinot
By Lee Berthiaume in Ottawa
The Canadian Armed Forces is under fire for its plan to cut thousands of troops off a cost-of-living allowance without much notice.
The military announced last week that about 7,700 Armed Forces members will no longer receive the top-up starting in July, when it will be replaced by a new housing benefit that commanders say will better assist those who need the most help.
Social media and online forums dedicated to military personnel have been crackling with dissatisfaction over the plan, including the abbreviated timeline. Some are also unhappy with a new 10 per cent pay increase over four years, retroactive to 2021.
Experts say the lack of notice speaks to larger problems around how the military treats its people, which they worry is sparking anger and frustration at a time when the Canadian Armed Forces is struggling with a recruitment and retention crisis.
"We're pissing people off," said retired lieutenant-general Guy Thibault, who previously served as vice-chief of the defence staff. "And this may be the final straw that pisses them off. It's not really about compensation. It's just that they're not feeling valued."
The decision to replace the military's existing cost-of-living allowance with a new housing benefit follows a 14-year battle between the Department of National Defence and Treasury Board, the central department that controls federal spending.
Established in 2000 as a way to compensate members for the added costs of having to live and work in certain communities, the allowance rates were frozen in 2009 as defence and treasury officials fought over the program's cost and parameters.
Canadian Forces College professor Alan Okros said members were led to believe that that when a deal was finally struck, it would finally raise rates and expand eligibility as troops living in some parts of the country did not qualify.
"There was a generalized tone and expectation of, 'Look, we're working on it. … We're going to sort it all out,'" said Okros, who specializes in military personnel and culture. "There was this generalized expectation of, 'It's going to be much better.'"
Such expectations were predicated on the belief that the government would put more money into the pot to compensate troops for their service, particularly given that the Armed Forces is currently dealing with a recruitment and retention crisis.
That didn't happen. Instead, the military says the new housing benefit is both more equitable and more efficient than the previous allowance as it is tied to salary, includes more geographic locations, and will cost about $30 million less per year.
Charlotte Duval-Lantoine, an expert on military culture at the Canadian Global Affairs Institute think tank, said some members who were receiving the cost-of-living allowance would have accounted for that money in their budgetary planning.
"This is the distinction that frustrates people the most, because some of them will not be eligible in this (new benefit) even though they're struggling in terms of their cost of living," she said. "There's going to be a readjustment for people."
The fact it is being taken away in a matter of months without any previous consultation or warning speaks to problems with how the chain of command treats and communicates with its troops, she added.
"It's kind of emblematic of the way that we talk about personnel policy and how the military communicates (with) its personnel," she said. "It's always big announcements. And then we don't hear about it for years on end. Then there's a new announcement."
The housing benefit has also come under scrutiny, with concerns about the actual rates being based on the cost of renting a two-bedroom apartment without consideration for family size. There's also a seven-year cap on receiving the benefit in one location.
Members are also complaining that the new pay increase does not keep up with inflation.
The new benefit and pay increase have nonetheless sparked a bit of a debate over compensation for military personnel, with some arguing troops are relatively well paid and most Canadians are facing some sort of economic pressure.
"We've got a pretty well-paid force, not only against other allied forces or volunteer forces, but against the general population," said Thibault, who is now chair of the Conference of Defence Associations Institute think tank.
"In terms of where we're going with the economy, it's not unique to the Canadian Forces. It's a societal problem right now with interest rates, with inflation, with the economy, with housing."
Rather, experts feel the reaction is more symptomatic of bigger problems as the Armed Forces faces growing demands while struggling with a shortage of personnel, old equipment, and efforts to radically overhaul its culture.
"Our government and Canadians, they seem to care for the Canadian Forces," Thibault said. "But not care enough about them to make it a priority, or to address some of these longstanding problems."
This report by The Canadian Press was first published March 26, 2023.