About half of Canada's environment ministers skip meeting on biodiversity loss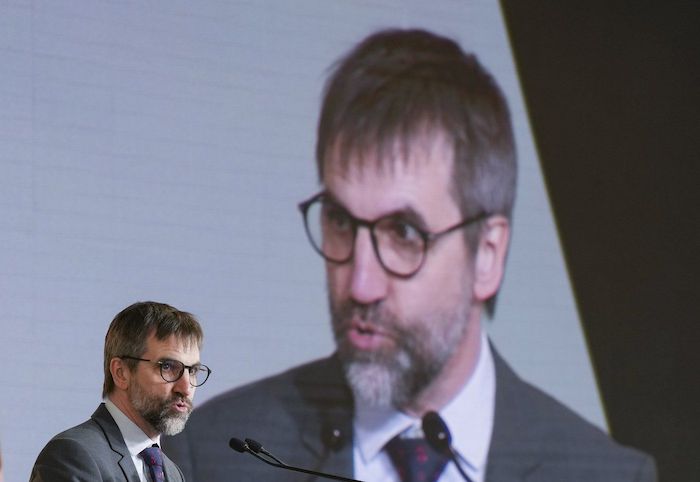 More than half of the provinces' ministers have skipped out on a meeting with the federal government and Indigenous leaders to discuss halting land and water loss in Canada. Minister of Environment and Climate Change Steven Guilbeault speaks during the Montreal Climate Summit in Montreal on Wednesday, May 10, 2023. THE CANADIAN PRESS/Christinne Muschi
Ottawa
More than half of the provinces' ministers have skipped out on a meeting with the feds and Indigenous leaders to discuss halting land and water loss in Canada.
Environment ministers from Saskatchewan, British Columbia, Prince Edward Island, Nova Scotia and the Northwest Territories attended the meeting.
The other provinces and territories sent their deputy ministers.
The Liberal government is leading a 2030 biodiversity strategy to protect 30 per cent of land and water by 2030, but it will be a difficult target to reach without the help of provinces and territories.
The federal ministry of environment and climate change says they have a critical role to play because they have significant authority over land use.
At the end of 2022 almost 14 per cent of Canada's land and freshwater and almost 15 per cent of marine areas and coastline were under some kind of conservation protection.
This report by The Canadian Press was first published May 26, 2023.
UK leader Rishi Sunak signals plan to backtrack on some climate goals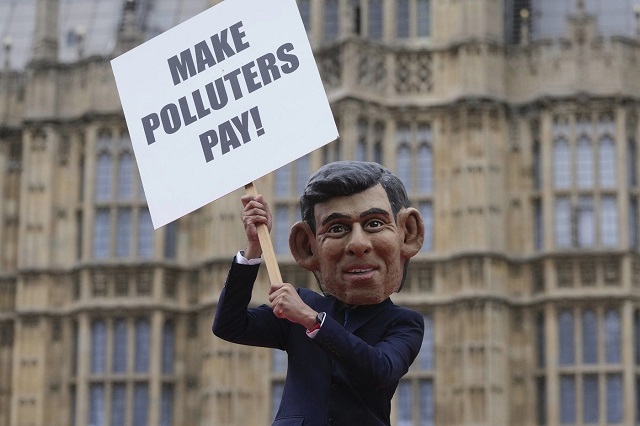 Oxfam's Rishi Sunak 'big head' protests outside the Parliament in London, Tuesday, Sept. 19, 2023. On the eve of the UN Climate Ambition Summit, Oxfam's Rishi Sunak 'big head' staged a protest on top of a giant oil barrel, amongst dozens of real oil drums, supporting the Make Polluters Pay campaign. Calling for oil and gas giants, such as BP and Shell, to pay more tax to raise critical funds to help communities devastated by climate change. (AP Photo/Kin Cheung)
By Jill Lawless in London
LONDON (AP) — Prime Minister Rishi Sunak is preparing to water down some of Britain's environmental commitments on Wednesday, saying the country must fight climate change without penalizing workers and consumers.
The news drew wide criticism from political opponents, environmental groups and large chunks of U.K. industry, but was welcomed by sections of the governing Conservative Party.
Sunak issued a late-night statement Tuesday in response to a BBC report saying the prime minister is considering extending deadlines for bans on new gasoline and diesel cars — currently set for 2030 — and on new natural-gas home heating, due in 2035.
Sunak said he would set out a "proportionate" approach to the environment. He summoned his Cabinet to an unscheduled conference call to discuss the plans ahead of a speech hastily rescheduled for Wednesday afternoon. It had been due later in the week.
"For too many years, politicians in governments of all stripes have not been honest about costs and trade-offs," Sunak said. "Instead, they have taken the easy way out, saying we can have it all."
Sunak did not confirm details of his announcements. He said he would keep a promise to reduce the U.K.'s emissions of climate-warming greenhouse gases to net zero by 2050, but "in a better, more proportionate way."
The government has previously boasted of Britain being a leader in cutting carbon emissions. U.K. greenhouse gas emissions have fallen by 46% from 1990 levels, mainly because of the almost complete removal of coal from electricity generation. The government had pledged to reduce emissions by 68% of 1990 levels by 2030 and to reach net zero by 2050.
But with just seven years to go until the first goalpost, the government's climate advisers said in June that the pace of action is "worryingly slow." Sunak's decision in July to approve new North Sea oil and gas drilling also spurred critics to question his commitment to climate goals.
Former Prime Minister Boris Johnson, who brought in the 2030 gasoline car target when he was leader, said businesses "must have certainty about our net-zero commitments."
"We cannot afford to falter now or in any way lose our ambition for this country," he said.
News of plans to backtrack broke as senior politicians and diplomats from the U.K. and around the world — as well as heir to the British throne Prince William — gathered at the United Nations General Assembly in New York, where climate is high on the agenda. Sunak is not attending, sending his deputy instead.
Greenpeace U.K. policy director Doug Parr said the prime minister was "taking the public for fools."
"Rowing back on home insulation and commitments to help people move away from gas will ensure we stay at the mercy of volatile fossil fuels and exploitative energy companies," Parr said.
Environmentalists were not the only ones blindsided by the move. Automakers, who have invested heavily in the switch to electric vehicles, expressed frustration at the government's apparent change of plan.
"We're questioning what is the strategy here, because we need to shift the mobility of road transport away from fossil fuels towards sustainable transport," said Mike Hawes, chief executive of the Society of Motor Manufacturers and Traders, an industry body.
Ford U.K. head Lisa Brankin said the company had invested 430 million pounds ($530 million) to build electric cars in Britain.
"Our business needs three things from the U.K. government: ambition, commitment and consistency. A relaxation of 2030 would undermine all three," she said.
Analyst Tara Clee of investment firm Hargreaves Lansdown said the retreat could undermine Britain's hard-won reputation for leadership on green technology, threatening the wider economy.
"The market has been directing capital to the net-zero transition and has been working in good faith," Clee said. "These changes send a message that nothing is set in stone, and committing in earnest to a movable goalpost could be a major business risk."
Britain's Conservatives have been openly reassessing their climate change promises after a special election result in July that was widely seen as a thumbs-down from voters to a tax on polluting cars.
The party, which trails behind the Labour opposition nationwide, unexpectedly won the contest for the suburban London Uxbridge district by focusing on a divisive levy on older vehicles imposed by London's Labour mayor, Sadiq Khan. Some Conservatives believe axing green policies is a vote-winner that can help the party avoid defeat in a national election due by the end of next year.
"We're not going to save the planet by bankrupting the British people," Home Secretary Suella Braverman said Wednesday.
But Conservative lawmaker Alok Sharma, who chaired the COP26 international climate conference in Glasgow in 2021, warned that it would be "incredibly damaging … if the political consensus that we have forged in our country on the environment and climate action is fractured."
"And frankly, I really do not believe that it's going to help any political party electorally which chooses to go down this path," he told the BBC.
Protester arrested after paint splashed on Tom Thomson piece in National Gallery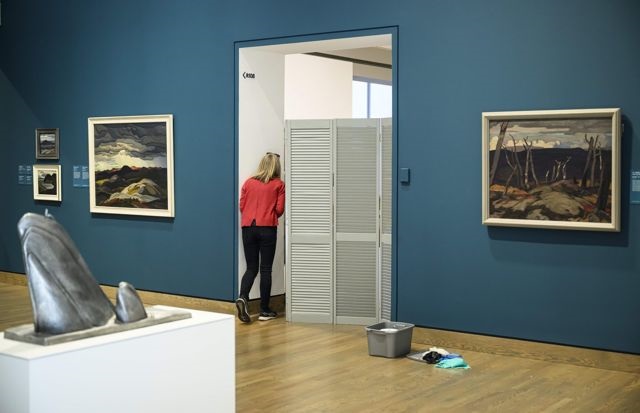 A staff member speaks to another past a partition used to block off the room where a climate activist threw paint on artist Tom Thomson's "Northern River" painting, at the National Gallery of Canada in Ottawa, on Tuesday, Aug. 29, 2023. Climate advocacy group On2Ottawa announced one of their supporters threw paint on the work of art to demand that the government respond to the wildfire crisis. THE CANADIAN PRESS/Justin Tang
Ottawa
An artwork by renowned Canadian artist Tom Thomson at the National Gallery in Ottawa was splattered with paint on Tuesday as part of a protest against the federal government's response to wildfires.
Ottawa police said they arrested Kaleb Suedfeld and charged him with criminal mischief, adding they are still investigating.
The National Gallery of Canada said the artwork was not damaged as it was secured by a protective panel.
"We expect it to be rehung shortly," it said in a statement Tuesday.
On2Ottawa, a Canadian climate change advocacy group, had issued a news release shortly before the arrest to say that paint would be thrown at Thomson's "Northern River," created in 1914-15.
An Instagram video posted by the group on Tuesday shows a man smearing the glass that protects the painting with pink paint.
"Fossil fuel industries are destroying the work of art that is our planet and the government is firmly in their grip doing nothing to stop their crimes," the man can be heard saying in the video.
"This must stop or we will not stop disrupting."
He continued by urging the government to establish a federally funded force of 50,000 firefighters.
The group said it has organized several traffic disruption demonstrations this month to draw attention to wildfires issue and is promising further actions in Ottawa next month.
It said it has received more than $8,800 in donations through its website, which the group said goes toward "mobilization and action efforts."
Police said 11 protesters have been charged with 34 offences in connection to the traffic demonstrations.
"The gallery is collaborating with the police," the National Gallery of Canada said in its statement.
"The safety and security of our staff and visitors and of our collection remain our highest priority," it said, adding it had no further comment due to the ongoing police investigation.
This report by The Canadian Press was first published Aug. 29, 2023.