A real zoodunit: Monkeys found but mystery deepens in Dallas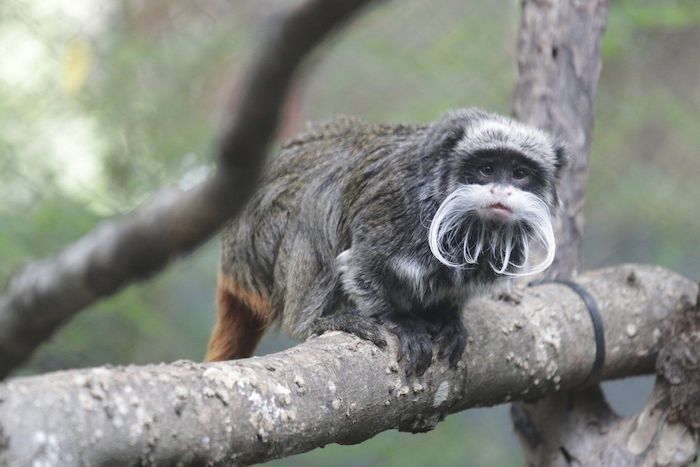 By Jamie Stengle in Dallas
DALLAS (AP) — Two monkeys taken from the Dallas Zoo were found Tuesday in an abandoned home after going missing the day before from their enclosure, which had been cut. But no arrests have been made, deepening the mystery at the zoo that has included other cut fences, the escape of a small leopard and the suspicious death of an endangered vulture.
Dallas police said they found the two emperor tamarin monkeys after getting a tip that they could be in an abandoned home in Lancaster, located just south of the zoo. The animals were located, safe, in a closet, and then returned to zoo for veterinary evaluation.
Police said earlier Tuesday that they were still working to determine whether or not the incidents over the last few weeks are related.
Meanwhile, in Louisiana, officials were investigating after 12 squirrel monkeys were taken from a zoo there on Sunday and considering whether there could be a connection.
Here's what is known so far about the incidents:
WHAT HAS HAPPENED AT THE DALLAS ZOO?
The zoo closed Jan. 13 after workers arriving that morning found that the clouded leopard, named Nova, was missing. After a search that included police, the leopard weighing 20-25 pounds (9-11 kilograms) was found later that day near her habitat.
Police said a cutting tool was intentionally used to make the opening in her enclosure. A similar gash also was found in an enclosure for langur monkeys, though none got out or appeared harmed, police said.
On Jan. 21, an endangered lappet-faced vulture named Pin was found dead by arriving workers. Gregg Hudson, the zoo's president and CEO, called the death "very suspicious" and said the vulture had "a wound," but declined to give further details.
Hudson said in a news conference following Pin's death that the vulture enclosure didn't appear to be tampered with.
On Monday police said the two emperor tamarin monkeys — which have long whiskers that look like a mustache — were believed to have been taken after someone cut an opening in their enclosure.
The following day police released a photo and video of a man they said they wanted to talk to about the monkeys. The photo shows a man eating Doritos chips while walking, and in the video clip he is seen walking down a path.
WHAT COULD BE THE MOTIVE IN TAKING THE MONKEYS?
Lynn Cuny, founder and president of Wildlife Rescue & Rehabilitation in Kendalia, Texas, said she wouldn't be surprised if it turns out the monkeys were taken to be sold. Depending on the buyer, she said, a monkey like those could be sold for "several thousands" of dollars.
"Primates are high-dollar animals in the wildlife pet trade in this country," Cuny said. "Everybody that wants one wants one for all the wrong reasons — there's never any good reason to have any wild animal as a pet."
She said there were a variety of ways the taken monkeys could have been in danger, from an improper diet to exposure to cold. Temperatures in Dallas dipped into the 20s on Tuesday during a winter storm.
WHAT IS KNOWN ABOUT THE VULTURE?
Pin's death has been hard on the staff, a zoo official said.
The vulture was "a beloved member of the bird department," according to Harrison Edell, the zoo's executive vice president for animal care and conservation.
Speaking at a news conference, Edell said Pin was at least 35 years old and had been at the zoo for 33 years. "A lot of our teams have worked closely with him for all of that time," Edell said.
Pin, one of four lappet-faced vultures at the zoo, was said to have sired 11 offspring, and his first grandchild hatched in early 2020.
Edell said Pin's death was not only a personal loss but also a loss for the species, which "could potentially go extinct in our lifetime."
WHAT IS KNOWN ABOUT SECURITY?
Hudson, the zoo's CEO, said in a news conference following Pin's death that normal operating procedures included over 100 cameras to monitor public, staff and exhibit areas, and that number had been increased. Overnight presence of security and staff was also raised.
Where possible, he said, zoo officials limited the ability of animals to go outside overnight.
After Nova went missing, officials said they had reviewed surveillance video but not what it showed.
The zoo was closed Tuesday and Wednesday due to the storm.
WHAT HAPPENED IN LOUISIANA?
The 12 squirrel monkeys were discovered missing Sunday from their enclosure at a zoo in the state's southeast.
Their habitat at Zoosiana in Broussard, about 60 miles (96 kilometers) west of Baton Rouge, had been "compromised" and some damage was done to get in, city Police Chief Vance Olivier said Tuesday. He declined to provide further details on the damage, citing the ongoing investigation.
He said police did not have any suspects yet but were still searching through video files.
Zoosiana said in a Facebook post that the remaining monkeys have been assessed and appear unharmed.
HAVE THERE BEEN OTHER INCIDENTS BEFORE AT THE DALLAS ZOO?
In 2004, a 340-pound (154-kilogram) gorilla named Jabari jumped over a wall and went on a 40-minute rampage that injured three people before police shot and killed the animal.
___
Associated Press writer Paul J. Weber contributed to this report from Austin, Texas.
Premier Smith urges PM Trudeau to talk Ethical Energy Security in meeting with US President Biden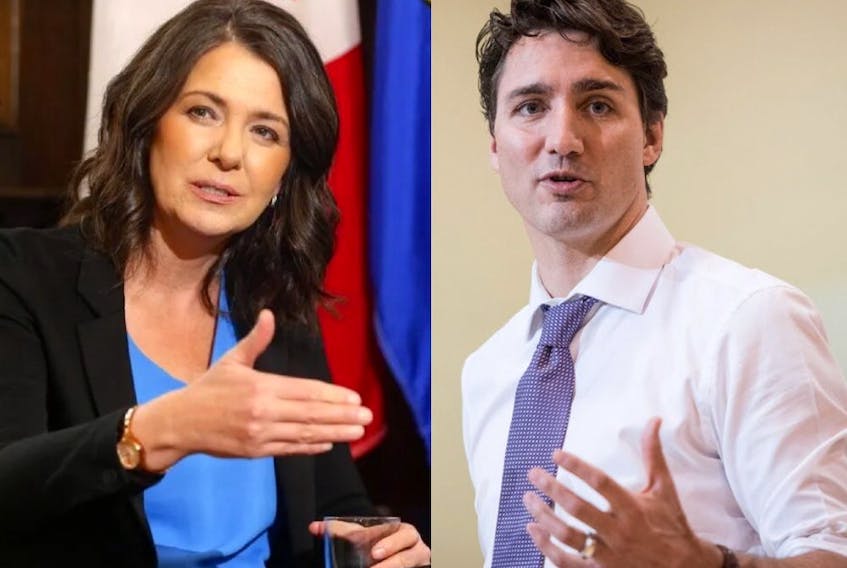 Dear Prime Minister Trudeau:
The arrival of President Joe Biden presents our nation with an opportunity of great significance. It is my request that the federal government uses its platform to focus on collaboration between the U.S. and Canada, highlighting the critical need for North American energy security.
We have a deep, long-standing relationship with the U.S. at both the federal and state levels, which is only growing in importance. In 2022, Alberta surpassed Ontario and Quebec as the largest provincial exporter of goods to the U.S. at $182.5 billion, with energy making up 85 per cent of exports to the United States. Alberta, by far, remains the single largest source of U.S. energy imports.
This economic reality, along with Russia's invasion of Ukraine, has highlighted that North American energy security must be a top priority for the Government of Canada. I urge you to raise the need for better collaboration between Canada and the U.S. to ensure the continued and enhanced supply of sustainable, affordable, and reliable energy to the U.S.
I recommend that the two governments work to fast-track energy projects in the name of economic security for our democratic partners, as committed to by Deputy Prime Minister Chrystia Freeland. A similar effort is needed in critical minerals as the world shifts to lower emitting sources of energy.
Alberta, through both government policy and industry action, is leading the way on reducing emissions and driving the transition to new sources of energy. New investments in the province are global flagships in clean energy and emissions reductions technology. For example, Pennsylvania's Air Products will create a world-scale net-zero hydrogen energy complex in Alberta, and Dow is advancing the world's first net-zero carbon emission integrated polyethylene complex at its existing site near Edmonton. It is also worth noting that Canada's oil sands operators have announced plans to spend $24 billion on emission-reduction projects by 2030 as part of their commitment to reach net zero by 2050. All of this amounts to a herculean effort undertaken by industry partners, and Alberta's government, to position ourselves as the foremost leader in emissions reduction and responsible energy production.
As you know, management of oil and gas methane emissions is one of this country's greatest climate success stories. Collaboration with the U.S. on methane emissions would both advance climate action, and address regulatory inconsistencies between the two countries. As of 2020, methane emissions from the upstream oil and gas sector in Western Canada have decreased by around 44 per cent from the 2014 baseline – ahead of our schedule of 45 percent by 2025. More evidence of Canada, and Alberta, leading the way.
Alberta is home to vast geological potential, an experienced, skilled, workforce, and has the necessary processing and transportation infrastructure in place to support a growing critical minerals sector. For example, technological advances to extract minerals from underground brine solutions are found throughout Alberta. These extraction technologies could result in a low emission, sustainable source of lithium to meet the demand of our emerging battery value-chain. We would encourage your government to work with the provinces, especially Alberta, on critical minerals and seize the opportunity to collaborate with the U.S. on enhancing North American supply chains.
As the owners and stewards of our world-class natural resources, any discussions involving energy security, natural resources, and trade must fully involve the provinces. I would be pleased to help assist you, and the federal government in advancing the work on North American energy security as well as developing the business cases to increase exports of clean Alberta energy, critical minerals and technologies to the U.S. As is only appropriate when discussing natural resources, and areas of exclusive provincial jurisdiction, I would also request that Premiers be invited to participate in a meeting with the President and his delegation.
I look forward to your response and welcome an opportunity to collaborate. We both agree that the world needs more Canada. It's imperative that in a time of such uncertainty, and unaffordability, that Alberta, and Canada profile ourselves as the preferred supplier of responsibly produced, ethical energy to the U.S., North America, and the world.
Pentagon: Budget readies US for possible China confrontation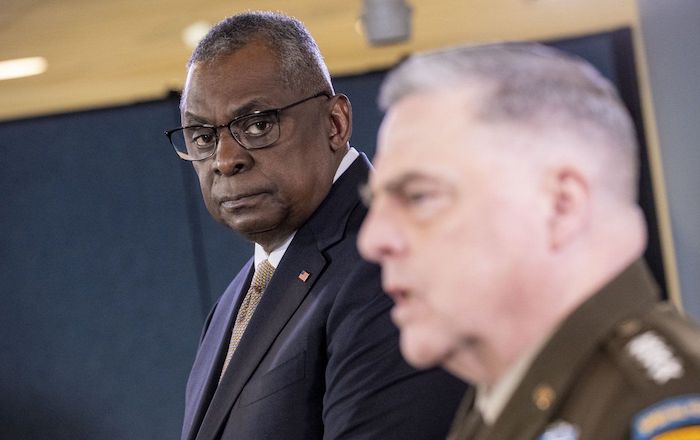 Chairman of the Joint Chiefs, Gen. Mark Milley, right, accompanied by Secretary of Defense Lloyd Austin, speaks during a briefing at the Pentagon in Washington, Wednesday, March 15, 2023. (AP Photo/Andrew Harnik)
By Lolita C. Baldor And Tara Copp in Washington
(AP) — The U.S. military must be ready for possible confrontation with China, the Pentagon's leaders said Thursday, pushing Congress to approve the Defense Department's proposed $842 billion budget that would modernize the force in Asia and around the world.
"This is a strategy-driven budget — and one driven by the seriousness of our strategic competition with the People's Republic of China," Defense Secretary Lloyd Austin said in testimony before the House Appropriations subcommittee on defense.
Pointing to increases in new technology, such as hypersonics, Austin said the budget proposes to spend more than $9 billion, a 40% increase over last year, to build up military capabilities in the Pacific and defend allies.
The testimony comes on the heels of Chinese leader Xi Jinping's visit to Moscow, amid concerns China will step up its support for Russian President Vladimir Putin's war on Ukraine and increasingly threaten the West.
China's actions, said Gen. Mark Milley, chairman of the Joint Chiefs of Staff, "are moving it down the path toward confrontation and potential conflict with its neighbors and possibly the United States." He said that deterring and preparing for war "is extraordinarily expensive, but it's not as expensive as fighting a war. And this budget prevents war and prepares us to fight it if necessary."
Milley, who will retire later this year, said the Defense Department must continue to modernize its forces to ensure they will be ready to fight if needed.
Two decades of war in Iraq and Afghanistan eroded the military's equipment and troop readiness, so the U.S. has been working to replace weapons systems and give troops time to reset. It's paid off, Milley told Congress.
"Our operational readiness rates are higher now than they have been in many, many years," Milley said. More than 60% of the active force is at the highest states of readiness right now and could deploy to combat in less than 30 days, while 10% could deploy within 96 hours, he said.